Our Story
Homeschool girl meets a city boy...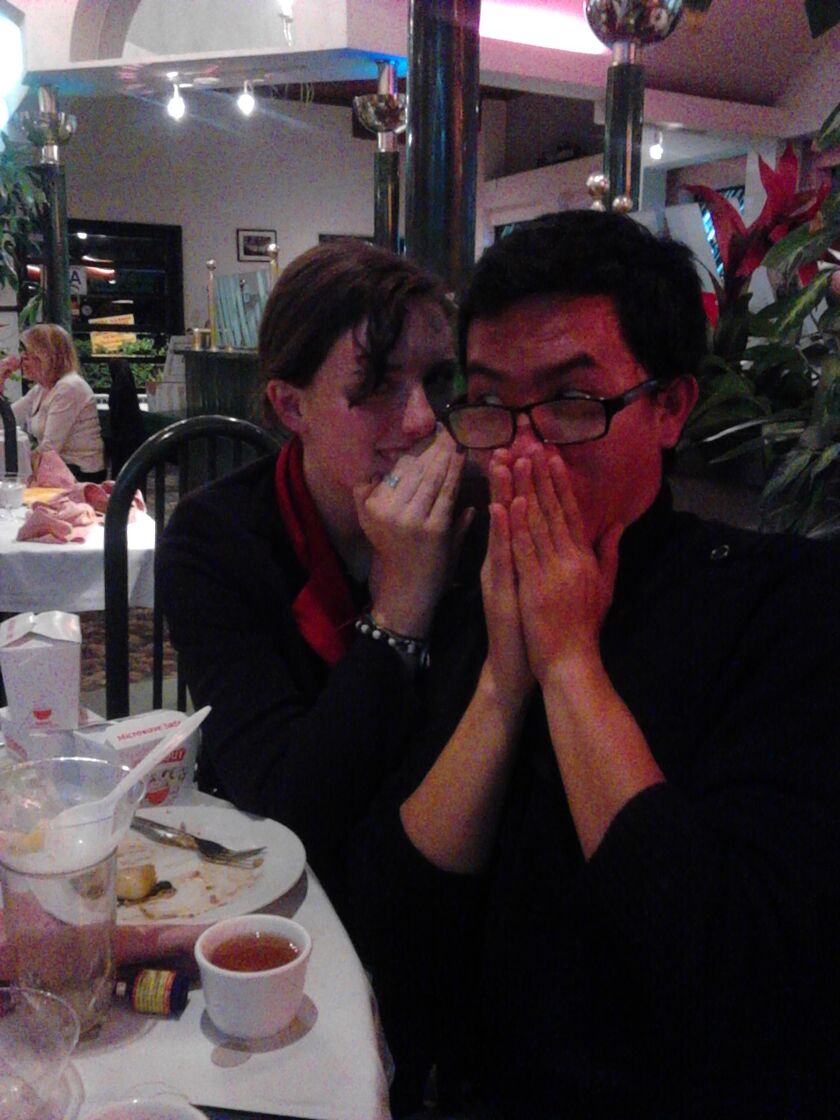 Our story has morphed into so many things over the past couple of years. From a love at first sight story to a "I don't think she's into me", it has been a mystery how we ended up right here.
Tori's Story: My first impression of Johnny was at a strange time in my life; new city, new friends, on my own for the first time... And then there was this guy who seemed to have it all together. He was leading the Bible Discussion group that I joined and brought a sense of peace to my chaos. The first several months of our friendship, I knew to always stick by him if I wanted to find good food and have a great time, but very quickly he became someone of great importance in my life. Since the early days of our friendship, he's always called me to be a better person in several areas of my life, and after a while I considered him (without a single doubt) as my best friend. He's always made me laugh, cry, and deal with where I was at, his charming jokes and gentle correction frustrated me at times because he was right (most of the time), but it's also helped me become who I am today. Although our story has gone all over the place, I am so grateful to God for putting him in my life.
Johnny's Story: Since the first day that I've see her, I knew that she would mean something in my life. She didn't look like a damsel in distress but a damsel who had no clue what she was doing or why she's there where she was. She had a whimsical, almost naive, view of everything. For some odd reason, I found it to be adorable and deplorable at the same time. What attracted me to her is what repelled her away from me. Strange as it may seem, I did fall for her unique ways. Our "fruit ninja" date cemented her place in my heart. I knew then that I couldn't possibly find anyone better. She's my best friend and my helper, my encouragement and support. I couldn't ask for a better story.
Our 647 Days of Dating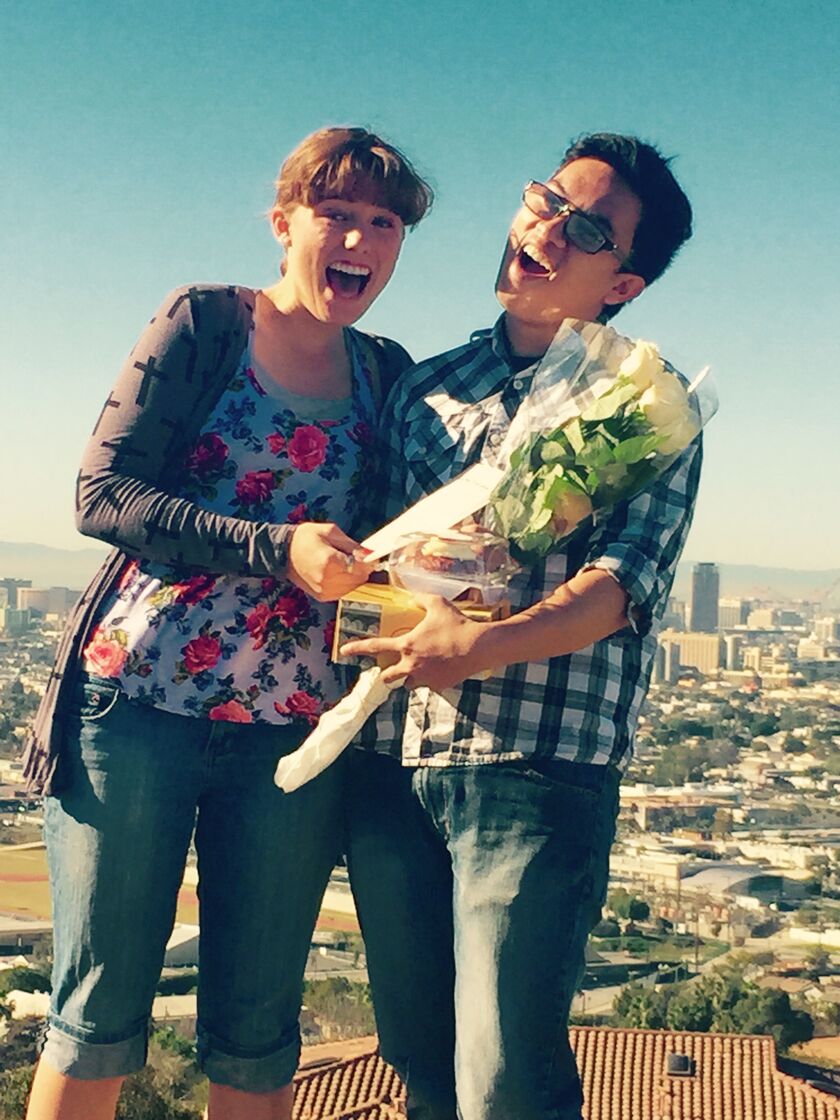 Our time dating has been filled with adventure from day one! Since February 14th 2015, God has faithfully brought us all the way here!
Tori's Story: I'll never forget the day that Johnny asked me to be his girlfriend. After ignoring me at the dance the night before, he sneakily had my roommate ask me to go to my favorite spot in LA; Signal Hill for a "Quiet Time." However, once we arrived, Johnny called to ask Heidi for "Advice" about someone he liked. The conversation was on speakerphone and I tried desperately to get out of the car, until he said my name. He continued to say all these wonderful things about me, until finally Heidi told him to just ask me if I liked him back. There he was, knocking on the window of my car door, and my life never ceased to be an adventure after that.
A couple days after we started dating, the stars were still in our eyes, but I had to face a huge reality. Johnny was leaving to Manila and he might never come back to the States. A couple months later our relationship consisted of early morning long-distance phone calls and weekly FaceTime dates. Those six months were incredibly challenging, but I looked forward to each call just as much as I eagerly awaited his return.
From working together, to living over a thousand miles apart to moving to a new region, I have fallen more deeply in love with Johnny every month, every day and every hour of our relationship. I never thought I'd meet someone that I actually enjoyed cooking for, but food has always been a huge part of our relationship and I've found myself constantly looking for new recipes to make for him! Even through my chronic illness, he's been the best friend I never could have asked for.
Johnny's Story:It has been by God's grace that we made it this far or that we even started dating at all! I knew that I couldn't possibly deserve someone so amazing in my life to call "my girlfriend." But the times that we shared, since the day that I asked her, has been nothing short of magical. True that we have had our share of bumps and challenges. We've had our great days and our great defeats. We had to learn to adapt to so many roles in each other's lives and ensure that we're both close to God as we do so. All I can say is that God had an amazing plan. I am living His promise of "getting the desires of my heart".
A key aspect of our relationship dynamics that I really love is the amount of fun we have together especially on dates. There are a few dates that come to mind. 1) 1-Month Anniversary Date: We tried to replicate the first date that I took Tori on. This was the date where we first said "I love you" to each other, and it couldn't have happened in a more magical way. We danced to "Shut Up And Dance" in the middle of Santa Monica pier in front of Bubba Gump's souvenir shop. I looked at her, and as the song ended, I uttered, "I love you"; 2) Our cook-off date over FaceTime: This was the date that made me certain that I wanted to be with Tori. Long-distance relationships are difficult only if the couple is not willing to fight, and fight we did and hard. That date ended with my heart reassured that we would go the distance.
Now here we are. I cannot have imagined these events any more perfect. Each event that led us to this point has been pivotal for our relationship. I am grateful for every single one of them both good time and bad times. I look forward to spending forever here on Earth with "the love of my life".
Will You Spend Forever With Me?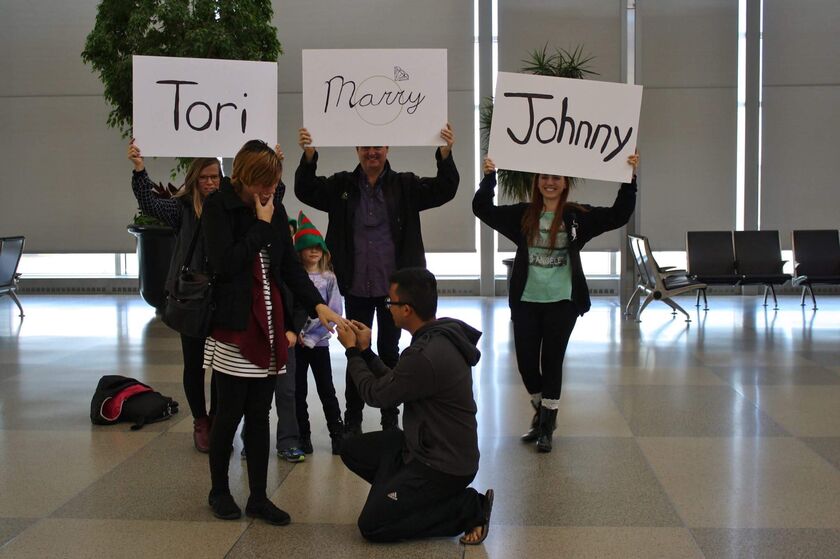 Tori's Perspective: The night of November 21st, 2016 was long. After an incredible dinner at Sushi Stop (One of our favorite restaurants in LA) with Erin, we were dropped off at LAX to begin what I thought was just another adventure. Our first plane ride was nice, we talked for a large portion of it and then had a few hours of a Layover in Washington DC. Although that was a place that I've wanted to go for a while, the hours we spent there were the dark hours of the night, so instead of exploring, Johnny pushed me around in a wheelchair through the airport catching Pokemon. While we waited on our last plane, we talked about our relationship up to this point, ways that we've grown, the challenges we've faced and the things we almost didn't make it through. I was happy, content and more than a little sleepy.
When our plane landed at RDU, we approached the stairs leading to the lobby(?) of the airport. I could see my little siblings in their elf and reindeer hats and my parents and sister were holding up the usual welcome signs, reading "Welcome Home Tori and Johnny." I was excited to see my family, and they rushed to greet me with hugs before suggesting that we move to the side to take a picture. Absolutely nothing seemed out of the ordinary, but little did I know, a moment was coming that would change my life forever.
Johnny was supposed to be taking the picture, but then he said, "Oh, it's videotaping!" I was confused at first, but then he stepped forward to pull me out of the picture. When he turned me around, the signs had been flipped to read "Tori marry Johnny." I was sure I was dreaming, maybe I had fallen asleep on the plane finally, but no it was real. He said, "Fiance has a nice RING to it," and got down on one knee. I was in complete shock and full of joy, and he asked me if I would spend forever with him. I could barely get a yes out, but he slipped the ring on my finger and it clicked! We're getting married! I get to marry my best friend, the love of my life! And although planning a wedding in 48 days might sounds crazy, there's no one else I'd rather spend the rest of my life with. If you want to see it, the video of our engagement is in the link below.
Stay Tuned For More
Does the story feel light? Don't worry. We will continue to add more information until the wedding day!
The Wedding
Monday, January 9, 2017
Attire: Formal
Ceremony and Reception
Antelope Valley Partners for Health
44226 10th St W, Lancaster, CA 93534, USA
Other Events
Bridal Shower
Thursday, January 5, 2017
Groom Honoring
Thursday, January 5, 2017