Our Story
The Start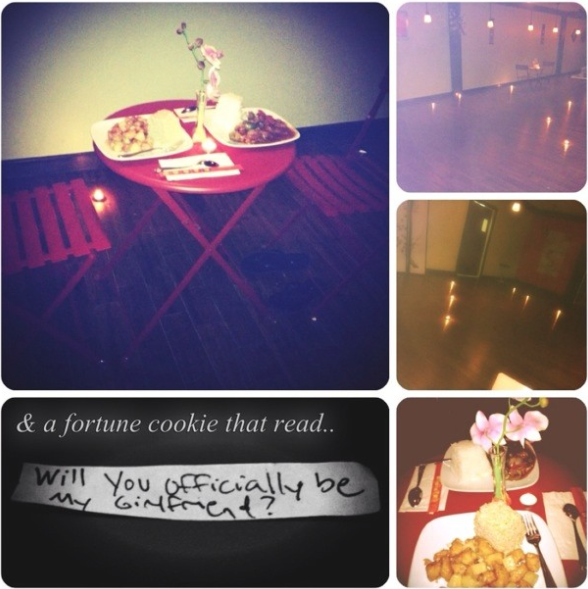 We met each other on Wynne's first day at work. I came in and an unfamiliar face greeted me. I smiled and walked past him. I have a sweet tooth and about an hour into work, I came up at the front desk to ask a question and offered one of the girls some candy. Not to be rude, but I also offered Wynne jelly beans as well and she introduced us. Later I found out that Wynne was very vanilla and didn't like anything sweet at all, haha. We became friends via 'Words with Friends' and shortly after, we joked about how we are not friends in real life unless we were on Facebook.
Wynne and I had gone through similar situations in life during that time and he has helped me become a stronger individual. He has a tough act, yet wallflower, layer in him but as I got to know him, he's not as hard as he makes out to be. We bonded over episodes of Friends and having to see movies on opening weekend and wanting to travel Asia over Starbucks/Caribou and chill days at the park. I became somewhat of a bowling pro because of him.
Almost 2 years after we met, we started dating. One night he picked me up from work. I noticed he passed the exit to my house. He told me he needed to grab something from his parents restaurant. I said okay and he continued driving. We got to his parents' restaurant and he told me he'd be right back. I went on to catch up on my social media and he came back to the car and asked if I could help him move something inside, I agreed and walked in the restaurant. He walked behind me and told me where to go.
I pushed the doors leading from the kitchen to the dining room and noticed little candle motives creating a walkway to the only dining table in the restaurant. He had cleared the entire restaurant dining room and set up a romantic dinner for two. He ordered my favorite food from PF Changs and of course, that was the first place we ever went out on a 'date' at. We had dinner and he handed me a fortune cookie. I opened it and it read "will you officially be my girlfriend".
That's the start of awdmfy - 013013.
The Proposal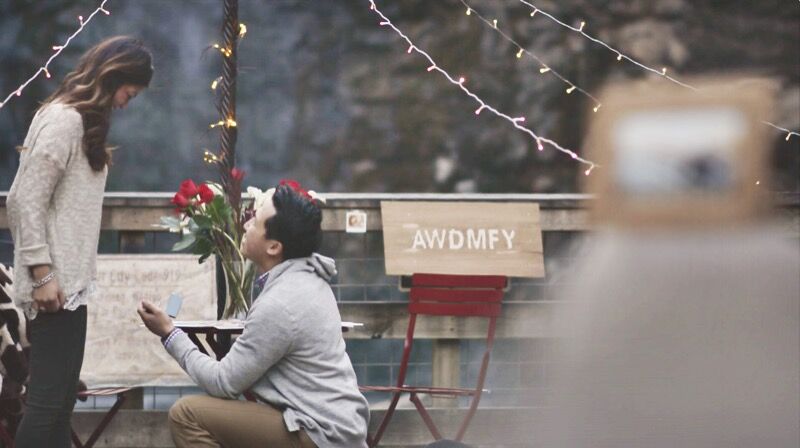 Wynne took me to a reservoir in Dublin, Ohio for the evening. He told me we were going to take the rest of our couple's spring pictures. We had went earlier in the morning but didn't get a lot of photos because I had to work. So he left work early to take me back to the same spot.
We didn't reach the end of the boardwalk in the morning so I didn't know what was there. I noticed lights at the end, but again, I didn't know if they were there to begin with or not. As we got closer, I could hear the sound of the waterfall and all these lights and lanterns around us. He had set up a walkway filled with our memories throughout the years. Pictures of us, our daily post it notes, and anniversary cards were everywhere. It was honestly the most beautiful sight I've ever seen. My man is romantic, but this just blew everything out of the water. This was an unforgettable trip down memory lane.
In the middle he had set up the same table he used when he asked me to be his girlfriend years ago, and filled it with more cards that we've given each other every month on our day. The entire thing literallly took my breath away. I honestly felt nervous, yet giddy for I knew what was to come. I tried to delay it for as long as I could so I can soak in everything that was happening around me.
Wynne, then proceeded to tell me how the last couple of years has been the best of his life and he wouldn't give it up for anything.. he continued on to tell me how I give his life purpose. I was so happy that all I could do was giggle and smile.
He took his backpack off and took out a light blue box from it. He told me how he really likes me and that this was it, we were stuck with each other forever. He got down on one knee and asked me to marry him! I was so overwhelmed with joy and excitement. The ring was beautiful! It fit me perfectly and was exactly what I had hoped and dreamed for. So simple, yet elegant. Such a classic. I told him yes and heard cheers and claps from afar.
At that moment, it had hit me... I burst into tears. This is actually happening. I'm going to be marrying the one person I was meant to be with for the rest of time. I'm fortunate enough to have the same guy that I love, also be the same guy I'm suppose to be with. I love this man more than anything and I know through time, our feelings for each other only strengthens. Our bond continues to grow more solid. The foundation we've built is unbreakable and I'm blessed beyond words to call him my fiance and soon to be husband. There's nothing more that I want in life than to see him happy, and I know I can say the same for him.
My sister and her best friend greeted us, along with Wynne's cousin. My parents also made the 3.5 hour drive just to witness it all happen. So grateful for having Wynne let them all be a part of our special moment.
A few months before this all happened, Wynne had asked me what my perfect proposal would be. I told him I wanted a horse and carriage.. twinkle lights.. and being able to share the good news with my family after it all happened. He got 2 out of 3. I may not have gotten my horse and carriage, but what I got was still way more than I had ever dreamed of.
We took pictures and I just let this amazing evening soak in. I will soon be Mrs. Wynne Yang. And nothing makes me happier than growing old with my best friend by my side.
Weeks after he proposed, I found out that he spent every morning trying to look for the perfect spot to ask me to marry him. Mornings I thought he was at the gym, he actually spent planning and driving around the city. He also had my ring custom made. I'm so grateful for the amount of thought that my fiancé had put into making sure this special moment was beyond perfect. Extra M for these extraordinary memmories.. :)
Our proposal was also featured on howheasked.com, their Twitter, Instagram, and Facebook page with our proposal video. Link below.
http://howheasked.com/aroha-and-wynnes-beautiful-marriage-proposal-video
Our proposal video on YouTube.
Special thank you to the fiancé for allowing me to relive this moment anytime I want by creating this video.
30 ♡
Wynne and Aroha had met a day before the 30th of March, 2011.
He asked to be her boyfriend on January 30th, 2013.
They moved in together in Columbus, Ohio on December 30th, 2013.
He proposed on April 30th, 2015. (the middle mark of 1/30 & 7/30)
They will become husband and wife on July 30th, 2016.
The Wedding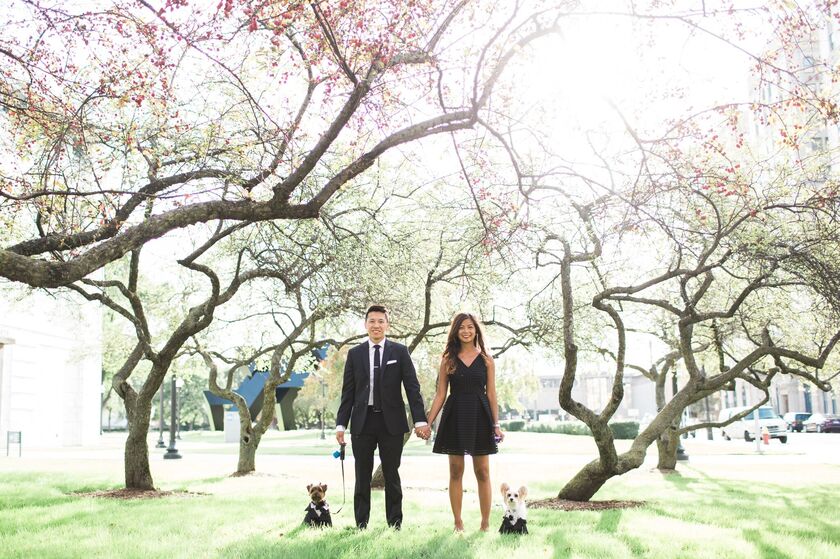 Saturday, July 30, 2016
Attire: Formal
Ceremony
Guardian Angels Catholic Church
Reception
San Marino Club
Other Events
Bridal Shower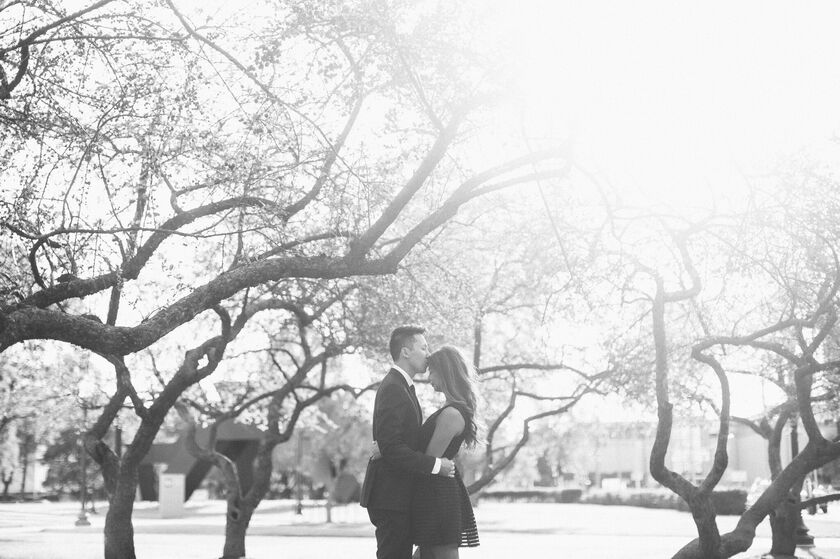 Saturday, April 30, 2016
The Gazebo Banquet Center
31104 Mound Rd, Warren, MI 48092, United States
Hmong Celebration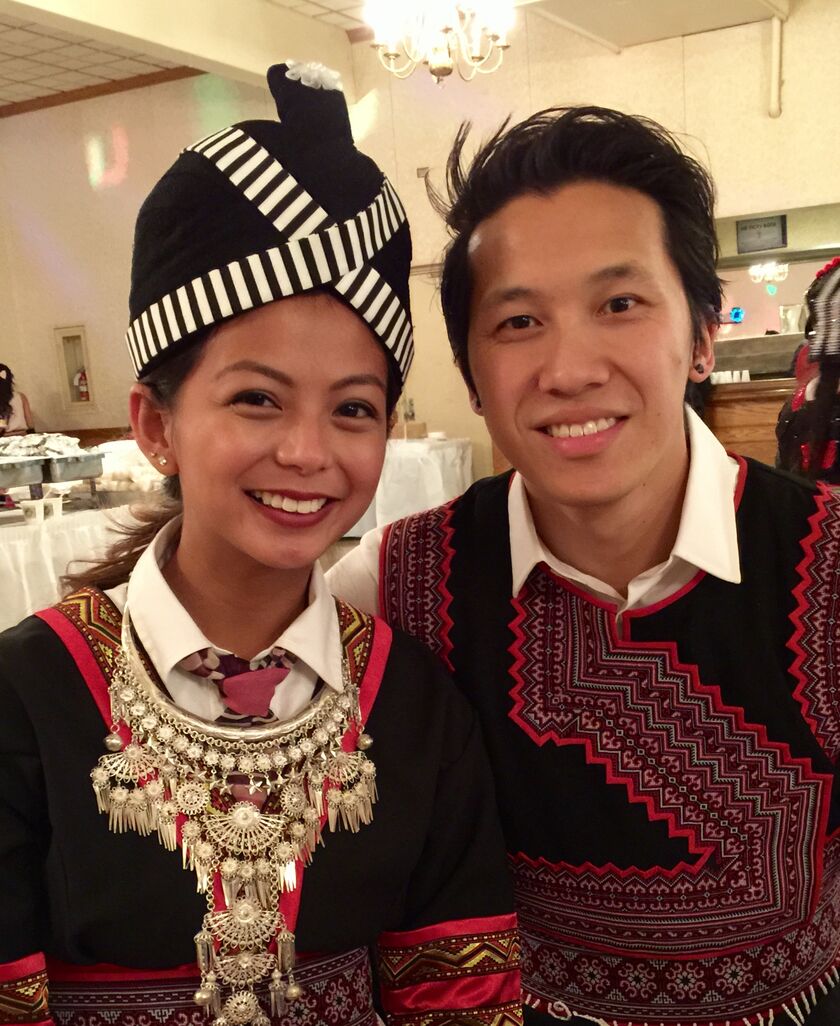 Saturday, May 14, 2016
Yang Residence
13748 Jenny Dr. Warren, MI 48088
Wedding Party
Danny - Father of the Bride
Daisy - Mother of the Bride
George - Father of the Groom
Jane - Mother of the Groom
Social Media
#awdmfy2016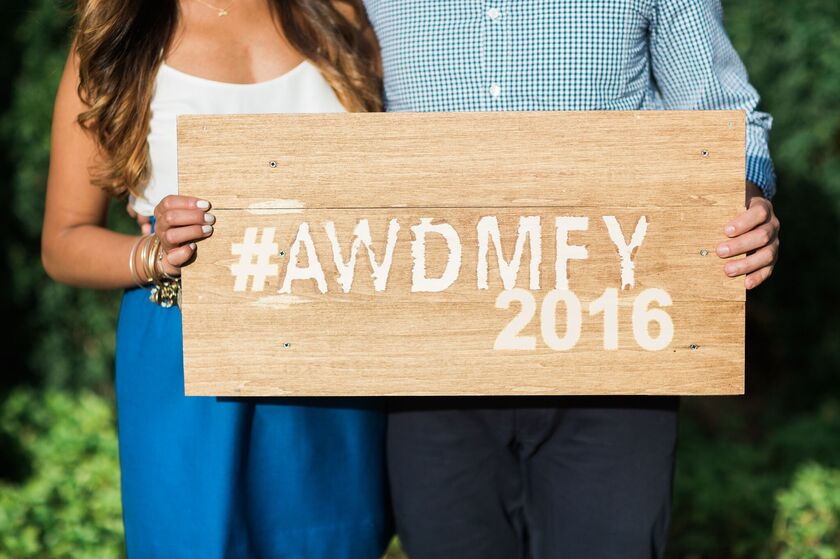 Capture our special day by using hashtag #awdmfy2016 on Instagram, Facebook and Twitter. ♡