Home

Chicago Catz
About this Vendor
Ain't Nothin' But A Party!
The Chicago Catz are the best dance/party band in Chicago period! For more than 30 years, the Catz have been rocking dance floors. What distinguishes the Catz is that we are a REAL band. Everything's memorized... no reading sheet music, no playing along to tracks as so many other bands do. This allows us to fully engage with each other and the dance floor. The effect is a wonderful, almost tribal experience between band and all the party people! We are a super tight, experienced, elite talent, funky GENUINE party/dance band. At the heart of the Catz is a 70's club band. That is the culture which forged The Chicago Catz. We are all 1st call studio musicians and vocalists. This band is the product of talent, hard work and the joy of creating music that makes people party their @$$ off!
Details
Cello, Flute, Guitar, Keyboard, Organ, Percussion, Piano, Saxophone, Trombone, Trumpet, Violin, Vocals
Dance, Disco, Hip-Hop, Jazz, Pop, R&B, Rock
After Party, Rehearsals + Parties, Ceremony, Reception, Wedding
Live Music, MC Services, Recorded Music, Sound Equipment, Music, Equipment, Rentals + Equipment
Contact Info
What a Performance!!
Reviewed on

11/05/2013
Lauren S
Richie Davis and the Chicago Catz did an absolutely remarkable job. In preparation for our wedding day, Richie collaborated beautifully with us, our families, and his musicians. They are real professionals! They learned a handful of new songs for us and executed them... Read More perfectly! They learned our first dance song, which we had choreographed our dance to, was spectacular. They played a mix of old and new, and had us dancing the ENTIRE time. That is not an exaggeration. When the party ended at midnight, the floor was still packed and our guests began chanting for one more song. It's been a month since our wedding and people are still asking us where we found them. I couldn't recommend them higher!
---
The dance floor was packed all night
Reviewed on

10/30/2013
Linda S
This band made the whole wedding! If I had a dollar for every time someone raved about our wedding band, I could pay off the wedding and honeymoon! I wanted a band that interacted with the crowd, and they would come and sing in the middle of the dance floor. They were sweet,... Read More responsive to emails and accomodated our special song requests. Richie, the band leader even came through our receiving line which I thought was very kind. I highly highly recommend them! Phenomenal!
---
Reviewed on

4/19/2018
Nina H
Hands down, Chicago Catz was the best wedding band ever!! No one stayed in their seats. Everyone danced all night. Richie was patient with us ( we changed our minds a lot) and gave us great advice. We had an eleven piece band - each member was a virtuoso. Thanks for helping... Read More to make our daughter's wedding memorable and fun!!
---
Reviewed on

4/19/2018
Matty P
The Chicago Catz are hands down the best wedding band I have ever heard (and we did our research). They are incredibly talented and a delight to work with. You won't go wrong having them at your event.
---
Reviewed on

4/19/2018
Megan H
It's hard to describe how happy we are that we hired the Chicago Catz for our wedding. They provided a jazz trio, jazz quartet, and a 12 piece band for our wedding reception on 9/23/17 in Milwaukee, and they rocked the house the entire night. I have never seen a dance floor fill... Read More up that quickly!!! And the dance floor was packed the whole night. They did such a good job mixing up the music to our taste, and there was never a dull moment. Richie was extremely responsive with emails and worked seamlessly with our wedding coordinator. We had multiple people coming up to us after the wedding asking where we found such an incredible band and how they have never seen the dance floor packed for the whole night at a wedding. As a bride, that is one of the best compliments you can receive! We will definitely be making the trip to Chicago to see them play in the future! Thanks Chicago Catz, you guys helped make our wedding one that none of our guests will forget!
---
Reviewed on

4/19/2018
Grace H
We hired the Chicago Catz for our June 24th wedding at the University Club and it was one of the best decisions we made! Richie and our bandleader, Kevin, were both so nice and easy to work with. They helped us arrange a string quartet for our ceremony as well as learned a new... Read More song for us for our first dance. The band put on an incredible performance at the reception. Their setlist is so much fun. Our guests raved about them and some of our friends have booked them for their wedding since seeing them at ours. If you're looking to hire a band, look no further!
---
Reviewed on

4/19/2018
Sandy N
Richie was great to work with, very professional, responsive and accommodating. The Catz kept the party going strong all night long, it made our son's wedding a success! I had people telling me for months how much fun they were. I highly recommend!
---
Reviewed on

12/13/2017
Chris H
We first saw Chicago Catz at a street party in our town. Everyone was on their feet dancing, and we knew we had to hire them for our daughter's wedding. We had 6 pieces including vocalist during dinner and 11 members for dancing. They were so much fun! Kept everyone on the... Read More floor. Loved them!
---
Reviewed on

8/15/2017
Ashly V
The Chicago Catz made our wedding!!! They are so talented and bring the energy!! We asked them to learn a few songs for us, and not only did they learn the words and perform the songs - I think they did it better than the original artists. Everyone from our wedding was raving... Read More about the band. I had so many people tell me this was one of the best wedding bands they had ever seen. These artist love what they do, and you can see that when they are on stage performing. Richie, the band leader, came over to our house a few months before our wedding to just sit down and get to know us. He is such a wonderful man with the most fabulous stories about Chicago and music in general. After our meeting with him, I knew I was fully confident in picking the Catz to be with us on our big day. They truly went above and beyond for my husband and I, and I cannot thank them enough!!!! Trust me when I say THIS IS THE BAND YOU WANT FOR YOUR WEDDING!!!!!
---
Reviewed on

7/23/2017
Vicki W L
We had the CATZ play at our son's wedding and had wonderful experience. The contact was Kevin and he was very professional. They delivered on their performance and then some with the entire wedding on their feet dancing. The are talented and professional . I recommend them... Read More without reservation - they are amazing.
---
Reviewed on

5/22/2017
Marni P
These guys were incredible. Richie helped make our wedding the way we wanted it. He helped us with our timeline and made sure the day was exactly what we wanted. The band was so good everyone (young and old) couldn't stop commenting on it. They had everyone dancing and having a... Read More good time. I barely remember stepping off the dance floor. They know how to throw a party!
---
Reviewed on

4/21/2017
Jackie O
Chicago Catz is amazing! Richie was our point of contact throughout the entire process and was so helpful, patient, and thoughtful. We had a 3 piece for our ceremony and cocktail hour. They transitioned flawlessly from playing Jack Johnson-esque music for the ceremony to jazz... Read More for the cocktail hour. For the reception we had the 12-piece ensemble and let me tell you - Chicago Catz knows how to throw an amazing party. They kept everyone on the dance floor the entire night, and many of our friends and family told us they were the best band they had ever seen. We agree! Thank you to Richie & the entire Chicago Catz crew - you guys are the best!
---
Reviewed on

2/18/2017
Christine P
After getting a recommendation from former clients and even other Chicago wedding bands, we knew the Chicago Catz were the way to go for our wedding day! For all the real music lovers out there or anyone who wants their wedding to be an unforgettable party, I highly recommend... Read More the Catz. Richie was an amazing partner to work with during our planning process – incredibly professional and knowledgeable. He was always available via phone when we needed him, and made time to meet with us with his band leader to discuss all our needs before the wedding. He even made a site visit to our venue and did a detailed walk-through, coordinating directly with the venue staff to make sure the day went off without a hitch. Even with a complicated sound set up and an outdoor venue, Richie provided us with a plan A, B, and C so that we knew the party would be great no matter the weather. And the final result blew away all our expectations! Richie has brought together an amazing ensemble of talented musicians who truly love what they do – and are a whole lot of fun, too! Tony and the band kept the party going all night. With an amazing repertoire of songs and styles, the band caters to any person of any age – guests from 5 to 85 loved the music. They truly know how to play to the crowd – they would play crowd favorites when the dance floor got a little slow, and their medleys kept things interesting. The lovely Simbryt served as our MC and was a wonderful hostess, introducing speeches and providing a beautiful tribute to both set of parents, who've been married for over 40 years. Easy to work with and an amazing show – I don't think we could have asked for anything more! In the words of the Chicago Catz, "ain't nothin' but a party!" Go book the Catz today!
---
Reviewed on

1/17/2017
Kristin W
To say this band is the best is an understatement - they are EXTRAORDINARY! My husband and I hired them for our wedding band and everyone was blown away!! They were so easy to work with up until the wedding date and very professional. They were on-time, they had a good M.C and... Read More can range from anywhere from Adele, to Whitney Houston, to Justin Timberlake, etc. It's amazing there sound, talent and range!! We got married on June 11th and we still constantly get compliments about how amazing the band was. Not to mention they got everyone on the dance floor, including my 92 year old grandma!! They really left a lasting impression and if you are thinking about a band, look no further and book the Chicago Catz!!!
---
Reviewed on

10/03/2016
Maureen J
Richie and the Chicago Catz are the BEST! The dance floor was full all night long. Our guests, many of whom are musicians themselves, couldn't believe how talented, fun and funky the band was. Richie was SO accomodating, learning new songs for us, playing New Orleans funk,... Read More classical jazz standards, and even coordinating with my sister, MOH, to surprise my husband and I with a 45 person flash mob! The band was so kind to let my sister sing a song with them and even have a rehearsal with her a couple days before the wedding. So many of our guests said our wedding was one of the best weddings they have been to - and much of that is owed to the Catz! Can't wait to see them play around Chicago! We could not be happier!
---
Reviewed on

9/27/2016
Amy W
Oh my gosh! This band rocks a wedding!!! We decided pretty early on that we wanted a band. We set a budget and went out on a hunt for the perfect band for us. We wanted someone that had great musicians, great vocalists and played great dance music. We went to see band after... Read More band and kept feeling like no one was right for us. After seeing them at a wedding, a friend recommended we take a look at Chicago Catz and we were BLOWN away! We exceeded our budget a little (but hey, I could cut costs in other areas to make sure everyone danced their tails off at our wedding). We have absolutely no regrets with choosing this band. We like them so much, we will be keeping our eyes out for when they play at Nick's in the coming months so we can go watch them again! To top it all off, our main contact, Richie was so easy to work with, and made sure to talk through all the details prior to the wedding to make sure everything went smooth the day of the wedding. Seriously hire them if you want an amazing band for your reception.
---
Reviewed on

1/23/2016
If we could give the Chicago Catz 100 stars we would! We heard stellar reviews of the band from a family friend and after we saw them perform in person at Nick's Beer Garden we were blown away. The Catz are an extremely talented, energetic and fun band with a broad... Read More repertoire. They can play anything from The Temptations to The Rolling Stones to Prince to Michael Jackson to Mackelmore. From the very beginning the Catz were a joy to work with, especially Richie the bandleader. Richie was extremely professional and the most responsive of all of our vendors. He was also very helpful when we were narrowing down our song list and we enjoyed bouncing ideas off one another when working on the set lists. When the day finally came we couldn't have been happier with how things turned out. The Catz were AMAZING and kept the dance floor packed for three hours! My husband and I were having so much fun we may have left the dance floor for 10 minutes at the most. We cannot thank the Catz enough, especially Richie, for making the best day of our lives to date also the most fun and memorable. W are still receiving endless comments from our wedding guests about how wonderful the Catz were, especially that they were by far the best wedding band they'd ever heard. If you are considering booking a band for any occasion, you should look no further than the Catz. You won't find anything better, we promise.
---
Meet The President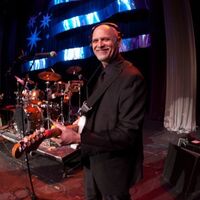 Richie Davis
Richie has recorded with Bobby Womack, Dennis Edwards, Gladys Knight, Mavis Staples, J.T. Taylor, Angela Bofill, The Impressions,Gavin Christopher, Billy Preston, Patrice Rushen , Grand Master Flash. Mariah Carey, Brian Wilson and Enrique Iglesias. and has performed on stage with The Winans, Patti LaBelle, Nancy Wilson, Najee, Tom Scott, Bo Diddley James Burton and Kenny Loggins. I have been leading weddings for over 30 years and will support you throughout the process of planning and designing the most amazing, fun and funky party that your guests will be raving about for years!