Home

Countryside Banquet Facility
Amenities + Details
Amenities
Handicap Accessible

Wireless Internet
For more details about amenities, please message the Venue.
Bar + Drinks, Food + Catering
Contact Info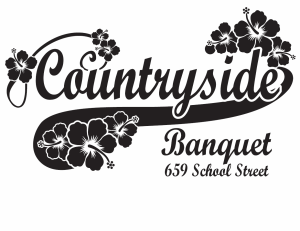 659 School St, Washington, IL
Reviewed on

8/09/2016
Eric N
We used Countryside's tent for our wedding. We held the ceremony on their outdoor patio and the reception in the tent. We had outdoor games in the grass out front. Kristi LaHood owns and runs Countryside. Kristi has kind of a harsh personality and doesn't beat around the bush.... Read More She's very busy, but responds to emails quickly. She had a lot of rules for the tent but was also accommodating with the lighting we wanted to use. Overall it was a very positive experience and our wedding was beautiful and perfect.
---
Reviewed on

7/21/2016
Emily C
I'm not a complainer. But as a first time bride looking at our first location to hold our wedding reception, and the venue manager doesn't show up or answer any of my phone calls, it's a little disheartening. We waited half an hour for her to show up and called three times. I... Read More finally received an email this morning apologizing and said she mixed up days. Now I am all for giving people second chances, but this left me with a sense of faithlessness in this venue if the manager couldn't make it on the very initial viewing. Maybe I'm being harsh, but I take punctuality and organization pretty serious, especially when it comes to our wedding. I'm sure it's lovely, and I've heard rave reviews, but it's tarnished for us now and we will be taking our business elsewhere.
---
All around Fabulous
Reviewed on

10/15/2013
Jennifer B
Countryside Banquet was wonderful Kristi was great to work with from start to finish. The food was amazing. Set up was exactly as planned. The servers were wonderful and attentive. We had a wonderful time and our guests did as well. I would highly recommend Countryside... Read More Banquet to anyone.
---
Perfect!
Reviewed on

7/10/2013
Jillian L
We used Countryside for both our ceremony and reception. It couldn't have been more beautiful! Thankfully it was air conditioned because outside was very hot. The people there are very accommodating and worked so well with us to make sure we had everything we wanted and needed.... Read More They checked in with us throughout the night as well to make sure everything was going according to plan. I would strongly recommend them!
---
Beautiful Venue
Reviewed on

7/04/2013
Laura H
I used the garden tent for my reception and it was absolutely gorgeous. It was the perfect size for about 200 people. Lots of room between tables and a nice size dance floor where no tables had to be moved. The food was also very good. Everything was exactly how it was... Read More presented and how we wanted it.
---
Our Experience
Reviewed on

11/06/2012
Krystal E
We had our wedding reception at Countryside. For the most part it went well. The owner was very helpful the week and day of the event. She was somewhat hard to get ahold of. However, when we signed the contract and met to go over everything, a few major details were left out. We... Read More were not informed of the additional fee for setting up extra tables and we were not told about the fee for an additional half hour for the DJ/vendor to pack up after 12am (which is when our event ended). We were also told by a family member that when they had attended a previous wedding reception at Countryside, they had passed off tapped kegs as full ones, and then attempted to charge the wedding couple for full kegs. I would definitely check your kegs, especially if they are going to be Bud Light. On a brighter note, the food is DELICIOUS! Everyone loved the food. The food is well worth the money.
---
My Cousins wedding reception
Reviewed on

10/18/2012
Joy L
It was a beautiful venue. Food was delicious and the tent was wonderful. I would definitely recommend this for your reception or event.
---
Very Pretty Reception Location
Reviewed on

10/11/2011
Jesi S
My husband knew he wanted this location as his wedding reception site before we were even thinking about marriage. His sister had used Countryside's tent for her wedding, and his whole family really enjoyed the atmosphere. The price was a bit steep for what I wanted to spend,... Read More but I wanted us both to be happy. The hors d'oeuvres and the chocolate fountain (plus additional cost for food to dip) are extremely expensive (for this area, at least). No outside food or drink (except for peanuts, cake, and mints) are allowed; therefore, we went without a chocolate fountain. The tent is beautiful both inside and out, and our food was very good. We had good service from the staff. There are two facilities connected to one parking lot for events. One is a building, and one is a tent. We had a few "wedding crashers" from the other event try to intrude on our day three different times. I have been to a reception in this tent during the middle of July, and it is perfectly cool inside. It is very well air-conditioned. However, our event was in the fall. The air was on, and probably did not have to be. The reception was perfect, but after we (bride & groom) left (10PM), we were told people could see their breath in the tent and several guests left because of the cold, although we rented the tent and the DJ until midnight. The tent is "climate controlled," but I am not sure if heat is a part of that control. Overall, our wedding day was just how I imagined it, and I would recommend this beautiful tent to someone else; just be cautious of prices and rude visitors that have nerve to come in for free food, beer, or dancing.
---
Review for Countryside Banquet Facility
Reviewed on

11/01/2008
Megan C
Fountain inside - beautifully decorated. Very helpful staff
---