Home

GREEN FOURTEEN
About this Vendor
6 HRS of NON STOP Music & JAM PACKED DANCE FLOORS!
Celebrating 17 years! We are very proud to be the winner of 7 BEST OF THE KNOT Awards and The Knot's prestigious HALL OF FAME award. Please view our 160 verified reviews here on the Knot! HAVING TROUBLE FINDING OUR 300 LIVE VIDEOS FROM CLIENT WEDDINGS? Please go directly to our website (gte.me) to view everything! :)
Details
Classical, Country, Disco, Folk, Hip-Hop, Jazz, Pop, R&B, Rock, Arabic, Indian, Klezmer, Latin, Persian, World Music
Ceremony, Reception, Wedding
Live Music, MC Services, Music, Rentals + Equipment
Contact Info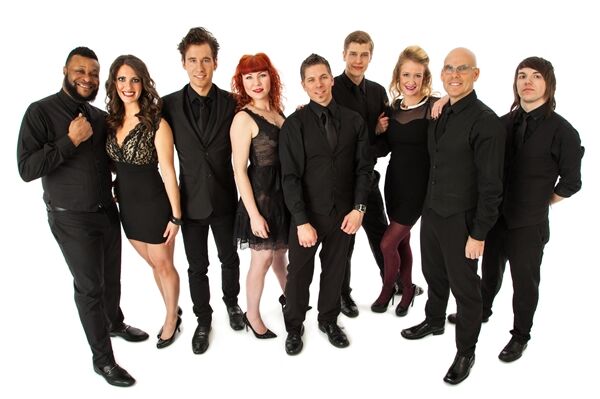 Reviewed on

1/08/2017
Katie P
There is no way to express the complete awesomeness that Green Fourteen is. Patrick was the first band that I reached out to. His energy and attention to detail during our first conversation made him the only band that I reached out to. He was great to work and he genuinely... Read More cares about your vision for your big night. He will do whatever it takes to make that happen too. Patrick and the band absolutely NAILED it! I have been to at least 30 weddings in the city in the last 5+ years and every person commented on how they were the best band they have ever seen. The dance floor was packed the whole time. I think I got off the dance floor one time the whole night. The singers are amazing and get all of the guests involved, whether they know they want to be or not. I recommend spending the extra money to get as many band members as possible. It is well worth it! We had the 12 piece bad. The sax was unreal. I knew that music was one of the most important things to me and Patrick and Green Fourteen fell nothing short of perfection!!! Thank you Green Fourteen for making this night the best night of my life :) One request: if anyone reads this and hires Patrick and Green Fourteen, can you invite me to the wedding?!?!
---
Reviewed on

11/26/2016
Danielle B
My husband and I would highly recommend Patrick and Green Fourteen to anyone looking to have a band at an event! From the initial point of contact to our wedding day, the responsiveness was on point. Patrick was great to work with, incredibly friendly and full of energy! He... Read More seemed genuinely interested in making our wedding day the best day of our lives! He was incredibly helpful when planning our reception from the start to finish. We left a lot of the music choices up to him and we could not have been more pleased! We received tons of compliments on the band's performance and continue to get compliments! Each band member was fantastic! Besides being good artists, they were fun and engaging to our wedding guests. We cannot say enough about the band and if we ever consider a band for any event in the future, we will definitely use Patrick and Green Fourteen again!
---
Reviewed on

11/06/2016
Caroline R
Best. Band. Ever. From Motown to 80s to today, they played every song that makes you want to get up and dance. The energy of the band members is infectious. At one point, they had our wedding guests circling us with their hands in the air, everyone singing at the tops of their... Read More lungs... it was my favorite moment of the night. The band leader Patrick is AMAZING. An orchestra all his own. He's an event planner, MC, and right-hand man all in one. He worked with my day-of coordinator to make sure we had everything we needed and more. He's a joy to know as a human let alone have at your wedding. More than a few dozen times, my guests told me they were the best wedding band they'd ever heard. I'm so so grateful they played at mine.
---
Reviewed on

8/23/2017
Ryan D
We couldn't imagine working with anyone else for our wedding. The band was phenomenal and the dance floor was never empty. Patrick truly made the day all about us.
---
Reviewed on

8/17/2017
Mark (Mr Miaggi) P
Just finished a corporate 50th anniversary party for 1000. Was very leary about which band to choose having never done this before, or probably again. I researched many bands but chose Green Fourteen. I did NOT make a mistake. Patrick and every member of the band was... Read More awesome! We had guests from 30 different countries from 17 years old to 95 and every one had a great time. Many said it was the best party that they have ever attended and much of that congratulations belongs to Green Fourteen and Patrick Doody. They played for 5 hours straight with no breaks each song sounding like it was being performed by the original artist that created it. High energy all night long as well as an MC performance for awards that was just what we wanted. Thanks so much for a great night. YOu will not be sorry if you hire this band!!!
---
Reviewed on

7/06/2017
Roxanna T
The raving reviews are true people-- this band knows how to take a party to the next level! Leading up to our wedding, Patrick was always very responsive and accommodating of our requests. He acted like an assistant coordinator for us on the day of, making sure we knew when it... Read More was time for first dances, speeches, even that we had drinks on hand for the toasts. The band totally exceeded our expectations (which were already pretty high based on their reviews)! From their insane dance moves to always reading the crowd to walking the dancefloor and interacting with guests, it's no wonder that all we heard for the next few days was how amazing the band was. We thought we wouldn't be able to afford a live band, but we are so happy we reached out to Patrick and booked Green Fourteen. They truly made our wedding an unforgettable night!
---
Reviewed on

6/20/2017
Allie H
Patrick with Green Fourteen was wonderful to work with. He was always extremely responsive via email. The band overall was amazing. Each band member at our wedding was so energetic, they got the crowd involved, up and dancing, which we loved! We have seen many bands over the... Read More years at other weddings and Green Fourteen blew them all away. We are still getting compliments on how awesome they were from our guests! We would definitely recommend them!
---
Reviewed on

4/14/2017
Alan W
Avoid Green Fourteen. Green Fourteen said they would hold our date while we negotiated the contract and then they booked someone else. Sent a text and did not even have the courtesy to call us. Very unprofessional, unethical and despicable behaviour. Do yourself a favor and... Read More look elsewhere. Fortunately, we were able to find a far better band that worked with us on a professional basis.
---
Reviewed on

2/15/2017
Theresa K
UNFORGETTABLE! I wish I could give this band 100 stars! They were the musical soul of the evening and just blew everyone away! We are still getting compliments: "they were my favorite part!" "so much fun!" "I loved that they interacted with the guests so much!" etc. Patrick was... Read More incredible to work with. He made our day very personalized, helped us schedule the evening, and was even able to make a few last minute changes on the spot. This band is extremely talented and went around the dance floor singing and dancing with the guests, all while singing the songs perfectly! They played for 3 hours straight and we had people on the dance floor all night! People even started dancing during dinner! I can't thank them enough for making our evening so perfect! If you are looking for the perfect band for your wedding, look no further than Green Fourteen! They are the best!
---
Reviewed on

1/24/2017
Amy P
Most amazing wedding band ever!!! Booked them after going to my best friend's wedding and another friend is engaged and booked them. We were dancing the WHOLE night!
---
Reviewed on

10/17/2016
Carla K
I can not rave enough about this band. They were so good, professional, fun, and Patrick was just wonderful to work with. They involved all of the guests, learned special music, as well as Patrick emcee-ing the whole event. Added attention to detail, like making sure we had... Read More filled glasses for toasting, was also a great touch. Patrick was enthusiastic from day one, and worked with me on everything to make sure the wedding and reception was everything I had envisioned.
---
Reviewed on

9/21/2016
Patrick and Green Fourteen are now are family. From the first time you talk to Patrick it's wonderful. He sends information that covers all bases and arranges for the couple to watch them in action as soon as is possible. After 18 months of planning Being the Mother of the... Read More bride Patrick had everything from the ceremony music , set up , emceeing with his great warmth was so calming. Our guest's comments were oh my gosh the entertainment is/was the most fun they had in years. 86 year old Aunt was on the dance floor all night. As was the other 200 Guest's including baby's in arms of loved ones and all other ages having the time of their life. Patrick also checked in with myself and Father of the Bride several times during afternoon and night to see if there was anything we needed even if it wasn't his responsibility. His crew were warm and friendly and went out of their way also to entire wedding guests. Five star entertainment were other comments. When they were setting up outdoor ceremony equipment you didn't even notice the equipment and the sound even outdoor's was so clear. 200 guests could hear made comments on how great it was to hear everything from processional music to that Revered was fun. Thank you Patrick. This isn't just dancing. This is top notch entertainment with a built in family feel. Warm ,energetic, Funny, and professional. His personality is always fun as is his musicians and amazing voices. One of the Earth, Wind and Fire songs if you closed your eyes you thought it was them. Love you Green Fourteen. Barb G.
---
Reviewed on

9/16/2016
Patrick was a gem to work with during his extremely busy season. He drove to Joliet to meet us half way to personally discuss his role as master of ceremonies for the reception, and we planned everything down to the minute. The extremely talented musicians poured their energy... Read More into the evening and created a memorable event for all guests, especially the bride and groom. We requested the largest dance floor available, and we found it full of all generations celebrating for 3.5 hours. Thank you Green Fourteen!
---
Reviewed on

9/16/2016
Wendy W
My daughter was married 3 weeks ago and Green Fourteen traveled from Chicago to Omaha for the celebration. And indeed it was quite the celebration. Green Fourteen is an amazing band and Patrick is a fabulous MC and very easy to work with. ALL our guests were on the dance... Read More floor ALL night having the time of their lives. The music was better than I imagined. I couldn't have been more pleased. I highly recommend this group of extremely talented men and women.
---
Reviewed on

8/16/2016
Debra F
Patrick was great to work with. This was the first time we had them at our Resort for a wedding and I would highly recommend them to future events. The band sounded great. Looking forward to seeing them again in September.
---
Reviewed on

8/01/2016
Melissa A
Green 14 was fantastic and was so interactive and perfect. I couldn't have asked for anything better!
---
Reviewed on

8/01/2016
These guys killed it at a wedding I participated in at the Pabst Brewery! I would highly recommend them!
---
Reviewed on

7/26/2016
Karen H
Green Fourteen was awesome!! I've been to three events they have played at and the dance floor is always packed. The read the crowd really well and the drummer is an awesome emcee.
---
Reviewed on

7/26/2016
ALEXIS B
Green Fourteen recently played at a Fundraising event I attended. They were the highlight of the evening. I've never seen a dance floor so packed! I highly recommend booking this band for your wedding - or any event! They are so much fun!
---
Reviewed on

7/25/2016
Vaughn S
Talent, professionalism and fun. Yes, those three words summed up my experience with Green Fourteen. I was so happy that my best friend, Elizabeth ending up choosing to go with this band. They kept good music flowing the whole night and everyone had a wonderful time. Thank you... Read More Green Fourteen for the wonderful night!!
---
Reviewed on

7/25/2016
Jenna S
The band was amazing and they had everyone on the dance floor. I would high recommend them fro weddings, social gatherings, and events. They are extremely professional and everyone raved about their performance.
---
Reviewed on

7/25/2016
Best experience with a live band. The dance floor was a hit with the great songs and singer coming out to the crowd!
---
Reviewed on

7/25/2016
I loved their versions of top 40 songs! They definitely have their own cool and jazzy style, but all the songs were still super recognizable.
---
Reviewed on

7/25/2016
Jamie A. W
I recently attended a wedding of a friend in Chicago that featured Green Fourteen. This band set the tone for the entire night - they were so fun and had no problem getting the party started! I would recommend them to all brides.
---
Reviewed on

7/24/2016
This is the greatest band ever! They are so fun and energetic. They have a great range. From top 40, to oldies to slow jams, you name it. Will definitely use them in the future and refer them to friends! They really have a good time on stage and allow guests to have a fantastic... Read More time as well.
---