Home

GREEN FOURTEEN
About this Vendor
6 HRS of NON STOP Music & JAM PACKED DANCE FLOORS!
Celebrating 17 years! We are very proud to be the winner of 7 BEST OF THE KNOT Awards and The Knot's prestigious HALL OF FAME award. Please view our 160 verified reviews here on the Knot! HAVING TROUBLE FINDING OUR 300 LIVE VIDEOS FROM CLIENT WEDDINGS? Please go directly to our website (gte.me) to view everything! :)
Details
Classical, Country, Disco, Folk, Hip-Hop, Jazz, Pop, R&B, Rock, Arabic, Indian, Klezmer, Latin, Persian, World Music
Ceremony, Reception, Wedding
Live Music, MC Services, Music, Rentals + Equipment
Contact Info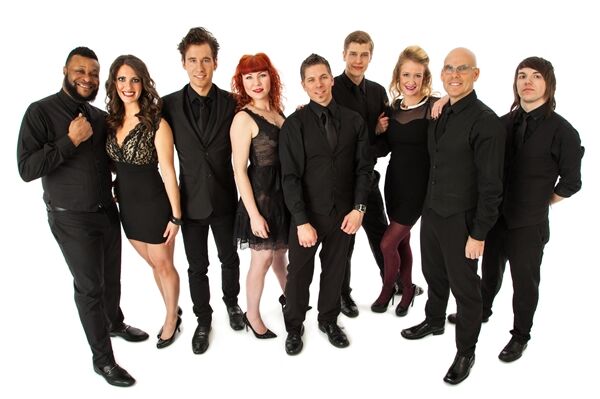 Reviewed on

10/11/2017
Bryan P
This band is the complete package. My wife and I had the time of our lives and would say there is no other band you should even consider. The band was great to work with, incredibly friendly and full of energy! We're so impressed with their attention to detail and how they ran... Read More the show. They brought this infectious energy that everyone was loving. No one left the dance floor. Patrick was incredibly helpful when planning our reception from the start to finish. We received tons of compliments on the band's performance and continue to get compliments! Each band member was fantastic! Besides being good artists, they were fun and engaging to our guests. We cannot say enough about the band and if we ever consider a band for any event in the future, we will definitely use Patrick and Green Fourteen again! They are the best of the best. To anyone who is looking to book a band.... these are your guys. So happy they said yes to being a part of our wedding day!
---
Reviewed on

10/10/2017
Tim F
All of the positive reviews are 100% TRUE. Our wedding was just this past Saturday. We planned the whole thing from LA to have in Chicago - and these guys MADE the event so incredibly memorable to us and our guests who flew in from all over LA, New York and of course some local... Read More Chicagoans... all of them were blown away. Literally the hashtag trending on my facebook page right now is #bestweddingbandever. It's the first thing my guests have mentioned talking to them after the wedding. Vendors too. Both our caterer and our photographer reached out asking who the band was b/c they were incredible. Music was very important to us when planning our wedding. Honestly i was slightly tepid prior to the wedding b/c of how affordable they were in comparison to other bands. Besides saying "I do" - hiring them was the smartest thing my Groom and I have done. Patrick said that they always over deliver, and I just thought that was something you say, but he is a man true to his word. They played longer then they said they would - playing songs everyone loved! They really added so much fun and energy to the reception, my feet are still happily sore. I told my now husband that I want to have an anniversary party just so we can rehire them. Do not hesitate to book them for your wedding (or any event really, they are legit!), and tell me if you do, b/c I'll want to crash your party. ;-) PS - Highly recommend you get the saxophonist in your band package.
---
Reviewed on

10/10/2017
Lauren D
This. Band. Is. The. Best. Ever. My family is notorious for not having fun at weddings (is that really a thing?). This band made all the difference. People are still following up with me about how amazing the band was (including some folks who are huge party-goers). The fact... Read More that they have amazing music for cocktail hour, and then can turn into dinner music (with vocals too), and then hit the ground running with 3 hours straight of energy (complete with back up dancers, WHAT?!), was incredible. They are the complete package. My husband and I (along with other wedding goers) talked about wanting to follow them around on tour because they were so fun. Green Fourteen was the first deposit we made for our wedding, and at the wedding we all realized why. Because they are the best of the best. Patrick-- to the rest of the band-- you are some talented people, and you have a great thing going. We're so impressed with your attention to detail, how you ran the show, and made everything so flawless. As an event planner myself, I've never seen anything like the show you put on, and the thoroughness you put into your work. I could go on and on. To anyone who is looking to book a band.... these are your guys. So happy you said yes to being a part of our big day!
---
Reviewed on

11/17/2017
Alison B
Green Fourteen provided the experience you want all of your wedding guests to have! The level of energy in the room that Patrick and Green Fourteen created lasted from 6pm when the reception started to midnight when the event was over. They appeal to all demographics by varying... Read More their song selection to not play songs from the same decade back to back. The entertainers become part of your party and your guests engage like you've never seen them before. Men and women you have never seen dance, dance and guests who can't sing, belt it into the mic. Green Fourteen is genuinely invested in YOUR day and do everything in their power to make sure that the dance floor is always full. To our surprise, the band even brought additional backup dancers and band members to only enhance our expectations for our guests. However, the experience started before our wedding day! Patrick was phenomenal to work with. Brides, if you are worried about details, timing and everything go off without a hitch, Patrick is your man! His eye for details and his appreciation for time management was more than I could have asked for. Upon meeting, he told me I could call, email or text 24/7 and he would respond ASAP. It was true! He always answered my questions and promised he would control that level of energy. If you want your guests to have the time of their lives and talk about your wedding day forever, book Green Fourteen! They won't disappoint!
---
Reviewed on

11/09/2017
Green Fourteen is an amazing band! They performed at our black tie charity gala and their presence MADE the night! They have incredible energy and made the night unforgettable.
---
Reviewed on

11/07/2017
Kaitlin V
Incredible band and fantastic performance. Enjoyed by all age groups. Big hit all around!!
---
Reviewed on

11/06/2017
Brooke D
They performed for an event of momentum in the past and are incredible!
---
Reviewed on

11/05/2017
Sophie E
Great band! Talented, fun, professional! Keeps the party going all night. You can tell they truly enjoy their work, and it shows! Highly recommend going with them for your wedding, gala, or other event!
---
Reviewed on

11/03/2017
Kelli R
I saw Green Fourteen play at a fundraising event held at the Lyric Opera earlier in the year. The musicians had an uncanny ability to take what would be an otherwise stuffy and formal event to a next level fun filled night of singing and dancing. They had constant energy,... Read More current, upbeat songs, and a great sound.
---
Reviewed on

11/02/2017
Halsey S
We had such a wonderful time at a friend's big night. The venue, florals, food and drinks were so great. BUT, the band GreenFourteen took the event from great to AWESOME! They play so great together and have a great demenor with the crowd and guests. Would highly recommend... Read More them to anyone having an event or wedding in the Chicago area.
---
Reviewed on

11/02/2017
Alison B
They were absolutely amazing and definitely kept the party going!
---
Reviewed on

11/02/2017
Cristina G
GreenFourteen had such a great variety of songs that everyone loved. They had so much energy. So fun to watch and makes you want to dance too!
---
Reviewed on

11/02/2017
Kevin O
Green Fourteen does a fantastic job. They know how to make guests have a great time and I would recommend them to everyone!
---
Reviewed on

11/02/2017
Nowadays, it seems like so many people are moving away from hiring a live band for their events and opting for a DJ instead. DO NOT MAKE THIS MISTAKE!!! I guarantee your guests will be dancing the night away with these guys behind the mic! Thank you again for a fantastic event,... Read More Green Fourteen!
---
Reviewed on

11/02/2017
Hannah S
GreenFourteen was such an amazing addition to our black tie event. The band has so much energy and took the event to the next level. When you say - party and fun... I cannot think of any other band than GreenFourteen! Would recommend them to anyone! LOVE!
---
Reviewed on

11/02/2017
Betsy G
Our guests are still talking about the Green Fourteen band and how much fun they had on the dance floor! Not only were they AMAZING while performing, but their professionalism made the planning process incredibly easy. Thank you for making our special night so much memorable for... Read More us and all of our friends and family!
---
Reviewed on

11/02/2017
Skyler H
Green Fourteen is THE BEST! Having been in the event planning world for the past 10 years, I was ecstatic to come across this group while attending an event in Chicago. They kept the energy pumping and 400 people dancing all night long! I can't wait to work with this group for... Read More upcoming events!
---
Reviewed on

10/17/2017
Jamie D
Green Fourteen is really the most amazing WEDDING band anywhere! They kept the dance floor PACKED for 3 hours straight! They interact with the crowd... danced in the middle of the floor, got people singing... it was magical! They even digitally shorten a song in a music... Read More studio prior to the wedding, for my son & I to dance to! Patrick Doody is phenomenal!
---
Reviewed on

10/11/2017
Asia F
I worked with Green Fourteen on the vendor side at a recent wedding and was absolutely amazed at how long they kept the guests dancing (all night!). Their energy never faltered, their communication with the bride and groom was professional and efficient, and they're extremely... Read More talented musicians. Get these guys at your wedding if you want a real party!
---
Reviewed on

10/11/2017
Jose A
Everything was amazing! Green Fourteen's attention to detail and enthusiasm is unmatched. I would recommend them anytime!
---
Reviewed on

10/11/2017
Ryan D
Amazing band! Exceeded all of my expectations. Patrick was awesome to work with!
---
Reviewed on

10/11/2017
Stephanie D
Having a band at my wedding was the best decision I made, more specifically having Green Fourteen was the best decision! From the first correspondence with Patrick, I knew we were in good hands! He was prompt with every reply, organized, and very detailed. Because of the... Read More timeline he helped me create , the reception went very smoothly. The dance floor was packed the entire night! Even my dad, who never dances, got up front and danced with the band and their dancers! Overall, Green Fourteen was amazing and truly talented! They made my wedding absolutely perfect and I can't thank them enough!
---
Reviewed on

10/11/2017
John C
Its been a month since the wedding and our guests are still talking about how amazing the band was! I knew the younger bridal party would be all about live music, but could not believe how much of my older family was on the dance floor all night. The band really puts on a show... Read More as they move around the crowd to use the full venue. I recommend getting the dancers as they were awesome to watch and kept everyone's attention even when sitting down for a breather. Patrick, the band leader, was truly a life saver by helping organize every moment. The band kept us the center of attention the whole not and even made helpful announcements like when the late night snacks arrived. I hope I am never stuck at a wedding with a boring DJ again after seeing these guys live. Book them immediately!
---
Reviewed on

10/11/2017
Carol D
This band is an extremely professional, caring and most of call awesome!!
---
Reviewed on

10/11/2017
Joanna C
They were great. A lot of energy and played a lot of awesome songs
---