Home

GREEN FOURTEEN
About this Vendor
6 HRS of NON STOP Music & JAM PACKED DANCE FLOORS!
We are the very proud to be the winner of 5 BEST OF THE KNOT Awards and The Knot's prestigious HALL OF FAME award. Please view our 160 verified reviews here on the Knot! HAVING TROUBLE FINDING OUR 300 LIVE VIDEOS FROM CLIENT WEDDINGS? Please go directly to our website (gte.me) to view everything! :)
Details
Classical, Country, Disco, Folk, Hip-Hop, Jazz, Pop, R&B, Rock, Arabic, Indian, Klezmer, Latin, Persian, World Music
Ceremony, Reception, Wedding
Live Music, MC Services, Music, Rentals + Equipment
Contact Info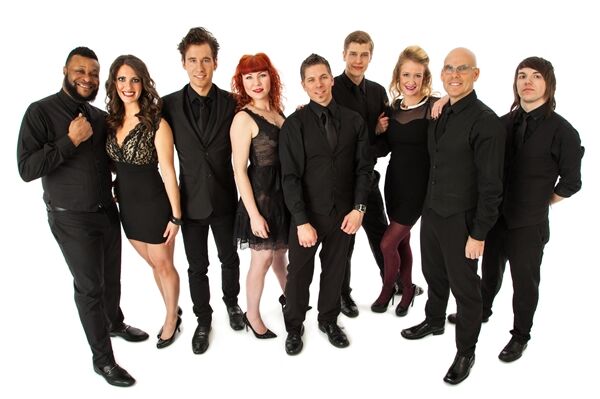 Chicago, IL
We travel anywhere in the United States. :)
Reviewed on

7/11/2016
Cannot say enough great things about this band. We just had them play at our wedding on 6/17/16 and they were phenomenal. The overdelivered right from the start. From our first meeting with Patrick up until the last song of the night, me and my husband were made to feel... Read More comfortable. They really listened to what we had in mind for our wedding and made it happen. I honestly couldn't be happier with our choice of wedding band. We received numerous compliments on the band throughout the night as our guests were equally as impressed with their performance. They kept the dance floor going from song one. I would highly recommend Green Fourteen for any occasion, but especially a wedding if you are looking for a band who plays a variety of music and keeps you and your guests dancing the night away. I am so happy we decided to let Green Fourteen be a part of our special day.
---
Reviewed on

6/27/2016
Emily B
Patrick and Green Fourteen were absolutely phenomenal! Patrick was extremely communicative and responsive throughout our wedding planning and ran a beautiful reception for us. All our guests could not stop talking about the fantastic band! We highly recommend! We doubt there... Read More is a better team of people out there!
---
Reviewed on

2/20/2016
Genevieve C
These guys are for real. Green Fourteen did an AMAZING job at our wedding in February! Music was the most important part of my wedding day so I did my research to find the right band for our wedding and Green Fourteen was the right choice. Patrick and his team performed... Read More perfectly at our reception and I have received tons of compliments from our guests on how good the band was. Almost every guest said that the band was the best wedding band they've ever heard. Patrick is VERY organized and responsive which helps put any nervous jitters for brides to rest. The band does a great job of playing classic songs that get everyone on the dance floor to the newer/popular songs. I was literally on the dance floor all night. I highly recommend Green Fourteen for your wedding!
---
Reviewed on

8/16/2016
Debra F
Patrick was great to work with. This was the first time we had them at our Resort for a wedding and I would highly recommend them to future events. The band sounded great. Looking forward to seeing them again in September.
---
Reviewed on

8/01/2016
Melissa A
Green 14 was fantastic and was so interactive and perfect. I couldn't have asked for anything better!
---
Reviewed on

7/26/2016
Karen H
Green Fourteen was awesome!! I've been to three events they have played at and the dance floor is always packed. The read the crowd really well and the drummer is an awesome emcee.
---
Reviewed on

7/26/2016
ALEXIS B
Green Fourteen recently played at a Fundraising event I attended. They were the highlight of the evening. I've never seen a dance floor so packed! I highly recommend booking this band for your wedding - or any event! They are so much fun!
---
Reviewed on

7/25/2016
Vaughn S
Talent, professionalism and fun. Yes, those three words summed up my experience with Green Fourteen. I was so happy that my best friend, Elizabeth ending up choosing to go with this band. They kept good music flowing the whole night and everyone had a wonderful time. Thank you... Read More Green Fourteen for the wonderful night!!
---
Reviewed on

7/25/2016
Jenna S
The band was amazing and they had everyone on the dance floor. I would high recommend them fro weddings, social gatherings, and events. They are extremely professional and everyone raved about their performance.
---
Reviewed on

7/25/2016
Best experience with a live band. The dance floor was a hit with the great songs and singer coming out to the crowd!
---
Reviewed on

7/25/2016
I loved their versions of top 40 songs! They definitely have their own cool and jazzy style, but all the songs were still super recognizable.
---
Reviewed on

7/25/2016
Jamie A. W
I recently attended a wedding of a friend in Chicago that featured Green Fourteen. This band set the tone for the entire night - they were so fun and had no problem getting the party started! I would recommend them to all brides.
---
Reviewed on

7/24/2016
This is the greatest band ever! They are so fun and energetic. They have a great range. From top 40, to oldies to slow jams, you name it. Will definitely use them in the future and refer them to friends! They really have a good time on stage and allow guests to have a fantastic... Read More time as well.
---
Reviewed on

7/23/2016
I've been to few events with this band- they are great and always get the people out and dancing on the dance floor. They catalog is varied and never has a little for everyone.
---
Reviewed on

7/23/2016
Margaret K
Great band! They really get the crowd dancing and having fun. If I were getting married I would want them to play at my wedding.
---
Reviewed on

7/23/2016
As the chair of a non-profit organization's Gala, my mind was at ease throughout the evening when it came to the entertainment! Patrick was great to work with from beginning to end. He was flexible with regards to load-in and set-up times. He and the band adjusted their set... Read More list based on the flow of the event and energy of the crowd. They were friendly, professional and FUN!!! Our guests loved them! And didn't want to leave the dance floor!!! We are thrilled to have them signed again for 2017!!!!
---
Reviewed on

7/23/2016
Fantastic Band!!! Very professional and easy to work with. People are still raving about them months after the Junior League's Gala!
---
Reviewed on

7/23/2016
Jodi C
I honestly cannot speak highly enough about Patrick and Green Fourteen. Patrick was very responsive, professional and truly cared about our wedding and making it unique to us and our vision of the day. He's practically a second wedding coordinator, which we loved, being the... Read More type A people that we are. He was in tune with the minute-by-minute of the day and made sure we were on schedule with music cues, bouquet toss, cake cutting, etc. The band members are all wonderful people with crazy vocal range to sing anything and everything you love. They appealed to ALL ages at our wedding and we are still receiving compliments to this day about how great our band is. (My husband's great aunt was dancing on the stage!) I also work with a non-profit and we book Green Fourteen for our annual gala. The guests have been RAVING about the band and how they escalated our event to the next level. I'm a professional Event Planner, so working with professional, responsive vendors with my best interests in mind is extremely important to me. Overall, I just felt very comfortable working with Patrick and (in the words of our wedding guests) our special day was "truly epic" in part due to Green Fourteen.
---
Reviewed on

7/22/2016
Amanda R
Green Fourteen is amazing! They are extremely professional and easy to work with. They are what made our wedding! All the guests can't stop talking about how awesome they were. They are worth every penny.
---
Reviewed on

7/22/2016
Green Fourteen played at my son's wedding. They were awesome!! Played all the memorable requests and also kept everyone dancing throughout the night. Very personal attention too!!
---
Reviewed on

7/19/2016
These guys were amazing. They played something like 3 and 1/2 hours straight with no breaks!!! Unbelievable! Great mix of slower stuff and more upbeat, high energy songs. The dance floor was packed all night!
---
Reviewed on

7/19/2016
Green Fourteen was the best band at any wedding I've been to. The dance floor was packed the entire night and I spent the next day texting with other guests about the whole wedding, with much of the conversation around the music and dancing!
---
Reviewed on

7/18/2016
Kendall D
Can I please give more than 5 stars?!?!?! PLEASE?!?! Patrick and the whole Green 14 Team was ABSOLUTELY phenomenal!!! The energy they brought to our wedding night was irreplaceable, and I am so grateful that we chose this band to be with us on our special day. They played for 3... Read More hours straight with no break, had the dance floor PACKED the entire time, and had the crowd singing and dancing all night long. There wasn't a single lull!! By the end of the night, the whole band felt like family, especially Patrick, who was by our side from the second we booked to the second the Green 14 van drove away. For the entire 16 months or so since we booked Green 14 Patrick responded within 24 hours to EVERY email, and responded with enthusiasm and excitement which made us even more enthusiastic and excited, and did everything in his power to make our every wish come true!! He is so knowledgable, professional, and kind, there is no one else we would have rather worked with. THANK YOU PATRICK and thank you to all the wonderful musicians of Green 14 who made our wedding reception in Milwaukee THE ABSOLUTE BEST!!! WE LOVE YOU!!!!!
---
Reviewed on

10/07/2015
Mary H
This band played for our 9/5/15 wedding and it was AMAZING!!! Such nice people, awesome music, and a packed dancefloor. People raved all night about how great they were and are still telling me. This group was one of my favroite things about the day. I 100% recommend this group.... Read More Also, a shoutout to Patrick who made the whole process worry-free!! THANK YOU!!
---
Reviewed on

5/20/2015
Tamara P
High recommendations for this orchestra! We used Green Fourteen for our wedding, and what drew us to them was that there is only one band with no substitutions. The band we auditioned was the band that did our wedding. We got to work directly with Patrick to plan all our... Read More details and song list. We had several unique song selections and the band learned them perfectly. Everything was just great. The singers are amazing and we felt so comfortable knowing that Patrick had everything under control and was really there for us. I cannot give them a higher recommendation.
---