Home

GREEN FOURTEEN
About this Vendor
6 HRS of NON STOP Music & JAM PACKED DANCE FLOORS!
We are the very proud to be the winner of 5 BEST OF THE KNOT Awards and The Knots prestigious HALL OF FAME award. Please view our 160 verified reviews here on the Knot! HAVING TROUBLE FINDING OUR 300 LIVE VIDEOS FROM CLIENT WEDDINGS? Please go directly to our website (gte.me) to view everything! :)
Details
Classical, Country, Disco, Folk, Hip-Hop, Jazz, Pop, R&B, Rock, Arabic, Indian, Klezmer, Latin, Persian, World Music
Ceremony, Reception, Wedding
Live Music, MC Services, Music, Rentals + Equipment
Contact Info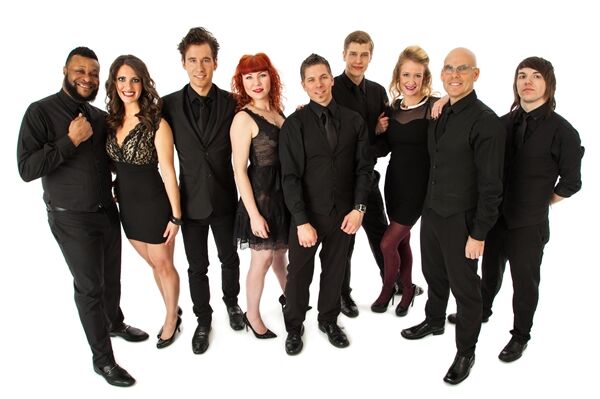 Great Band - Professional Artists
Reviewed on

11/05/2014
In planning our reception we were looking for four things from the band: -Great product - the quality of their sound and presentation needed to be top tier. -High energy - ability to get the dance floor full and keep it that way the entire night. -Ability to operate independently - as busy professionals planning a wedding we wanted a band that we could give high level direction to and they take care of the rest with limited additional input from us. -Good value - The mix of total cost versus band pieces and options included needed to be optimal. In all four of these areas, Green Thirteen exceeded expectations. Their sound & presentation were a cut above the other bands we saw when looking at options and have seen at other weddings. For a 130 person wedding to have a full dance floor for 3 straight hours (they took no breaks, a surefire momentum killer!) is very difficult to do. We had one meeting with Patrick to provide direction and hardly talked to him again until the start of the reception. He was organized, asked the right questions and most importantly got everything right. The total cost was slightly below quotes we received from other bands and more pieces and lighting were included. Two examples illustrate the difference between Green Thirteen and other bands: -When researching bands, we saw them play at a suburban Chicago bar with less than ideal demographics for us to compare. Our wedding was primarily mid 30 year olds, this bar was older. The bar was rocking. After 2 songs it was clear this is one of the best cover bands we have seen. Other bands we saw had better settings yet markedly less energy in the crowd. -At the reception, guests that don't dance were dancing and afterwards unprompted feedback from everyone was glowing. That just doesn't happen unless the band killed it. We have and will continue to highly recommend Green Thirteen to others. Thank you Patrick, great job!
---
Green 13 is THE wedding band to book!
Reviewed on

8/13/2014
Lisa H
Green 13 was one of the best parts of my wedding! Patrick was a pleasure to work with and did an amazing job staying in constant communication with me so the wedding day would go perfect...and it did! He was professional while staying light hearted and working with me every moment up until the big day. On the wedding day everything went flawless from the DJ'd ceremony to the live band set. We paid for an extra hour of live band (4 hours total) plus a saxophone player and it was beyond worth it! The band rocked the crowd all the way to the end and we have been hearing rave reviews ever since! I would HIGHLY recommend Green 13 to any couple looking for an organized band leader and a great group of musicians to blow your wedding reception right out of the water! Love everything about them!
---
Hero of the Day!!!
Reviewed on

8/11/2014
Patrick and his band was the highlight of our reception. Our guests to this day still comment on how great Green Thirteen was. His preparation, organization, and availability made the planning process so stress free. If it wasn't for his great attention to detail, me and my wife would have been truly unprepared and I feel that he cared for our reception to be a true success. Our reception was at Cafe Brauer in December. By chance the weather ended up being a beautiful 51 degree day in the middle of winter. It was a blessing, yet the warm weather also brought this unholy traffic in Chicago the likes of which god has never seen!!! About 3/4 of our guests were late and Patrick made the offer to delay the start until everyone arrived and continued the cocktail hour to keep the guests that were there at ease. That offer hit home for me as any other "band" would have kept to the timeline or charge extra, etc.. What I love about Patrick and Green Thirteen is their ability to adapt on the fly without any hesitation. I would highly recommend them for their professionalism and more importantly the ability to exceed ones expectations. They truly were the icing on our wedding cake!!! Thank You Patrick & Green Thirteen!!!
---
STOP LOOKING. BOOK THIS BAND. MOVE ON TO THE REST OF YOUR TO-DO LIST!
Reviewed on

12/27/2013
Kristyn B
My husband and I were planning a wedding in 10 weeks. We found our vendors quickly, except the band. We met with lots of folks, and just couldn't get a good vibe. I came across Patrick about 4 weeks before our wedding; he emailed me back within 5 minutes of writing him. After exchanging about a dozen emails in about an hour, it was clear that he was a fun, personable, passionate, responsible band leader. We booked him! (And were excited when, the next morning, we had multiple emails from other bands saying, "We are booked on your date but you should try GREEN THIRTEEN because they are amazing!".) Next up, we met up and had a long conversation where it was clear that Patrick was trying to get a sense of who we are as a couple, our personality, our interests. Patrick was never in a hurry in this meeting, rather, it felt like he would have sat there with us for as many hours as it took to get all the information he needed, from logistics to how to pronounce the bridal party's names. (Their pre-meeting planning packet is awesome!!! They're the only band I talked to who had something like that, and it just shows how organized they are.) Next Patrick created an amazing, detailed timeline, minute by minute, of the evening. For someone like me who plans events and is highly organized, this was awesome. I realized that I could let go of some of the control I knew I'd be trying to have (as a producer, I can't help myself!) on that night. And sure enough, it was true. I totally trusted in Patrick to hit all the beats, speeches, special dances, etc, that we had talked about. He didn't miss a thing. Not only did he do everything that we had talked about, he did MORE. We had a small wedding, about 80 people. One of the things we hadn't thought about in terms of having a small wedding is that sometimes the dance floor can look EMPTY. When you have 250 people, it's always full (if the band is good!) and if a dozen or so people take off early, it's no big deal. We had an older crowd, and people did leave early to get home to babysitters. And I was a bit freaked out that people were leaving and that not enough people would dance. But… the music came on, and it was so good, that everyone who was still there was out on that dance floor. Now, here comes the amazing part: in the back of my mind, I knew that when the band was going to take their ONE scheduled break (most bands I talked to take at least two, and sometimes three or four) that we would probably lose a bunch of people who would stop, maybe even go home, and the second set would be pretty empty (and sad!). I was so happy when the minutes passed by and the band kept playing, because I was dreading them breaking and people heading home. But… an hour went by, a second hour went by, more time went by and I realized… THEY WERE NOT STOPPING! I leaned in to my husband and said, "Patrick knows that if he takes a break, we're going to lose the rest of our party goers. I think he's just playing straight through." And that is exactly what he did. He and the band played for about 3 hours and 15 minutes with not a single minute of break. He SAVED my wedding!! I was so worried that the last 90 minutes would be empty and a waste, and he totally saved the day. I'm not even exaggerating. He read the room, and he knew what to do without even asking me or me having to say anything. It was amazing. The Knot says I'm out of room, so if you want the rest, email me at [email protected]
---
Reviewed on

5/20/2015
josh m
This band is GREAT! We loved working direct with Patrick. He helped guide us along so that we felt comfortable with what arrangement we chose and how the flow of the night would be. He takes care of everything and keeps the stress off of you! Honestly, you can't appreciate that until after its all over. The process of booking this band was just simple and fun for us. The thing we loved best about them was the huge variety of songs they had choose from. They could play just about anything and the brass section was great. Nothing but positive things to say about this band. Thrilled with them. Patrick, you are the man!
---
Reviewed on

5/20/2015
Allison E
THANK YOU PATRICK!!!!!!!!!!!!!!!!Patrick is incredibly kind and patient and most of all truly wants your vision and your dreams to come true on your day. The next day everyone was asking how we found them, and who they were. They were truly there to entertain and make a lasting impression on all of us. I would recommend Green Fourteen to anyone who asks!
---
Reviewed on

5/20/2015
carla h
5 STARS***** I can not say enough good things about Green Fourteen and Patrick! They were so flexible with our last minute changes to our reception plans and did a great job of incorporating my guests in every capacity. They have a lot of variety and they really set the tone for a great party. I would recommend them to everyone! Talented & fun!
---
Reviewed on

5/12/2015
katherine s
Thank you for the fabulous wedding! From the start, Patrick put all of our concerns to rest. We met with him a couple of times, and he was really great at putting things together. The entire process was highly professional, and was tailored to what we were looking for. We have to tell you, this band played such a huge part in our very successful day. We had a great time and our guests can't stop talking about the band. Patrick is also a wonderful host. He takes into account all the special things you want for your wedding and puts them all together for a customized personal experience. He also helps you create a timeline and basically makes sure everything happens when it is supposed to. Weddings can get crazy even if you plan for them not to be, and Patrick was consistently the person we could count on to be organized and two steps ahead. The band was great in encouraging guests to dance and have a good time. Patrick also surprised us by adding complimentary members to the band. It was a total surprise to us and we are so appreciative of that. Thank you again Patrick! We were floored by the amount of energy the band brought to the night. The group never took a break for three hours. It was a great feeling and a wonderful vibe in the room. They really brought the PARTY ON! I'm positive you'll have the same wonderful experience that we did.
---
Reviewed on

5/11/2015
Natasha W
The GREEN TEAM is truly is the best of both worlds. My husband wanted a DJ and I wanted a band so this was the PERFECT compromise. I HIGHLY recommend them, they sound EXACTLY like the artists who actually sing the songs. Patrick was receptive to our thoughts and concerns. He also emailed me plenty of times and was quick to respond to any questions that I had prior to our day. They were able to take several of our requests without hesitation. The singers learned Adele's version of "Make You Feel My Love" for our first dance and the music was great. They worked the crowd very well and the male vocalist came onto the dance floor to show us a few Michael Jackson moves, they were so much fun. There wasn't a moment at our reception that people weren't dancing and fully entertained. It's such a great feeling to hear everyone say the band you hired was amazing! Again thank you for performing at our wedding. I highly recommend Green Fourteen to any and all future couples! Mr. and Mrs. Willis
---
Reviewed on

5/11/2015
Lucie K
Thank you Green Fourteen! Patrick was great to work with and responded to all of our questions as well as working with my daughter and her questions and concerns. Bottom line, their service was terrific, the band was great and all the guests loved the music. I would highly recommend them for any bride wanting to have fun at the reception.
---
Reviewed on

5/09/2015
amanda t
Green Fourteen was absolutely amazing at our wedding! It was one of the best decisions we made. For me, choosing the perfect band was the most critical decision for the entire wedding, it was even more important than our venue! For starters, Patrick is simply amazing. He is the consummate professional and does his utmost to understand all of the details for the big day so that everything works seamlessly. We had so many special requests and Patrick honored every single one of them with sincere commitment. If you want to host a wedding where the guests are literally so busy dancing they can't be bothered to eat or drink, this is your band! Everyone was on their feet the entire night! Even family friends of ours who NEVER dance were working it on the dance floor. I only stepped off the dance floor once throughout the whole night, and that was just to go to the bathroom. My husband and I even got on stage and danced it out with the band! If I could only recommend one of my wedding vendors, Green Fourteen would be it!
---
Reviewed on

5/07/2015
Evelina R
WOW!! Did we hit the jackpot with this band for our wedding! We had heard from our venue director that they were highly recommended, and after looking at their website and listening to some demos, and they fit the bill perfectly. They literally can do any style of music you would like, and they do it all so well! Very flexible and professional, but most importantly...they are SO MUCH FUN! Our guests could not stop raving about our band. Patrick was VERY thorough during the planning process and was very organized and pleasant to work with. He also made the atmosphere really fun and inviting for all our guests. The band had my folks dancing, smiling and having a great time. They are FANTASTIC at keeping the energy up and the party going. We could not have been happier and I think they had as much fun as we did! Green Fourteen was amazing from start to finish! I would HIGHLY recommend them for any wedding!
---
Reviewed on

5/06/2015
Russ F
Green Fourteen performed at our daughter's wedding. They were amazing to say the least. I have never attended a wedding reception where guests started dancing before the meal but the music was just too good to stay seated. Everyone danced from the beginning of the reception until the end. Our guests really enjoyed themselves. The band is extremely talented, Patrick was very professional and a pleasure to work with.
---
Reviewed on

5/06/2015
Green Fourteen did a fantastic job! They were professional, funny, friendly, and very accommodating. Overall we had a great experience. Our ceremony music was beautiful and Ave Maria (my wife's favorite) was fantastic. Patrick met with us 2 weeks before to practice the ceremony songs and even offered to include the keyboard at our ceremony for no extra charge since our ceremony and reception were in the same spot. At first, we were a little nervous about hiring a live band because handing over a song list and letting them do their job takes a lot of trust, but Patrick delivered above and beyond. The music at the reception was terrific and truly set the tone for the evening. Not only did they sound fantastic, but they played a wide variety of music that kept people of all ages on the dance floor all night long. Simply put the band was AMAZING!!!!!!!! So many of our guests connected with the band immediately. Patrick was amazing to work with up to the wedding and loved having him as our familiar face on the stage. His suggestions were spot on and they kept the dance floor full of energy and nobody wanted to leave. They made our wedding stand out among any other that our family and friends had been to. In terms of pricing, they were also more reasonably priced than all other bands we looked at in Chicago. This band is as good as it gets for a wedding. If you want your guests to dance, Green Fourteen can make it happen. We wholeheartedly recommend!
---
Fantastic Dance Music
Reviewed on

12/08/2014
We found Green Thirteen on the Knot. Patrick was really great at making sure he knew exactly what we were looking for. He invited us to come see the band live and we loved the set! They were exactly as advertised and totally professional. The bands presentation is impressive. For starters, everyone in the band is good looking and their attire is sharp. Less than a week after we secured our contract, Patrick suggested we meet at our space to go over details to take out some of the butterflies. Instantly we all felt very secure about our day. He even worked with our overall band budget so that we could invest in a larger dance floor! Seriously!!!! When planning a wedding, there are a lot of stressors that the couple encounters along the way, and I've got to say that hiring and working with Patrick was so easy from the start. We chose the perfect balance of classic dance titles, eighties & top 40. Patrick offered suggestions of songs that he knew would get the crowd to respond, and after listening to our input of the songs that we had to have, we put together the perfect list of music that we thought would work. The group is very interactive and there were many times when the singers were actually in the crowd. Everyone loved what they brought to the party. There's nothing better than having your guests come up to you at the end of the night with huge smiles on their faces, saying, "This is the best band I have ever heard". If you want an amazing reception with the best range of music and see everyone you love on the dance floor at once, then this is your band. They MADE our wedding reception exactly what we hoped it would be. We cannot say enough good things about Patrick. Great singers, dancers, choreography and musicians. TOTAL perfect band package!
---
Rocked Minneapolis!!
Reviewed on

12/08/2014
I had an amazing wedding in Minneapolis this past summer and this band was hands down our best wedding decision. At first, my parents thought their image was a little 'pop' for everyone, but we convinced them that it would work out great. The band is totally professional and had a lot of extra videos that we showed them at weddings to calm their nerves. Take it from two very satisfied newlyweds, they rocked it at our wedding! They also paid special attention to my parents older group without losing touch with our group. Its a magical combination needed to make everyone happy. They are very reasonable in price considering the number of performers and quality. We priced out orchestra options that were over 3x's the package we chose. With a slight travel charge, they were at the upper end of our budget, but well worth it! Patrick was easy going during the planning process, professional, friendly, and even took time to learn songs that were not on their already huge music list. We told them a few songs that we didn't want played and the parents picked some special songs to start the night with. Their covers of songs were great and the energy they brought to the party was amazing! The set list was well-planned in terms of the timing of those certain songs earlier and later in the night. They were energetic, fun and kept the party going. All of the musicians were professional, classy, and had an incredible repertoire of music to choose from. The band really played a LOT of music for the time they were there, one song blended into the next. I loved the way Patrick had his female vocalists check in on us while we were getting ready. My Mom and I felt reassured that there was one less thing for us to worry about. We thought we were just hiring a band, but what we experienced was so much more. All the details they manage, allowed us to eventually relax and enjoy the ride. If you want an amazing band for a celebration that everyone will remember, look no further. We would hire them again, no doubt!
---
More than a quality band!!!
Reviewed on

12/05/2014
We hired Green Thirteen for our wedding this past weekend and we couldn't have asked for a better band! As a bride with so many things to juggle, Patrick was with me throughout the planning process and kept me organized!! He responded to our emails within minutes!! As most brides will attest, life doesn't stop just because you're planning a wedding so whatever makes the process stress free is highly welcomed. Since day one, his interpersonal connection with my now-husband and myself was excellent. We knew we were in good hands from the moment we first met and that feeling never changed!! We were concerned about the space at our venue, so we assembled a large band that provided us with the sound and look we were hoping for. The bands performance range is almost limitless and they learn new songs for you as needed. The wedding day arrived. Patrick kept things on cue and always made it so comfortable. I didn't need to worry at all. Ultimately, it was about the music and no disappointment here. Music for all ages, they even had our seniors sweating! They made our wedding something to remember. We were able to select our playlist from a huge list of songs in addition to having his band learn a couple of new songs, including one for our first dance which they played perfectly. They have the ability to play several different genres (young to the old) so everyone was able to get into the groove on the dance floor. Patrick did a remarkable job managing the tempo of the evening from the first song to the last. He was also the announcer and knew how to work the crowd. Every single one of our guests complimented the band on how good they were. They knew when to keep it going and when to tone it down. We wouldn't hesitate to highly recommend Patrick to anyone looking for an amazing band!
---
So--Much--Fun!!
Reviewed on

12/04/2014
When we think back to our wedding we can't help but reminisce about how much fun it was. For our wedding, my husband really wanted live music and I really wanted music we could dance to. We knew it would be challenging to find the right band, so we contacted over 15 bands, narrowed our search to about 3, and then went and heard them all play. Green Thirteen had the best vibe for us. Patrick is such a cool guy, genuine and down-to-earth, and at the same time very professional. He was a breeze to deal with. We first met over lunch and he really took the time to listen to what we wanted, how we envisioned our wedding, and really dug into what type of music my wife and I were into. Patrick worked with us to narrow down what we were interested in hearing. He was awesome about making sure songs we really wanted were included, and was totally chill about filling in the blanks when we were so overwhelmed by the wedding planning process and didn't want to make any more decisions! When the day came, we were blown away by the whole evening. The band rocked it, played their hearts out, had our guests dancing the whole time, and, quite simply, made our night! They did the music for the ceremony, cocktail time and reception. Patrick was so amazing to work with and met with us twice before our wedding to make sure we were 100% confident. Our cocktail hour music helped set the tone for the rest of the night. At the reception Patrick was our MC and was perfect to help keep the event on track and make sure the right music was being played depending on what was going on at the event. WE LOVED THE MUSIC SELECTIONS! Amazing music and great band members! If there is one thing you can do to make your wedding memorable this would be it. Thank you for making our night amazing!
---
Everyone loved them!
Reviewed on

12/04/2014
Patrick I wanted to let you know how FABULOUS Green Thirteen was and how you made our wedding a hit!! You're caring, attention and professionalism to our specific details was amazing and did not go unnoticed. Everyone remarked on how great the band is. I can't give you all enough praise on how happy we are. There is an art to music and entertainment for a wedding, you are so right. You should write that book! For those reading this, Patrick knows the importance of timing and flow for a wedding. They are experts at reading the crowd, and packing the dance floor, even with some seemingly "non dancing" people. If you are looking for a wedding band and would like to sleep better at night, you have to get Green Thirteen on your team. Electric, modern, and brilliant! Patrick went over details on how to create the perfect pacing with elegance and then transition into a "fun" dance atmosphere that didn't feel like a standard cookie cutter wedding schedule. He put our nerves at rest rehearsing and making my kind of quirky daughter/father dance song easy for us. We had some weather challenges and the band was kind and ready to help at a moments notice. The girls were a blessing. Everyone is still buzzing and talking about the music. Again, we really appreciate all of your assistance and the encores. One of my favorite pictures is us raised in the middle of the floor surrounded by the guests holding their hands in the air. What a memory! We will see you again at Dennis and Amy's wedding in the spring. If you ever need a reference, please feel free to use our names. We are happy to recommend you to anyone. Grand slam!!
---
LOVED THEM
Reviewed on

12/04/2014
The old cliche is true...the only thing your guests really remember about a wedding is the entertainment. Your choice of food and ice sculptures will soon be forgotten, but an entertaining band will be remembered for years. My wife and I were married in March of this year. We spent months planning and prepping for the day and after seeing Green Thirteen perform at a showcase in a small bar, we knew they were going to be the hit of our wedding. They were willing to go beyond all my expectations to make our day special. Pat checked in all the time, and helped us pick out the perfect music for all the dances, and gave great suggestions on what typically works best. He also had no reservations to any songs that we chose, and was open to letting us have all the choices for the special day that we wanted. Green Thirteen took care of everything. Pat introduced our wedding party and also convinced my wife and I to play the drums. They had the dance floor jumping all night long and did a great job hosting the event. Even though our event was on the smaller side, the reception never lagged. This band is beyond friendly and professional, and just a real down to earth group. Everyone was talking about how good the band was the next morning! If you want a band that will give you a great memory of your special day with that personal touch that your are striving for, look here. You will congratulate each other later for making the call!
---
Wonderful band, especially for older guests
Reviewed on

12/04/2014
We LOVE Green Thirteen! When it came time to choose entertainment for my wedding, we were a bit concerned in general because we knew our guests were not dancers. We wanted to make sure all of our guests had fun dancing, but we knew that a big band with a lot of action and interplay would be better for us than a dj. Green Thirteen definitely made it happen! If you want to have the best party of your life they are just perfect. They fill the space with energy and enthusiasm and read the crowd. The people who aren't dancers and who normally sit awkwardly at their table were on the dance floor until the last dance. We had to make some last minute changes and Patrick was very professional and didn't make us feel bad at all. We had a worry free evening and a blast dancing at our wedding. I would recommend Green Thirteen to anyone who is getting married. Awesome day, we couldn't be happier!
---
Green Thirteen Literally Saved the Day!
Reviewed on

12/04/2014
Tammy L
Words can't express our gratitude to Patrick and everyone in Green Thirteen for making it the most amazing wedding we could imagine. Our first band reassured us that they had insurance and a week before our wedding our hall declined them for insufficient coverage. Our hall recommended Patrick immediately and he essentially re-planned our reception in 3 days! He was helpful and fun and very patient as I asked my million questions. They catered to our every need. You name it, they did it, and did it well. All the vocalists were amazing. Patrick and the band were all about "showing our guests a good time", we couldn't have asked for more. Our dance floor was full of people all night long. We couldn't imagine the band being this excellent. The night was perfect and the band rocked everyone's socks off! The best pictures from the wedding are people going crazy on the dance floor. If you are looking for a wedding band, this is where you need to go. The managers know them and trust them for good reason. They will have excellent collaboration with your coordinators. Important--Important--Important! Thank you for saving my day and for making our special day spectacular!
---
GREAT GROUP*
Reviewed on

12/02/2014
If you are considering a band, look no further because Green Thirteen is TERRIFIC! We chose and planned a very non traditional wedding. Our ceremony was kept to a minimum, and the main focus was on partying and having fun with our family and friends. Our wedding was a blast. Weeks after the wedding people are still talking about how awesome the band was. Lady Gaga to Louis Jordan!!! Patrick was our contact and he was always very accessible and over accommodating. He met with us several times and helped address many of our concerns that developed over time. We can't say enough great things about them. Fantastic to work with and warm hearted individuals. If you want a band with top vocals and entertaining your guests from start to finish, then you just found you group. GREAT GROUP!
---
Green Thirteen - Not your typical wedding band!!
Reviewed on

12/02/2014
We were introduced to this group by our planner. We saw them perform at the Rookery in Chicago, when we heard a few songs we were sold. Patrick met us and presented everything they offered in a very relaxed dinner meeting. We felt that entertainment at the wedding was a very important part of the experience, and he worked with us to bring everything together. They sing the newest music available and do a really great job at it. They all looked GREAT!!! Not your typical wedding band here. From the moment we arrived they totally set the mood for all my guests to have a good time. In our opinion the songs they sang were better than the original. Patrick introduced all of our events and speakers really well. They definitely know how to do weddings! Trust them. Patrick was even kind enough to include live piano music for my cocktail hour because we offered to include dinner for the band, a great trade off. We were so happy with everything they offered. Would highly recommend over & over!
---
EXCELLENT customer service for our wedding
Reviewed on

12/02/2014
First off, EXCELLENT customer service. Green Thirteen was our favorite vendor. We chose an 8 piece band for the reception and had a live ceremony as well. Patrick was very helpful with recommendations, on time, and extremely courteous with our guests. The singers had amazing voices and came down to the dance floor to dance with our group quite frequently. We all truly enjoyed the performance of the band. Patrick did his best to make us feel special and that our wedding was not just another number standing in line. We were handed so many compliments and many of our guests mentioned that their favorite part was the band. They have a great stage look compared to other bands we interviewed. Also, no dreaded moments where the dance floor was deserted. They know what people dance to. Highly recommended. You most definitely wont have to worry about music at all. It will be one of the best choices you make during your wedding planning experience.
---
Send Message