Home

Mermaid Beach Weddings
About this Vendor
Beach Weddings in South Florida
We specialize in Destination Beach Wedding. All packages include Decor, Officiant and or Minister with Photographer & pictures. All our ceremonies include: Heart of Sand and The Blessing stone toss(inviting all the guest with the newlyweds to make a wish for the Bride/Groom) great opportunity for a group photo op. We strive to make your beach wedding dream come true & offer our services though out the South Florida area. We can offer, violist, steel drums. As well as the release of butteries and doves. What ever it takes to make your day special. We work side by side to make your day perfect. "We will set the stage for your happily ever after"..
Amenities + Details
Amenities
Outdoor - Not Covered

Ceremony Area

Liability Insurance
For more details about amenities, please message the Venue.
Civil Union, Commitment Ceremony, Elopement, Non-Religious Ceremony, Religious Ceremony, Same Sex Ceremony, Second Wedding , Vow Renewal Ceremony
Backyard, Farm + Ranch, Waterfront, Beach, Park, Restaurant
Destination Wedding Packages, Destination Wedding Planning, Destination Weddings, Planning
Contact Info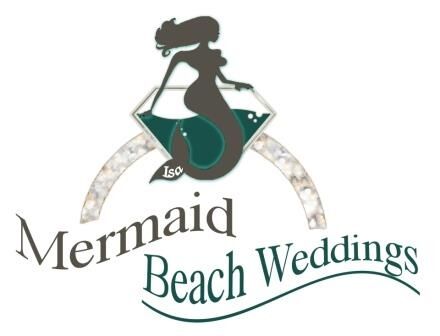 Reviewed on

5/25/2017
Tereesha P
Very professional, very easy to work with, made our wedding day special. I would highly recommend Patty and her crew!
---
Reviewed on

5/25/2017
Nicole H
We came from Birmingham, Al to Ft. Lauderdale, Fl for our wedding at the beach. Patti and her team made everything so stress free and beautiful. Everything looked just as beautiful as we could have imagined. They did an amazing job!! Would highly recommend to anyone looking to... Read More have a beach wedding without the added stress of putting it all together yourself.
---
Reviewed on

4/10/2017
Cass F
Easy, one-stop-shop for beach wedding planning. Everything is taken care of by Mermaid Beach Weddings allowing you to fully relax and enjoy your special day.
---
Reviewed on

7/19/2017
Buffie S
Patricia and her team were AMAZING!! I lost my venue 2 weeks before the wedding and they were able to work something out and save the day!
---
Reviewed on

5/27/2017
Katherine O
I am THRILLED with this organization for helping to organize and perform a vow renewal. We were horrible customers, asking a ton of questions in advance, promising to book, then stalling and not finalizing until a day before the event. Patty was amazing, and was willing to... Read More work with me, regardless of my unprofessionalism. We organized everything through email, and they took a prayer request and song list the day before. I was given perfect instructions for arrival and what to expect on the day. The ceremony was everything we hoped it would be. It was a beautiful sunset ceremony. Patty ordained the service, and her photographer was very professional. We got the pictures back, and they are even BETTER than our wedding day photos. I would hire them again and again! I HIGHLY recommend mermaid beach weddings for vow renewals. You will NOT be disappointed.
---
Reviewed on

5/25/2017
Setara M
The wedding was beyond beautiful and it was really stress free considering everything was done for you. However I have to rate them low because they need to work on their communication skills. Getting a hold of them took days! And it took over a month to get my pictures when... Read More they said it's take 2 maybe 3 so when week 5 came along and I tried contacting them about it they just replied, 1 week later, that it takes 2-3 weeks. Well.... that's why I was emailing y'all... It was over a month and I just asked for an update. No need to be rude. (Which by the way the pictures were LOW resolution and they wanted you to pay more to have better quality) I'm not sure if I specifically had these problems because I was paying for a cheaper package and maybe they treat people that are throwing thousands at them better? (I'd hope so for all that money!) Overall, the wedding was nice but for the money you pay they should be more personable.
---
Reviewed on

1/12/2017
Dakota E
I loved everything about the wedding. We got to Miami a few days before the wedding and got to enjoy ourselves without having to worry over the details of the wedding. When the time came, we showed up at the beach and the decorations were so nicely done. They carved out a large... Read More heart in the sand and had a lot of paper lanterns surrounding it. Patty who officiated the wedding was great. It was not a traditional wedding at all and Patty was really kind and tailored the ceremony to make it how we wanted it. I also liked all of the extra things we got to experience. It wasn't just the "I do", we also had a glass heart that we filled with sand and a wish stone that we threw in the ocean. The photographer was great too. Honestly, I could not believe all of the pictures that they sent us as part of our package. All in all, it was a beautiful wedding and the price really cannot be beat.
---
Reviewed on

12/28/2016
Jessie M
My fiance and I used Mermaid Beach Weddings for a small symbolic ceremony for our elderly grandparents. We picked a location on Ft. Lauderdale beach to hold our ceremony. Patty made the process very easy and I felt confident going into our "wedding day". On our day, Patty called... Read More me in the morning to verify all details and was there when we arrived on site. She was very attentive and organized when it came to our ceremony. Benjamin was our photographer and was also great. He was friendly and laid back and made us feel comfortable taking photos. Patty and Benjamin listened to us and what we wanted, and made sure that we were happy. Ultimately everything went very smoothly and the ceremony and setting was just what we were looking for. Thank you so much to Patty, Benjamin and Mermaid Beach Weddings for a very special and memorable day!
---
Reviewed on

12/06/2016
Claudia P
We are so thankful to have found this wonderful team! Patty and her team made our special day the most wonderful day of our lives. We decided to elope 5 hours away from home in a town we didn't know anyone.  We were initially worried about the planning and details because this... Read More was a leap of faith for us but Patty gave us the confidence that everything was being taken care of and all we should worry about was to look our best that day and ENJOY our day.  We definitely did, the attention to detail, covering absolutely everything we needed and the sweet words spoken during the ceremony, made our day the most perfect one. Her team was very professional and punctual, the pictures came back within a couple of weeks, the videographer she recommended was A1 and affordable. We got our video within a week of the wedding while in our honeymoon and brought us to tears again. We are so glad we decided to go with the referral because it truly captured how we felt that day.  We got to replay our special day and appreciate even more everything that went on that day that we didnt notice at the time because of our nerves.  The arch was exactly the one we requested, the ceremony went on exactly as explained, the setup and cleanup went on smoothly and the commitment to ensure everything was handled for us was impressing. We highly recommend them to anyone looking to get married in South Florida, especially if you are looking for a stress free ceremony  (it does exist!). We decided to elope, just the two of us, a simple ceremony but Patty and her team turned our simple ceremony into a fairy tale. We maintained close communication with Patty throughout the process via email because it was the easiest way for us and she was always the most professional. The few times with spoke on the phone she was very detailed answering our gazillion questions and ensuring we were well informed of the process so it would go on smoothly (as it did!). We wish Patty and her team many many more years of blooming business and hope they are still around when we decide to renew our vows one day!
---
Reviewed on

11/23/2016
Josh H
Everyone was so helpful and made sure that my wife and I had our special day go off without any issues. Photographer was great. Perfect use of the sunset and ocean. Was nothing short of perfect.
---
Reviewed on

10/03/2016
Jessica Q
Amazing, beautiful and stress free.
---
Reviewed on

10/02/2016
Maira F
So thankful for mermaid beach wedding! I had an amazing sunset wedding with them, a dream come true! I highly recommend them. Thank you , mermaid beach weddings
---
Reviewed on

9/30/2016
Where do I start? Patty from MermaidWeddings made my renewals the most relaxing and unforgettable day for me and my hubby. The ambiance was great, the officiant was excellent, and the photographer was the BOMB. My guests were relaxed and my children had a ball with the taking... Read More of all the pictures. My scenary was so serene and romantic. I will recommend them to anyone. First wedding, renewals, or any other special occasion - Mermaid Weddings will make your day AMAZING! Kudos Patty and the CREW. Thanks again, The Wootens', from the District of Columbia
---
Reviewed on

8/02/2016
pamela D
Mermaid beach weddings created the perfect romantic beach set up. Everyone was great and the ceremony was beautiful. The words spoken were perfect and we loved everything. Thank you!
---
Reviewed on

7/19/2016
I had a very easy experience with Mermaid Beach Weddings. Patty was great, very friendly, helpful, very positive and cheerful. Coming form AZ, to get married in FL, she helped figure out where to get our marriage license for same day services, she always answered my questions... Read More in a timely manner, it was always very easy to get ahold of her. On our wedding day, she was on time, when we arrived everything was just as I have imagined it to be. She had everything that we've asked for, the flowers arrangement , the music everything was on point. she made me feel special as a bride. It was a hassle free, stress free experience Thank you Patty!!
---
Reviewed on

7/14/2016
The wedding was amazing! more than what we expected!... They took care of everything, even the smallest details. Also, Patricia was always there during the planning to answer any doubt or question. We totally recommend them. Thanks for making an unforgettable wedding for us!!!
---
Reviewed on

6/30/2016
Trisha A
Everything was ready when we arrived at the beach, but there was seaweed in every picture (something we wish would've been taken care of). The location was changed more than once, but we were able to correspond through email any time necessary. We were thankful that the time was... Read More changed so that we'd be closer to sunset since it was a sunset wedding. We were also very happy that she chose a residential beach for us so that it wasn't very crowded!
---
Reviewed on

6/09/2016
Wendy B
Mermaid Beach Weddings did such a great job of making our wedding day special. It was a very romantic ceremony and it was exactly what we had in mind. Very classy and intimate.
---
Reviewed on

5/29/2016
I want to thank Patty and Mermaid Beach Weddings for the amazing job they did making our Miami beach wedding such a special day. It was everything we could have ever hoped and dreamed of and more. From beginning to end...the beautiful sunset background timed perfectly. They... Read More even accommodated a last minute move without skipping a beat. The vows couldn't have fit us any better. It was like they knew us before we ever showed up. The flowers were gorgeous, the heart island created just for us, the heart shaped glass we filled with sand to bring home...everything was organized and perfected Down To the last detail. We couldn't ask for a more special day. Thank you Mermaid Beach Weddings for an amazing wedding and amazing first day of our long and happy life together!!!
---
Reviewed on

5/21/2016
Patty was amazing to deal with as we came from New Zealand to get married in Miami. It was difficult to organise from afar but patty made it easy for us and wen we turned up I the day everything was exactly as a pictured and everything ran so smoothly.
---
Reviewed on

5/19/2016
I would love to say that mermaid beach weddings was awesome Patty she helped me with everything I did this as a surprise for my husband on our 20th anniversary as a renewal she even helped me sneak him on the beach very very helpful and everything was beautiful the day was... Read More beautiful she was a very nice person and the people she was with the photographer the whole day was absolutely perfect
---
Reviewed on

5/10/2016
fred t
As a "Groom" I thought I was going to show up at the beach and see my"Bride" come down the beach and get married...NO BIG DEAL....I must say i was very very WRONG!!!! "MERMAID BEACH WEDDINGS" not only impressed me but impressed my bride and guests we had at the ceremony.... Read More MERMAID BEACH WEDDING PERSONNEL were very punctual, professional, and committed to make our wedding Amazing. I would definetly recommend Mermaid Beach Weddings to any couple who wants the experience of a beautiful beach wedding....I was overwhelmed with emotions on how great everything went and not only i felt that way, but my Bride and guests felt the same way which made our special day even more Precious. Thank You MERMAID BEACH WEDDINGS for making our day Amazing and Special. From WILFREDO AND MARITZA TORRES!!!! WOOOOOOHOOOOOO!!!!!
---
Reviewed on

4/27/2016
Jameesha T
THE BEST COMPANY AROUND! From day one, they were very helpful, answered all of my million of questions, always answered my phone calls, and rapid email responses. They picked the perfect location, the set up was beyond beautiful, and they were extremely flexible, helpful, and... Read More understanding. if i can do it all over again i would chose them a million times :)
---
Reviewed on

4/27/2016
Kirstie C
Wonderful stress free experience. Mermaid was patient, flexible, and very professional.
---
Reviewed on

3/10/2016
Lauren B
Our wedding was February 20th and it could not have been more perfect! Mermaid Beach Weddings took care of everything for the ceremony and even moved locations specifically for us as we found a certain hotel we wanted to be near. The flowers were beyond beautiful, the setup was... Read More amazing, they even added a small chalkboard with our names and date! The ceremony went off perfectly, and all the guests loved the stone toss and funny group pictures the Mermaid photographer took! We received numerous compliments on the wedding and I loved every detail they took care of. I also really loved my bouquet and the LOVE letter blocks they put in the sand for more photos. I can't wait to receive the pictures, but I know they turned out amazing as my uncle followed behind their photographer copying her photos.. Lol. Thank you so much Patty and the rest of the team. It was the most amazing day!!
---
Meet The Events Director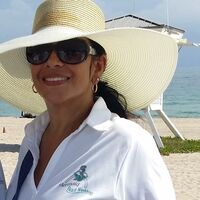 Patricia Contreras
I've been an officiant since 1997 and worked with the original owners of the Mermaid since 2008. In May of 2014, I was offered the opportunity to purchase the Mermaid. Together with my Sister(Diana) & the support of our family, we were able to revamp the brand & make it better then before. What sets us apart from the competition? We give 110% ourselves to each detail of each ceremony. With the belief that is a once in a lifetime event. We are proud of being perfectionist & taking that stress off our couples. We believe in Love & Happily Ever after..