Home

Tim Greathouse, Ohio Wedding Officiant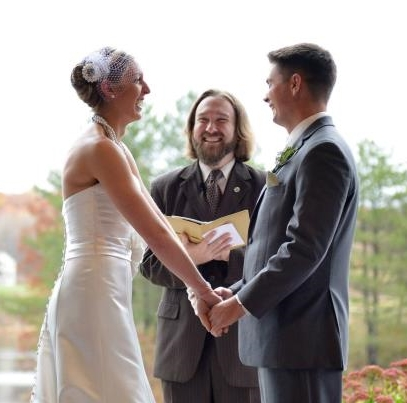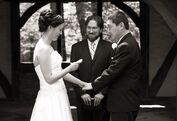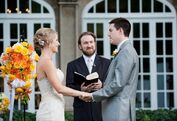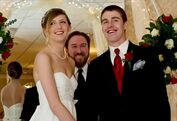 About this Vendor
Wedding ceremonies for the rest of us!
I perform custom secular wedding ceremonies for couples who don't want a doctrinal church wedding, nor a dull and uninspired courthouse ceremony. Each ceremony is written to suit your personal tastes and to tell the story of your love, to make it truly yours. 100+ testimonials on my website!
Details
Civil Union, Commitment Ceremony
Buddhist, Catholic, Christian, Hindu, Interfaith, Jewish, Muslim
Contact Info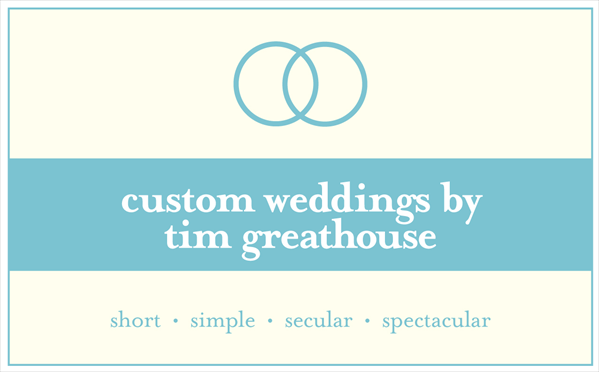 Perfect!
Reviewed on

11/15/2013
Lindsay R
Tim was amazing! He met with both my husband and I separately before the wedding to review the ceremony and calm our nerves. He created the perfect ceremony for us, making everyone laugh and cry! It was the perfect time length, packed with meaning and symbolism, and tailored to... Read More fit us perfectly! I would most definitely recommend Tim to anyone who wants their wedding ceremony to embody who the couple is.
---
Perfect Modern Ceremony!
Reviewed on

10/28/2013
Amber M
I stumbled across Tim when searching for a secular wedding officiant. Tim was wonderful to work with from the start! He was always available to answer any questions or address any concerns that I had throughout the planning process, via either phone, e-mail, or Facebook.... Read More The ceremony was incredibly personal. Tim really made the ceremony about us and our journey as a couple. We chose the non-traditional vows that he offers, which were just perfect! They were modern and felt so meaningful. Tim made us feel like we were the only ones in the room while speaking our vows to one another. The ceremony was my husband's favorite part of the day, and if he gives the stamp of approval, you know it must be good! Highly, highly recommended!
---
Great Secular Ceremony
Reviewed on

3/27/2013
Kaeti S
All our guests thought that we had known Tim for years, because of the personalized service he gave. He really helped make our day special.
---
Reviewed on

9/01/2015
Amanda M
Tim was absolutely amazing. I am so happy we decided to work with him. It was super important to my husband that our ceremony be non-religious but based towards our relationship. A lot of non-religious ceremonies tend to be brief and impersonal. Our experience was nothing like... Read More that. Tim took the time to get to know us and gave us a truly beautiful ceremony. We got so many compliments on it for being such a unique ceremony as well. Even my conservative relatives remarked on how wonderful it was. I was very impressed with his professionalism and the fact that he was so laidback, it was hard for me to get worked up about anything. Definitely would recommend him!!
---
Wow... Just wow. Excellent and amazing!
Reviewed on

10/15/2014
Malorie H
Amazing and wonderful. I don't know what else to say about Tim. He was professional and yet extremely friendly and talkative. The first night we met him, it felt like we were long lost friends. He was easy to talk to and very passionate in what he does... and boy is he good at... Read More it. He was not able to attend our rehearsal but was able to provide us with enough information to feel at ease that night. And going into the day of the wedding, he was great. Very relaxed, very reassuring and very impressive. I had many compliments on the ceremony and would agree completely. He added every little detail i asked for while still makign the ceremony flow well. He added a few light hearted touches with the mic stopped working. he had people laughing and crying and smiling out of happiness for us. He added special personal touches and just did an amazingly wonderful job. i could not have asked for a better officiant!! I would recommend him to anyone!
---
HIGHLY RECOMMEND!
Reviewed on

8/27/2014
Erin L
I can't possibly say enough positive things about Tim. If you are looking for a non-religious, laidback, funny, all around badass guy to do your wedding, Tim is your man. He is so outgoing and friendly, he makes the planning process fun. He is always willing to answer... Read More questions and offer advice. Even in the chaos of the hours before the wedding, he had us laughing and relaxed. Our ceremony was PERFECT. It was everything we wanted and more. The most common comment I have heard from guests since the wedding is "Where did you find your officiant?? He is awesome!" and I strongly, strongly agree! Best decision we made in the planning process!
---
Raddest officiant out there!
Reviewed on

8/04/2014
Meghan S
Tim was fantastic. Helped settle my nerves, was very communicative and made it very clear how the ceremony would go down. Extremely professional and easy to talk to. He listened to exactly what we did and didn't want to be part of the ceremony and added his own kind of flair to... Read More it, which was perfect. My husband and I are not religious, so we wanted to leave anything of the sort out of it, but did not know how to go about that. Tim gave great suggestions and helped all the way through. Only downside is that we wished we could have gotten to know him better and hang out with him for longer! :)
---
Tim Greathouse is the best Officiant!
Reviewed on

7/31/2014
Bethany N
Tim Greathouse is amazing at his job! He really knows how to tune into each and every couple that he works with to personalize every ceremony. He can customize your ceremony to be as religious or non-religious as you prefer. He is extremely knowledgeable and super easy to work... Read More with and bounce ideas off of. By the time your wedding is over you feel like you have gained another friend! During the ceremony he kept my husband and I engaged (the whole experience is such a whirl wind!), and our entire audience laughing and crying. He listened to exactly what we wanted and delivered just that.
---
Custom and Unique
Reviewed on

9/15/2012
Ashley D
Tim Greathouse did a fabulous job. I loved my ceremony more than any part of the day. He made it so special and unique. He had asked us questions about us and our relationship and then custom wrote our ceremony. He made it about us and nothing else. We also got to write our own... Read More vows which is very special to us. I remember him making both of us cry and laugh in a 15-20 min. span. I received so many compliments on him and I wouldn't have changed my decision ever. I just can't wait for the video to come to I can watch it again and relive the beautiful moment he helped create.
---
sunjray82
Reviewed on

8/27/2012
Joana Z
All I can say is amazing ceremony. Best one I ever heard and not just saying that because I am bias. That guy has a way with words. Beautiful vows, amazing personality, amazing voice. So easy to work with and so in control. Human xanax during the ceremony!
---
Perfect!!!!
Reviewed on

10/11/2011
Meghann N
PERFECT!!!!!
---
Perfect!
Reviewed on

10/11/2010
Anna G
I confided in Tim early on that I felt the officiant was the most important part of everything. He/She makes or breaks the whole thing. And boy did he make it! I knew from the moment I met him that he was the right man to marry us.his words are perfect. he was able to understand... Read More what made our relationship so perfect to us. To understand it, without experiencing it must take a great deal of emotional aptitude and empathy. Those things are hard to come by in a person. And I will always be grateful that we managed to find him!
---
Send Message