Our Story
Jake + Nin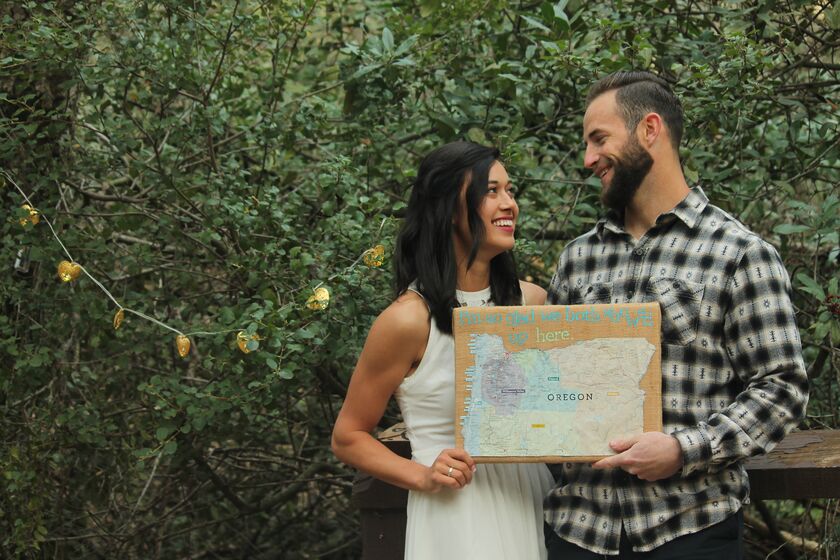 As many of you know, Jake and I met in Eugene, Oreg. in the fall of 2011 when we were both freshmen in college. I was on a softball scholarship and he, a baseball scholarship. There was a class called FHS that all freshmen athletes took where we first caught each other's eye. Baseball and softball would also lift weights at the same time three times a week so we quickly became familiar with each other.
One of the first weekends at school, Jake messaged me on Facebook and invited me and my teammates to a party at the baseball house. We decided we'd go and the softball girls naturally got along with the baseball boys. That first night, Jake caught me messing around in the kitchen sliding across the floor on a rug and from then on, he decided I was weird enough to be of interest.
A few weeks later, one of his teammates that lived in Washington invited him and one of my teammates to the UW vs. UO football game in Seattle. There was one more ticket and Jake decided to invite me. By this time, we had had a few more moments together that stick out in my memory. They all seemed to be on the weekend when the softball and baseball kids would get together and relax after the grueling fall practices Monday through Friday. A couple that I'll never forget would be after a Halloween party, we all piled in a car to go grab some Taco Bell and I rested my head on his shoulder. And then another night we ended up on one of the balconies at a friend's apartment just talking and eventually seeing who could spit closest to a bike handle sticking out on the balcony two floors below us. Small, yet pivotal moments that seemed to knit us together.
The weekend in Seattle was a game changer, though. The car ride up our friends were in the driver and passenger seats and we were in the backseat. The trip was so much fun. It was filled with a boat ride to the stadium, home cooking by our friend's mom, and of course, football. I remember after the game we were standing on a small hill trying to navigate our way out of the stadium and I playfully pushed him for some reason that I can't remember. He over exaggerated the light shove and rolled all the way down the hill. It was cold and wet and I was in shock. But of course, this joke made me like him so much more than I had before. Anyone willing to roll down a hill in a crowd of people just to make me laugh is a keeper, right? Ha!
Our relationship grew from then on that freshman year. But then it faced trials, breaks, even break ups here and there and we couldn't figure out how things got so hard. We now know that's how relationships naturally go without Jesus.
Fast-forward to the year 2016 that changed both of our "forever's". I had really found my relationship with God the summer of 2013 even though I grew up in the church. Jake and I had kept our distance from that summer on and started to rekindle in 2015, but I never would've guessed the man that God has transformed him into today. He is the leader of our relationship. He loves the Lord and he loves to learn about the Word more than anything else. He is truly my dream husband. He respects me as a daughter of God and shows his love for me in so many different ways.
So this brings us to December 24th, 2016. It was a day like any other. We had plans to go to the Christmas Eve service at my church like we had done the year before. This time, he said that his parents and three of our good friends were all going to join us all the way from San Diego. I thought nothing of this. I was just thinking, "Wow! Jesus is so good bringing everyone together on Christmas Eve!"
So after the service when we were getting ready to head to my aunt's house for our traditional Christmas Eve dinner, I gave Jake's lovely mom, Cheryl, a small Christmas gift since I wasn't going to see her the next day. She replied, "Oh, I have a gift for you as well! But you have to open it right now." Everyone sort of stopped their conversations and looked at me while I was opening the gift, but I ignored this and kept opening the tissue paper. It was wrapped several times over and I couldn't believe what I saw as I peeled the last layer away. It was a giant engagement ring ornament. At that moment, I knew what was about to happen. Jake's semi-cheesy line following the gift was, "I have one more Christmas present for you," and dropped to one knee. I couldn't believe it.
My signature move when I'm surprised is the one hand covering my mouth and that's exactly what I did. Then I vaguely remember him saying, "Will you marry me?" To which I replied, "Are you serious?" To which he then replied, "Yes," and then I finally said, "Yes." My next focus was the gorgeous ring he put on my finger. Gold, with a center, round diamond and three princess cut diamonds on each side. Just stunning.
It took me a couple of days to process what had happened. But I love how Jake chose to propose to me at the church we had both gotten baptized at and used it as an opportunity to enjoy a church service with both of our friends and family.
Since then we've just been growing more and more each day. We're so excited to make this commitment to each other and to have our friends and family celebrate with us in November. Our mission as a couple for Christ is just to both chase after God with our entire lives and allow Him to bring us as close as possible and then use us as a team to expand His kingdom.
- Janie
The Wedding
Saturday, November 18, 2017
Attire: Semi formal/Dressy casual
Ceremony and Reception
Somis, CA, United States