Our Story
Romance!
Nothing is more romantic than working together to build a better world. We can all do that better if political prisoners are able to rejoin their loved ones. Help our favorite newlyweds build the future they've always dreamed of by earmarking your generous, tax-deductible donation to Rights Action toward "Prisoner Fund." Please also take action here.
Nuestra historia de amor
Nada es más romántico que trabajar juntos para construir un mundo mejor. Todos tenemos la oportunidad de hacerlo mejor si los presos políticos pueden también reencontrarse con las personas a las que aman. Ayude a nuestros recién casados favoritos a construir un futuro por el que siempre han soñado haciendo una generosa donación, deducible de impuestos, para el "Fondo de Presos" de la organización Rights Action." Si puede actúe de otras formas también aquí.
The Wedding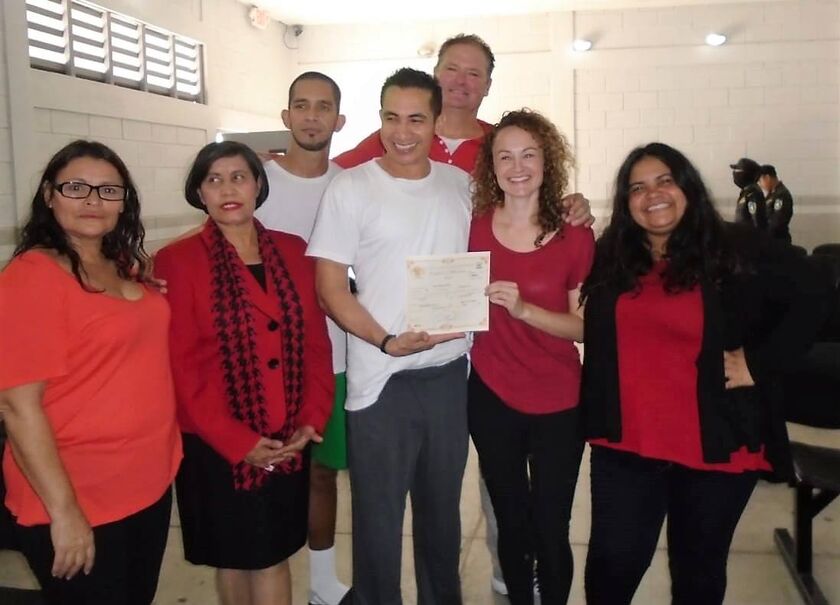 Thursday, October 18, 2018
12:00 PM
Attire: Red & Black, and prison uniforms
Ceremony and Reception
La Tolva Prison
Moroceli, Honduras
Accompanied by dear friends, including Edwin's fellow political prisoner Raúl Álvarez, Karen and Edwin were married at noon on October 18th, 2018 nine months after Edwin and Raul were illegally jailed for his participation in widespread protests against government killings, and against the fraudulent, repressive Honduran elections of November 2017.
La boda
Lugar de la Ceremonia y Recepción
Prisión La Tolva (Moroceli, Honduras)
Jueves, 18 de octubre, 2018
12:00 PM
Vestimenta: Rojo y negro y uniformes de presidiarios
Ceremonia y Recepción
Prisión La Tolva
Moroceli, Honduras
Acompañados por varios amigos queridos, incluido el también preso político Raúl Álvarez, Karen y Edwin se casaron al mediodía del pasado 18 de octubre de 2018, nueve meses después de que Edwin fuera detenido ilegalmente por su participación en las protestas masivas contra ejecuciones extrajudiciales y contra las fraudulentas elecciones hondureñas de november de 2017, que desataron una oleada de brutal represión estatal que no cesa.