Our Love Story
Prelude:
Paxton Guthrie Webster was born February 4th, 1995 a triplet with two brothers, Alec and Taylor. Paxton grew up In North Carolina moving around a few times during her childhood. Paxton and her family eventually ended up calling Wilmington, NC home when she turned 12. She and her brothers all excelled while in high school academically and in sports, earning them spots to attend the University of North Carolina at Wilmington. Paxton began competing in pageants in North Carolina at the age of 18 earning several titles including the 2013 North Carolina Azalea Festival Princess as well as Miss Wilmington 2015. Paxton was very dedicated as Miss Wilmington and distraction free for the most part, up until the 2015 NC Azalea Festival.
Ryan Robert Salke was born January 28, 1994, exactly 1 year and a week before Paxton. Ryan was born and raised in the small town of Durham, Connecticut. He grew up as an only child making friendships that have lasted to this day. After high school Ryan attended The Citadel Military College of South Carolina. In 2013 Ryan joined the Marine Corps Reserves where he served for 6 years. During Ryan's junior year of college he went through training at The Citadel to become a Summerall Guard, and was chosen along with 61 of his peers to hold this esteemed position. Ryan and the guards had the opportunity to perform in several events including, a Falcons Football Game, Disney, and best of all, the North Carolina Azalea festival. Just like Paxton, Ryan was very dedicated to his academics ...(gym) and never knew how much of an impact his performance at the Azalea Festival would have on his life.
How our Love Story Began
On April 10th, 2015 during my performance at the Azalea Festival in Airlie Gardens, I saw Paxton for the first time. During the routine we make several turns in which we focus our head and eyes straight ahead. On my last turn instead of just staring through the crowd I couldn't help but concentrate on the most beautiful girl in the crowd standing in front of me.
Immediately following the performance, we were required to take a picture in front of an oak tree. I was scanning the crowd trying to find Paxton but didn't see her anywhere. Then as we were all lined up, Paxton and a group of girls came over to take a picture with us. This was the first time Paxton made me laugh. She attempted to walk up to us not realizing the ground was very wet in front of the tree, her heels sunk into the ground causing her to scream and nearly fall over. She then walked up to me and asked if she was standing in the right place and laid her hand on my shoulder. I couldn't speak and just smiled.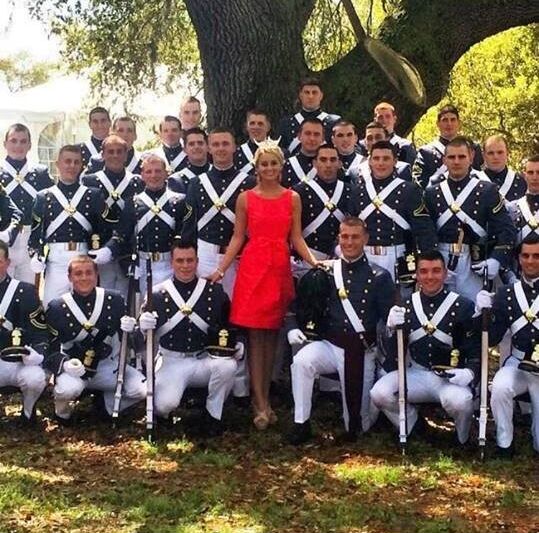 After the picture all of my friends were heading over to get drinks and get out of the wool uniform we were wearing. Instead, I started looking for Paxton in the crowd to try and introduce myself. I found her standing next to my friend Nick Ruggiere, who was Paxton's escort, and a senior at the time.
Every year 8 Summerall Guards are chosen to attend the Azalea festival for a week escorting the queens court around Wilmington.
Now even though I obviously could have gained her interest without any problem I talked to nick on the side to have him put in a good word about me. Nick then introduced Paxton to me and I was finally able to have a conversation with her.
Ever since I first saw Paxton during my performance, taking the picture, and after talking to her for the first time, I knew that she would always be a part of my life. (I mean especially since I was able to make such a good impression on her while I was completely bald, I knew when I got my hair back she wouldn't be able to resist).
A month after the Azalea Festival was graduation at The Citadel for the seniors. I was walking through The Citadel Chapel to sit with my friend's family to watch his commissioning ceremony, when I heard a familiar voice yell my name (In a church). I looked over and Paxton was standing up waving me over to her. She had come with her friend Lyndsey to watch Nick commission that day. Paxton and I spent the rest of that weekend together. We exchanged numbers before she headed back to Wilmington for the rest of the summer and I left for Marine Corps training.
For the ENTIRE next year I texted Paxton every single day. Always, usually, sometimes, pretty rarely getting a response back from her. Paxton told me early on after we started talking that she was too busy with her pageants, school and other things, she did not want to be in a relationship, which she knew was the only thing I wanted. Over the course of the whole next year texting, calling, and Face-Timing together, I could tell I was finally making a little progress. When it came time for Azalea Festival 2016 I wanted to do everything in my power to earn a spot as one of the 8 Summerall Guards selected to escort the Queens court. I then entered a drill competition in our school, in which I ended up winning, earning me a spot as one of the 8 escorts.
I have to mention that throughout the year between Paxton and I just communicating via phone: her car, her best friends car, and ALL HER friends cars conveniently would die every morning before she was supposed to be visiting. The interesting thing was that Paxton would do this over and over again, coming up with excuses as to why she couldn't come, for a whole year.
One of my groomsman and best friend from The Citadel, Nick Marin, had the pleasure of watching the circus of Paxton and I for a year straight. He would ask me every single day why I was still talking to her, and every time I told him there's just something about her man, I know she's the one.
The turning point was finally at the Azalea Festival in 2016, in which this time Paxton invited me to come visit her before I began my week as an escort at the Azalea Festival. Throughout the Azalea Festival week, I spent every second I wasn't busy with events with Paxton, and even when the Festival was over I stayed in Wilmington to see her. You will have to ask Paxton what exactly changed her mind about me and being in a relationship, but we have been dating since leaving the Azalea Festival in 2016.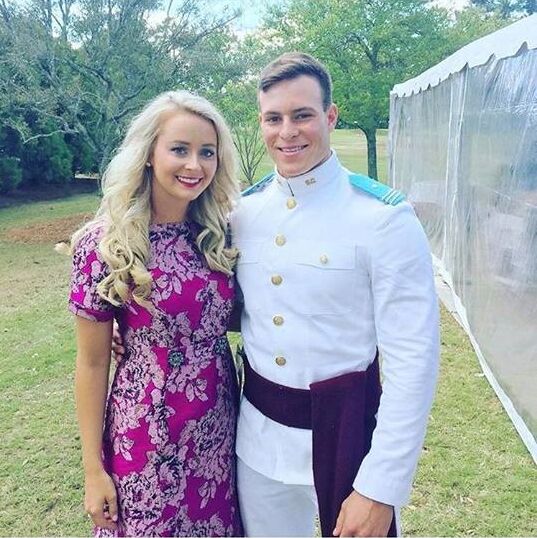 Ever since Paxton and I started dating I knew that I wanted to propose at Airlie Gardens. I brought her there many times over our three years together so that one day when I brought her there for a different reason, she would have no idea what was I planning. After meeting my Princess in Airlie Gardens, I brought her back there on February 1, 2018 to ask her to spend the rest of her life with me. Paxton you are my whole world, I Love You more and more everyday of my life.