Our Story
Falling In Love with Brittany <3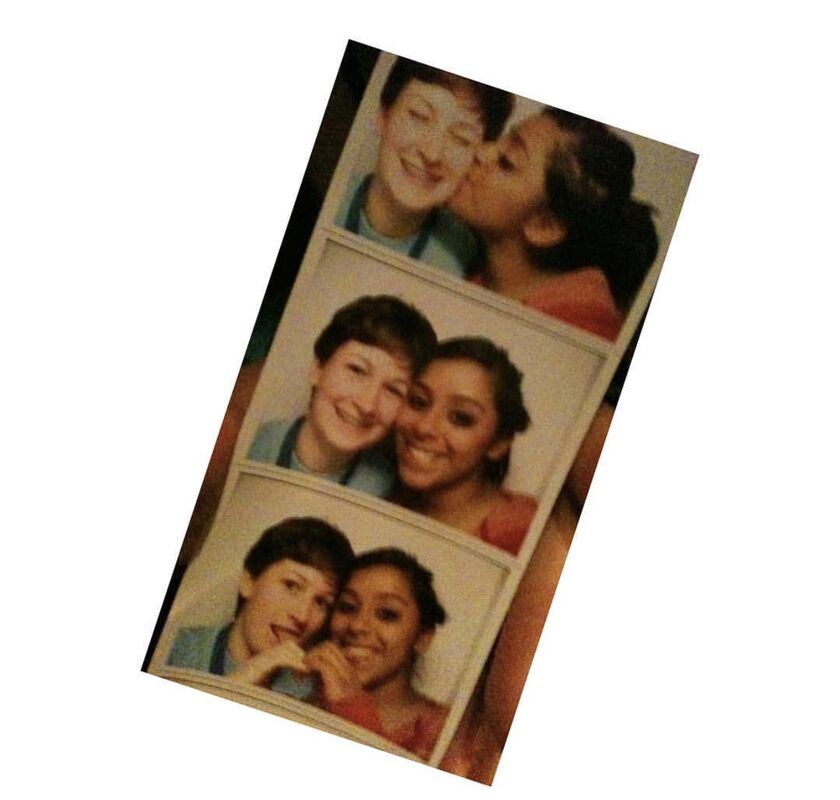 Some of you have known Brittany and I since we were kids roaming the Barbers Hill High School hallways, others met us later on in our relationship!
I can still remember the first time I ever met Brittany. I was hanging out with some new family memebers and one of them invited Brittany over to the house. Thinking back it doesn't surprise me how quickly we became friends. I always say "it all started with Jack In The Box popcorn chicken haha." I have still never seen someone throw such a fit over the popcorn chicken being "too small" .. I remember she felt completely ripped off and was throwing a silly tantrum! "What kinda popcorn chicken is this!?" (I think she was egging it on because she knew it was making me laugh) haha. We laughed that entire night. After that night we didn't see each other until about 4 months later when I transfered from Clear Lake High school to Barbers Hill High school.
It was my first day at a new school. As I'm sitting at lunch with a bunch of people I don't know, here comes Brittany!.. "Hey! You go here now?.. Come sit with us!"...So I did!. After being friends for a while I Knew I Loved Brittany on Hat Day! She had long light brown hair (I know most of you can't even picture her with long hair lol) and she had straightened it and wore a black and white DC hat. I remember thinking, she is the cutest human being I've ever seen!. So at this point I had met someone who was not only adorable but kind, sweet, soft spoken, and hilarious. She listened, she was compassionate and did I already say Hilarious? haha. So what was there not to love? ..even at only 16 years old I knew that day, I loved her. I fell In love with her kind hearted soul. Her ability to make me feel comfortable, calm, happy and loved all at once made me fall completely head over heals.

On December 27th 2008... after 2 "dropped calls" AND 1 "oh my phone died" phone calls, she finally got the words out.

"Umm, so I was just wondering..um.. it's okay if you don't want too, but um... would you .. like uh... wanna go out with me?"
Eight and a half years later I can still remember that conversation. Crazy to think I happily said YES then & im only 6 months away from saying YES again. This time to take her last name.<3
Years and years went by. We graduated high school, got jobs, started college, moved into our own apartment with absolutely nothing in it for just about the entire time we lived there, Lol . Roman noodles, McDonalds $1 burgers, and Taco Bell $1 burritos were just about all we ate for 3 years haha The struggle was real for awhile but we had each other, so there was nothing we couldn't overcome.

Now Eight and a half years since the day we met, we are living in a beautiful home that we built together with 3 puppy childeren. We make sure and thank God everyday for all we've been blessed with. I'm getting to marry my best friend... someone I've literally grown up, matured, and changed so much over the years with. It's easy falling in love at 15 and 16 years old.. but it's isn't always easy staying in love. For us I think it was just what was meant to be.
She is and forever will be, my forever and always.

I cannot wait to be a Lewis!
Falling in love with Lexi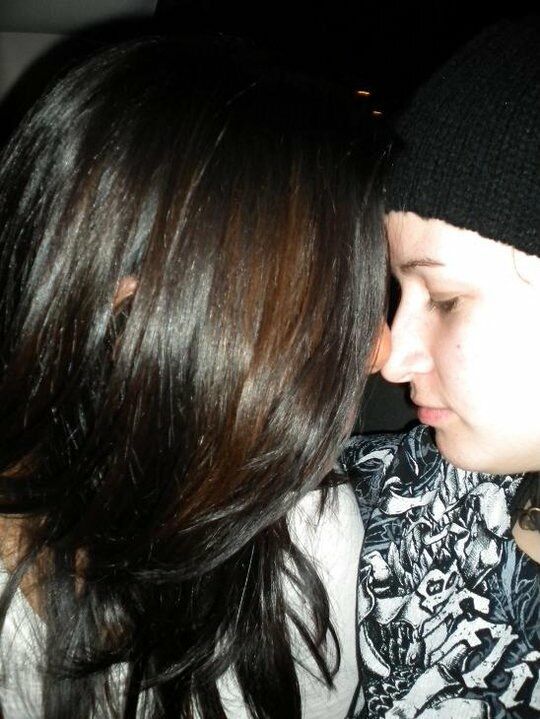 Many people spend there whole life searching for there purpose, I however found mine early in life, 16 years old to be exact lol.
Lexi makes me want to be a better person. She pushes me and believes in me and she never forgets to remind me where we started and where we are now.
We love making each other happy. I love getting her flowers on the way home from working nights because most of the time we don't see each other during the week. I know when she walks into the kitchen to make her coffee in the morning (while I'm Passed out, lol) and she sees a corny note and flowers on the counter, her day will be made and she will be reminded that I love and miss her always. It has always been the smallest things that mean the most to us. I could spoil her with a fancy dinner or grab her a $3 rose in a gas station while she's waiting in the car and she'd be just as excited for either. Her being loving and appreciative of even the smallest things is just one of the million things I love about her.
We started out as "just friends" talking on the phone for hours until we fell asleep and waking up for school the next morning still on the phone with each other. Little did I know I was talking to my future wife, my soulmate, my everything. December 23,2008 was the day I was going to ask her out but I chickened out lol We were in the elevator at the hospital visiting a friends newborn baby and she was wearing a red bucee's shirt, blue jeans and her hair was down. Nothing fancy but in my eyes she was the most beautiful girl In the world. I remember I just couldn't get the words out, she made me so nervous. On December 27,2008 we were talking on the phone as usual and I knew I couldn't wait any longer.. so after I stuttered over my words, hung up twice, and drove 20 minutes home so I could get to my phone charger because the 3rd time I called my phone really did died. I asked her to "go out with me" and she said yes!
I can still remember hiding in my best friends truck for over an hour while they were hanging out just so I could see her for a minute while driving out of the driveway, that's how crazy In love with her I have always been.
Every step along the way she has always been by my side. She has never giving up on my hard headed, stubborn self . She has seen me at my worst and never given up on me. Sometimes I think she even knows me better than I know myself (kinda freaks me out lol). She has a heart like no one I've ever met, she wears her emotions on her sleeve and she loves everybody she meets. She is my best friend someone I would lay down my own life for and I couldn't imagine this life without her in it.
I honestly can not wait to marry her and start our own little family together.
She will always be my better half <3
P.S. I'm the lucky one ;)
The Proposal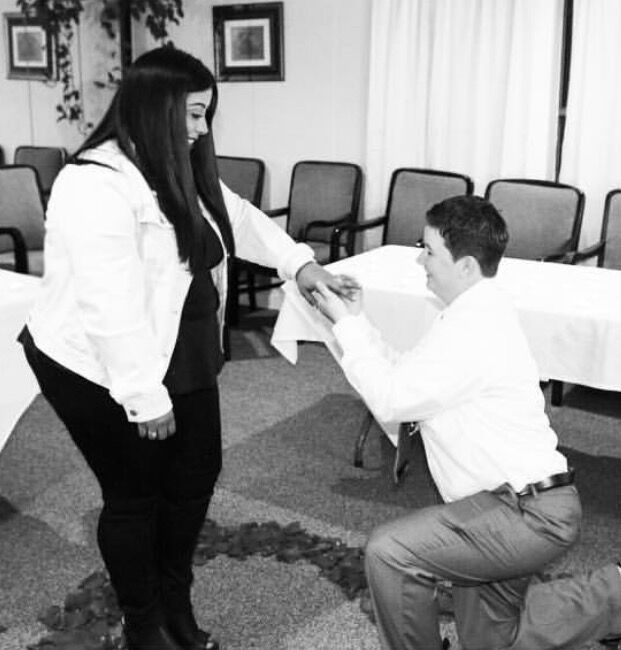 11.18.2016
The weather was horrible but love was definitely in the air! Brittany had gone above and beyond to make sure this day was perfect. She made sure she had the rose peddles, candles, videographer, an amazing speech, and all my best friends there for the moment. I'm still so impressed that she held on to the ring for weeks without telling me and even more impressed all my friends knew about it and not one of them slipped up and told me.
One of my best friends Megan (our officiant) did so well convincing me we were just going to meet her parents for a drink before meeting up with all our friends! (Meanwhile I'm thinking Brittany is stuck working late). We arrived at Villa Capri where we were "meeting her parents" in Seabrook an hour and a half late. I still have no idea where everyone's car's were because the parking lot was empty? Haha. I followed Megan upstairs and there Brittany was, standing in the Center of a heart drawn out with red roses while the song "Marry Me" by Train was playing. My sister and friends were all sitting there waiting!
Her entire proposal was straight from the heart, no hand written speech. I remember I couldn't stop shaking. I kept thinking, this is the moment, after all these years... I'm about to say YES!
She ended her speech with the best line of all time.

As she got down on one knee she said...
"So I talked to your dad, now it's time to pick out a white dress...will you marry me?"
Our song has always been "Love story" by Taylor Swift so if you know the song you can see how adorable her saying that was!Lol
She is pretty perfect. <3
The Wedding
Friday, January 12, 2018
5:00 PM
Attire: Formal
Ceremony and Reception
Noah's Event Venue
Wedding Party
Megan Allamen - Bridesmaid
oh Meagles!
You are literally one of my favorite people on this earth. So full of life and always there with open arms/ears when I need you. I don't know what I would do without our Long phone calls at least 3 times a week! You lift me up and let me know everything will be okay when I feel like everything is falling apart. You've always been so understand and loving towards Me and Brittany...Through the good and bad. And that means the world to us.
When me and Britt talked about finding an officiant we couldn't think of anyone else we'd rather have standing in between us than YOU! We just trust you so much and know you want the very best for us.
You are the most genuine and sincere person I know. You are my sunshine on cloudy days. And by far one of my biggest blessings.
I am so happy You are one of my girls!
Love you megs! 😘
Brook Kelly - Bridesmaid
Other Half,
I cannot even imagine my special day without you. Since 9th Grade we have been the missing piece of each others lives. From almost going to jail together (sneaking out with boys haha), to being thousands of miles apart, to now being all grown up and still being best friends after all life has thrown our way! I don't know what I'd do without you. We all know the saying "You're lucky if after highschool you stay friends with even one friend" .. THANK GOD we defeated those odds. Lol We will ALWAYS be US...The crazy best friends that fight, cry, love, laugh and have a relationship as tough as rocks! And even though Britt is technically my other half now, YOU will always be my FIRST other half... the girl that made me a better person! The one who'd stay up all night laughing with me and eating cereal until my mom yelled at us from downstairs to shut up because we were being too loud and it was 3am. Haha looking at those same pictures on my wall with you never got old. Even though getting kicked off your bed for your own humor, did. Haha.
You are my family, blood couldn't make us any closer. I am so thankful for our friendship. My day will be perfect with you standing up there with me! I couldn't imagine it any other way.
Love you brook!
Sisters! - Bridesmaid
Avery and Addy,
Y'all were my very FIRST best friends. Life gets crazy and WE get even crazier at times...but we are always going to be solid. Even though y'all steal all my things lol. You two mean the world to me! And it means so much that y'all love Brittany almost as much as I do! I couldn't get through my wedding day without y'all. Thanks for giving me my Jace-Pooh & Tinker Butt(Ezra) lol. They give me so much JOY.
"Sisters by blood, best friends by choice"
I love y'all so much!!
Jade! - Bridesmaid
COUSIN,
You already know.. Since we were babies we have had that unbreakable bond! I remember we used to listen to Missy Elliot unedited when our parents were gone hahaha!
I'll never forget the time you busted my eye open with our hand made swing and you thought I was going to die LOL!!
You bring so much laughter to my life. You know me inside and out front to back. You hurt, I hurt..You good I'm good! Haha
Without even saying anything we already know what it is. <3
You are my RIDE OR DIE. ALWAYS.
Love you cuzzzinnnnn
Jade Lewis - Bridesmaid
You've always been so kind to me! & I couldn't have asked for a better future sister-in-law! Even though we are already basically family lol.
I Love you!!!
Theresa Mccrory - Bridesmaid
T-Babyyy,
It would not be my wedding day unless you punched my arm a few times. lol Thanks for always making me laugh and acting out insane stories that make me want to pee myself. Your free spirit is addicting and only makes you more gorgeous!
Love you T!
Karrah Campbell - Groomswoman
The knower of all knowing, one of our longest bffs. Honestly I should have fought harder for you to stand on my side... but I had to be fair and you have known Britt longer hahaha. Our day wouldn't be our day without you Karrah! You have literally been by our side from the very beginning. You know all our good, bad and very embarrassing moments lol. So many of mine and Britt's memories include you! Which I love.
I'm so happy you are a part of our bridal party!
I love you so much!!!
-Lexi
You have been my best friend since day 1 and I just couldn't imagine this day without you being by my side. From being 10 yrs old thinking this girl is a complete brat to 15 years later still thinking the exact same thing! I love you Karrah Niccole and I'm so grateful to have you standing right next to me in this next milestone in our lives!
Love always,
"Dad"
DG - Groomsman
Dirty Bay Tx get ready to tear this town down
CP - Groomsman
CP you better be wearing them cobra 🐍 boots 😂😂
Leah Trousdale - Groomsman
Boo-Boo you know this day wouldn't be the same without you
Bebo Gonzales - Groomsman
Bebzz I have watched you grow from a kid into this nice young man, I'm so glad that you are going to be my actual little brother.