Our Story
He Said Hello
Back in March of 2015, Alyssa and Teddy were set up on a blind date thanks to the scheming of their close friends, Katie Plauche and Paul Obering. They quickly hit it off after Teddy touched Alyssa's face (funny story) and they discussed their love for traveling. Teddy then took Alyssa on a motorcycle ride to Harper's Ferry, just like his father had done on his first date with his mother. After meeting Alyssa's sister Carly and cousin Natalie, Alyssa knew Teddy would fit in well with her friends and family. The rest is history!
She Said Yes
On September 9th, 2017, Teddy and Alyssa were spending a typical summer weekend at the beach in Sea Isle City, New Jersey. Unbeknown to Alyssa, #OperationSandDune was already underway. Teddy had cleverly designed a scavenger hunt, with each clue leading to a special location in Sea Isle. As Alyssa put her Nancy Drew skills to the test and solved the clues, she was shocked to find her best friends and family members along the way! The last clue led to the beach, her happy place, where Teddy proposed. Simply put, Teddy made Alyssa's dreams come true!
Our Wedding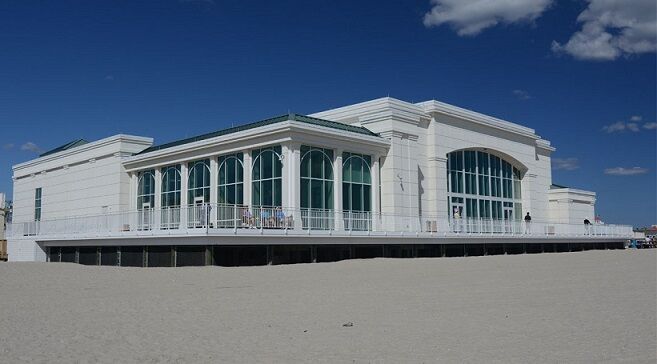 Saturday, June 15, 2019
5:00 PM
Attire: Beach Formal
Ceremony and Reception
Cape May Convention Hall
714 Beach Ave, Cape May, NJ 08204, USA
With sandy toes and salty kisses, join us as we become Mr. & Mrs!
#alongcameameyer
What is Beach Formal? Beach formal attire is for an elegant beach wedding—so dress to impress, but also dress for the elements (sun, sand and water). Anything you'd wear to a nice restaurant on a summer night is appropriate.
He should wear: A button down dress shirt, linen shirt, or nice Hawaiian shirt (no ties required), and linen pants or khakis with sandals. Summer suit is optional.
She should wear: A formal summer sundress or cocktail dress with sandals or wedges.
Schedule of Events
Welcome Event
Friday, June 14, 2019
9:00 PM
Aleathea's (Inn of Cape May)
7 Ocean St, Cape May, NJ 08204, USA
For all guests arriving Friday night, please stop by to say hello to the Bride and Groom!
Attire: Casual
Ceremony
Saturday, June 15, 2019
5:00 PM
Beach in front of Cape May Convention Hall
Kick off your shoes and join us on the beach for the ceremony! There will also be a deck overlooking the ceremony if you are not able to go on the beach.
Attire: Beach Formal
Reception
Saturday, June 15, 2019
5:30 PM
Cape May Convention Hall
Cocktail hour, dinner, drinks, and dancing to follow our ceremony!
Wedding Party
Connor Shope - Master of Ceremonies
Bride's College Best Friend
Carly Long - Maid of Honor
Katie Plauche - Bridesmaid
Bride's College Best Friend
Alycia Szyszko - Bridesmaid
Meghan Schneck - Bridesmaid
Bride's Childhood Best Friend
Kelsey Reese - Bridesmaid
Bride's College Best Friend
Katie Dockter - Bridesmaid
Bride's College Best Friend
Allison Silva - Bridesmaid
Bride's College Best Friend
Lauren Young, Kacie Young, and Kamryn Bielinski - Flower Girls
Georg Schlaiss - Officiant
Groom's Lifelong Best Friend
Russell Osborne - Groomsman
Groom's College Best Friend
Kelan Hudson - Groomsman
Groom's College Best Friend
James Casebere - Groomsman
Groom's College Best Friend