Our Story
The Humble Beginnings of Matt and Amanda...
We met in Pensacola, Florida back in 2009 when Matt had just started flight school and Amanda was doing her clinical rotations during her third year of medical school (Go 'Noles!). We met on the beach and spent a few weeks together until Matt left for Corpus Christi, Texas to continue training. During a couple of trips back to Pensacola we rekindled our relationship and started "officially" dating while Matt was in Kingsville, Texas, and Amanda was finishing up medical school.
For the next few years we spent a lot of time on airplanes between Texas, Florida, Connecticut, Georgia, Virginia, and North Carolina and made the best of the time we were able to spend with each other. Our relationship grew and strengthened as we both went through big life changes and attempted to learn how to become adults (we're still trying).
We got engaged in Charleston, South Carolina on March 27, 2015 aboard the sailboat Fate in what many are calling the most perfect proposal ever. Amanda is now finishing up her pulmonary and critical care fellowship at the Medical College of Georgia in Augusta, Georgia, and will be joining Matt in Charlotte a few weeks after the wedding. We will be attending the Masters next year.
The Wedding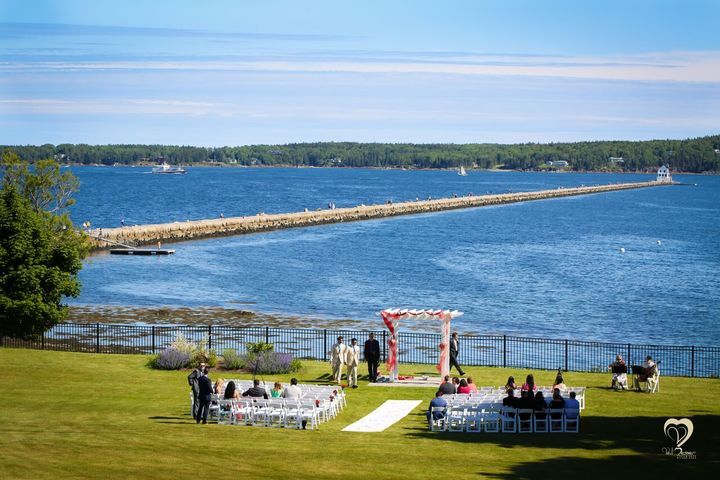 Friday, May 27, 2016
4:30 PM
Attire: Penobscot Bay Cocktail
Ceremony
Breakwater Lawn at the Samoset Resort
220 Warrenton Street, Rockport, ME, United States
Reception
Penobscot Bay Patio at the Samoset Resort
220 Warrenton Street, Rockport, ME, United States
Our wedding ceremony and reception will be both be held onsite at the Samoset Resort. Transportation will be available for guests who need assistance. We kindly ask that the attendance be limited to adults only.
Please help us by downloading the WedPics app!! We hope that you will upload your pictures of Amanda and/or Matt to help us celebrate all the memories we've made! You can download WedPics from the app store and add your pictures into our album. Use the wedding ID "AmandaMatt527" to get started!

The resort offers a list of trusted babysitters who will be available for hire. If you will be traveling with a little one please contact Matt or Amanda for more details.
Other Events
Golf Outing - UPDATE!
Friday, May 27, 2016
8:00 AM
Rockland Golf Club
606 Old County Rd, Rockland, ME 04841, United States
The guys (and any gals that want!) will be playing golf on the morning of the wedding. Matt will be organizing the event so please email him at [email protected] if you would like to play.
Please note the venue has changed! There are several start times, so please contact Matt for specific tee times.
Saturday BBQ
Saturday, May 28, 2016
2:00 PM
The Samoset Resort
220 Warrenton St, Rockport, ME 04856, United States
We will be hosting a BBQ on Saturday (the day after the wedding) and all are invited! We are all spread across the country and don't get to spend enough time together so we are excited to have a low key, casual get-together where we can all catch up and socialize. We hope everyone will be able to make it!
Dress Code: Beach Attire (or whatever you are most comfortable in!)