Our Story
The First Date to Now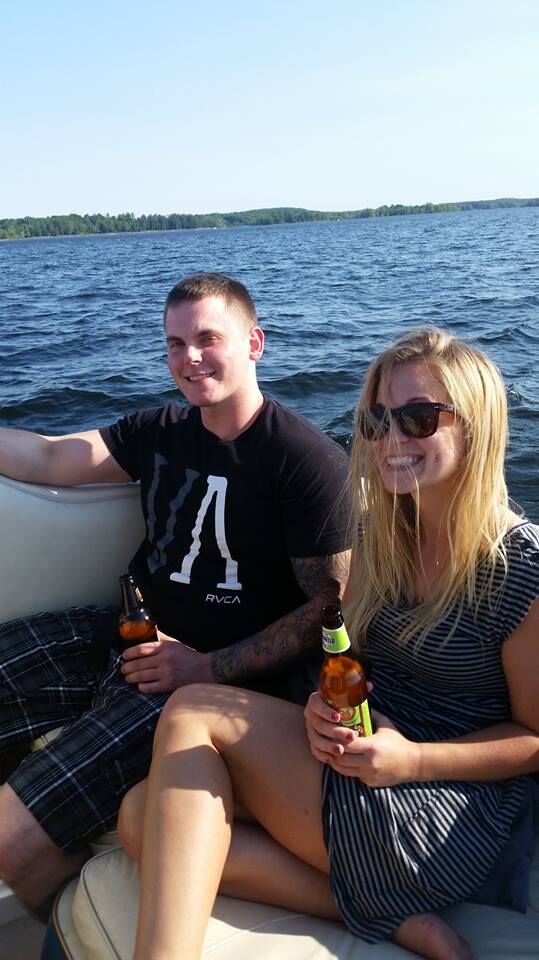 In summer of 2015, Axel and Amy found themselves as new friends with a lot in common. Their first date was at a local bar and consisted of rounds of pool, as they sipped their craft beers. The next day, Axel invited Amy to the lake and out on the boat with his friends. (The picture above!) They spent from sunrise to sunset on their second date. It didn't take them long to desire spending every moment of their free time together. Although Amy was out in Cooperstown for nursing, Axel would visit at every chance.
That summer they enjoyed exploring new places and trying new beers- and binge watching Games of Thrones! Without hesitation, they decided to move in once Amy returned to the area. They lived in a downtown apartment and continued to enjoy their new love.
Now, in 2018, Axel and Amy own a beautiful home and cherish their (not so little Bullmastiff) puppy named Lady. They still enjoy trying new breweries and their love has continued to flourish. Amy and Axel also enjoy traveling, as they recently relaxed on the beaches of Hawaii, and are very excited to visit the beautiful coast of Ireland for their honeymoon.
The Wedding
Saturday, June 30, 2018
1:00 PM
Ceremony
St. Stephen's Church
Hagaman, NY, United States
Reception
The Saratoga Winery
462 NY-29, Saratoga Springs, NY 12866, USA
Due to our venue and to give all our guests the opportunity to let their hair down and have a good time without having to worry about little eyes and ears we politely request no children.

Wedding Party
Allison King - Maid of Honor
Jamison Ott-Carpentar - Matron of Honor
Abigail Jackson - Bridesmaid
Lindsay Gilbert - Bridesmaid
Kim Steenburg - Bridesmaid
Amanda Smith - Bridesmaid
Archer Jackson - Flower Girl
Rich Steenburg - Best Man
Nicolas Burak - Groomsman
Matthew Coons - Groomsman
Isaac Dyson - Ring Bearer
Other Events
Newlywed Sunday Brunch at Holiday Inn
Sunday, July 1, 2018
10:00 AM
Holiday Inn Saratoga Springs
232 Broadway, Saratoga Springs, NY 12866, USA
Close family and out of town guests staying at the Holiday Inn, please join us for a complimentary brunch.