Our Story
Proposal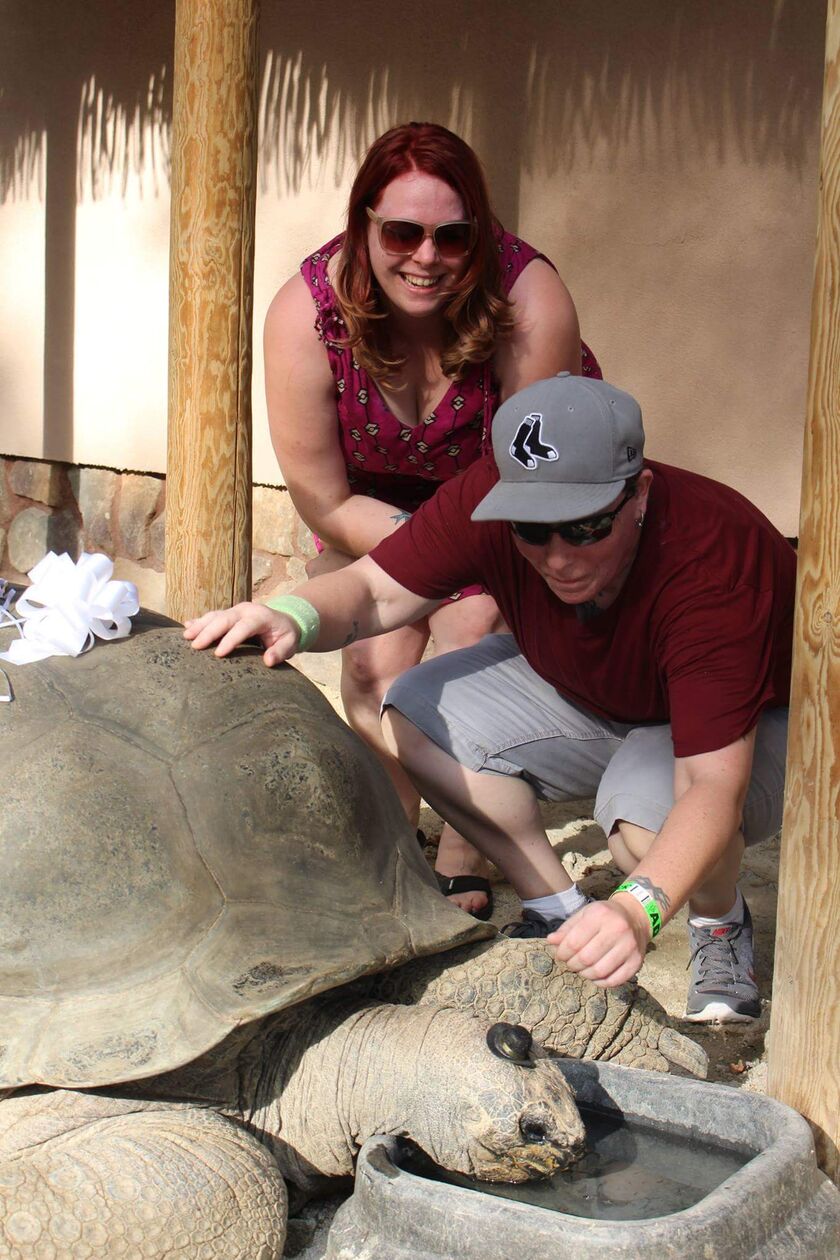 We got engaged at the Southwick Zoo - There are more pictures in our album!
The Wedding
Sunday, September 2, 2018
11:30 AM
Attire: Wedding attire
Ceremony
Private
Reception
Playbarn
247 Woodbound Rd, Rindge, NH 03461, USA
Due to the space limitations, this is an adult only event.
Other Events
Saturday Dinner
Saturday, September 1, 2018
5:30 PM
Playbarn
A celebration with our overnight guests. Details to come.
Wedding Party
Rebeccca - Mate of Honor
Can't marry my miss without my sis! Caitlin's younger (and only) sister will be helping with the bridal preparations.
Jen - Captain Officiant
Kris' good friend from high school will be marrying us and participating in all the wedding weekend events!
Danny - Head Usher
Kris' nephew will be keeping all the other ushers in line and on time!
Emily - Usher
Stephanie's daughter will be assisting with the ceremony and reception.
Kalli - Ringbearer
Our oldest pup will be helping out at the ceremony and reception.
Nikola - Best Man
The youngest of our pup pack - his only job is to pose for cute photos!
Debbie - Mother of the Bride
Caitlin's mother is a jill of all trades and has been helping with the little details since Planning Day 1!!
Jim - Father of the Bride
Caitlin's father will be attending all wedding events and can answer any boating (specifically sailing) questions that come up!
Stephanie - Mate of Honor
Kris' cousin will be helping out with our busy wedding weekend!
Omar - Comedian
Jen's husband will be doing some standup and keeping everyone in good spirits!
Anthony - Usher
Kris' nephew will be helping arriving guests navigate our venue
Timmy - Usher
Kris' nephew will be directing guests to the reception
Kizzi - Flower Girl
Kizzi will bark at any wedding crashers and provide some entertainment
Susan - Mother of the Bride
Kris' mother goes by Nana and will be celebrating everything wedding with us!
Bruce - Father of the Bride
Kris' father is known to us as Bump and will be sharing his birthday with our wedding anniversary date!