Our Story
I Guess You Could Call This A Modern Day Love Story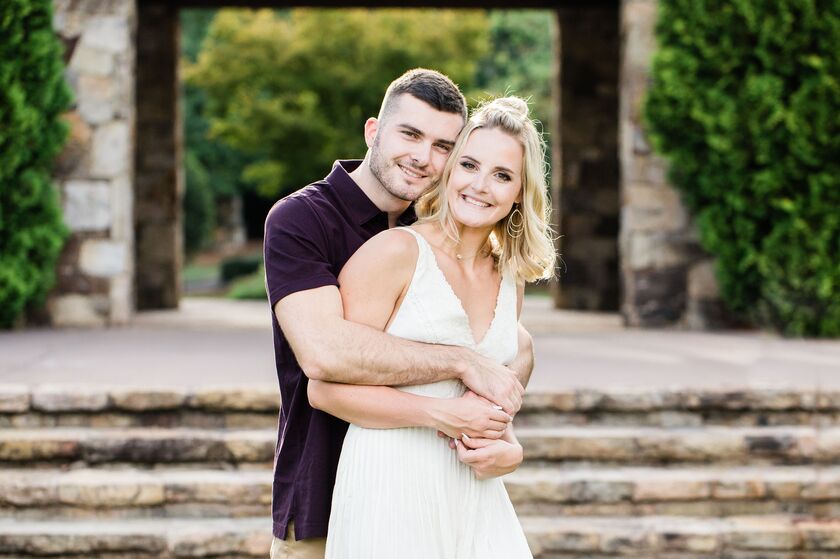 Here is our story. About 3 years ago I met Bobby through a mutual friend. He originally had a date with one of my best friends (yes, she's in the wedding.) Now, this isn't as scandalous as it may seem. My friend wanted some support on how to meet this guy "Bobby" that she had been wanting to meet so me and my other friend knew of him because he was a football player and we played softball, it was just the network of athletes. Anyways, we told her she should invite him and his friends over to our house and we will all hang out. So long story short a few days after our little get together Bobby texted me and that is where our story started. Now, here we are through the ups and the downs and without a doubt in my mind I know we are in it for the long run. We are each other's missing piece and I cannot wait to do life with this goofy, fun loving man!

Also- fun little fact, our first picture we ever took together was June, 29 2015! Now, if that isn't a sign, I don't know what is.
The Wedding
Saturday, June 29, 2019
6:00 PM
Attire: Black Tie - Optional
Ceremony and Reception
The Biltmore Ballrooms
817 W.Peachtree Street NW, Atlanta, GA 30308, USA
Adult reception to follow ceremony. Vehicles may not be left at the venue overnight.
Wedding Party
Addi Maxwell - Maid of Honor
Addi and I became friends my sophomore year of college. (Of course from softball) This friendship is one of a kind and I have never met a more generous, kind, perfect friend of a person. I could not imagine doing this without her by my side.
Bayleigh Wisher - Bridesmaid
Caroline Gualdoni - Bridesmaid
Ashton Presley - Bridesmaid
Chandler Jones - Bridesmaid
Lindsay Crowdus - Bridesmaid
Clay Holgerson - Groomsman
Noah Robinson - Groomsman
Parker Lipman - Groomsman
Christopher James - Best Man
Brandon Young - Groomsman