Our Story
Christmas magic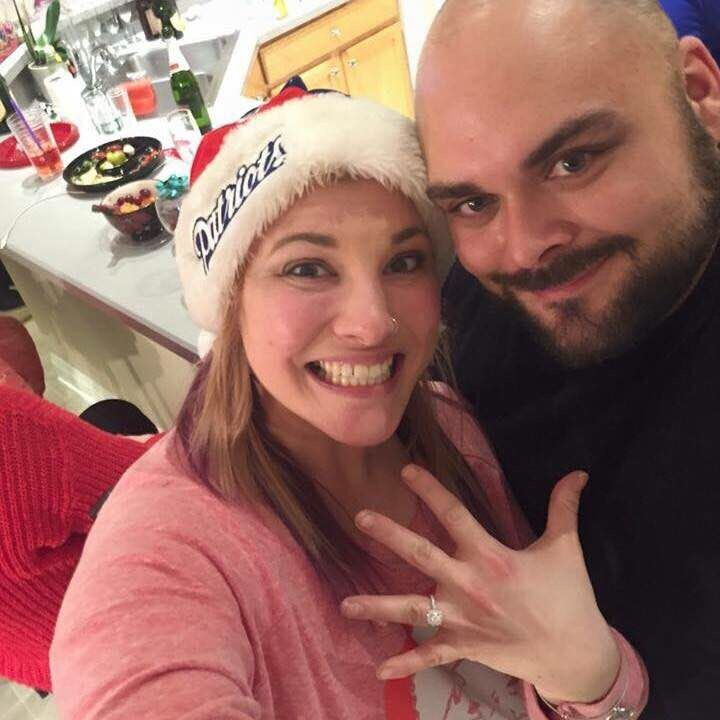 We are from north of, Boston, MA. I grew up with a single mom. Senior year in high school I went to live with my aunt, (my moms sister) in Syracuse NY. Knowing how close I am to her and her family, My boyfriend had an idea.... To drive out to Syracuse NY and surprise my family on Christmas Day. I live with my grandparents now so naturally we are EXTREMELY close. They were out in Syracuse spending Christmas with my aunt and her family this year. No one knew we were coming for Christmas! So we spent the 5.5 hours in the car on Christmas Day and arrived at my aunt and uncle's house at 5:30pm and, "surprise!!!!" My whole family was in tears. 10 minutes later he is down on one knee asking me to be his wife! He will never know how much our proposal meant to me.... Winning my best friend, my fiancé and the most wonderful man in the world NFL tickets would make him SO happy. And that's all I want for him.... Because when I said yes, he already made me the happiest girl in the world.
Click below for the video
The Wedding
Sunday, September 17, 2017
3:00 PM
Attire: The wedding is at 3:17 but the site wont let me post that!
Ceremony
Union Bluff Meeting House
4 Beach St, York, ME 03909, United States
Reception
Union Bluff Meeting House
4 Beach St, York, ME 03909, United States
****PLEASE NOTE!!! OUR ROOM BLOCK ENDS JUNE 15th. IF YOU ARE PLANNING ON STAYING AT THE UNION BLUFF HOTEL PLEASE RESERVE YOUR ROOM BEFORE THE BLOCK EXPIRES!*** There are other hotels within walking distance if you can't get a room there.
Wedding Party
Miss Lily - Jr. Bridesmaid
Henry's beautiful niece and my, "soon to be" niece is one of our first wedding party members!! It was a no brainer choosing this beautiful little lady to stand beside us on our special day
Lauren Pike - Bridesmaid
Lauren is Henry's middle sister. The decision to have our siblings in our wedding was really the start of our wedding party. Lauren always tells it like it is and is very honest which will be very helpful to me during the process. Like her sister, she has a very big heart that never goes unseen. We always have so much fun whenever she's around. Lauren is an esthetician so conversation between us has always been easy. I'm grateful she wants to share in our special day with us and stand by my side. I can't wait to be your sister in law, Lauren! Love you!
Stephanie Wetter - Bridesmaid
I've known Stephanie for years. It wasn't until she started getting her hair done by me that we started to really become close. Steph is one of those friends I know I'll have forever. When I had originally chosen my bridal party I kept saying, "I really want Steph to be in the wedding, I feel like something is missing." Steph is the missing piece to that puzzle. She has such a kind heart and is always there when I need a friend. Having just got married herself a little over a year ago, it's nice to have someone to talk to when things get confusing. Sometimes just having the littlest piece of advice can go such a long way. I'm truly thankful for our friendship and I'm even more thankful she wants to stand with us on our special day. ❤️
Christine Lilley - Bridesmaid
Christine and I have been friends since I was 20 years old. I actually recruited her to be a part of my cheer team (The Beavers.) it wasn't long before I realized she would some day be a part of my wedding. I knew the moment we met that we would be life long friends. She was my Co-Captain and my partner in crime. I call her my, "good side." Christine has a heart that cannot be measured. She is one the most selfless people I know and would do anything for anyone without any questions asked. She is the friend you can go months without taking to but the moment you get together no time has passed. She is the friend that started sending me ideas for my wedding the day after I got engaged, genuinely excited for Henry and I. When I asked her to be a part of my special day she said she felt, "honored." Christine, I'm the one who's honored that you want to stand beside me on my special day. I love you so much!
Ashley DaSilva - Bridesmaid
Family is such a huge part of both who Henry and and I are. Ashley is his youngest sister and also an amazing mom to 3 of the most beautiful little girls on the planet. Ashleys whole family is so special to both Henry and I so the decision to have her in our wedding was obvious. She has such a big heart which is one of the things I love most about her. Ashley got married the year Henry and I met so I'm extremely excited to have someone so close to us who has done all of this before in our wedding. I'm so thankful to soon have her as my sister in law. Love you Ash! ❤️
Joyce Powers - Matron of Honor
Im so excited share our special day with my Nana. Most of my favorite memories include her! She Is by far the most amazing woman j have ever met. She's my best friend and always has been. I'm so happy she said yes to being in our wedding.
Jill Love - Bridesmaid
Jill has been such a great friend to me for the past few years. She has helped me develop my career as a stylist and taken me under her wing in every aspect of my life. People say you can't be friends with someone you work for but I couldn't imagine it any other way. A married mom of 3 beautiful children, she is NEVER too busy to be my friend. She is that "Ok I got it... Don't worry we will make it happen" kind of girl. She's the one I call if I need her to listen, if I need advice or if I just need someone to be excited with me and be happy. She's also the one Henry called to tell her he was proposing. I love her and her family more than I can explain. She is more my sister than my friend and I'm honored to have her a part of my wedding party!
Amy Gallagher - Maid of Honor
I met Amy when she moved across the street from me when we were 7 years old. We became fast lifelong friends. Best friends in elementary school, middle school and high school and has just become such an important part of my family. I call her and let her know what time each holiday dinner is and she is always there with us to celebrate. Amy has been the sister I never had my whole life and is one of the few people that truly knew my struggles growing up. She also shares a birthday with the most important person in my life..... My grandmother.... I could call her at 2am and I know she will be there because I have!!!! I truly love her and so does my family. She is and always will be a part of it. Asking her to be my maid of honor, was one of the easiest decisions I've ever had to make.
Chris West - Groomsman
Grooms best friend
Brian Corcoran - Best man
Grooms best friend
James Crowley - Groomsman
Grooms best friend
James DaSilva - Groomsman
Grooms brother-in-law
Drew Contos - Jr. Groomsman
Brides Godson
Shaun Lima - Groomsman
Brides Brother
David Provencher - Groomsman
Grooms best friend
John Nutton - Groomsman
Brides Brother