Questions People Ask Us
Do you really sit around reading poetry to each other?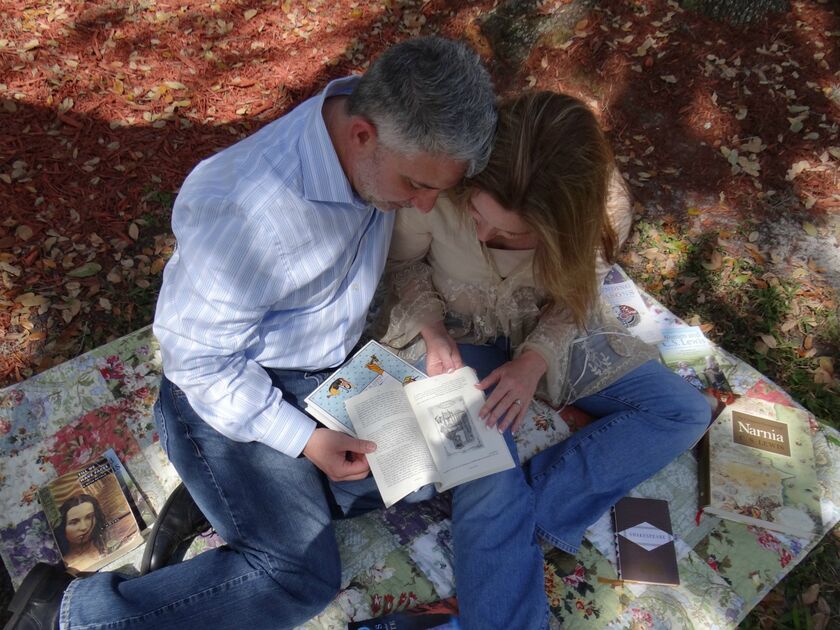 Why yes, yes we do. Though sometimes we mix it up by throwing in a little Jane Austen, Rudyard Kipling, C. S. Lewis (that'll come as *no* surprise ;) , and Winnie-the-Pooh.
Some of our favorites include:
Malcolm Guite ("Begin the song exactly where you are...")
Jane Austen ("Marry me, my wonderful darling friend...")
Elizabeth Barrett Browning ("The face of all the world is changed, I think, since first I heard the footsteps of thy soul...")

Robert Browning ("You called me, and I came home to your heart...")

Emily Dickinson ("Hope is the thing with feathers...")
Mary Oliver ("Tell me, what is it you plan to do with your one wild and precious life?")
Billy Collins ("You are always the bread and the knife.")
A. A. Milne ("Piglet sidled up to Pooh from behind. "Pooh!" he whispered. "Yes, Piglet?"
"Nothing," said Piglet, taking Pooh's paw. "I just wanted to be sure of you.")
Pablo Neruda (<<Yo te he nombrado reina>> / "I have named you Queen.")
Are you going to live in Texas or Florida?
While Andrew loves all of the Ditchfields and the idea of living in Florida where he has family, it seems clear that God's leading is for Andrew to continue his teaching and ministry for another year in Houston. (Christin can write anywhere.) So after the wedding, we'll pack a big truck with all of Christin's belongings and start our marriage in Texas.
Is Christin going to change her name?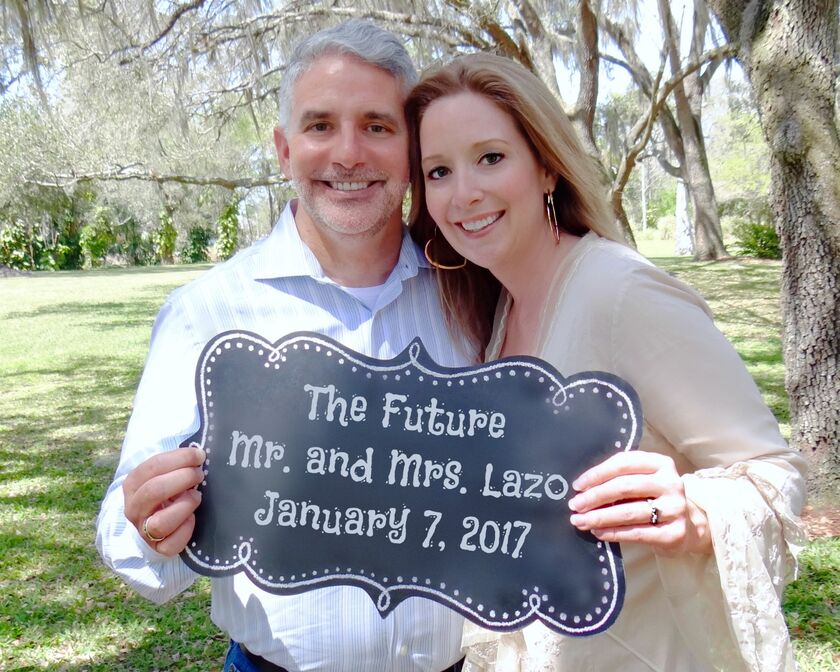 "What's in a name?"
Well, if you've been an author, speaker, and radio host for over twenty years, the answer is a little more complicated than it was for Shakespeare...
But yes. And no.
Legally, yes. And she would LOVE to receive mail addressed to Mrs. Lazo. She's been waiting a long time for this... the prospect of a much shorter last name is a big part of what attracted her to Andrew in the first place ;)
Professionally, no. Christin's audience wouldn't know how or where to find her. So she'll still be Christin Ditchfield to them. Think of it as a stage name. The Lazo will be there, just silent. And invisible.
(Andrew says this will prove one of the few times that the Lazo will be silent; he will not be changing his name professionally either. ;) )
All of that said, we'll be looking for creative ways to weave our lives together in every way.
PS: The "a" in Lazo is pronounced "ah" as in "Ah but a man's reach should exceed his grasp, or what's a heaven for?" ~ Robert Browning
Are you going to write a book together?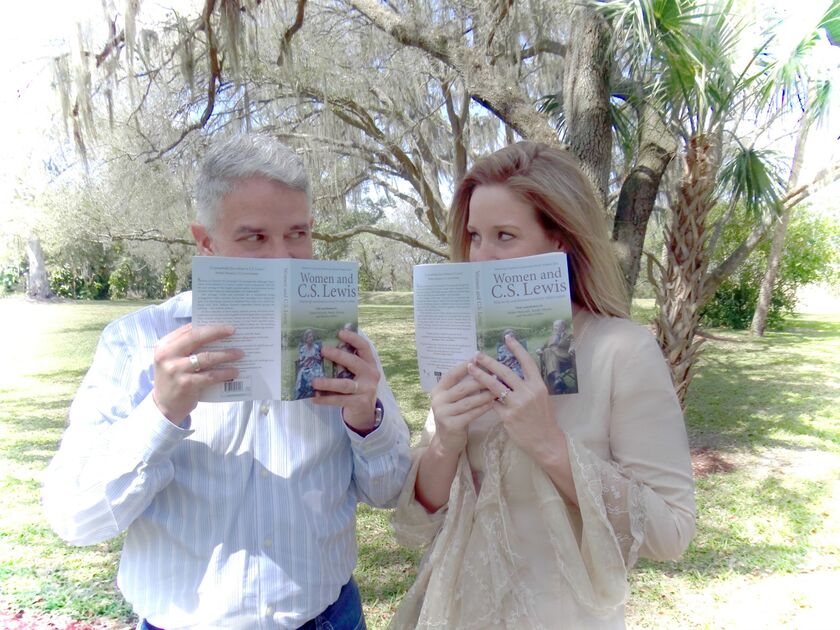 And are you going to speak together?
We sure hope so -- we think it would be a lot of fun! Our plates have been pretty full with our own individual projects, but we're already getting invitations from conference directors and publishers. (Stay tuned for details!*) And we enjoy dreaming of what's to come...
In the meantime, we just proofread each other's blog posts and emails -- and when we're feeling sassy, correct each other's punctuation or grammar in talk-to-text messages (even though we both know all errors are really Siri's fault).
* Update: We've been invited to speak together at Camp Allen, December 2-4, at a very special Advent Retreat! We'd love to have you join us. Click on the link below for details and registration:
Why Is Andrew Wearing a Ring?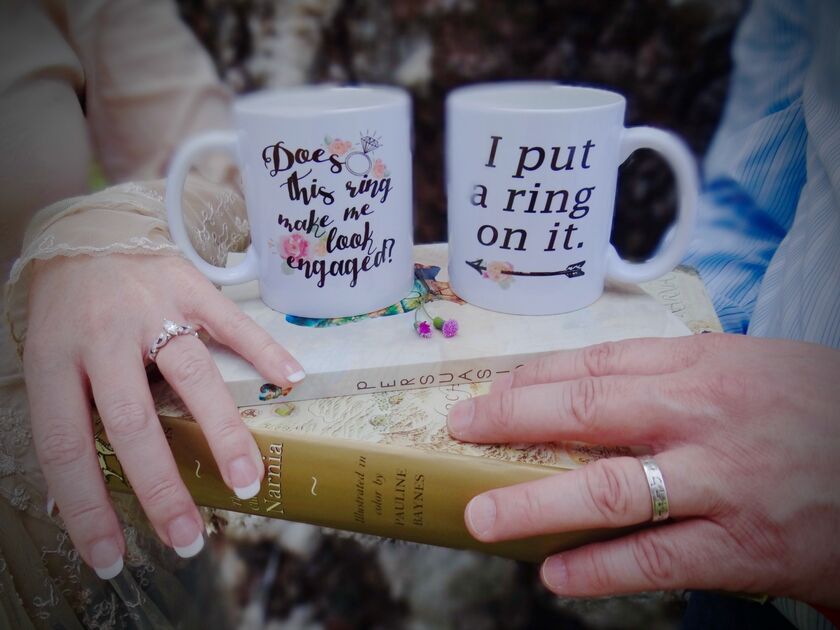 We're hopeless romantics...
Andrew first gave Christin a pretty little bow or ribbon ring to wear as a promise of things to come... (His last name -- Lazo -- means "lasso" or "ribbon" or "bow" in Spanish.) He also gave her a sweet Celtic love knot ring. And THEN the big sparkly one that looks like something forged by Elves or angels...
Christin first gave Andrew a ring she had worn herself as a reminder of God's love and faithfulness, one bearing her 2015 word for the year --"REFUGE" -- as a token of remembrance. And then later the poesy ring he that he wears now, and will continue to wear until we replace it with a wedding ring.
A poesy ring is a tradition that dates back to Shakespearean Britain: Lovers used to exchange little rings with bits of poetry or Scripture inscribed on them.
Andrew's reads: "I am my Beloved's and my Beloved is mine" in Hebrew, from Song of Songs.
(Ask us about anything and you'll get a story with layer upon layer of metaphor and symbolism and literary allusion. We know. It's over the top. But it's so us! LOL)
Engagement Party
Christin's family will be hosting an Engagement Party for us at 2 pm on July 23rd at Faith Baptist Church in Sarasota, FL, so that everyone can come meet Andrew. We'd love for all of our friends in the area to celebrate with us!
Wedding Reception
On January 21st, following the wedding, some friends are hosting a reception for us in Houston, so that everyone can come meet Christin and celebrate with us there.
More details coming soon!
Social Media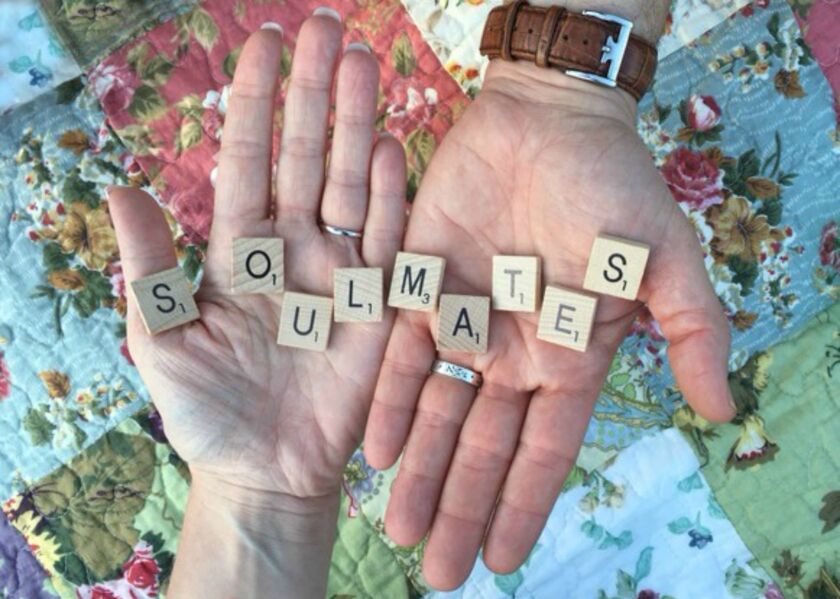 In the days to come, friends of either or both of us can hear more of our story about what God is doing and can stay connected in a number of ways:
Blogs:
Twitter:
Facebook:
Facebook.com/ChristinDitchfield
Pinterest:
Instagram:
#Hashtag
If you have photos or comments you want to share with us on social media, we'd love to see them! Just use the hashtag #LazoWedding2017