Our Proposal
"Happy Birthday Steven"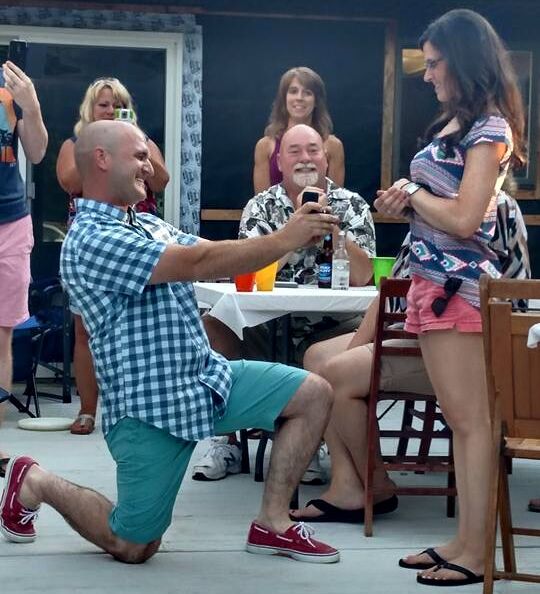 Steven told Corey he wanted to have their friends and family over in celebration of his 29th birthday instead of throwing a 30th party. Steven said he wanted to have a taco bar, backyard games, a snow cone machine, ice luge, bartenders, pony rides and the blob. Corey quickly got to planning the big party from designing the invitations, gathering the decorations, and creating the menu. The night before the party Steven got called into work and left Corey to go get all the food. She thought how is this all going to come together. Somehow it all worked out and finished just before the first guest arrived. Everyone played games, took a shot from the ice luge and enjoyed the tacos. Towards the end of the evening Steven said to Corey that he wanted to thank everyone for coming so everyone gathered around the couple. Corey thought it was a perfect time to sing "happy birthday" to Steven. Then Steven said ,"there's not a whole lot of parties that you've been to I'm sure because we have a taco bar, bartenders, an ice luge and an american flag. The party has been good so far, but now were going to turn this birthday party into an engagement party". Corey interrupts and says, "I'm going to throw up!" Steven asks his dad (best man) to hand him the ring and he gets down on one knee. Steven says to his dad no you're doing it wrong, gets down on his knee and asks Corey to join his team. She jumps up, wraps herself around him and excitedly accepts with a big YES!
The Wedding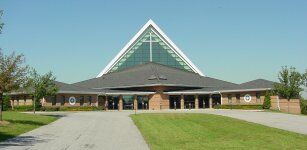 Saturday, October 1, 2016
2:00 PM
Attire: Semi-formal
Ceremony
Ceremony begins at 2 p.m. Holy Family Catholic Church
826 W Central Ave, Davidsonville, MD 21035
Reception
Reception begins at 5 p.m. Renditions Golf Course
1380 W Central Ave, Davidsonville, MD 21035
Wedding Party
Amy Hamby - Matron of Honor
No one else knows Corey better than her mother, Amy. As a young child, Amy instilled in Corey the values of faith, family, and making good choices. One day on a family hiking trip at Swallow Falls, Amy taught her children a very important lesson; one that Corey has applied to her entire life. "The outcome of your life is based on the choices you make along the way". Amy has always been Corey's biggest cheerleader, encouraging and supporting her through all of the choices she made so far. Corey knew there was something special about Steven when she met him and chose to see what the future held for them. Corey's biggest choice in life came last year when Steven asked her to marry him. Ultimately, Amy knew Corey would make the right choice by saying YES to him. Standing beside Corey as she affirms this choice just makes perfect sense.
Elizabeth Banhegyi - Bridesmaid
From a young age, Corey has always looked up to her cousin Elizabeth. Elizabeth, also known as Liz, Lizard, and most recently Felicia, has kept Corey up to date with Justin Beiber, fashion, music, and the latest things going on in the world. At first glance, most people mistake one for the other. As you can see from their neon fruit 90's t-shirts and side ways ponytails they thought they were twins. Corey and Liz have become even closer over the past few years when Liz decided to move to northern Virginia. Corey's first question to Liz was, "do you have a floor plan and what are the dimensions of your furniture". Once Liz found a place, Corey and Steve were right there helping her to unpack and get situated. Liz visits Corey and Steven often and has helped them with many things on their endless list of house projects. Corey and Steven are so excited to have Liz help them with their big day.
Susan Lewis - Bridesmaid
Susan, a true Hagerstown gangster, Kappa Delta sorority sister, Annapolis roommate, and close friend of Corey. When Corey and Susan met in college they did not realize how much their friendship would mean to the both of them. Susan graduated the year before Corey and moved to a condo in Annapolis. After Corey graduated she was offered a job in Annapolis, but her boss would only hire her if she moved from Hagerstown to Annapolis. Corey knew Susan lived in Annapolis and asked her to meet for a quick lunch while she was in town. Little did Corey know, Susan was in need of a roommate and Corey was in need of a place to live. Over the years, Corey and Susan shared many date nights which included shopping, dinner, movies, mani/pedis, and nights out on the town. Everything changed the evening Susan and Corey met up with Susan's high school friend. The moment he introduced his friend, Steven to them they knew it was going to be a fun night. Steven asked Corey for her phone number, she gave him the real one and called her the next day to go on a date. You see dating was something that made Corey terribly nervous so she told Steven that Susan was going to come along on their first date. Corey was so nervous about their first date that she couldn't eat anything that day. Meanwhile, Susan just happened to be in graduate school studying counseling. Susan said she knew just how to help Corey through this problem. After their first counseling session, Corey felt prepared for the date. Then Steven called and cancelled the date because he had to work. Corey was relieved because she wasn't nervous anymore, but knew it was only postponed for a few days. Steve and Corey eventually had their first date and spent a lot of time getting to know each other. Steven became one of the girls watching movies and eating dinner with them weekly. Corey and Steve owe a lot of their relationship to Susan, mainly because without her, Corey would probably still be lying on the floor panicking about her next date with Steve.
Jamie Derr - Bridesmaid
Corey and Jamie became friends when they were young, showing in 4-H. Jamie was a "Dairy" girl and Corey a "Beef" girl. Both had different views on their cattle, but Corey and Jamie chose to look past those differences and decided to get to know one another. Over the years, Jamie has become one of Corey's very best friends. Jamie has a kind and sweet spirit about her that makes you want to talk to her forever. She is talented in many ways from sewing, to farming, and most recently wine making. Jamie and her husband, Chris, have a true passion for farming and love teaching people about their ways. When Corey brought Steven, a city boy, to their farm they showed him how the farm operates. He was like a kid in a candy store, just in awe of how things work. To this day, Chris and Jamie are still waiting for Steve to come over at 3am and help with the early morning milking. Steven and Corey couldn't picture their wedding party without such a special person.
Joseph Bond - Best Man
Joe Bond is the guy who's already ready to offer a helping hand to the future Bonds and is Steven's greatest inspiration. Joe is the person that taught Steven about working hard and often times long to get what we wanted. He taught Steven the importance of an unconventional education and that having the right tools always makes the job easier. Steven owes much of what he knows about life, work and women to his Dad and there isn't a thing the two of them wouldn't do for one another. Steven was happy to call his Dad his "Best Man" long before a wedding date was ever planned.
Brian Bond - Groomsman
Brian, better known as "The Brain" is Steven's best bud and younger brother with a knack for making him laugh at things Corey thinks are inappropriate. The Brain and Steven have been one another's life lines including 5 am pick ups from Atlantic City and helping to turn the headlights on Steve Ruggiero's Explorer on. They've jumped off 65' tall bridges, swam from the police in helicopters and beat the heck out of one another on the family's SeaDoo. Brian has been known to answer the phone at all hours of the day and night to laugh about a new meme or offer his opinion on the latest world event. Steven is proud to have Brian stand next to him when he exchanges vows and looks forward to the day he can return the favor.
Michael Bond - Groomsman
Mike is Steven's older brother hailing from the City of Brotherly Love occasionally bleeding green (depending on how bad the E-A-G-L-E-S are) and always ready to talk about the newest addition to the Phillies or the Birds. Separated by less than 3 years, Mike pretty much let Steven do what he wanted until he was able to take a punch without crying for too long. Mike taught Steve skateboarding was not for him, leave Adobe Photoshop to the professionals (him) and Apple computers have more keyboard shortcuts than most people think. Steven was the Best Man in Mike and Maggie's wedding and is excited to have his brother and niece Lucy-Goosey stand with him on the big day.
Garrett Hamby - Groomsman
Garrett is Corey's younger brother and a much anticipated brother-in-law to Steven. Garrett's love of farming has intrigued Steven, the Hamby's have shown Steven how pigs are bred, birthed and raised to state championship show quality. Garrett took Steven on a 20 hour trip to Duncan Oklahoma, the largest pig sale in the country. On this trip Steven learned Ford trucks are actually worth what you pay for them and there's a ton of people that will wipe a pig's rear end to sell it for a higher price.
Lucy Bond - Flower Girl
Lucy is Mike's and Maggie's daughter and Flower Girl. Lucy is a little older than 2 now and is the light of the Bond's world. She is a bundle of joy that brings so much love and happiness to a group of people who all needed it very much. Lucy's personality is warming and her smile will melt anything in it's way. We're hoping the flowers she throws aren't eaten by Manning! Watch out for Lucy on the dance floor as she'll be the show stopper.
Cole Strong - Ring Bearer
Cole is a cousin of Corey's and one of the coolest kids you will ever meet. He has such a fun personality and enjoys playing cars and hide and seek. When Corey asked him to be the ring bearer, he thought she was asking him to marry her. He said," but I don't want to marry you". Corey quickly reassured him that he didn't have to marry her by explaining to him that he was going to carry the rings for the wedding. He said he would make a deal and be the ring bearer, but only on his terms. The deal was made and they shook hands. Corey and Steve know they will have to make another deal with Cole once he realizes he has to walk down the isle in front of an entire church filled with people.
Manning Bond - Groomsman
Manning is Steven and Corey's Red Labrador Retriever. Manning was named after Steven's favorite football player of all time the greatest ever.... Peyton Manning. Steven and Corey drove to Iowa to pick Manning up, he's been an awesome part of the family since. Manning was a lady killer from day 1 so lock you daughters and dogs up! Having a dog has taught Steven and Corey things about one another they otherwise wouldn't have know; most importantly who is going to let the dog out in the middle of the night, who holds him down while the other checks his undercarriage for ticks and above all else "Did he poop?" We're overjoyed to have Manning grace our presence with his happy-go-lucky tail and his never ending ability to lick your face.