Our Story
LDR No More!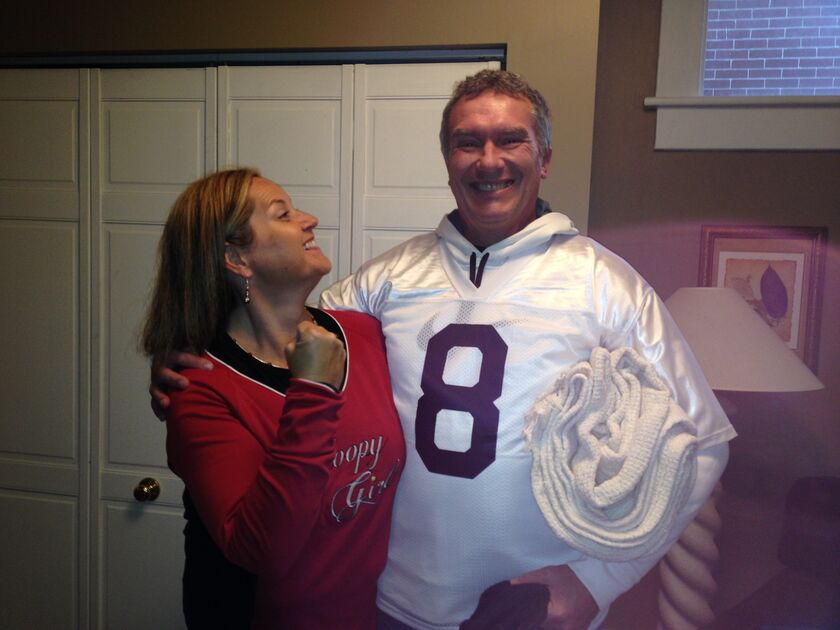 Following more than two years of a long distance relationship (LDR), traveling between Huntington, WV and Tega Cay, SC, Mike and Deanna are finally settled in the same zip code. While the LDR provided many challenges, it also provided the opportunity for them to focus on what's really important and to not 'sweat the small stuff.' When a change in jobs provided the opportunity for Mike to relocate to South Carolina, they didn't hesitate - this is what they had been wanting for and planning for for some time.
They've settled into life in weather-pleasant Tega Cay, enjoying the local parks, trails, activities and community events. In August of 2014, they brought 3-month old puppy, Wylie, into their home and he has added spunk, capriciousness and even some taxing moments to their household. But, above all, he has completed their family.
Mike and Deanna enjoy traveling wherever their hearts desire, which is mostly to new places and especially wherever the Wahoos are playing any sport. They enjoy discovering new barbecue places around the Carolinas as their adventures take them along the famous BBQ Trail.
And now they begin a new adventure....
The Best Day Ever
Saturday, April 16, 2016
4:00 PM
Attire: Upscale casual
Ceremony and Reception
Windjammer Park, Tega Cay, SC
Our social hour, wedding ceremony and reception will take place at Windjammer Park on beautiful Lake Wylie in Tega Cay, SC. Warmth and hospitality are quintessentially Southern and we are embracing this charm throughout our wedding.
Please plan to join us at the park beginning at 4:00 pm (shuttles begin at 4:00 pm) for light refreshments, yard games and to simply enjoy the park.
The Ceremony will begin at 5:00 pm followed by Happy Hour, Dinner and Reception.
Parking is available at Tega Cay Golf Club ONLY. Located at 15083 Molokai Dr, Tega Cay, SC 29708. Simply take Exit 88 from I-77 and follow the signs to Tega Cay. Once you cross over Hwy 160 onto Tega Cay Drive (SC 98 - it's at a light), you are now on the Tega Cay Peninsula on Lake Wylie. The Tega Cay Golf Club is approximately 3 miles into the peninsula on the left. Follow the drive around and park closest to Molokai Drive, where the shuttles will be arriving/departing.
Other Events
Ceremony Rehearsal & Rehearsal Dinner (Wedding Party Only)
Friday, April 15, 2016
4:30 PM
Tega Cay Golf Club
15083 Molokai Dr, Tega Cay, SC 29708, United States
Please meet in the parking lot of the Tega Cay Golf Club at 4:30 to travel over to Windjammer Park for the ceremony rehearsal at 5:00 pm. We will then return to the Golf Club's Casual Water for our Rehearsal Dinner.
Social Hour
Saturday, April 16, 2016
Windjammer Beach Park
Tega Cay, SC 29708, United States
Please join us at beginning at 4:00 pm at Windjammer Park for our Social Hour. Step aboard the Griffith-House shuttle at the Tega Cay Golf Club for the the short 5-7 minute drive to the Park. You will be greeted at each end by one or more of our entertaining nephews and provided refreshments by our beautiful nieces. The Social Hour provides guests with the opportunity to enjoy the park views, light refreshments, music and over-sized yard games prior to the Ceremony.
Don't miss out on your chance to enjoy the park as much as we do, socialize with family and friends and meet some of the best people we know!
Wedding Party
Karen Ogan - Matron of Honor
Karen is Deanna's younger sister and resides in Marysville, Ohio with her husband Brian, daughter Kayla and son Garrett.
Patty Carl - Bridesmaid
Patty is Mike's younger sister who recently relocated to Huntsville, AL with her husband Greg, where they both will wind down successful careers with the Federal Bureau of Investigation. These empty nesters are the proud parents of Mike's only two nieces, Brittany and Stephanie. Huntsville is the latest stop in a series of moves around the country which has enabled them both to contribute to keeping America safe from terrorist attacks during their tenure.
Michelle Griffith - Bridesmaid
Michelle is Deanna's sister-in-law and is a special needs teacher in the Hilliard, OH schools. She ran her first marathon in late 2015! She and her husband, Kyle Griffith (Deanna's youngest brother), live in Hilliard, OH with their children, Aidan, Mia and Keaton.
Diane Holl - Bridesmaid
Diane and Deanna met when they were both working in Auto Racing. Diane still does - serving as head of design for Hendrick Motorsports. She and her son, Joshua live in Charlotte, NC along with their two dogs - Amy & Timmy.
Abigayle (Abby) Kay Griffith - Bridesmaid
Abby is Deanna's teenage niece and lives on a farm outside of Marysville, OH. Abby is in the 6th grade at Trinity Lutheran School where she is very active in theater, choral groups, 4-H and anything that captures her attention!
Mia Griffith - Flower Girl
Mia is Deanna's youngest niece and is in Kindergarten at Hilliard City Schools. She enjoys playing baseball, gymnastics and going to the gym.
Keaton Griffith - Ring Bearer
Keaton is Deanna's youngest nephew and is in Pre-School in Hilliard, OH. Keaton enjoys playing baseball, eating any frozen treat and going to his dad's football games.
Dale Griffith - Usher
Dale is Deanna's older brother and works as day-hauler truck driver. He and his wife, Michele, live outside of Marysville, OH where he is a weekend gardener and, snow permitting, avid snowmobiler.
Daren Griffith - Usher
Daren is Deanna's middle brother and is an over-the-road truck driver and weekend farmer. He and his wife, Katie live on a farm near Marysville, OH and enjoy camping and boating.
Kyle Griffith - Usher
Kyle is Deanna's youngest brother and is a high school teacher and football coach for Hilliard Schools, Hilliard, OH. He is an avid Ohio State Buckeyes supporter.
Dave Baxter - Best Man
Dave is Mike's best friend from high school and lives in New Hampshire and on his sailboat near Jamestown, RI.
Matt House - Groomsman
Matt is Mike's older son and resides with his wife, Diana Doukas in Washington, D.C. Matt is the communications director for a senator and is an avid, albeit, frustrated golfer.
Dennis House - Groomsman
Dennis is Mike's younger (also taller, more handsome) son who's claim to fame is once beating his Dad in an arm wrestling match (albeit right-handed, Mike's a lefty). He and his beautiful, blue-eyed wife Kate live in Chicagoland with two cats and a dog to round out their budding family.
Marty Loveless - Groomsman
Marty and Deanna have been best friends since their first days at BGSU in the mid 80's... and have enjoyed many travels, laughs and more over the past 30 years. He lives in Columbus, OH with his fiancé, Greg.
Aidan Griffith - Groomsman
Aidan is Deanna's teenage nephew and is in the 6th grade. He enjoys movies, playing on his Miracle League baseball team, OSU football - especially Brutus Buckeye, and watching his dad's high school football team score!
Wylie House - Attendant
Wylie is a Havenese puppy adopted by Mike and Deanna in 2015. He is as precocious as he is cute! A graduate of Tega K-9 Puppy School, he enjoys long naps, eating leaves and chewing on 'Duck.' He is providing Ring Security. for the ceremony.
The Best Day Ever Schedule
End times are approximate.
3:45 pm - Griffith-House Wedding Shuttles from Tega Cay Golf Club
4:00 pm to 4:55 pm - Pre-Do - Social Hour
5:00 pm - 5:30 pm - The I Do's! - Griffith-House Wedding Ceremony
5:30 pm to 6:00 pm - We Did It! - Happy 'Hour'
6:00 pm - to 7:00 pm - Traditional Southern Dinner
7:00 pm to 9:30 pm - Wahoo! - Celebration Reception
9:45 pm - Last Shuttles return guests to Tega Cay Golf Club