Our Story
Written by Mike
I was a single guy enjoying the start of summer. No better way to enjoy it than 6 weeks of grand jury duty. During this time I was in and out of the office for short periods of time. It didn't take long for me to notice the new girl who started at Meditech. Who is this girl? Why is she always smiling?
I walked up to her cool as can be and asked her if she wanted to go for a walk around the track outside with myself and some other coworkers. Like I said above I was cool as a cucumber, definitely not awkward at all.
I would go for a walk daily around the track, always two loops. As we all started walking I found myself gravitating towards the new girl. I was killing it. I mean I was coming in hot with my best game. Weather talk, MJ vs Lebron, back to some more weather. Things were going great as lap one was coming to an end. But then, out of nowhere, Haley drops the "I have a boyfriend" bomb. The Hall and Oates song that was playing in my head comes to a complete stop. This was the only time I did not take that second lap. I just pouted and slinked back into the building to get back to work while the others started lap number 2.
Time went by, spring ended, summer started, jury duty ended, I voted guilty on every case and made friends with a lot of middle aged women who took jury duty way to serious. Fall came to an end with a Halloween bar crawl in Boston with Haley and our coworkers. That was the night things kicked off for us. After that it was all pretty smooth sailing. First official date at C.H.O.P.S in November, Facebook official in February, and engaged the next April.
I can't imagine my life without Haley. It took me 31 years to find her but there isn't a person in the world more perfect for me than her. I go to bed every single night so thankful for all the circumstances that led to me meeting her. I feel so lucky I am able to marry the most perfect person, at the most perfect location, with our family and friends.
See you all at the swim up bar!
#SiMayo6th
The Wedding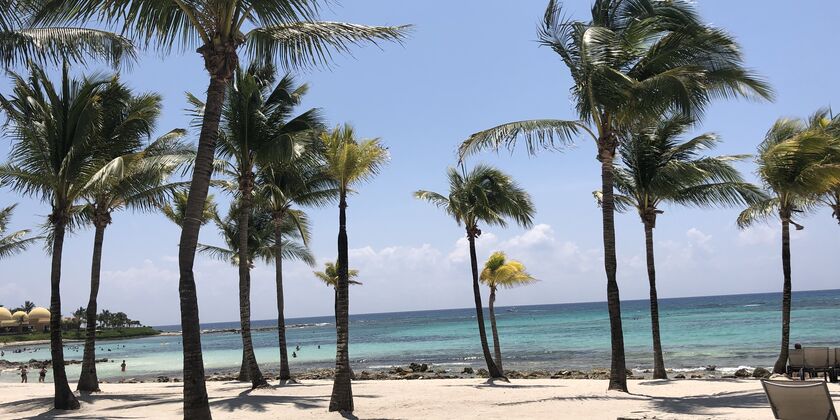 Monday, May 6, 2019
6:00 PM
Attire: Formal
Ceremony and Reception
Barcelo Maya Grand Resort
The ceremony will be held on the beach and the reception will be held at a covered outdoor venue. We have a dedicated travel agent who will be able to assist you with booking your travel to ensure you get our group rate as well as discounted airfare. Please click "Details and Travel" for further information on how to contact her and details on the resort.