Our Story
A Modern Day Love Story
Helen and Tan's story begins as any modern 21st century love story begins- with a connection made on a mobile dating and messaging app ("the Internet", as Tan likes to say). When they met, Helen was a jet-setting technology consultant, and Tan was an internal medicine resident. Both had precious little free time, and both felt very comfortable outsourcing their dating lives to the most popular online dating platforms available.
Helen found Tan to be very charming and witty online, and agreed to meet with him over brunch in a Manhattan, NY restaurant. Tan was so impressed that Helen looked as beautiful in person as she did in her online profile. Both of them quickly found common ground: they were life-long avid book readers who happened to be very well-traveled. Helen grew up in Taipei before living in Hong Kong, Singapore, Malaysia, Seattle, and Philadelphia. Tan grew up in Orange County, California before living in Vietnam, Guatemala, and Uganda.
Helen and Tan quickly settled into a rhythm and commitment to see each other as often as they could in between business trips and hospital shifts. They even planned a trip to tour Central Asia together. Tan would later reflect that this two-week trip through Uzbekistan, Tajikistan, Kyrgyzstan, and Kazakhstan was the culmination point in which he realized he found his life-long partner. Six months later, Tan proposed to Helen in a quiet tea house in the hills of southern Taipei.
Helen and Tan now live in Northern California, where Helen is a product manager and Tan is a practicing physician. They continue to share their love of reading through Helen's online start-up The Busy Reader.
The Wedding Ceremony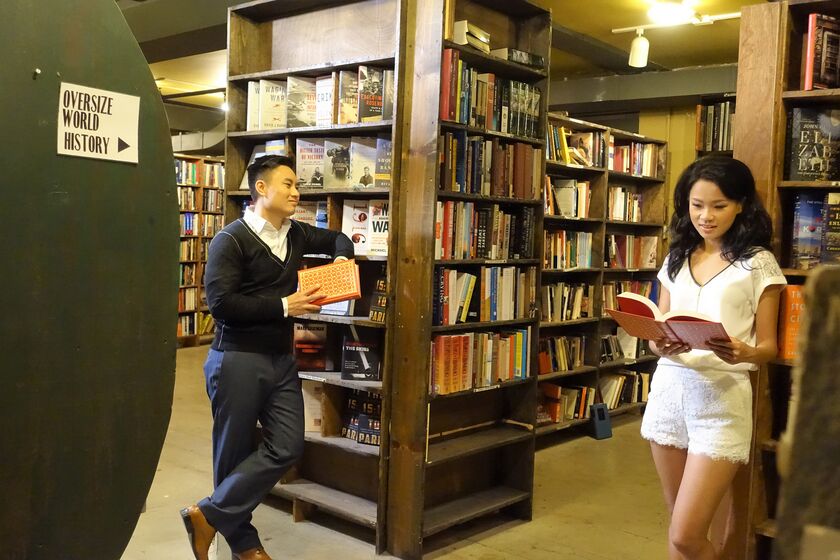 Saturday, November 4, 2017
12:00 PM
Attire: Business Casual
Ceremony
La Purisima Catholic Church
11712 Hewes St, Orange, CA 92869, USA
Reception
Wedding Ceremony is at La Purisima Catholic Church at 12pm.
Other Events
The Wedding Reception
Saturday, November 4, 2017
6:00 PM
Hyatt Regency Orange County
11999 Harbor Blvd, Garden Grove, CA 92840, USA
Reception is at Hyatt Regency Orange County at 6pm. Dinner (Gourmet Chinese Seafood) and dancing follows at 7pm.
Wedding Party
Johnny Rau - Best Man
Johnny and Tan have known each other since 1999, when they realized that they had nearly identical class schedules during freshman year of high school. Through all these years, Johnny's quick wit and intelligent banter has only sharpened. Tan also suspects that he will continue to fall for Johnny's pump fake on the basketball court. The list of Johnny's positive attributes are as many as the number of views on his YouTube videos (nearly 500,000 at last count!). If we can't find Johnny at UCSF Medical Center, we can bet he is teeing up at a golf course nearby.
Emile Wang - Groomsman
Emile and Tan have known each other since 2010, when Emile moved to New York City during Tan's medical education and training. New York City is a place of near limitless options for entertainment, but Emile and Tan nearly always gravitated back to Woorijip, the unpretentious Korea Town restaurant/bar ("cafeteria/convenience store" for the naysayers) that allowed easy conversation at normal speaking levels. Manhattan is a city full of colorful characters, and Emile was always the suave and confident gentleman. Emile now lives in Seattle and is finishing up the first season of his very own podcast, EWangBang.
Kevin Nguyen - Groomsman
Kevin is Tan's younger cousin by nearly 10 years. It is always a sign of our advancing years when we find that our kid cousin is now a full-fledged adult who is more put together in his life than we were at his age. Kevin is studying Computer Science at UC Riverside, and looks to make an impact in technology and education when it is all said and done. In the meantime, he is powerlifting with weights we will never be able to comprehend without a calculator.
Diana Chou - Maid of Honor
Diana is Helen's younger sister and lifelong best friend. The strength of their bond has roots in their early childhood when they bitterly quarreled over which book-on-tape to replay on their cassette player (over and over and over again). No matter how far Helen's life journey took her from home, Diana was able to be there for her- literally. She can ride a motorcycle, drive stick-shift, and captain a cargo ship. She is currently a pilot for China Airlines.
Ingrid Hsu - Bridesmaid
Ingrid is Helen's closest friend from business school. Her poise and intelligence have always been apparent, and Helen feels privileged also to know Ingrid's warm and nurturing personality. Ingrid is the consummate classmate, and she will always be the first to offer support via interview prep or bubble tea. She is an accomplished musician and investment banker. She currently has her eyes set on an even bigger prize: to become a dog owner.
Linda Tran - Bridesmaid
Linda is Helen's partner-in-crime in New York City. They first met at a job orientation, and soon became fast friends in which no adventure was ever turned down. Through all the antics that come with living in New York City- wining, dining, walking 30 blocks with an oil-based painting, planning day trips to Boston and Cancun (!)- Linda has always remained Helen's truest confidant. Linda is currently a product manager, and has also recently escaped from New York to settle in California. The adventures continue!