Our Story
#BohnsSwipeRight - The Beginning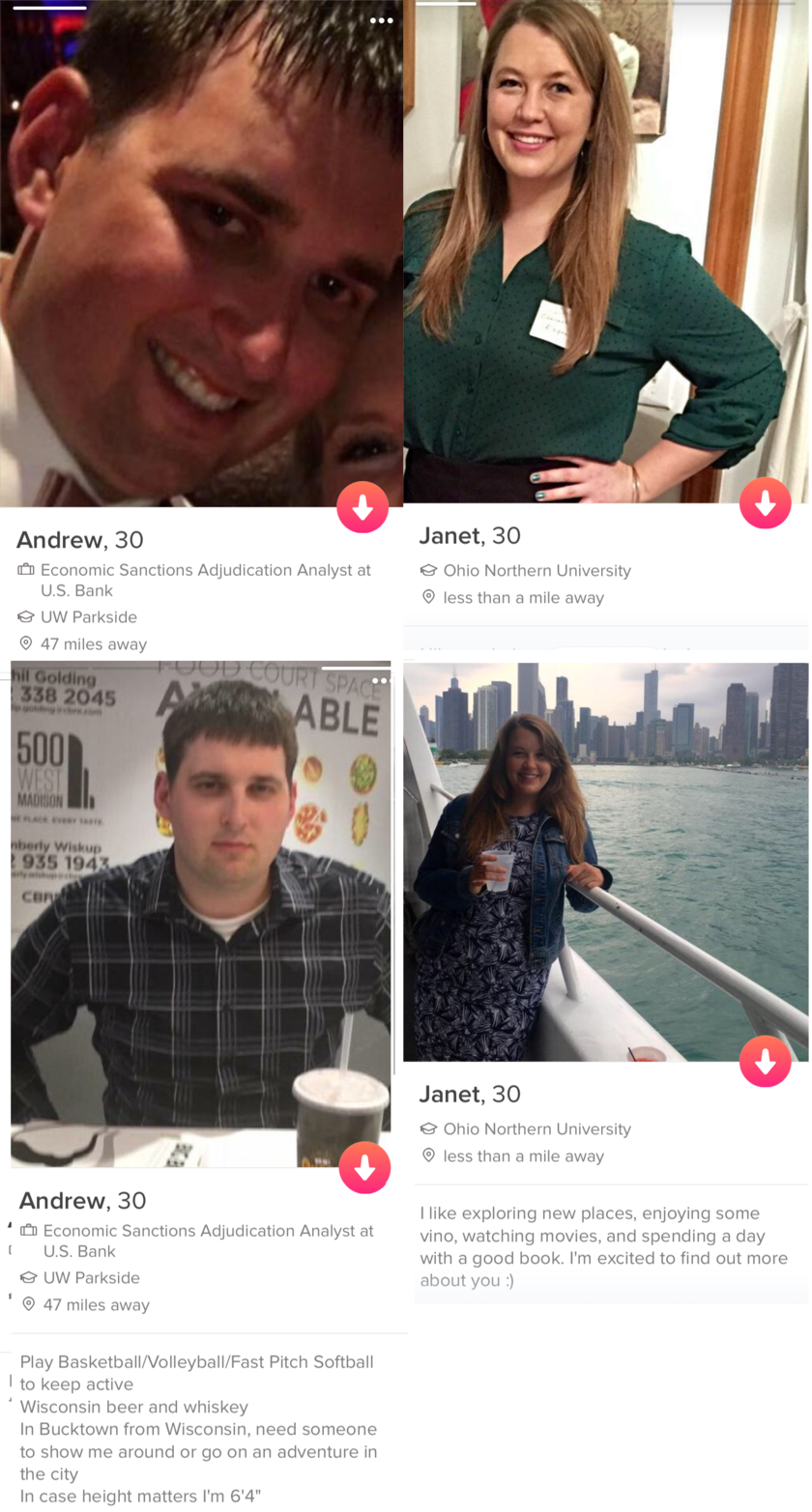 Andrew matched with Janet on Tinder December 27, 2016.
Andrew's profile immediately struck Janet and she quickly swiped right on him. He noted in his profile that he was "In Bucktown from Wisconsin" and that he needed "someone to show me around or go on an adventure in the city." Janet loved this bit because she also loves adventures. In case Janet wasn't intrigued enough, Andrew's profile also read "In case height matters, I'm 6'4." The birds were singing, the hearts were fluttering - Janet was excited.
Andrew was, of course, also excited after reading Janet's profile and was immediately drawn to her awesomeness; he swiped right! Janet noted in her profile that she liked "exploring new places, enjoying some vino, watching movies, and spending a day with a good book." Andrew thought she sounded like a wonderful lady.
The stars aligned! The match was made! Andrew sent a message to woo Janet after they matched that read "Hey! What sort of movies do you like?" Janet was charmed that he read her profile and noted that she enjoyed movies. "Hey Andrew! I'm into comedies mostly and some dramas/mild thrillers. I can't really handle the gory films and my favorite actor is Bill Murray. What do you like? What do you like to do for fun?"

The conversation built from there. The messages were long, thorough, and full of smiley faces! On December 31st, Janet gave Andrew her number so they could text directly. At midnight, Andrew sweetly wished her a happy new year.
On January 3rd, Andrew and Janet met at Sheffield's in Lakeview for a few beers. Andrew wore a tan Eddie Bauer sweater that Janet still says makes her giddy. They talked for several hours about their families, their backgrounds, and their jobs. They agreed to meet up the coming Friday at Andrew's apartment in Bucktown.
On that Friday, Andrew and Janet began their marathon of Harry Potter movies with good pizza and good conversation. They both loved the books and the films and really bonded over the story. They went and saw Fantastic Beasts the next day together at the movie theater and continued to watch every film together in the weeks following.
On Valentine's Day, Andrew made it official and asked Janet to be his girlfriend with a basket of Janet's favorite things: Garrett's popcorn, chocolate covered strawberries, a box of chocolates, and a sweet stuffed polar bear. Oh such romance!
The romance and woo-ing didn't end there. In addition to continuously watching Harry Potter movies, Janet took Andrew to his first (and second and third) Chicago museum and Andrew took Janet to her first Wisconsin State Fair. They took a deep dish pizza cooking class at Pizzeria Uno and visited Andrew' uncle in Kansas City over the fourth of July. They went to festivals and concerts and, of course, a few fast pitch softball games. They explored the city of Chicago together as well as Wisconsin.
Janet's favorite first year memory with Andrew is when he surprised her with a trip to New Glaurus Brewery followed by a trip to the Fireside Dinner Theater to see South Pacific for her birthday; later that night, he told her he loved her for the first time.

Andrew's favorite first year memory is taking Janet to her first Packers game, thanks to Janet's fantastic uncle and cousin. Andrew loved seeing the happiness on Janet's face and cheering on their favorite team. He also loved having a bowl of brat/cheese curd/tator tot/nacho cheese sauce/cheddarwurst in his belly. The day 's experience overall made Andrew realize this girl might just be the one.
Come December, Andrew knew without a doubt that he wanted to marry Janet. They found an apartment together in Logan Square and made plans to move in the coming January. The proposal was imminent!
#BohnsSwipeRight - The Proposal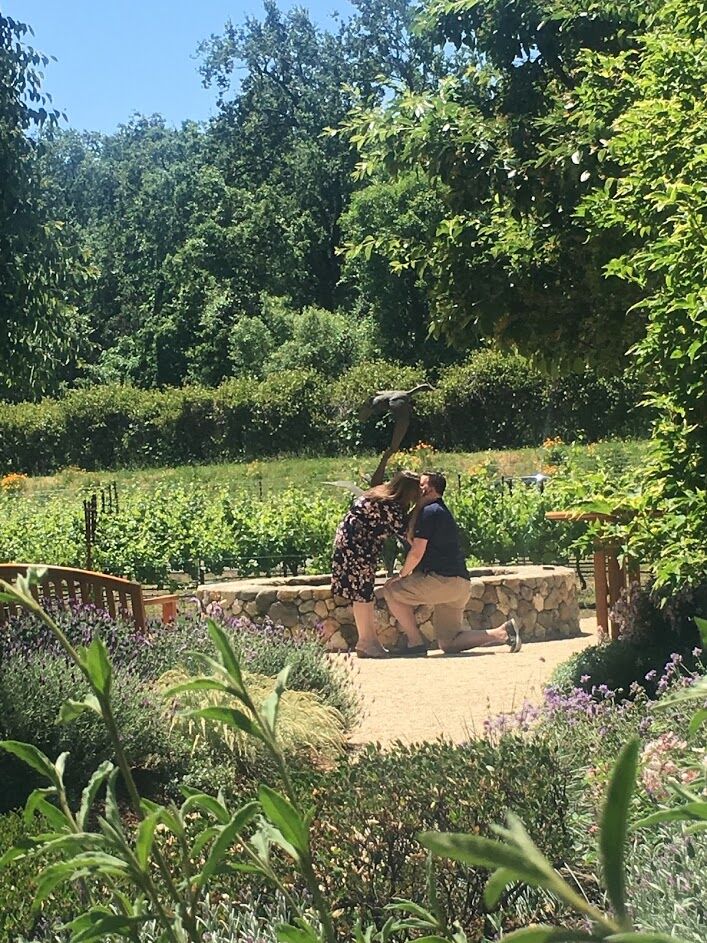 This is the tale of the proposal...that Andrew made. Janet proposed many, many times after many, many glasses of wine during their first year together.

Janet and Andrew moved in together at the end of January 2018. Andrew knew he was going to propose, but was struggling to think of the best time. Janet got a new job as a Consultant in April and told Andrew that she would need to go to Pleasanton, CA for two weeks for a certification. She reached out to her dear uncle and aunt, David and Krissy, who live in San Jose; she thought she'd sneak in a visit to see them after her training. David and Krissy graciously agreed to host Janet and invited Andrew out to California for the weekend as well. The visit would include a trip to Napa Valley; specifically, it would include a trip to the Duckhorn vineyard. Duckhorn wine is the wine that Janet's family drinks on every special or happy occasion and Janet was over the moon that she would have the opportunity to go there.

Andrew got to thinking and decided that Duckhorn would be the perfect spot to propose to Janet. He had the ring already (they shopped for it the month before), he had the love in his heart for Janet, and he knew he had the support of his parents. On Mother's day, he trekked over to Naperville to speak with Janet's parents. He brought flowers for Janet's mom and grandma and he enjoyed a lovely meal. After the meal, he said to Janet's mom and dad, Bob and Beth, "I have a question." Without pause, Janet's mother started crying and welcoming him to the family. Needless to say from there, he had Janet's family's support.
Andrew flew into California on Thursday, May 17th and spent Friday relaxing by David and Krissy's pool; it was a great day. Janet had passed the first part of her certification and there was much to celebrate. Janet's cousins, Adam and Colin, and Colin's girlfriend Megan joined everyone to wine and dine that evening. The following morning, the crew left early for Napa and no one but Andrew knew what would transpire that day.

The Duckhorn vineyard was stunning; Janet was instantly overwhelmed by her happiness: to have passed part one of her certification, to be together with her California family members, to be with Andrew, and to be at her favorite winery, and to have the opportunity to drink a lot of her favorite wine :). Janet told Andrew that she wanted to walk around after the wine tasting and see more of the grounds.
The wine tasting began and Janet told her uncle how she frequently proposes to Andrew when drinking wine and they had a laugh. The family conversed and laughed about other things and enjoyed the beautiful day.
Then, Janet excused herself to use the restroom. Andrew promptly told David that "it's happening now." All were shocked and excited and thrilled! David recommended the nearby fountain for the moment and Megan quickly volunteered to take pictures and Andrew told Megan that Janet "looks around when she gets nervous" so she went to hide in the bushes.
When Janet returned from the restroom, Andrew was standing up waiting for her. He asked her if she wanted to take a walk and she instantly knew something was up. She said she would and they made their way to the Duckhorn vineyard fountain. Andrew asked "You know I love you, right?" Janet said she did. Then, Andrew held her tight and told her she was his everything. He got down on one knee and Janet promptly asked "Is this happening? What's happenining? Is this happening now?" And, guess what? She began looking around...luckily, Megan was very well hidden in the bushes :)
Janet said YES! Then, she promptly asked Andrew to propose again because it was so wonderful. Andrew told her she was a "goof" as usual and they made their way back to the family for hugs and squeals! Andrew and Janet -called their parents, their siblings, their grandparents, and Janet's maid and matron of honor, Heather and Mollie.
On cloud nine, David and Krissy drove everyone to the Domaine Chandon champagne vineyard for more celebration and delicious champagne. After the champagne, they had a delicious meal in San Francisco. It was a wonderful, wonderful day and a happy celebration.
BIG THANKS to David, Krissy, Adam, Colin, and Megan for helping to make this engagement day so fantastic!
Our Wedding

Saturday, May 4, 2019
Attire: Cocktail Attire
Ceremony and Reception
We are SO excited to have you with us to celebrate our wedding!
We LOVE all of the babies, kiddos, and young adults in our lives, but this will be an Adults Only event.
---------------------------------------------------------------------------------------------

4:00 p.m. Ceremony
4:30 p.m. Happy Hour
5:30 p.m. Reception

Sunday Brunch
Wedding Celebration Brunch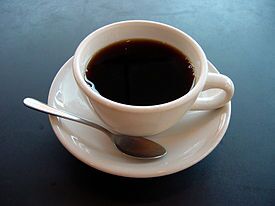 Sunday, May 5, 2019
8:30 AM
Courtyard by Marriott Chicago St. Charles
700 Courtyard Dr, St. Charles, IL 60174, USA
Brunch will be served in Meeting Room AA from 8:30 a.m. - 10:30 a.m. at the Courtyard Marriott on the 5th. Come enjoy some good food and chat with those you danced with the night before ;)
RSVP's were collected for the brunch and a headcount was provided to the hotel as of 4/29/2019.

Looking forward to the brunch!

Wedding Party
Heather Sanders - Maid of Honor
Heather and Janet met their first weekend of their freshman year of college in the ladies' bathroom. It was 4am and a fire alarm went off and Janet went to the bathroom after the drill and asked if anyone wanted to go to church since they were already awake. Heather said she and her roommate were going and Janet tagged along. It was a truly fantastic start to a truly fantastic relationship. They got coffee after church and then they got to know each other; following that coffee, they became best friends and partners in crime (they won that award from their sorority 2 years in a row). It is a genuine honor for Janet to have Heather as her Maid of Honor.
Mollie Caffee - Matron of Honor
Mollie and Janet met shortly after Janet met Heather. They were on the same floor; Janet was always skipping down to bug Mollie and make her laugh. They bonded when they played mud volleyball and rushed the Delta Zeta sorority together their freshman year. That summer, Mollie trekked all the way to Chicago to tour the town with Janet; Mollie met Janet's dog, named Hawkeye, and referred to him as "Corndust." Mollie and Janet went through a lot together in college all which ultimately made their friendship solid. Mollie is one of the most genuinely kind individuals Janet has ever known. She is so thankful that Mollie will stand up as her Matron of Honor.
Maria Antloga - Bridesmaid
Maria picked Janet as her sorority Big sibling in the middle of Janet's sophomore year. It was so exciting for Janet; she had strong relationship with her Big, Tricia, and she adored Maria right away. Maria was and is a compassionate, caring person and brings so much warmth and love everywhere she goes. Janet and Maria went on a whirlwind East Coast adventure to celebrate graduating from graduate school in the summer of 2015; during that trip, they told each other they'd be in each others' wedding. In 2019, Maria will stand by Janet in May and Janet will stand by Maria in June. It's such an exciting year!
Carley Bertucci - Bridesmaid
Carley and Janet met on Janet's orientation day at L'Institut Catholique de Paris. Janet thought Carley was super cool since she had been in Paris for 5 weeks already and Janet had just arrived from her Pau, France study abroad session. The two really began their friendship when they went to the Louvre and the Pantheon with Jenna. Janet, Jenna, and Carley decided they couldn't leave their friendship in France so when they returned to the States, they made and committed to plans to see each other annually and talk near daily over Facebook Messenger. Janet is so grateful to have Carley stand up at her wedding and to have her as a forever Parisienne friend.
Jenna Nicholls - Bridesmaid
Jenna and Janet met in St. Malo, France when they both decided they needed Pistachio gelato. It was not the best gelato, but it was an amazing start to a friendship. Jenna, Carley, and Janet adventured to the Louvre, the Pantheon, La Jardin des Tulieries, and they shopped together along Les Champs-Elysées. Most recently, they adventured together to the exciting place of...Syracuse, Indiana for a lakehouse weekend with their babies, boys, and beasts (doggies!). Janet is so happy to have kept these friendships since studying abroad and is so happy Jenna will stand by her side when she marries Andrew.
Erika Dugger - Bridesmaid
Andrew introduced Janet to Erika, his sister, over Facetime in mid-2017. The following holiday season, Janet met Erika in person and was so very excited! She and Erika had easy conversations and enjoyed a lovely holiday season together with Andrew's family. Janet is so looking forward to having Erika stand up at the wedding and is also looking forward to making more memories with Erika and being a part of her family.
Dale Bohn - Best Man
Dale is Andrew's uncle and godfather; he has known Andrew his whole life. Andrew has taken several trips down to Kansas City to visit Dale. While on these trips, Dale has shown Andrew all there is to see in Kansas City. Dale has always been a role model and inspiration for Andrew.
Kris Sampson - Groomsman
Andrew met Kris through fast pitch softball. Kris invited Andrew to travel with the team (Earl's Club) that he managed and played. Andrew and Kris have participated in many tournaments together over the past 7 years. Kris made Andrew feel invited and welcomed even though he played for a different league team. Kris is one of the nicest people that Andrew knows and Andrew is grateful to have him for a groomsman.
Tony Hall - Groomsman
Andrew met Tony while playing on the same fast pitch softball team as Kris. Andrew got to know Tony quite well during the long drives to Nationals the last two years . Tony and Andrew also went on many adventures while they were playing softball in Mankato, MN and Fargo, ND. Together, they enjoy going on go karts, frequenting bars, touring LaCrosse, and finding ramen whereever they go.

Fernando Cruz - Groomsman
Andrew met Fernando when they were contractors together working for US Bank and they were friends from the start. Fernando would take Andrew out in downtown Chicago after work and showed him the ropes of city living; he was even nice enough to let him sleep on his couch and take him to the train station sometimes. Fernando has helped Andrew navigate Chicago, whether it be to give him pointers on the best neighborhoods to live, restaurants to go, or places to visit. Andrew could not have found a more sincere and patient person to have as a friend.
Humberto Olvera - Groomsman
Andrew was first introduced to Bert when Andrew was a contractor for US Bank. Bert happened to be Andrew's manager while he was a contractor; they grew closer once Andrew became a full time employee. Andrew and Bert enjoy going out after work and getting drinks, especially at Del Toro or State Restaurant in Chicago. They have participated in the Dragon Boat race together and also enjoy going to Wing Fest and eating very spicy wings. Bert has been a great mentor and friend to Andrew.
Share Photos with Us!
Download theguest App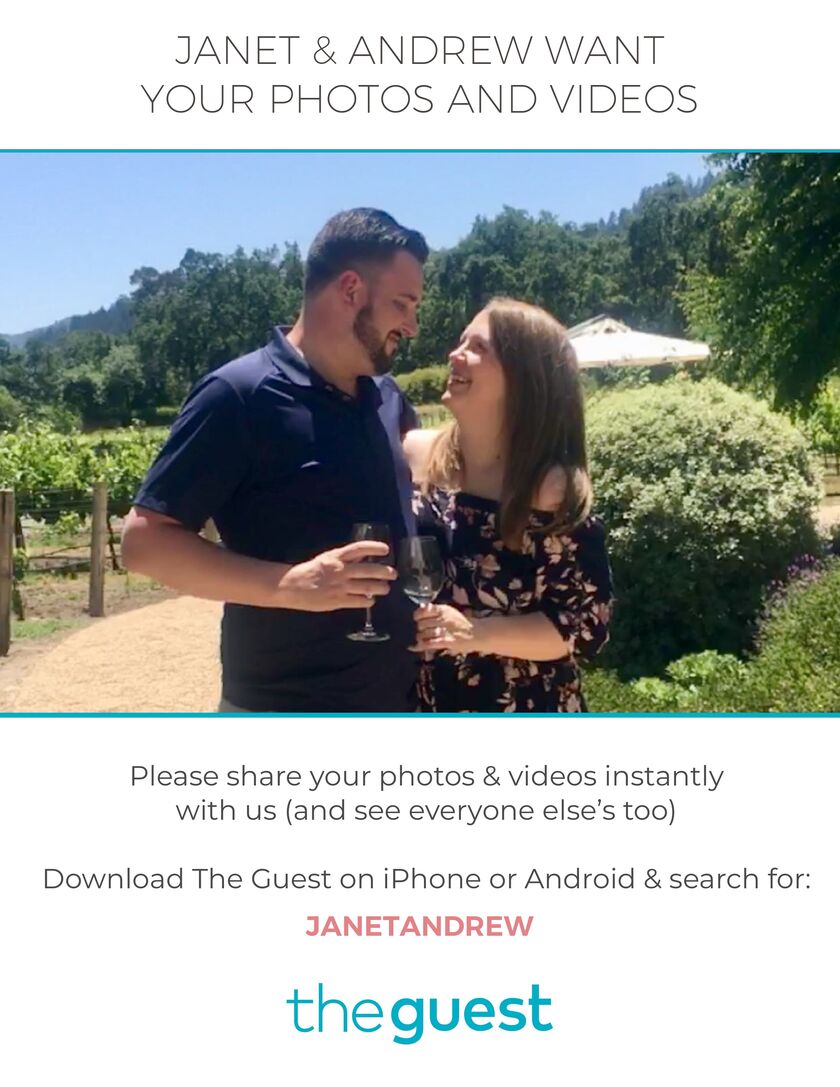 Our ceremony will be photo-free, but we'd love for you to take photos during the happy hour and reception. Be sure to set up the Guest on your iPhone or Android phone to automatically share your photos with us!

Link to download here: TheGuest!