Our Story
Our Story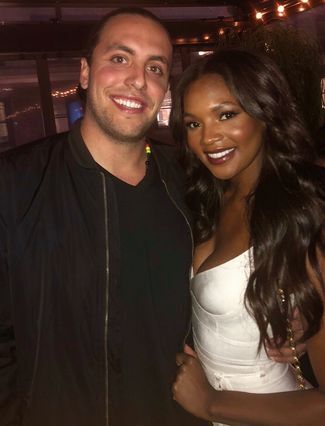 Jasmyn and I had known about each other since college through mutual friends, yet were never formally introduced until Halloween of 2015. There I was, the only person in the room not dressed in Halloween attire, meeting a supermodel dressed up as Maleficent that I'd asked about and pondered about forever. I saw her from across the room, went up to finally introduce myself and we hit it off talking hours and hours through the night. Even though she poked me in eye a few times with her massive costume ears, I still wanted to get to know her better. A few days after we met I called her and asked for not only one, but TWO dates that upcoming weekend, she agreed to go on the dates and after a weekend full of wine tasting at Chateau Elan and Mac and Cheese stuffed burgers and fries (her menu item of choice not mine) we hit it off and have been together ever since.




We spent the majority of our first 2 years together long distance . Half of the time was spent living between Atlanta and Athens during my break from baseball and her off season from modeling then the rest of the year she was off working back and forth between NYC and LA .Although the distance wasn't ideal we still took time to travel and spend time with each other and became closer as a couple. Our relationship progressed to the point where we both were ready for the next step. On March 4th I dropped down on one knee in Peidmont Park on the best Sunday afternoon of my life! That day was perfect , both of our families and friends were there to celebrate with us and that meant the world to us to feel their love and support.






We are so excited to celebrate with y'all on the 19th! Jasmyn and I want to thank each and every one of y'all for what y'all mean to each of our lives. Lets get this party started!
The Wedding

Saturday, January 19, 2019
5:00 PM
Attire: Semi formal
Ceremony
550 Trackside
550 N Clayton St, Lawrenceville, GA 30046, USA
Reception
550 Trackside
550 N Clayton St, Lawrenceville, GA 30046, USA
Wedding Party
Holli Wilkins - Maid of Honor
Rayana Ragan - Bridesmaid
Ashlyn Bufton - Bridesmaid
Jordan Hodge - Bridesmaid
Tyrese Mumford - Groomsman
Jonathan Taylor - Groomsman