Our Story
Summer Loving Had Me A Blast...
Arguably, our "first date" was in Virginia Beach on the Sling Shot. Thankfully, the butterflies that were fluttering around in my stomach, as we were lying on our backs, as we waited to be slung over 300 ft in the air at speeds up to 100 mph, stayed with me long after the ride was over...yep, they're still there. A week of sunshine, salt water, late nights, early mornings, a horrible spray tan, and endless amounts of fun and laughter turned into the best days of my life. Those summer days somehow turned into the best years of my life filled with different seasons, new adventures, and still the same amount of fun and laughter. I am now a firm believer that love comes into our life at the most unexpected time in the most unexpected way. You see, Justin (a.k.a Macky) has been my cousin Michael's' best friend for a very long time, yet it wasn't until Virginia that I actually hung out with him and ultimately, fell for the love of my life. (Michael takes full credit for our relationship as if we had no part in its making) I can't wait to spend the rest of my life with my best friend. I love you Justin Paul MacIntyre.
The Proposal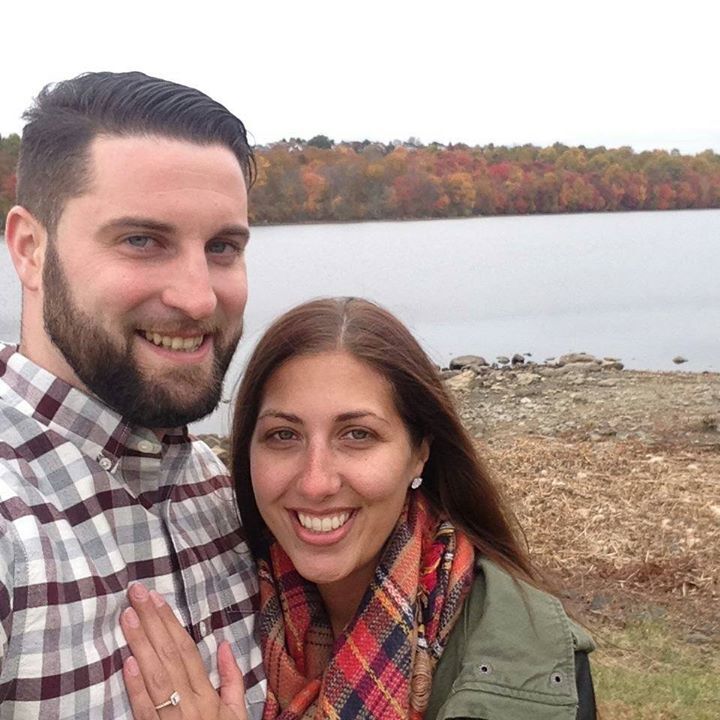 It was October 24, 2015 and we had just dropped off Jaelah at a birthday party. Macky said we were going to go for a walk being that it was a nice brisk fall day and then we were going to grab something to eat. As I was snapping pictures trying to capture the beauty of the picturesque fall foliage and the way the water mirrored the beautifully colored leaves I simply had NO idea what Macky was up to. I turned around and there he was, the man of my dreams on one knee, with the most beautiful ring in his hand, asking to spend the rest of our lives together. (cue the oohs and ahhs) Oh, what a breathtaking moment it was... my favorite fall day, October 24, 2015.
The Wedding
Friday, April 14, 2017
6:00 PM
Attire: Formal
Ceremony and Reception
Aria
45 Murphy Rd, Prospect, CT 06712, United States
The ceremony will be held outside weather permitting. Cocktail hour and reception to immediately follow.
Wedding Party
Crystal Davidson - Matron of Honor
Sarita Plepla - Matron of Honor
Ashley Chapman - Bridesmaid
Amber Davidson - Bridesmaid
Danielle Wilt - Bridesmaid
Chankyna Aribo - Bridesmaid
Julisa DeLosSantos - Bridesmaid
Jeanette Hamilton - Bridesmaid
Karah Greenfield - Bridesmaid
Jaelah Howard - Flower Girl
Michael Plepla - Groomsman
Andrew DeLuca - Groomsman
Gregory Tricarico - Groomsman