Our Story
You Are the Sun & Moon to Me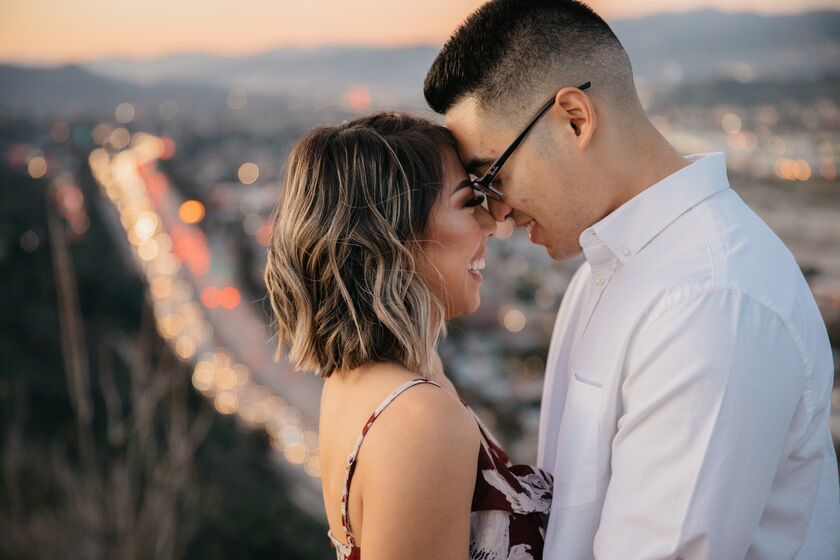 Raineir & Jennifer's love story began the summer of 2013, they briefly met after a college club event where their mutual friends introduced them and then things quickly progressed after they ran into each other at EDC. A couple of "follows" and "add friend" on social media outlets, then Raineir initiated a conversation via FB messenger, and the rest was history! Between visiting each other from OC to Corona to Long Beach, to practically living together a few months later and later officially moving in together, they have been inseparable since they met in 2013. Fast forward to 2019, they've celebrated milestones together, suffered losses together and created a furry family with 2 poodles. To this day, time together isn't quite enough for Jennifer & Raineir, so they are overwhelmed with gratitude that soon, they will get to ride this rollercoaster called life together forever.
The Wedding
Friday, August 30, 2019
11:30 AM
Attire: Formal
Ceremony
Saint Columban Catholic Church
10801 Stanford Ave, Garden Grove, CA 92840, USA
Reception
Avenue of the Arts Costa Mesa A Tribute Portfolio Hotel
3350 Avenue of the Arts, Costa Mesa, CA 92626, USA
Wedding Party
Kristen Nguyen - Maid of Honor
Kristen and I met while working at Ultimate Staffing back in 2015. We quickly became office enemies and definitely seemed to be the most incompatible coworkers you'd come across. Fast forward to tribulations we overcame together professionally and ultimately embarking on new career journeys, we no longer worked together but that was just what we needed. We both grew closer quickly after and have been more than compatible ever since!
Kristen has the kindest heart and is constantly putting others before herself. We share the same profession and she is a true empowering boss babe. She loves baby groot, is a fashionista, makeup guru, an avid red wine drinker and gym enthusiast. Any time we've spent together has been my favorite memory with her, especially the spontaneous dates.
You could say we're like sisters we both never had. Kristen has been my rock over recent years and our friendship has been one like I've never had before. It's golden. She lifts me up when I'm at my lowest lows, reminds me to celebrate me despite my quirks and most of all loved me for me. It was easy to decide she'd be my Maid of Honor but I'm the one that's HONORED to have her as my best friend.
Kimberly Isip - Bridesmaid
Kim is Raineir's younger sister and also the mom of our niece, Kylie. I couldn't help but feel this instant connection with Kim because she was already 9 months pregnant with Kylie when Raineir and I started dating. I felt so honored to be able to witness her become a mom and then spend these years watching her raise Kylie to become this intelligent and respectful tiny human being.
Kim is beautiful, headstrong and courageous. She loves candles, makeup and loves sleep. She is highly motivated and I know she is determined to give Kylie everything she needs and more!
Kim and I share so many fun memories together it's hard to pinpoint one but I'm so excited to continue making more memories that we'll be laughing at years later.
Joannah Reyes - Bridesmaid
Joannah is a super mom to 2 handsome boys and really does it all. She is a shopping guru and knows how to get the best deals. Really, she knows how to do everything well. She went back to school and got her Masters degree while her first son was a toddler and really is the epitome of a girl boss. I love to bond with her over boba dates, I have yet to meet someone who treasures boba like I do – it's quite refreshing! (Pun intended)
I admire Joannah for doing it all and at the same time looking fashionably good doing it! I can't help but think we are similar in the way that we are constantly thinking 5 steps ahead. She has helped me throughout this hectic wedding process and really eased my mind about planning. I appreciate her more than she knows. I cannot wait to party with her at our boba bar at the wedding!
Melissa Guiao - Bridesmaid
I distinctively remember meeting Melissa at the OC fair the summer Raineir and I started dating. Since then, we've been on many trips together, have shared many drunk nights together and continue to make more memories.
I've witnessed Melissa endure things over the years but her strength has never wavered. She impresses me by the way she lives unapologetically, knows her worth and continues to be a warrior. She is a gem and is gorgeous inside and out. Melissa has always made me feel apart of the family since day one and I cannot wait to have her by my side on our big day!
Jeannette DeGuzman - Bridesmaid
Jeanette is beautiful in every single way - the way that she is able to listen and understand, the way she is the best mom to her daughter Gianna and in the way she is simply amazing every day! I've observed and heard conversations she has had with Gianna and I'm amazed by the way she graciously does motherhood so naturally. She teaches Gianna at 3 years old how to be kind and compassionate to others.
One of my recent memories with her has to be one evening after wedding dress shopping; we shared a meaningful conversation on the way to get dinner. I did not think it was possible to grow fonder of her strength but she always ceases to amaze me! Jeanette is a natural inspiration to me with her awesome nursing career and her super mom powers. I know she'll know the perfect words to keep me calm on my big day and I can't wait to share it with her!
Kayla Isip - Bridesmaid
Kayla is Raineir's youngest sister and she has always reminded me so much of him. From their humor to their quietness to the ways they quietly show affection. She and I grew close very quickly when Raineir and I started dating. So I naturally treasured her as if she was already my little sister. We would go to the movies together and easily team up on Raineir together.
It has been such a pleasure watching her mature into this beautiful woman she is today! Kayla is so strong and is much wiser for her age. To me she really has the whole package - she is ambitious, hilarious, intelligent and pretty. I feel so lucky to soon finally call her my sister in law.
Jackie Heredia - Bridesmaid
Jackie is hands down the best hair dresser ever! We instantly bonded after the first 2 times she helped me chop off my virgin long hair to donate and gave me a lob to saying goodbye to my virgin hair and dying it more times than I can count now. She has done it all for me and I will always cherish all of our conversations we shared together.
She is a kick butt girl boss with the cutest babies, Mila & Asher. The way that she evidently puts her mini family at the center of her universe constantly inspires me. She is funny and quite the fashionista! I'm moved by the way that she has been able to build her career on her own, working hard from the very beginning and continues to nourish her career while putting her family first. I cannot wait to share my special day with this boss babe!
Justin Choe - Best Man
Justin and I met in 6th grade at Orange Elementary when I moved to Corona. We were partners for every class project, so that meant going to his house to play video games and mess around until the very last minute before things were due. From playing basketball, to jumping off his balcony, to wandering around the neighborhood, this happened all the way up until High School. In High School, our classes kept us separated up until Junior/Senior year, only to continue the same antics when we got the same class again; playing Mario Kart on the DS in class to waking him up from under the table when our teacher was walking by.
Fast forward to college where I thought we would go our separate ways as he ended up going to CSUF and I to CSULB, only to find out he transferred over to CSULB the 2nd semester! From then on, it has been nothing short of a great time with this buff Korean. We've gone through everything together; from getting me to start working out, to our 21st birthdays, to the long nights staying in or going out, Justin has been a great friend to me for 15+ years.
Now we stay connected through video games, the gym, and a night out every now and then. He is currently in school to get his doctorate for PT, which I know I'll be proud of him for achieving once that day comes. He also has a talent for making awesome videos (If you haven't seen our proposal video, check it out below!). I am happy to call this man my Best Bro. BENGALS 4 LYFE RAWR XD

Marriage Proposal Video
Jason Vo - Best Man
Jason and I knew of each other in high school but did not formally meet until freshman year at CSULB. We started off playing COD online and the rest is history. Anyone that knows us may say we are trolls when we are together and that is 100% true. We crack jokes about everything and anything. Something we always tell people about ourselves is to never take us seriously. I am so grateful to have a friend that I can always joke around with.
But onto something serious, Jason got me into listening to EDM. Why do I say that? Well, without getting exposed to EDM, I would have never thought about going to EDC, which is a big part of Jennifer and I's story. To be even more serious, Jennifer and I wouldn't even be together if it wasn't for Jason. When Jennifer and I first started talking, I wanted to end things for personal reasons but he told me that I had something special with this girl, so I continued talking to her and look where we are now.
Jason and I have had nothing but good times together ever since we met. He knows I always have his back because I know he always has mine. I'm very proud to have a friend that succeeds in life with me and I am very blessed to call this man my Best Bro.
Ian Valencia - Groomsman
My Kuya Ian is the oldest male cousin on my mom's side of the family. My two other male cousins and I always looked up to him when were younger as he was the best out of all of us at video games, and he knew it. We would listen to whatever he said. It was great times growing up with him as our leader.
Fast forward to today and I am very proud of where he is at with his nursing career. I will always look up to my cousin and I am so grateful to have him celebrate this special day with Jennifer and I by being a part of my Groom Squad.
Michael Guiao - Groomsman
My Kuya Michael and I grew up together, along with his twin brother Matthew. We would follow my Kuya Ian around when we all got together and those moments will always be a special part of my childhood. When I started college, I would always meet up with Kuya Michael after school since we both lived in Costa Mesa at the time. We would always meet up at McDonalds to stuff our faces and talk afterwards. We definitely got closer during that time.
Now, he has a lovely wife and has his own house. He has come a long way and I am so happy to see him have a successful life. I hope that we will be able to have kids at the same time so we can let them grow up together, just as we did. There was no doubt that I wanted him to be a part of my Groom Squad.
Jason Olipane - Groomsman
My Kuya Jason is my cousin on my dad's side and we grew up together. To say the least, we were trouble. He would initiate the things we did when we were younger and I would follow. From sliding down the stairs to breaking fine China, we were one crazy duo. I always followed what he said and that has always been our relationship, which I am so thankful for.
He has come a long way from our Twilight days in college. He is now married and serves for the US Navy. Just like my Kuya Michael, I hope we can have kids together so we can watch them grow up with each other. Catch him in his uniform at the wedding!
Glen Deguzman - Groomsman
I have known Kuya Glen for all my life. He has been with my Ate Jeannette ever since I was a little kid so he was always family to me. He has always been respectful to our whole family and I appreciate him for that.
Our bond grew over the past two years as I picked up Brazilian Jiu Jitsu. BJJ is a sport that already brings people together and to have a family member who knows the art makes it that much more special. Although he has been training longer than I have, he knows that I am better than him…jk. I am blessed to have him be a part of my Groom Squad. Catch me at the wedding tapping this guy out!
Steven Nguyen - Groomsman
Steven is Jennifer's cousin and we first met when he came to visit California in 2014. We bonded pretty quickly as he and Jennifer had a close relationship. We are always making fun of each other for anything. Add some drinking in there and we have ourselves a great time.
He would roast me for this, but I am proud of where he is at with his life right now. From where he was when we first met to now owning his own construction company, he has come a long way and to see him succeed makes me appreciative to have him be a part of my Groom Squad.