Welcome to our wedding website! We cannot wait to celebrate with you. Please use this website for information about our wedding and be in touch with any questions.
Love,
Joe and Ilana
P.S. We are proud to announce our Wedding Hashtag, for all of your tagging needs: #DeclarationOfInterdependence
P.P.S. Click here to visit the WedPics website and download the app today! Be sure to enter "joeandilana" in the "Join a Wedding" section to join our wedding fun!
How We Met - Ilana's Version
Joe remembers the first time we actually met - on the first day of graduate school, I helped him find his way to the ID Card office. I have no memory of this, sorry! Joe and I were in some classes together at JTS, but didn't have many interactions. Until December 1, 2012, we went to a classmate's birthday party. My friends wanted to go home early, but I decided to stay. Thankfully I did, because that's when Joe and I first got to know each other, and he couldn't stop making me laugh. We had only a month together before I left for a semester in Israel. We decided to stay together even while oceans apart, and have been together ever since. Joe is my best friend and partner, and I can't wait to marry him!
How We Met - Joe's Version
I remember walking into JTS Orientation one day late. After meeting a few people during an icebreaker session, I got lost en route to the registrar's office. A very nice girl named Ilana was headed to the same office and cheerfully told me to tag along, that she would show me the way. Although she didn't remember it (or me), I was grateful for Ilana's kindness. We didn't speak much over the next couple of months, but hit it off at our friend's birthday party on December 1st, 2012. By our second week together, I knew Ilana was the person I wanted to ask to marry me. After years of laughter and love, Ilana came to the same conclusion, and I proposed on August 5th, 2015. She said yes to me and to us, and the rest, as they say, is history. I can't wait to spend the rest of my life with the woman of my dreams: Ilana is my best friend, my biggest supporter, my Paprika.
The Proposal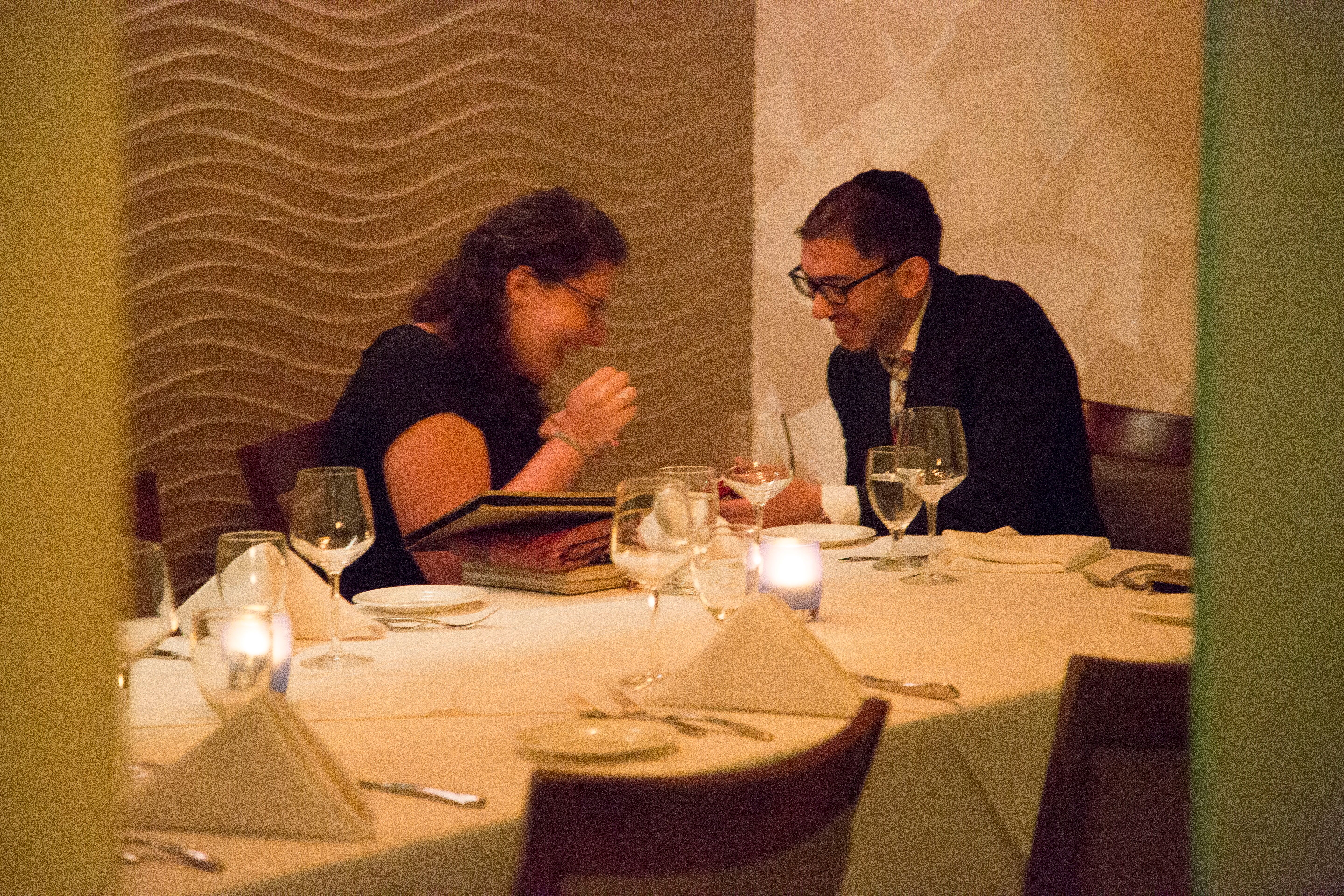 Joe proposed to Ilana on Wednesday, August 5th. Ilana was in Israel the week before, and Joe used the time to set everything up. He booked the private room at their favorite restaurant and created an engagement playlist of love songs and songs that Joe and Ilana shared. He also hired a photographer to document the event, and enlisted the help of Ilana and Joe's friend Leah to take Ilana for a manicure beforehand so her hands would look great for the photographs.
When Joe got home from work Ilana was in bed taking a nap and Joe had to convince her they needed to be on time for their reservation. They finally arrived at the restaurant and the manager told them their table for two wasn't available, but she could sit them in a private room with water while they waited. Ilana went to the bathroom and Joe gave the photographer the signal to get ready. When Ilana returned Joe asked if he could read her something he had written at work that day. He pulled out a love letter and proceeded to read it to Ilana, who started crying. The last line of the letter was the official proposal, and Ilana readily agreed. After spending some time drying her eyes, Joe and Ilana took proposal photos and called their parents. They then had a no-phone dinner where they celebrated with champagne and steak, before letting the rest of their family members and friends know the next morning.

Joe used a lot of misdirection to throw Ilana off the scent. Although she thought Joe was acting weird the evening of the engagement, Ilana was still very surprised when it actually happened.