Our Story
Plenty of fish, but we still found each other! :)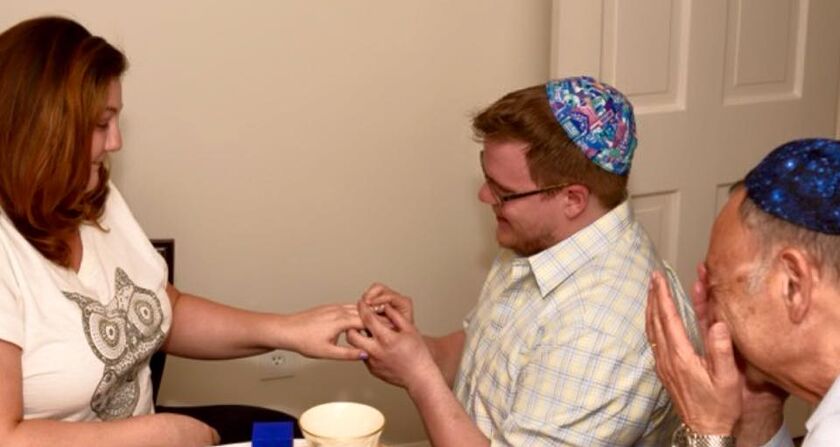 Our First Date!
Steven and Julia met up at a Waffle House for the first time. They were both very skeptical about meeting but a waffle and a lemonade later, they both felt more at ease. Later that day, Steven asked Julia to dinner that night for a proper first date. They met at Delaney's Irish Pub in 5 Points. It was a pretty rocky start, Julia did not think she was really feeling it. After dinner, he took her to Delaney's Speakeasy for Jazz Night. The music really seemed to calm their nerves and helped make things more comfortable. Steven called her 30 minutes after they left to make sure she got home safely, later Julia mentions that this act is what sealed the deal for her.(Interestingly, This was a similar act that did it for Julia's parent) It wasn't more than two weeks later when Steven told Julia that he was going to marry her one day...

We Moved to Atlanta!
About 5 months into dating, Julia got a job opportunity that required a move to Atlanta, Georgia. Steven told Julia, "Go for it, We will make it work. I'll find a job in Atlanta, I don't care if I haven't known you a year, I am not going to be away from you." Steven found a job and they moved to Sandy Springs! They really love the community they have found in their new home.

The Proposal!
If we had any question about how well Steven knows Julia, his proposal plan proves he knows her well! He knew that her favorite time of the year was Passover. He also knew how important it was to be surrounded by her family.
Steven asked Julia's parents for their blessing in March when they were home for a visit. He hatched his perfect proposal plan with her parents that weekend. During the second night of Passover, right at the end of the Seder meal, he creatively schemed to find the Afikomen. The Afikomen is traditionally a part of the Matzah from the the beginning of the Seder that the leader hides for the children. The children are typically presented with a prize after finding it and returning it to the leader. After receiving his "prize," Julia's dad asked Steven, "Did you like your present?" Steven then came around to Julia and said, "I do appreciate this, but you already gave me the best gift I could have ever asked for when you gave me your blessing to marry your daughter." He then got down on his knee, pulled out her beautiful ring and asked her to marry him. She said, "Yes!" of course! Her brother and her oldest sister were sitting right there with her parents and they even had her other sister on the phone through Facetime! It could not have been more perfect!

The Big Day
Sunday, April 3, 2016
12:00 PM
Attire: Daytime Formal/Cocktail
Ceremony
Beth Shalom Synagogue
5827 North Trenholm Road, Columbia, SC 29206, United States
Reception
Capital City Club - Columbia
1201 Main Street #2500, Columbia, SC 29201, United States
Wedding Party
Aliza O'keeffe - Matron of Honor
The Bride's Sister! Aliza and her family live all the way across the pond in England. Julia believes that she gets her love of fashion and getting her hair done from her big sissy!
Karen Eisenthal - Matron of Honor
The Bride's Sister! Karen and her family live right out side of Boston. Other than sharing the same sense of humor, people will often say that they share the same face and personality! Julia's favorite compliments!
Hannah Price - Bridesmaid
Julia and Hannah met in Preschool. They have remained friends for 20 years. The best part of their friendship is that they have barely gone a week without catching up on the phone in over 8 years, sometimes even everyday!
Erin Hentschel - Bridesmaid
Erin has been Best Friends with the Bride since middle school and now they live less than 2 miles away from each other in Atlanta! This has made living in the city a very easy transition!
Stephanie Walden - Bridesmaid
The Brides oldest friend, known each other since they were 2 months old!! Stephanie's mom was even a bridesmaid in Julia's parents wedding!!!
Kathryn Capagrossi - Bridesmaid
Julia has known Kathryn for 12 years. Kathryn and Julia became especially close when they both transferred to new colleges. She has always been a great friend and support. They are both living in Atlanta and it is so nice that they get to spend time together!
Madison Wren Cohen - Flower Girl
Maddy is the daughter of close friends, Ashley & Andrew Cohen. The bride and Groom are honored to be considered family and called "Aunt Julia" & "Uncle Steven" by their sweet MaddyMoo!
Jonathan DePriest - Best Man
Steven and Jonathan went to high school together but it wasn't until College that their friendship grew through their love of music. Jonathan has been an amazing supportive and loving friend to both Steven and Julia!
Max Blachman - Groomsman
The Bride's Older Brother! Max and Julia were living together when she met Steven so they got to know each other pretty well. Max also moved to Atlanta around the same time so he and Steven got an apartment together.
Shane Axson - Groomsman
Shane and Steven have been good friends since College, they were also roommates in Columbia.
Chad Robichaux - Groomsman
Chad and Steven met in High School, went to the same College and then ended up being roommates.
Hayden Kornblut - Groomsman
Hayden has been like a brother to the bride their entire lives. His support has been huge to Julia and Steven's relationship, Steven even asked Hayden for his "permission" before proposing. It truly means a lot to both of them to have him standing by their side as they make their commitement.
William Key - Groomsman
Will is the Groom's younger brother. He has been living with Steven and Julia since February 2015 and they have really gotten to grow their relationship.
Seth Coale - Groomsman
Steven and Seth hit it off after Julia introduced them. Seth and Julia were a team, working for Jason's Deli. Seth and Steven have a very special broseph relationship! :)
Jake, Hannah, Sophie & Maddie - Junior Groomsman & Bridesmaids
Julia's nieces and nephew are honored as Junior Bridesmaids and Junior Groomsman.