Our Story
#BoyMeadsGirl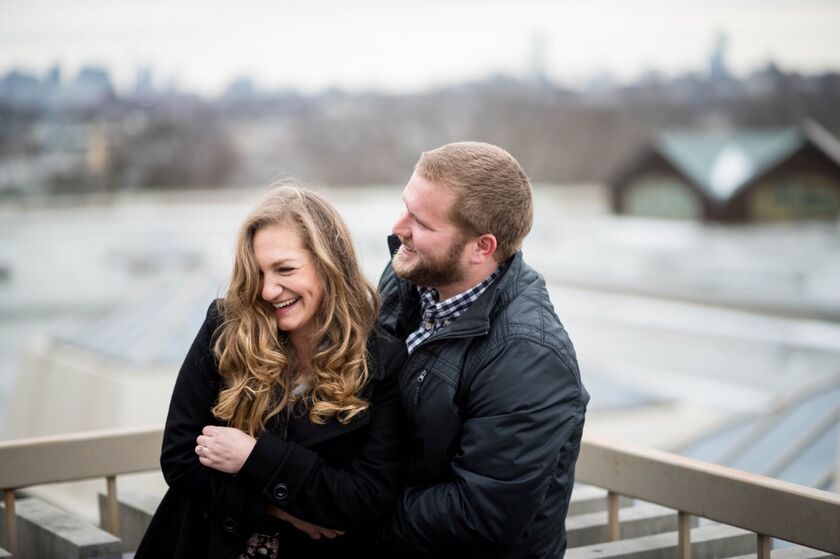 How We Met 8.01.15
Justin and Liz met at their mutual friend Dan Covey's annual Burgerpalooza BBQ. Their first encounter was on the cornhole boards where they immediately disagreed about who stood on which side of the board. With both of them having a competitive side, they ended up playing multiple games to determine the real winner. A winner has still not been named to this day. A few days later Justin took Liz to the Boston Calling block party in Dewey Square where they learned that they liked the same music, could quote the same TV shows, and both stalked each other on Facebook before the date. With signs like that, there was no arguing, it was love.
Our Engagement 12.28.17
They had just come back from NY after spending Christmas with the Muscatiello family and all the excitement of the holidays was fading. Justin told Liz that he had the rest of the week off from work and was going to Portland on Thursday to visit his mom and sister. As Justin predicted, Liz then decided to go visit her brother, sister-in-law, and niece at their home in Sudbury where her parents were also visiting for a few days. Liz got out from work early on Thursday and headed up to Sudbury, not informing anyone that she was leaving earlier than planned. Justin was attempting to sneak up there before her, but unfortunately spotted her car ahead of his Uber on route 2. It was a balmy 5 degrees outside but Justin had to wait down the street until receiving word that the coast was clear. As soon as arriving at her brother's house Liz was "encouraged" to go upstairs to play with her niece (who, let's face it, was the main person she was coming there to see). After just getting comfortable, she was then asked by her sister-in-law to grab a few things from downstairs. On her attempt to get downstairs she miss-stepped and her brand new Smartwool socks betrayed her, sending her flying all the way to the bottom. Justin sat around the corner frozen, hoping she wasn't hurt but not wanting to ruin the surprise. With minimal injuries (just a few nice bruises) she continued into the living room, where Justin sat in front of the fireplace with Jack Johnson playing. Liz turned the corner to see him, feeling both happy and confused. Reading her expression, Justin said "I didn't go to Portland, I actually needed to ask you something." The conversation ended with Liz saying YES!
The Wedding
Saturday, October 20, 2018
4:00 PM
Attire: Semi-formal
Ceremony and Reception
Granite Ridge Estate & Barn
65 Delano Dr, Norway, ME 04268, USA
Wedding Party
Brendan Dagan - Groomsman
Robert Radecki - Groomsman
Michael Martin - Groomsman
Clint Davenport - Groomsman
Matthew Muscatiello - Groomsman
Andria Muscatiello - Maid of Honor
Jennifer Valentine - Bridesmaid
Margaret Faso - Bridesmaid
Jeannie Lukin - Bridesmaid
Erin Muscatiello - Bridesmaid
Jessica Murphy - Bridesmaid