Our Story
Justina and Avinash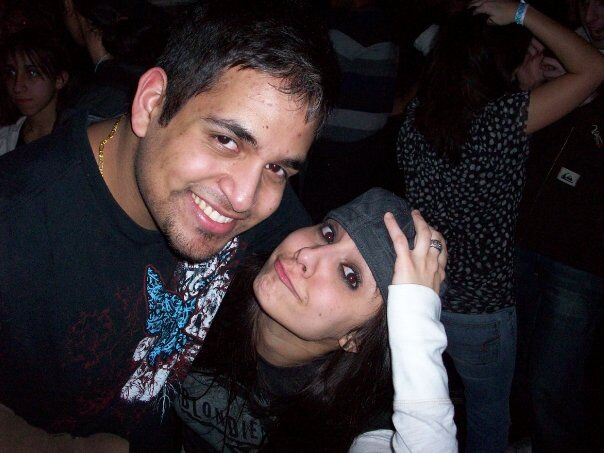 It was your typical cold and snowy February night in the winter of 2008 when 2 music lovers, Justina and Avinash had met for the first time, through some mutual friends. They had all decided to make the trek through a snow storm to get to the Highline Ballroom in New York City, where they would check out Envy on the Coast, an up and coming rock band. It was here where they took part in the usual rock music infused thrashing and head banging, and also where Avi's favorite hat had succumbed to the wave of a violent mosh pit. That is where Justina saved the day, and to Avi's surprise she recovered his hat from under the surface of crowd surfing bodies. That was the night they knew they'd be friends.
Their First Halloween!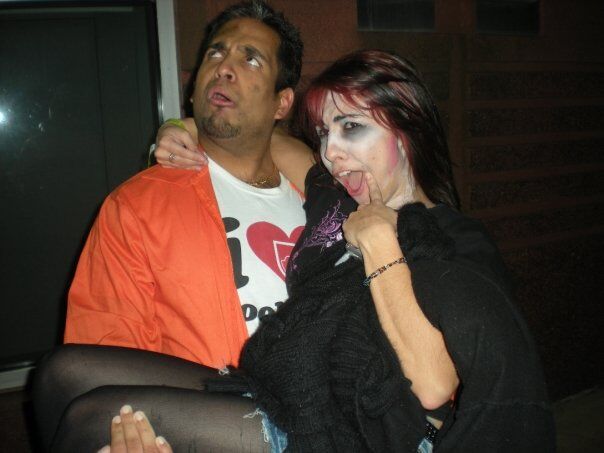 As the summer of 2008 came to and end and autumn grew near, Justina and Avi naturally grew closer as they continued to hang out with mutual friends, mostly in music related situations, which seemed to be their common ground. That was until October rolled around, when they discovered that had yet another common interest between them -Halloween! In October of 2008, Avi asked Justina if she wanted to come out to a Halloween party at the Golden Rail in New Brunswick on Halloween Night with a group of his own friends. She wasn't really planning on doing anything that year and had no real costume, but she slapped on some face paint and accepted his invitation anyway. Avi and Joe (best man) were Harold and Kumar.
Long Distance Relationship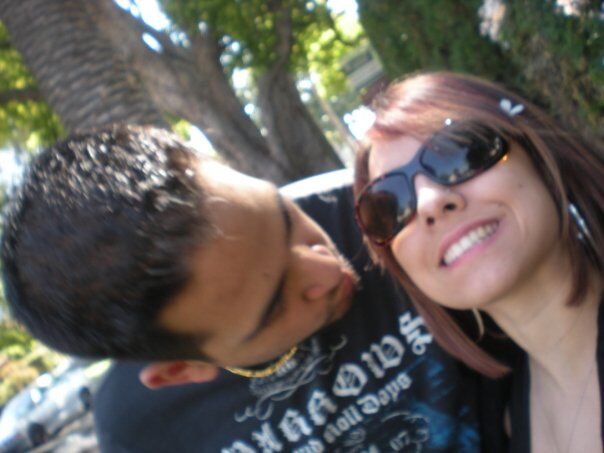 After Halloween, the two started seeing each other more frequent, and by New Years Day of 2009, Avi had asked Justina if they could become exclusive. Of course she said yes! But then, news of an exciting opportunity came up for Justina. Her brother Vincent who had just graduated from college had asked her if she wanted to try out the LA scene, as she was pursuing a career in music for most of her young adulthood. She was ambitious and extremely excited about the opportunity, but she was hesitant and reluctant to go because of the strain it would put on her and Avi's new relationship. Despite this new opportunity being 3,000 miles away on the other side of the country, Avi was extremely supportive and told her that she should pursue her dreams and that they would somehow make it work...and that, they did.
Avi would fly to LA to visit Justina and Justina would fly back to New Jersey to visit Avi; this would continue a handful of times within the span of those next 6 months. During that time, Justina had pursued her music career, but ultimately discovered that LA was not the place for her. She missed home, her family, her friends, and most of all, she longed for the stability of the relationship her and Avi had started. In June of 2009, she decided to move back to New Jersey, but she hadn't given up on music just yet...
Starting a Band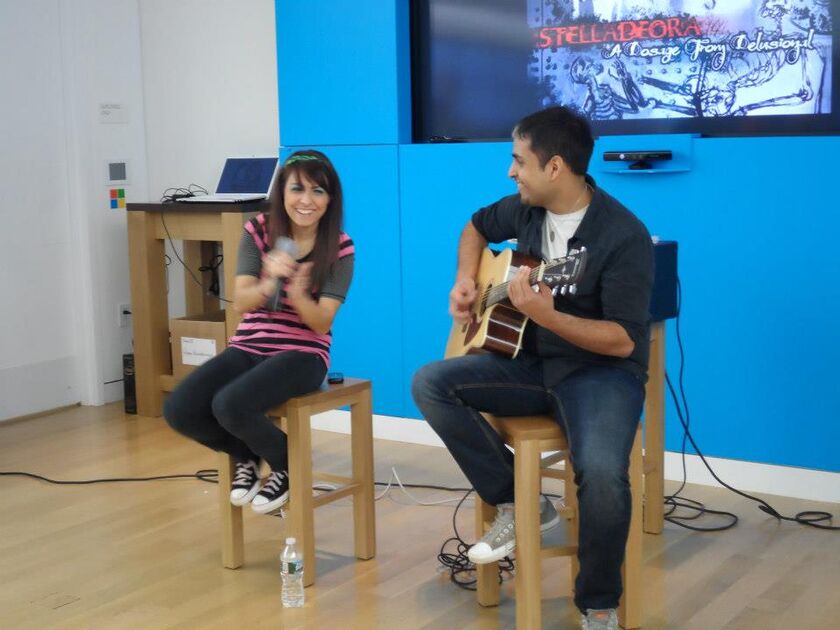 When Justina returned to New Jersey she really wanted to take her music in a completely different direction. She had talked Avi into writing some songs with her, and before you know it, they had a 3-4 song demo of punk pop vocals over progressive rock guitar hooks! Eventually their musical collaboration snowballed into a full band project, and thus their band Stelladeora was born. Together they have written a 9 song EP "A Dosage From Delusional" and have played at notable venues and festivals all over the tri-state area. They are currently working on their first studio full length album, which they are recording and producing themselves, along with their bandmates Mike, Steve, and Neil.
Check www.Stelladeora.com for updates!
Their Epic Halloween Costumes...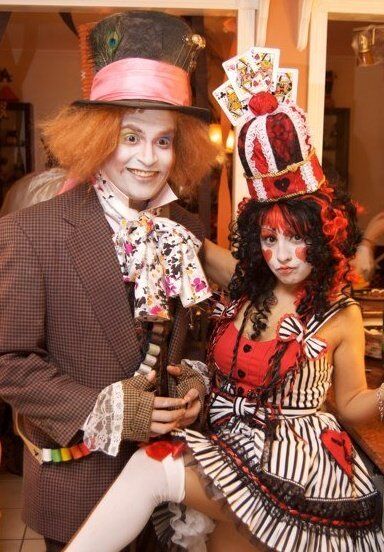 Living in LA for a bit really made Justina miss the seasonal changes that occur on the east coast. Most of all, she didn't want to miss the Autumn season: the changing of the leaves and the pumpkin picking, etc. Halloween just wasn't the same in California. The year she returned, Avi and herself agreed that they wanted to coordinate costumes for the first time ever. They decided to do their own take on Alice in Wonderland characters Mad Hatter and the Queen of Hearts. They are not the type to buy their costumes pre-packaged from party city and they most certainly do not shy away from creative face painting! Let's just say they went all out!
It was such a hit at the Halloween party they hosted, that they decided to take their costumes for a spin at a costume contest at The Golden Rail- the same bar at which they spent their very first Halloween together the year before. Their costumes were such a hit there as well, that they took 2nd Place! (1st place went to a guy dressed as a Ghostbuster, complete with proton pack and the Ecto-1 modified station wagon that was parked right outside in front of the bar... I mean really, WHO CAN COMPETE WITH THAT!?!) So their 2nd place prize was a $75 gift certificate to use at the bar, which they never got to use because the bar caught fire a few months later and closed for quite some time.
That is by far their favorite Halloween story. Some of their other best Halloween costumes throughout the years are Beetlejuice & Miss Argentina, Las Calaveras (Day of the Dead), and Frankenstein and his Bride.
Salem and The Proposal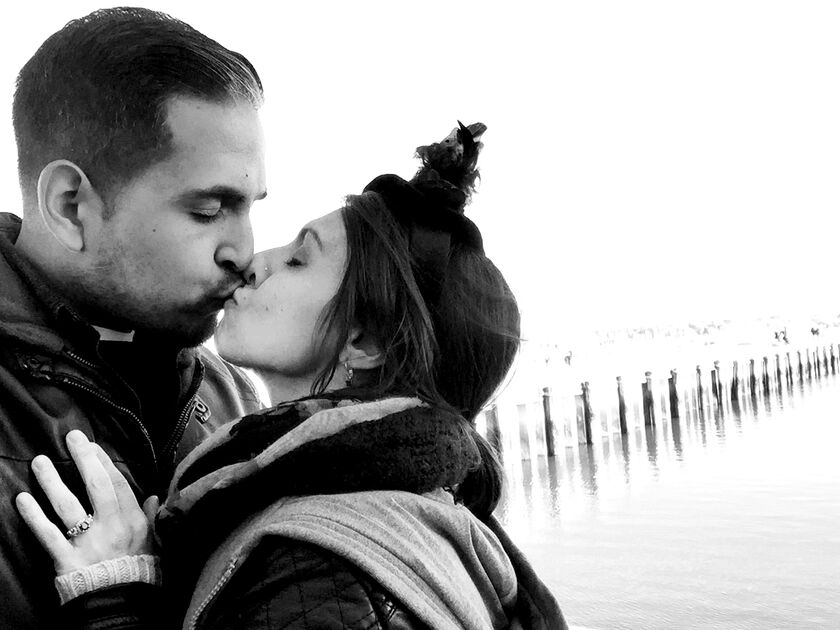 Justina has always had a fascination with the Salem Witch Trials, and visiting Salem, Massachusetts has always been at the top of her bucket list. Finally in October 2012, the spooky couple decided to make the trip and revel in the spirit season to the fullest extreme!
It was here where Justina and Avi both enjoyed learning all about the quaint little historic town's dark and mysterious past, and it was love at first FRIGHT! They went on candlelit ghost walks through the old burying point, Salem's oldest cemetery, drank hot apple cider, and toured just about every single witch museum dedicated to shedding some light on its fascinating lore. The couple was able to pack quite a bit into such small weekend trip, but the one thing they did end up missing due to lack of time, was Salem's Pickering Wharf, the town's Marina packed with shops, pubs, Nathaniel Hawthorne's infamous House of 7 Gables, and the most picturesque view overlooking the Salem Harbor. As they departed from that trip, they made it a point to come back and experience the Wharf.
Due to many circumstances including life just getting in the way, they were not able to make the trip up to Salem again, until October 2016. It was on this second trip, where they stayed at a cozy Air BnB loft one block away from the beach in East Lynn, about a 10 minute drive from downtown Salem. On this trip they finally visited the Pickering Wharf which they had missed the last time, complete with a spooky night tour of The House of Seven Gables! What Justina did not realize, was that Avi had the biggest surprise for her yet; he had been carrying around her ring in his pocket and could not find the right moment to propose to her, because it had rained the whole weekend they were there!
Finally on the day they were leaving, they awoke to a beautiful sunny, but brisk morning and packed their bags in the car. Avi had brought his drone and was "upset that he couldn't fly it all weekend in the rain" and used that as a ploy to get Justina down to the beach. They took a walk to the shore's edge where Justina collected sea shells to kill time while Avi grew frustrated waiting for his drone to calibrate. Finally 20 minutes and several frozen phalanges later, Avi got the drone up into the sky and called for Justina to come over. As they stood together, he instructed her to wave to the drone. As she waived, he asked her what their next adventure was going to be. "I dunno, where should we go?", she replied. As he fumbled to get the ring out and ready to go, he instructed her to just keep looking at the drone. It seemed to Justina as though this drone needed more calibrating, so she confusingly kept waiving. As she looked over, Avi was on one knee with the most beautiful black diamond engagement ring. A majority of that moment was a blur and just a ball of emotions, but if you wondering about the outcome....Well, of course she said yes.
The Wedding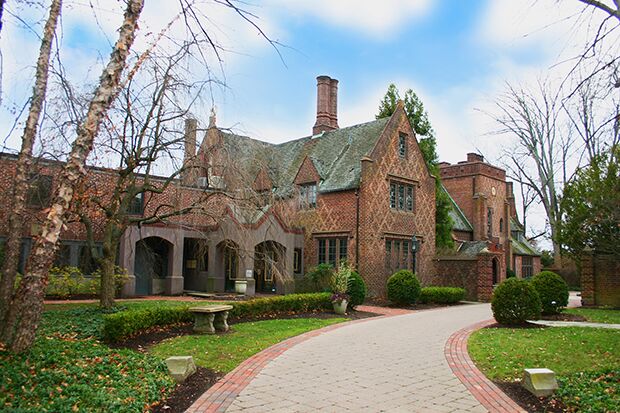 Sunday, October 29, 2017
Attire: Formal
Ceremony and Reception
The Aldie Mansion
Doylestown, PA
Wedding Party
Marianne McBride - Matron of Honor
Danielle Campanella - Bridesmaid
Jenna Zielinski - Bridesmaid
Melanie Caban - Bridesmaid
Ashley Allocco - Bridesmaid
Samantha Diaz - Bridesmaid
Abby Giordano - Flower Girl
Vincent Carubia - Groomsman
Thomas Campanella - Groomsman
John Altadonna - Groomsman
John Wieckowski - Groomsman
Stephen Janiszak - Groomsman
Rafael Figueroa - Groomsman