The Wedding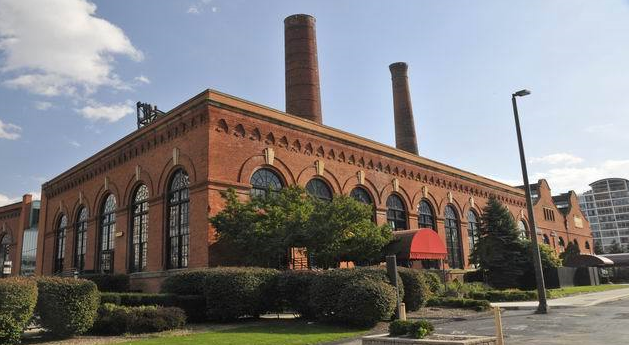 Saturday, July 11, 2020
Ceremony
Cleveland Botanical Garden
11030 East Boulevard, Cleveland, OH, 44106
Reception
Windows on the River
2000 Sycamore, Cleveland, OH 44113, USA
The ceremony location has changed to the Cleveland Botanical Gardens-Sunken Garden. The ceremony will begin promptly at 2:30 PM, and guests may begin to arrive at 2:00 PM. The ceremony will be outside, but there is an indoor location in case of inclement weather. Please park in the parking garage, and a parking reimbursement will be provided to you. Please bring your own mask as they must be worn when indoors, but can be taken off once exiting the building. Following the ceremony, please feel free to walk around the facility until 4:00 PM. Cocktail hour begins at Windows on the River at 5:00 PM in the City View Room. The reception will begin at 6:00 PM with dinner, drinks, and dancing until 11:00 PM. Starting at 10:00 PM, a shuttle bus will begin running from Windows on the River to Drury Plaza Inn. Following the end of the reception at 11:00 PM, the shuttle bus will then make continuous loops until 12:00 AM.
Wedding Party
Olivia Patterson - Maid of Honor
Olivia is Kaitlin's younger sister and has been roommates with Kaitlin for the last 21 years. Olivia lives in Avon, OH and is a Neonatal Intesive Care Unit Nurse.
"Whoever said orange is the new pink is seriously disturbed"-Legally Blonde
Brittany Baeder - Bridesmaid
Brittany met Kaitlin when she moved to Avon in 2009 and the guidance counselor at the high school had Brittany email Kaitlin to welcome her to Avon since they both played soccer. The friendship was set in stone after they went to the Jonas Brothers concert. BFFs ever since. Brittany lives in Avon, OH and is a 6th grade math and science teacher.
"Get in loser. We're going shopping"-Mean Girls
Lindsay Jurcenko - Bridesmaid
Lindsay met Kaitlin while Lindsay was a pharmacy resident and Kaitlin was a pharmacy student. The friendship was solidified over the first of many happy hours and have been best friends ever since! Lindsay is from Cleveland, OH and is a pharmacist!
"Anybody else have anything they want to SHARE today?!" "I took two dogs already, they're in the back of my van"-Bridesmaids
Reilee Dupratt - Bridesmaid
Reilee met Kaitlin while playing club soccer together at Cleveland United and were roommates together in undergrad. Reilee is from Olmsted Falls, OH and is the assistant women's soccer coach at Cleveland State University.
"I'm a vivid animal!"-Open Season 2
Cortney Fortune - Bridesmaid
Cortney and Kaitlin met when they were 3 years old and lived across the street from each other. They went to school together from preschool to 9th grade. Cortney is an Emergency Room Registered Nurse and lives in Shelby Twp, MI.
"Why would you wanna marry me, anyhow?" "So I can kiss you anytime I want"-Sweet Home Alabama
Katie Coberly - Bridesmaid
Katie is Kaitlin's soon to be sister in law! Katie works at GPD Group in internal communications and is from Hudson, OH.
"Dinosaurs...eat man. Woman inherits the Earth."-Jurassic Park
Melanie Coberly - Bridesmaid
Melanie is also Kaitlin's soon to be sister-in-law! Melanie is a Logistics Office in the United States Air Force, stationed in Salt Lake City, Utah.
"I hope you're pleased with yourselves. We could all have been killed-or worse, expelled. Now if you don't mind, I'm going to bed."-Harry Potter and the Sorcerer's Stone
Ross Coberly - Best Man
Ross is Scott's second oldest brother and lives in Hudson, OH. He is a contractor safety representative for First Energy.
"Cavs in 6"-Abraham Lincoln
Alex Coberly - Groomsman
Alex is Scott's oldest and wisest brother. He is a Captain, Judge Advocate General Corps in the United States Air Force. Alex is stationed in Salt Lake City, Utah.
"Leave the gun-take the cannoli."-The Godfather
Adam Coberly - Groomsman
Adam is Scott's younger brother. Adam is a Platoon Commander in the United States Marine Corps in Twentynine Palms, California.
"Say what you want about the tenets of national socialism, at least it's an ethos."-The Big Lebowski
Ivan Haggins - Groomsman
Ivan is Scott's pseudo-brother. He is a fixer of bodies, whenever his services are needed. Ivan is from Hudson, but is currently living in Columbus.
"Do I really look like a guy with a plan? You know what I am? I'm a dog chasing cars. I wouldn't know what to do with one if I caught it! You know, I just...DO things."-The Dark Knight
Ian Cairns - Groomsman
Ian and Scott met through the Ohio State University housing algorithm their freshman year of college. Ian is a Case Manager for Cover My Meds and lives in Columbus OH.
"Get on in here, let the big bear get his paws on ya."-Wedding Crashers
Ty Wood - Groomsman
Ty and Scott met through the Coberly brothers. Alex and Ross went away for a summer and Ty and Scott spent the entire summer listening to 850 in the basement. Ty lives in Howard, OH and is an assistant baseball coach at Kenyon College.
"The dude abides."-The Big Lebowski
Alex Redrow - Groomsman
Alex and Scott met through fellow Hudson Explorer Alumni, Katie Graf, and their friendship has flourished ever since. Alex lives in Columbus, OH and saves babies as a project manager at Abbott Nutrition.
"Big gulps huh. Well, see ya later."-Dumb and Dumber
After Party
Shooters on the Water
Any guests that would like to join in further celebration can walk across the parking lot from Windows on the River to Shooters on the Water. Cash bar will be available.
Sunday Brunch
Brunch
Complimentary brunch will be served to guests of the Drury Plaza Inn starting at 8:00 AM in the Ballroom on the 1st floor of the hotel on July 12, 2020. Brunch can be purchased for guests who choose different accommodations.
Brunch includes Belgian waffles, scrambled eggs, sausage, fresh fruit, oatmeal, biscuits and gravy, coffee, and more.