Our Story
Our Journey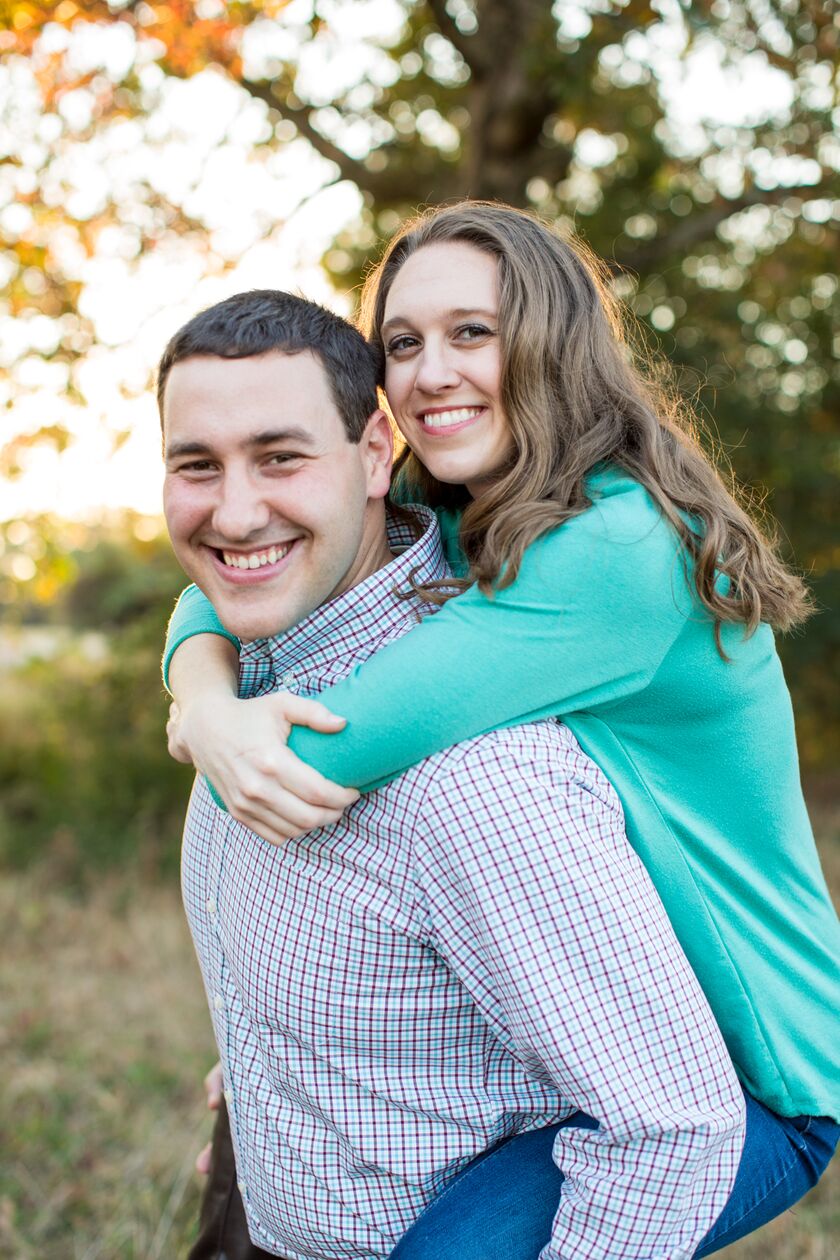 Katie and Jeff met for their first date over coffee after getting matched online. Before meeting that first day Katie tried to dissuade Jeff from dating her by saying, "I'm going back to Athens for school in a week, and I don't make it back to Atlanta very often." Jeff decided that getting to know this smart and beautiful woman was worth the drive and they had their second date in Athens. Over the next two years they got to know each other better. Jeff kept Katie sane through clinics and the NAVLE licensing exam and they both started new jobs.
Katie and Jeff enjoy spending time outdoors and exploring new food both at home and out at restaurants. They are both into rock climbing, and look forward to getting out to do more of it in the future. They even enjoy scavenger hunts. They had been trying to find time to do one through downtown Decatur for about six months when they finally made it there one day in October. The clues led from statues to historic buildings. The last thing Katie expected the last clue to lead to was a ring. She said yes when she finally stopped laughing. They both look forward to spending the future together and finding new adventures.
The Wedding
Saturday, September 9, 2017
Ceremony
St. Marguerite d'Youville Catholic Church
85 Gloster Rd NW, Lawrenceville, GA 30044, USA
Reception
The 173 Carlyle House
173 Carlyle Street Northwest, Norcross, GA 30071, USA
Wedding Party
Amanda Hotop - Matron of Honor
Amanda is Katie's younger sister. She graduated from North Georgia as an athletic trainer and most recently from Mercer for Nursing. She works as a nurse in the Emory ER. Katie was Amanda's maid of honor last summer so now the roles are reversed.
Christina Prickett - Bridesmaid
Christina and Katie grew up going to church together and ran cross country together in high school. Christina has been an elementary school teacher and now an Educational Instructor teaching teachers in Winder, GA. She also bakes amazing cupcakes and cakes on the side.
Jessi Norman - Bridesmaid
Jessi and Katie were randomly assigned to be suitemates at Auburn and ended up living together for all 4 years. Jessi is a mechanical engineer in Nashville and enjoys concerts, ultimate Frisbee, and is the first person you want on your team for trivia nights.
Kim Geisert - Bridesmaid
Kim is Jeff's younger sister. She has a goofy puppy named Apollo and cat named Shelby that could be Katie's cat's twin. She is also the proud mom of an adorable baby girl, Grace.

Justin Bearden - Best Man
Justin and Jeff have been friends since 2004. They met in Delta Sigma Phi at Georgia Tech and bonded over quite a few shared interests. They both enjoy gaming, along with other friends. They both like to explore different ideas and and come up with crazy things to do and create.
Joe Loeffler - Groomsman
Joe and Jeff pledged to Delta Sigma Phi together and lived together for three years during college. Joe has been Jeff's climbing partner for the last six years. They both enjoy the challenge and exercise of climbing.

Travis Gamble - Groomsman
Travis and Jeff bonded going to a full season of Atlanta Braves games together. Travis is a great friend who is always up for a good time. Travis has always been up for trivia nights as long as he is in town.
David Geisert - Groomsman
David is Jeff's brother. David is one and a half years younger than Jeff. David and Jeff grew up doing quite a lot together. From playing soccer on the same team for quite a few years to going to college together, David and Jeff have always been around to support each other. Even if they didn't always get along they always had the bond of being brothers.

Mitch Hotop - Groomsman
Mitch is Katie's younger brother. Mitch graduated from Georgia Tech in Aerospace Engineer and starts his new job with Ball Aerospace in September. He's spent his last summer of freedom driving an ambulance from Belgium to Mongolia for charity.