Our Story
"Many waters cannot quench love, Rivers cannot wash it away." ~Song of Solomon 8:7
How We Met
They spent time in jail together!! Haha! No, they didn't end up in jail; They worked there. Amanda started at the Lynchburg Adult Detention Center as an officer in December 2011. She remembers reporting for her first night on shift and seeing all of the officers standing outside. She said, "I was so nervous because I just knew all of them were judging my 5'2", 120lb self and probably taking bets on how long I'd last before I quit." As she walked past them, they were all standing together in a group, wearing serious faces and looking (in her opinion) mad at the world... except for one. As she went into the building, she caught glimpse of a "tall drink of water" leaning with his back against the wall and his foot propped up. He was wearing aviator sunglasses and playing on his phone... Enter Kevin Hancock.
Bachelor for life? This was the growing consensus about Kevin, and had been for some time, for just about everyone who knew him. The same guy that slept until at least "double digits" every non-work day. And the same guy that had come to the conclusion that he was going to stay single, hang out with friends, and adopt a child on his own at some point in time. So when he met Amanda at the jail, and the witty banter started becoming more and more serious, he began to think, "Is this girl really serious or is she just trying to pass the time at work?" At the same time, he wondered if this funny, beautiful and just a little/lot crazy new chick at the jail was just what he had been avoiding and yet just what he needed (and silently hoping for the whole time).

How We Started Dating
A Little Irish Luck (and Sprinkles) Goes a Long Way! Kevin and Amanda spent the next three and a half months as co-workers assigned to opposite ends of the building. They only really saw each other in pre-shift or if assistance was called for in any of the units. In an environment where every one goes by their last name, insight into a co-worker's personality is reflected by crude remarks and inappropriate jokes. However, because she routinely brought in homemade cupcakes, Amanda soon coined the name "Sprinkles" by some of the officers (They teased her for putting sprinkles on the icing, saying it was a total girl thing to do, but they complained the next time she made them and left them off). In March 2012, Amanda was on her way back from a St. Patrick's Day bachelorette weekend with friends, when she received a Facebook message on her phone from Kevin...
Kevin: "Having fun?"
Amanda: "Yep... How's work?...lol"
Kevin: "Same... When you coming back?"
Amanda: "Why?... You miss me?"
Kevin: "Maybe... ;-)"
Uh oh... flirtatious banter... It just got interesting...
Our First Kiss
Celebrity couple comes to The Drugstore Grill! Over the course of the next month, Kevin put Amanda to a very important test... Meeting "the guys"... First, was at his best friend, Jared's man cave (garage), where she also met longtime friends John and Blake. To prove she was "One of the Guys", on a dare, she ate a 500 year-old pickled egg that was the size of a softball. The following week, she met Kevin and "the guys" at a local restaurant/bar where they spent the evening watching sports, cracking jokes, and talking about elbows (inside joke). It was obvious she could hang with "the guys" just fine. As they left, Amanda hugged and said goodbye to the others (she's a hugger). After that, she walked over to the driver's side door to say goodbye to Kevin. Not even thinking, she leaned in and kissed him... a few times... lol. Then she simply smiled, said, "Be safe" and got in her car to leave. Immediately, Kevin got out of his car, walked over to her car and kissed her again... YOTS!!
One day, in random conversation, they were discussing what they thought of each other when they first met and started dating...
Amanda: "With your facial hair, ball cap and never fail aviators, you reminded me of Eric Church."
Kevin: "Haha!...I told my mom you looked like Katy Perry."
The Proposal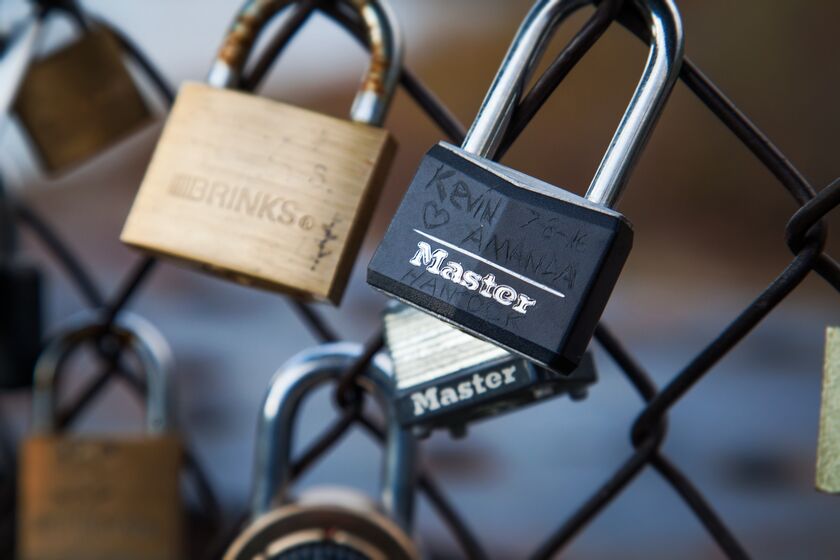 Love Floats! One thing that was evident from the very beginning, was Kevin and Amanda's shared passion for the river. Anytime they had a day off during the summer, they always figured out a way to get on the river. Even if they weren't able to float... say spring, fall, or winter... they always found their way to the river at least. The Blackwater Creek Trail is right near their house, and part of it runs along the river. So, it's commonplace for them to find their way there to enjoy a little bit of nature and the river view. In fact, part of the trail goes over the river, via an old train trestle, to Percival's Island. Halfway across the river, there are steps that go up to a walkway that includes a historic marker about the trains that use to cross over. Also up there are hundreds of locks that people have placed on the fencing, following a long tradition of people locking away a particular memory and throwing away the key. The idea is that by tossing the key into the water, you and your partner are forever locked into that moment of time. Kevin knew that when he decided to propose to Amanda, that was exactly where he was going to do it.
July, 8, 2016, Amanda was at work. Kevin texted her to see if she wanted to meet him on her lunch to walk down at the river. Any other time, she would have jumped at the opportunity. But that particular day, she was wearing dress shoes, and she had did her make up and fixed her hair. So she said "Thanks, but no thanks", that she just wasn't feeling it. A few minutes later, Amanda's co-worker came into her office, plopped down into a chair, and asked what she was doing for lunch. Amanda told her Kevin had tried to talk her into walking the trail to Percival's Island, but it was too hot. She made a joke about how all she could think about was how the heat would cause her to sweat, making her straightened hair go crazy and her make up melt away. Her friend told her how sweet she thought it was that Kevin had asked. She told her she should go anyway, but maybe not walk as far. Amanda immediately felt guilty for turning down Kevin's invite, so she called him and told him she would meet him down there. (Obviously, she learned later her friend was in on it!)
Kevin and Amanda met downtown and made the short walk to the walkway over the river. They always made it a habit to stop there and look at all the new locks that had been placed there since the last time they had visited. They would also take time to read the different inscriptions on them out loud so the other could hear. Amanda went left. Kevin went right. In the middle of the readings, Kevin said, "Hey, look! This one isn't even locked!" Of course, Amanda immediately walked down to check out this odd occurrence, replying, "Hey, that's crazy!" But as she leaned in to read the inscription, a breath caught in her throat.
The front inscription read, "Kevin loves Amanda 7/8/16". On the back, "Mr. and Mrs. Hancock" had been etched.
In total confusion (and shock), Amanda turned around to find Kevin down on one knee and holding a GORGEOUS ring! They won't go into detail as to what was said. But let's just say Amanda was totally surprised and Kevin was amazingly sweet and romantic. Then, together they fastened the lock and tossed the key into the river where it will remain, forever resting below the currents. As for their lock... It holds the memory and love of that day securely within itself.
The rest is just the beginning of Our Story.

The Wedding
Saturday, August 5, 2017
6:00 PM
Attire: Summer Chic
Ceremony and Reception
Staunton River Estates (The Hunt Residence)
Nathalie, VA
A romantic river view wedding ceremony, followed by an evening of dining, dessert, drinks, and dancing!

**FORMAL INVITATION ONLY**

ADULT CEREMONY AND RECEPTION*

*We are both so blessed to have the love of very large families and too many friends to name. Unfortunately, due to limited venue space, and in order to allow all guests, including parents, an evening of relaxation, we have chosen for our wedding day to be an adult only occasion. We apologize if this inconveniences any of our guests. We hope this advance notice means you will still be able to join us and enjoy a relaxed evening off with family and friends.
Wedding Party
Kristina Barker - Matron of Honor
Sherri George - Matron of Honor
Angela Dudley - Bridesmaid
Jennifer Owen - Bridesmaid
Andrea Haulton - Bridesmaid
Blair Owen - Bridesmaid
(Junior Bridesmaid) Niece of the Bride
Hailey Owen - Bridesmaid
(Junior Bridesmaid) Niece of the Bride
Blakely Elder - Flower Girl
Robert Hancock, Jr. - Best Man
Brandon Enoch - Groomsman
Joshua Keller - Groomsman
(Junior Groomsman) Son of the Couple
Travis Keller - Groomsman
(Junior Groomsman) Son of the Couple
Aiden Markham - Ring Bearer
Other Events
Rehearsal Dinner
Friday, August 4, 2017
6:00 PM
Staunton River Estates- The Hunt Residence
1235 River View Dr. Nathalie, VA 24577
The Wedding Party will gather for some run-throughs to prepare for the wedding ceremony. Dinner will be served following the rehearsal (Details to follow).