The Wedding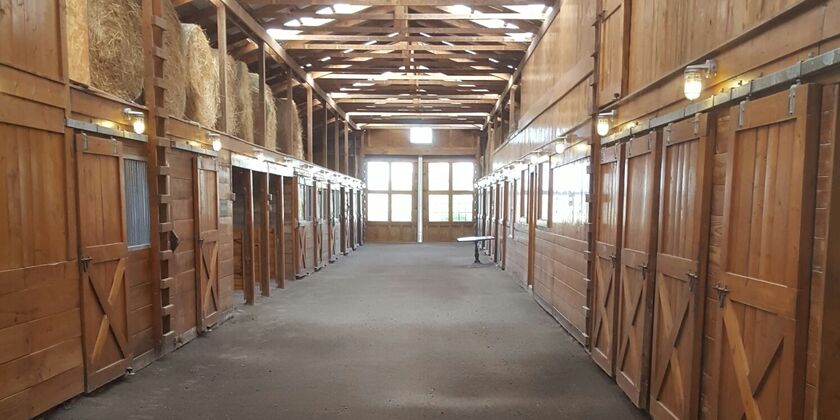 Saturday, July 7, 2018
Attire: Cocktail Attire
Ceremony and Reception
Hermitage Hill Farm and Stables
375 Madrid Rd, Waynesboro, VA 22980, USA
Wedding Party
Mo - Maid of Honor
Mo and I met in July of 1999. Maybe it was our bad taste in fashion at that age, love of the outdoors or our bond over all things chocolate - we quickly became inseparable. From 5th grade through college and even now... I've always been able to count on Mo to have my back, threaten any guy in my life and to be there with a bowl of ice cream when anything went wrong. From "co-house protector" to oreo truffle co-chef to maid-of-honor... I'm so excited to have her by my side.
Alyssa - Bridesmaid
My sister, Lyss, has known me the longest of all my bridesmaids and has been through so much with me. We've gone from singing (read: arguing) over each other on a cassette recorder to growing up and making up our own harmonies over our favorite songs. If you know Alyssa, you know she's passionate - about her family & friends, fitness, singing and helping kids lead healthier lives.
Kylie - Bridesmaid
I always say Kylie is my mini-me as she loved to copy me and follow me around when she was growing up. This was always a compliment & I'm so happy to have played even a small role in her journey to becoming an unbelievably awesome artist, lacrosse player and adult. While she's no longer my mini-me - she's stayed one of my best friends. This girl takes chill to a new level and if you're lucky enough to see her silly/wild side, she's a boatload of fun.
Aidan - Bridesmaid
Aidan may be the youngest LeBlanc girl, but she's by far the loudest - which may drive me crazy sometimes - but, I can always count on her for an honest opinion, a good laugh and to reliably answer her phone! Life with Aidan is never dull... she is full of energy, lights up every room she walks in & brings the party wherever she goes.
Stephanie - Bridesmaid
My hair twin, soul sister and also the girl who thought I hated her when we first met (because I was shy) - there are so many life experiences that wouldn't have been the same without Steph in them and college stories that would have been much more boring. Whether its a 4 hour convo, game of "jumbling towers" or frozen drinks while floating in a small 2ft pool - she is one of my favorite people!
Rachel - Bridesmaid
I really lucked out when my first college roommate got homesick after a week, and I got Rachel instead. Even though she scared the crap out of me coming home in full creepy cat facepaint one day - she quickly became one of my best friends over horse talk & more raw cookie dough than we probably should have eaten. Rach is one of those people who constantly radiates confidence & always makes those around her feel loved.
Marjorie - Bridesmaid
A free-spirit who is a blast to hang out with and a great friend who is always only a phone call away... Marj has been with me for so many college adventures, late night Gumby's runs, lemon pepper with a side of tilapia dinners, margarita & 99 bananas nights, shopping sprees and long heart to hearts. From doing zumba on a rooftop in the rain to singing together at one of her dad's shows - we have had so many great stories and laughs together :)
Shannon - Bridesmaid
Do you know those friends you meet, and you just suddenly bond over EVERYTHING in life & just get each other? That's how it was with Shannon. From our love, scratch that, OBSESSION with animals, appreciation for cooking/baking and great food, desire to constantly explore Richmond and our similar life goals / experiences (just to name a few)... we quickly became really close friends. Can't wait for so many more adventures with our pups, trips to lunch and supper for their brussel sprouts and to EVENTUALLY learn how to make your homemade pasta :)
Lauren - Bridesmaid
Lauren/La is probably the SASSIEST person I know, but also one of the most loyal and caring - someone who would drop everything to help you - and someone who has become like a sister to me. Whether we're crafting, playing bananagrams, at a brewery or giving the guys a hard time (most of the time) - I guess I have to thank Mitch for picking a good one :)
Bobby - Best Man
Since 2010, Bobby and I have been road trip partners in crime.....and yes, our trips have always involved a major sporting event. From San Antonio to Phoenix to Cincinnati (to name the most notorious ones) we've had some pretty unforgettable times. In fact I'm pretty sure it was on the Riverwalk in San Antonio when I decided that if I ever got married (and if we ever made it back to Richmond in one piece), he would be my right hand man on my big day. 
Ben - Groomsman
One of  five former roommates in the lineup, but the only one to have played Webster Hall in NYC. Golf pro, DJ and the only guy I know who WILL own everyone in both wedding parties on wedding day with his hair product game. He's easily the most generous of the Kidwell brothers and someone I've tried to be more like  as I've aged.
Tyler - Groomsman
Former roomie number 2, brother number 2 and supposedly taller than yours truly... not buying it. However the second golf pro in the group does have my number on the golf course... by a lot. If you're a dancer, this one is the one to beat with any dance-offs at the wedding. In all seriousness though, Tyler may be a smooth talker (watch out ladies), but, he's also one of the funniest dudes I know.
Michael - Groomsman
As the youngest of the Kidwell brothers, Michael has always done his best to keep up with us. He may not have caught up in the height department, but that hasn't stopped him from catching on to our sarcasm and jokes. While he may have "annoyed" us as our shadow when he was MUCH younger, I'm so proud of the man he has grown to be!
Brian - Groomsman
Since 2006, Brian and I have been engaged in never ending sports discussions which have spanned from the townhouses on Parkwood Avenue to the City Dogs patio and now to texts from the couches in our respective states.  While we may not be in the same city anymore, our friendship hasn't changed. While sports and WWE may be our primary topics - I can always count on Brian to be there when needed.
Kevin - Groomsman
A former roomie and neighbor, I met Kevin in 2009 when he moved across the street from me in Oregon Hill. Everyone has that friend that they can sit and drink beer on a patio or deck with, and never run out of stuff to talk about. For me that friend is definitely Kevin, and as a result he's been a very important part of several major moments in my life. Just a word of advice, don't send him to 7-11 when you're starving and need food fast. 
Kyle - Groomsman
Since 2010, Kyle and I have been jamming out to Brantley Gilbert around bonfires all over Richmond. When I first met Kyle I'm pretty sure he was introduced to me as the guy with "the pickup truck that only starts half the time." Ironically, that pickup truck and that guy helped me move into 2 different apartments, although some of the truckloads were a bit creative. Classic engineer, always finding a way to get it done when it looks impossible. 
Southall - Groomsman
I claim to have known Southall since June 2011. Southall claims to have known me since March of 2011. Since we're both rabid VCU fans, I have no doubt he was physically in San Antonio for the NCAA Tournament (like I was) in March of 2011. However, I have no pictures  to prove he was right, so I win. However I will admit that Southall was right when he convinced me to try online dating because I would never have met Lauren otherwise. Thanks for the pep talk bud.
Mitch - Groomsman
I've known Mitch since 2001, so he's the only non-brother in the group who knows what high school Reid was like and has been through most of the monumental moments of my life / grown-up with me. If you don't know Mitch, he has a secret talent - cat impressionist - I highly recommend you ask him to show you.  I can always count on Mitch for a laugh - with him or at him for something like picking up a possum instead of a cat.