Our Wedding
Sunday, August 9, 2015
4:30 PM
Attire: Semiformal - dress to impress
Ceremony and Reception
Whitehall Manor
18301 Whitehall Estate Lane, Bluemont, VA 20135, United States
We will be holding an outdoor ceremony, with an indoor (& air-conditioned!) cocktail hour and reception to follow. Bring your dancing shoes!
Wedding Party
Claire Fogarty - Maid of Honor
Lindsey Gillis - Bridesmaid
Marissa Kurtz - Bridesmaid
Jonathan Nguyen - Groomsman
Our Story
Our Story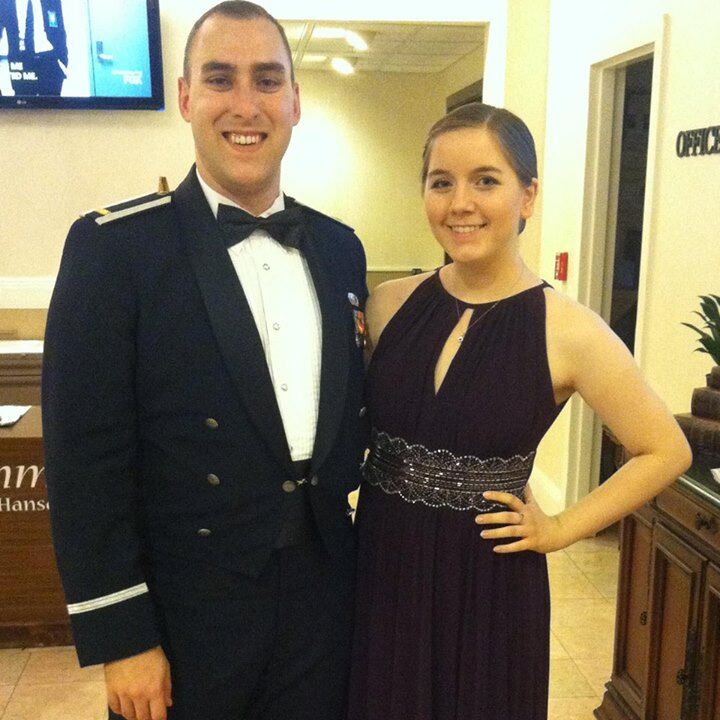 Our relationship has been highlighted by a series of coincidences. We worked at a summer camp together several years ago, and neither of us thought to delete each other from our Facebook friends list. In April 2011, our relationship began because of an out-of-the-blue Facebook message followed by a date at the Silver Diner in Arlington, Virginia for milkshakes and cheese fries. We were both at transition points in our lives, with Margaret getting ready to go to college and Ben heading off to Officer Training School with the Air Force. It seemed like we were headed in opposite directions, with Margaret's college in Norton, Massachusetts and Ben's training in Montgomery, Alabama, but finally, in October 2011, we ended up in the same state! Ben has been stationed at Hanscom Air Force Base in Bedford, Massachusetts for the past four years, which is a mere 45 minutes away from Wheaton College. We both like to say that the second we saw each other at the Silver Diner back in 2011 something clicked and we knew we had found the person we were meant to take life's journey with.
The Proposal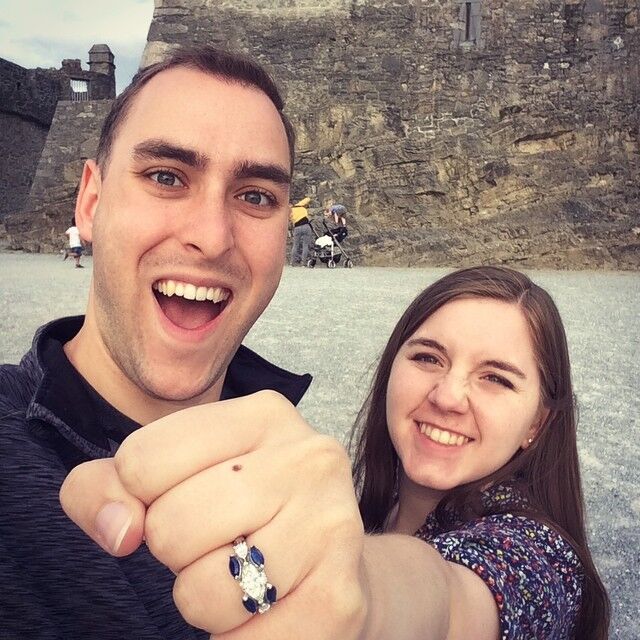 Cut to about 3 and a half years into our relationship, and we found ourselves spending the summer of 2014 apart, as Margaret had a two-month internship in Dublin, Ireland! Ben realized that he would never get a more perfect chance to propose to Margaret than during a visit to Margaret at the end of her internship. In February 2014, Ben began meeting with a jeweler to design an engagement ring that would be as unique and meaningful as their relationship had been. We in Dublin and spent the first four days road-tripping up the East Coast to Northern Ireland and then all the way around to Galway. Our adventure included more than one un-accounted-for castle stop, plenty of car dancing, raucous laughter and endless smiles. On the fifth day, we had scheduled a busy day consisting of a boat trip to the Aran Islands followed by a drive down the Cliffs of Moher and on to the Ring of Kerry. Running late for what Margaret thought were fancy dinner reservations, we proceeded up a long unpaved road on foot, over cattle gates and through the dust, to a secluded spot at the southern end of the Cliffs near Moher's Tower. There, at the edge of the Cliffs, 400 ft above the crashing waves at sunset, Ben asked Margaret to marry him.