The Wedding
Saturday, April 27, 2019
11:00 AM
Attire: wedding appropriate
Ceremony
Saint James Roman Catholic Church
184 S Finley Ave, Basking Ridge, NJ 07920
Reception
The Red Oak Grille at New Jersey National
579 Allen Rd, Basking Ridge, NJ 07920
Other Events
Post Wedding Kansas City, Kansas BBQ Bash
Sunday, May 26, 2019
1:00 PM
Old Shawnee Town
11501 W 57th St, Shawnee, KS 66203
Attire: casual
Our Story
The Title of the Story by Peggy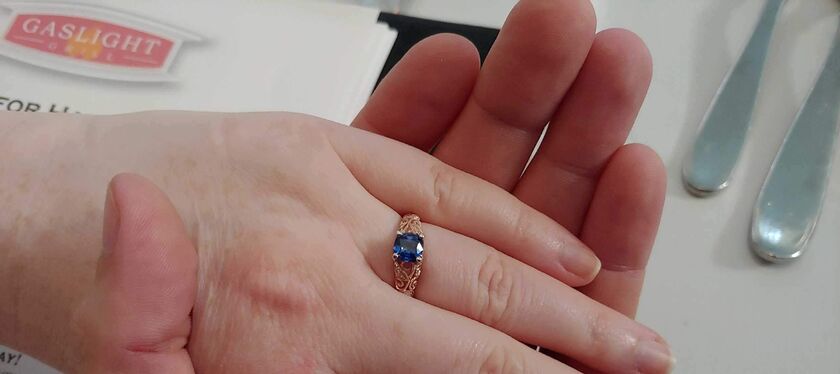 When people ask how we met, the short answer is "online." The next question is what
dating service we used and the next answer is Elder Scrolls Online. If you've not heard
of it, that's because it's a video game and not a dating service, although more than a few
couples have met on its servers. It's a social swords and sorcery type game that
promotes friendly interaction between players.
We met shortly before I joined the in game "guild" of Grilled Cheese and had been
talking about all matters game related with a mutual friend. (Thanks, Darryl.) After
joining the guild, of which Adam is the guild master (which sounds a lot fancier than it
is), we talked almost every day. Romance was not on either of our radars, especially
since we lived half a continent apart.
However, it soon became apparent that we "clicked." Adam later confirmed the same,
but I found myself hoping he'd be online every time I got on the game, sometimes
getting on simply because I saw that he was as well. By Christmas we both realized that
there was more there than just a simple friendship. (Thanks, Darryl.) By March I was
flying out to meet Adam and his family. By May we were officially engaged, though we
had basically planned on it since my first visit. 
As for the romantic engagement story, Adam one day says, "let's get married", and I
said "okay." And then one day he gets home early from work and said, "let's go ring
shopping," and I said "okay." And now we're getting married!