Meet the Bride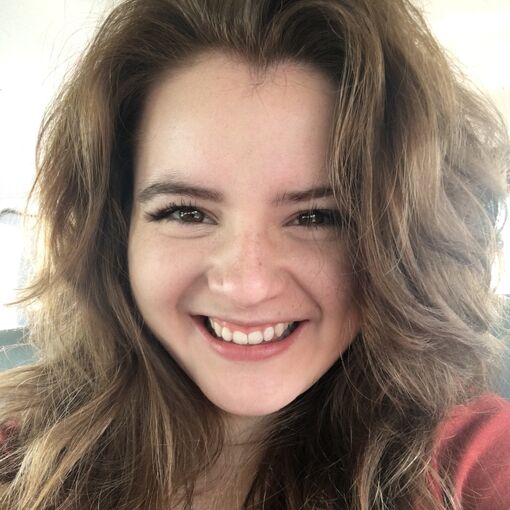 Melody Ann Williamson
Melody is the oldest of three sisters born to Kevin and Debbie Williamson. She was raised in Nashville, TN on love and music. She is aptly named, as she's the lead singer and fiddler for her family's band, Williamson Branch. Melody has a passion for combining beautiful art with the logistics of production. When she met Geoffrey, she wasn't interested in him at first, but as their friendship blossomed, it became clear that he was someone worth pursuing. Melody is most excited about God's plan to work through her and Geoffrey as a couple. She knows the Lord will combine their gifts of servanthood and kindness to minister to people in all stages of life. Melody's favorite things about Geoffrey are his blue eyes and his swing dance moves.
Meet the Groom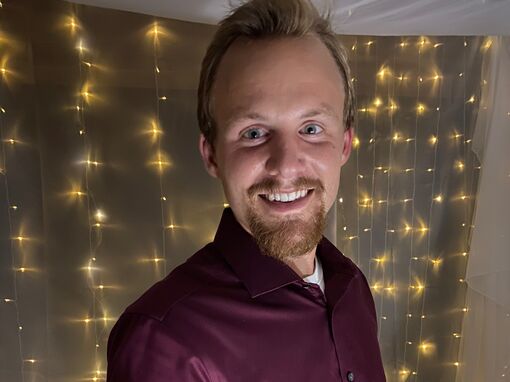 Geoffrey David Keyes
Geoffrey was born in the hills North Carolina 35 minutes prior to his twin sister, Katie, to David and Karen Keyes. Geoffrey grew up working at Christian camps, learning to ride bikes, shoot guns, hike, run a proper kitchen, and enjoy a mountain sunrise. These days you'll often find him running sound for the best of the best in bluegrass, telling some singer at church to stand closer to the mic, or maybe fixing someone's roof. Geoffrey's family lovingly refers to him as "The Cruise Director" because the only thing he's more passionate about than a level floor, is organizing family outings and events. To know him, is to know the selfless love of the Lord. Geoffrey is excited about gaining a built in dance partner and co-host for dinner parties. His favorite things about Melody are her voice and her heart - from day 1 she has been his "lovely."
How our fairytale began...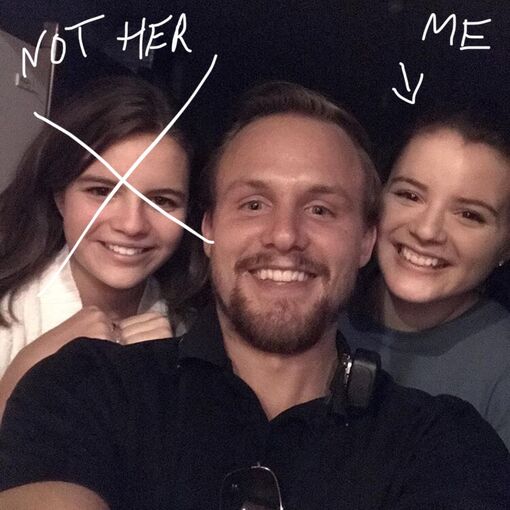 Once upon a time there was a bluegrass festival in Denton, North Carolina, where a debonair sound engineer met a beautiful young fiddler.

First Date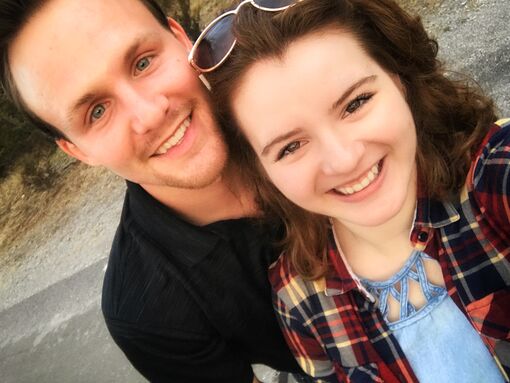 6 months later they went on their first date. They went to a restaurant in Nashville and took a walk in a nearby National Park. Melody wore brand new shoes; they gave her blisters. To relieve her heels, Geoffrey carried them and Melody walked barefoot. She's been walking on air ever since.

Our first year
Hey everybody, Mel here. Let me tell you a bit about year 1! Our first year of dating was so joyful! We took lots of hikes, went to dinner at some pretty cool restaurants, (our favorite was Sembuca's in Nashville!), made two music videos, helped with two weddings, had a big mud fight in the backyard, did a Robin Hood/Maid Marion themed photoshoot, and celebrated Christmas seeing the lights at Opryland Hotel! One of the most special things we did was spend New Year's Eve swing dancing together.
Our second year
Geoffrey here with year two. Our Second year was full of work, traveling, friends, good food, and lots of love. We got to start off our second year together in Texas doing shows and having a photo shoot. As the year went on, we started to really learn who we are as a couple. Beautiful views, hiking trails, theatre shows, cooking dinner, changing tires, beach trips, shooting guns, and working shows together encompassed much of our time. One thing we truly love about us is that our smiles and laughter come easily when we are together. We enjoyed capitalizing on this in our second full year together. 
Our 2020!
The past few months of 2020 have been crazy for us, just like they have been for many. But what blessings we have seen! We got to spend the week with the Williamson family (+Anthony the banjo player) at Daytona Beach, host some pretty tasty dinner parties, do a photoshoot with Kadence and Caroline, dance in the rain with Mel's best friend, Lydia, spend quality time with our nieces, and take Kadence axe throwing. Then, on August the thirteenth, we hiked up a mountain to see a waterfall. That was our last date as boyfriend and girlfriend.
The Proposal!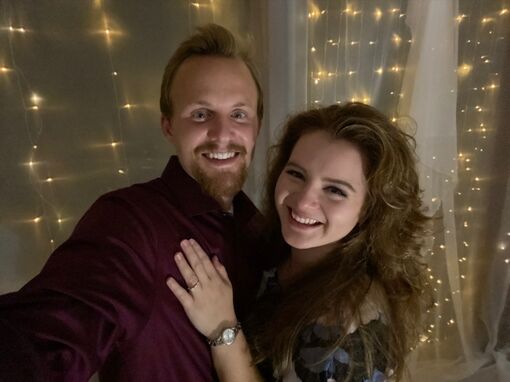 August 13, 2020
Everybody keeps saying, "wow, he went all out..." but if you knew him, you'd know he showers me in overwhelming blessing all the time. Everybody keeps saying, "such a production!" but if you knew him, you'd know he wouldn't have it any other way. Everybody keeps saying, "he must love you so much..." and to that I say, "Yes! You're exactly right." Geoffrey surprised me by taking me to a gazebo that he had decorated in curtains, lights, and candles. The whole thing was breathtaking. We ate dinner inside and we danced. After dessert (cheesecake, yum!) he got down on one knee and asked me to marry him, and I said....

"YES, I WILL MARRY YOU!"
After that I just giggled for like three days.
And that is how our story begins.