Our Story
There and Back Again: A Malagasy Marriage Tale by Tarzan and Jane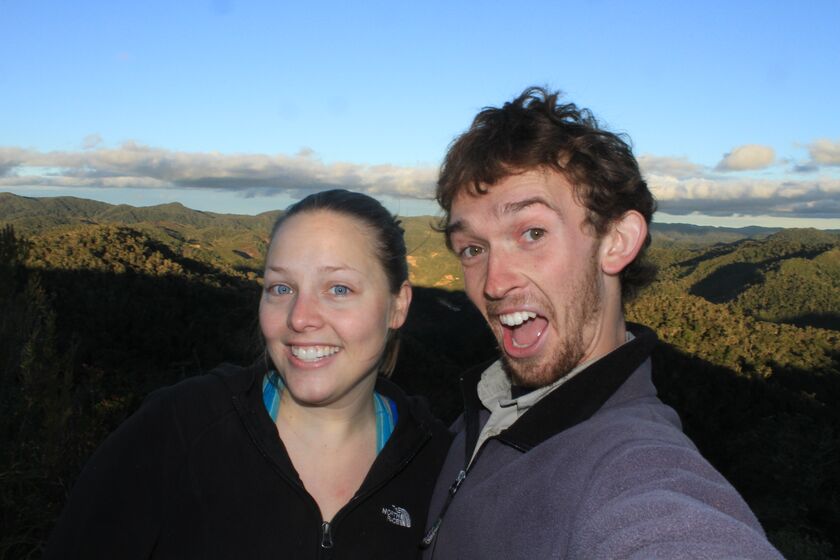 Most people wait till the altar to commit "for better or for worse." We just jumped straight to worse. We met in Madagascar, where every good romance begins. Two months of living in the jungle with a bunch of Malagasy who knew little to no English meant we got to learn a lot about one another in a very short period of time. Some days were rough, as Meredith came out of the forest soaking wet and cold, or Brandon emerged with a new onslaught of leeches. But we always enjoyed our times by the fire together, visiting nearby waterfalls, and harrowing journeys to the top of cell phone mountain to reconnect with our families and friends abroad.
Brandon had to leave Meredith alone in the forest when he was done with his research and wondered how Meredith would do on her own. Several months passed, and finally Meredith emerged from the rainforest and returned to civilization. Brandon seized the chance to Skype Meredith from her new luxury camping experience in South Africa, where we were able to move beyond a professional relationship and perhaps into something a bit more.
When Meredith finally returned home, Brandon moved to Virginia to begin his PhD, a mere 3 hours from Meredith's house. A plan was hatched, and we went on our first date to the Whitewater Center in Charlotte, NC. Meredith nearly died on several accounts (mountain bike crash, falling out of the raft, and facing her mother's wrath after losing one of her shoes...), but we pulled through together. Brandon ran off to Madagascar again, and Meredith plunged into the Amazon, but once again, technology kept us together from remote corners of the earth.

The next year, Meredith also began her PhD in Virginia, and the days of long distance dating were coming to an end. After dating for over a year (otherwise, what would we tell our kids?), we ventured to another waterfall together in beautiful Giles County, Virginia. Brandon got down on one knee and asked for Meredith's hand in marriage. After an awkward pause, she finally consented under the one condition that Brandon had asked for her dad's blessing. Having foreseen this obstacle, Brandon showed her photographic proof of that fateful meeting, and the rest is history!
We are so excited to be sharing this special day with you all as we come together to paint a picture of Christ's love and sacrifice for his Church. We hope that you'll join us in celebrating together!
The Wedding
Sunday, May 14, 2017
4:00 PM
Attire: Garden Party to Semi-Formal Attire
Ceremony and Reception
Whitegate Farm
352 Songbird Ln, Pearisburg, VA 24134, USA
Please use Google maps when navigating to the venue. Apple's Maps app will not take you to the right place!
Wedding Party
Madeline Keeley - Maid of Honor
First there was one, then there were two... my only child status quickly dissolved. Regardless of our rather cantankerous childhoods, I am so grateful to have a sister with whom I have shared nearly all of my life experiences. Madeline's optimism and effervescent nature make her a true joy to be around and I am beyond enthusiastic for Madeline (and my nephew, Greyson) to be an integral part of Brandon and my wedding day.
Anna Blake Keeley - Bridesmaid
Anna, my oldest cousin and future world-renowned writer, has been a integral part of my life since birth. Anna always said she wanted to write a book about my outlandish travels, but said I lacked arguably the most important component... romance. Now that Brandon has fulfilled that role, I am excited for Anna to begin her masterpiece and keep the party going all night long.
Ellen Keeley - Bridesmaid
Ellen, the youngest and arguably most normal cousin of the Keeley clan, has also been a significant person throughout my life. Regardless of the circumstance, Ellen has always been the voice of reason and most logical thinker of the four cousins. I am so glad to get to share this day with such a compassionate and thoughtful family member and friend!
Melissa Gargagliano - Bridesmaid
Melissa and I officially met sophomore year at Queens University where our relationship began with strong dislike but eventually morphed into a strong friendship. Brought together by our love of animals, we spent much time studying for animal behavior exams, catching ticks (and copperheads) for Melissa's senior thesis, being around wildlife, and road-tripping across the U.S. I am grateful for her honesty and loyalty, and cannot wait for her to be part of this special day.
Jessica Canavan - Bridesmaid
After meeting in 6th grade, Jessica and I became immediate friends and have continued that journey for the past 13 years. After bonding over our shared interest in knick-knacks, Asian food, eclectic music, and travel, we embarked on journeys through Turkey/Greece and have attended many concerts together. I am so grateful that we have maintained such a great friendship over the years and cannot wait for Jessica to celebrate with us!
Sierra Semel - Bridesmaid
Over the past year, it has been great getting to know Sierra, Brandon's younger sister. I couldn't be more delighted to be gaining a sister and I am grateful that Sierra can stand with me as I become a Semel!
Greyson - Ring Bearer
Greyson will be far and away the cutest (and potentially loudest) attendant at our wedding. At only fifteen months old, his role as ring bearer will likely be a humorous one, but we cannot wait for him to bring added excitement to our day.
Cameron Oswalt - Best Man
Cameron and I met at Duke freshman year where our friendship was about as volatile as our grades. He's always stuck by my side and spoken truth into my life with love when I needed it most, and I couldn't be more honored to have him by my side at the altar!
Chris D'Angelo - Groomsman
Chris was my Bible study leader for several years at Duke, but also put up with my uncouth behavior long enough to eventually count me among his friends. I have always appreciated Chris' wisdom and grace, and I am so excited to have him with us at our wedding!
Tim Lin - Groomsman
After meeting Tim our freshman year at Duke, our relationship took off after a summer of singing Disney songs under the hot, Senegalese sun. Tim has always been a reliable and caring friend, and I am so grateful for his willingness to fly in from California to celebrate with us!
Matthew Morrison - Groomsman
Matthew and I first became friends as neighbors in kindergarten, and he quickly replaced me as my mom's favorite son. Matthew has been like family for as long as I can remember, and I'm so happy that he'll be there to celebrate with us in May!
Minh Nguyen - Groomsman
Minh was the first person to celebrate my birthday at Duke, and the only person I have ever known to study flashcards on the edge of the Grand Canyon. I am always impressed by his intentionality in our friendship amidst the chaos of med school, and I'm so thankful that he will be able to be in our wedding!
Marshall Schaeffer - Groomsman
Marshall and I were the nerds in middle school, and high school, and then he graduated into a class unto his own ;) I have always admired his strong faith and the depths of his caring and thought, and I am so thankful that he will be joining in our marriage celebration!