Our Story
How We Met and Started Dating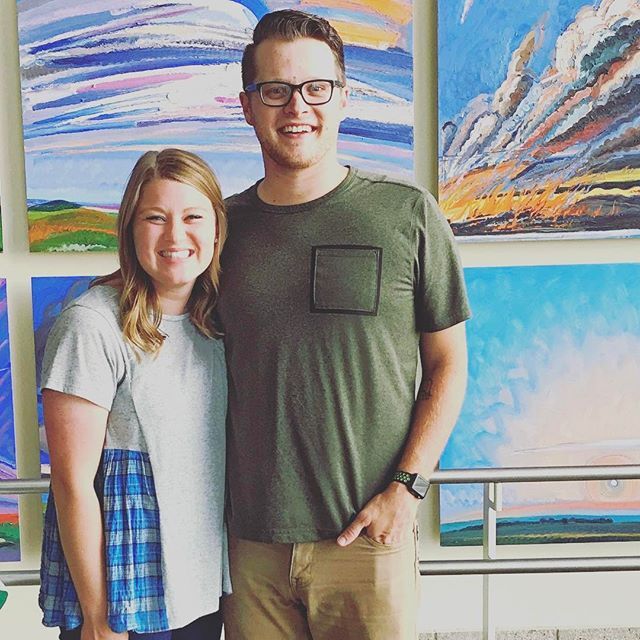 Thad and I have known each other since the 6th grade. We were in the same grade all through high school and graduated together from Owasso High School. We were kind of friends in high school and ran around with the same group of people. We knew each other, but not well. I think we even had some classes together all throughout high school, but we didn't even know it because we weren't interested in each other during that time of our lives.
Thad went off to college at Oklahoma City University and I went to the University of Arkansas. During college, we both found ourselves working at Kanakuk Kamps in 2013. We worked at different camps, but ran into each other in Branson, MO where the camps are located. We spent some time together at All Staff Day for Kanakuk, and then went our separate ways. The only way we really kept in touch was through social media.
After college, Thad moved to Memphis to be a youth pastor and I went to the Kanakuk Institute. After the Institute, I felt a pull to move back to Tulsa. After a year and a half in Memphis, Thad felt the same pull that he needed to move back to Tulsa as well. Obviously the Lord was trying to get us in the same city again!
In October of 2016, I got a text from my aunt asking me about a guy named Thad Ernst. He was applying for a youth pastor position at her church and she knew he was an Owasso guy. I told her that I knew him, that he was a great guy, and would be an awesome youth pastor. In December I saw on Facebook that Thad got the job at my aunt and uncle's church. I thought, wow, what a coincidence! So I knew that Thad was back in Tulsa, but never did much to try to reach out to him. In April 2017, I went to an Owasso High School baseball game to watch my little brothers play. Thad happened to be at the same game watching a student in his youth group. I saw him, but he didn't see me and I wasn't planning on being the first to say hi! At the end of the game, I felt a pull (hello, God!) to call out his name as he was walking by. He stopped and we spent some time catching up. We hadn't seen each other in years! Thad told me that we should hang out soon, and I was thinking, "Yeah that would be fun, but he's just saying that to be nice." We went home and an hour later I had a text from Thad asking me to get coffee with him on Monday! So on Monday after work, we met up for coffee. We both went into it thinking we were just going to hang out and be friends because we both were in Tulsa again. We spent hours together and it was so fun! We both walked away from that hang out thinking, "Wow, there was something different about that." We spent the whole next week texting and talking on the phone. The next week, Thad asked me to go on a date with him. We went to a Tulsa Drillers baseball game. Thad was so intentional in conversation and his relationship with the Lord was evident in everything that he did. That night, I began to fall in love with Thad Ernst. A few weeks later, Thad officially asked me to be his girlfriend.
We both knew very early on that we were meant to be together. Falling in love with Thad was the easiest and best decision I have ever made. We went to a Tim McGraw and Faith Hill concert (picture above) and afterwards is when Thad and I said "I love you" for the first time.
God is so good and has been faithful and present every step of our relationship. We give Him all the glory! Who knew that two kids from Owasso, Oklahoma, who have known each other for half their lives, would meet again and fall in love?!
The Proposal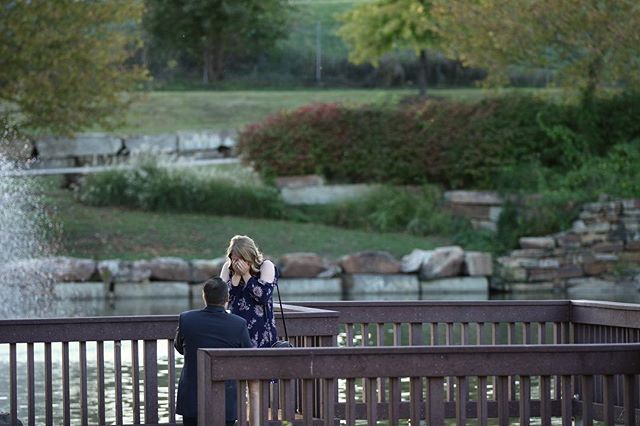 Meredith:
Over this past fall break, Thad and I planned to take a trip to Dallas. We wanted to get away and go do something fun together. We spent the next few days together in the car traveling all over the place. It was the best trip ever! When we got back on Saturday, I already knew that on Sunday we were planning on going to a nice dinner in downtown Tulsa to celebrate 6 months of dating. Sunday night rolls around, and Thad comes to my house to pick me up. We get in the car and a little bit into our drive he tells me that he got the reservation wrong. We didn't have to be at the restaurant until later, so we decided to walk around in Centennial Park downtown. We get out of the car, and are walking around in this beautiful park with the most amazing views of downtown. It was so normal and casual and I had NO idea what was about to happen in the next 5 minutes. We get over to this really pretty dock area right by a pond, and Thad guides me over to this spot on the dock. This is about the time when he got fidgety and completely switched topics on me. I asked him, "Why are you being so weird?" Then after saying so many sweet things, Thad was on one knee said something like this "You said you wanted to live a life full of adventures, you are my greatest adventure. Will you marry me?" WHAT?! I was completely surprised as you can see in the picture above. Of course I said YES!
Moments after Thad proposed, he told me that there was a photographer right behind us. We spent the next little bit reliving that moment over and over again, and taking pictures together. We got back in the car and I asked Thad, "What do we do now? Are we going to actually eat? Do I need to call my parents?" He said, "Trust me." We drive for a little while and end up at my grandma's house where there was a beautiful engagement party planned with all of our friends and family. It was perfect!
We are still on cloud nine and thanking God for His perfect timing in bringing us together forever!!
Thad:
The road to the proposal started long before the Fall break trip to Dallas. In fact I knew that I wanted to marry Meredith about 3-4 weeks into dating her. At the time I was doing about 40 miles a week on my bike, and I used that time to pray a lot. I knew I was completely smitten with her and falling so far in love with who she was and who God had made her to be. I just asked God multiple times, Am I supposed to marry this woman? One day in May, God just said "Yes, this is what you are supposed to do." At that point, I was so excited that I sped home to process what had occurred. I began to plan my next moves but I knew that I had to take my time with this process. So in September, I asked her parents to dinner and they agreed to it. At the dinner, we had a great time and then I asked for their blessing. It was a little nerve wracking but why would it be easy, she is their daughter and they completely adore her. They said yes that they would be glad if I would ask their daughter to marry me. I was so excited I think I floated all the way home. A few weeks later I picked up the ring that I would ask her to marry me with. I met with our awesome photographer that day as well and we had planned it all the way out of where and when it would all go down. But I still had 9 days before the Proposal. I got home and texted one of her best friends that I was going to ask on October 22nd. I asked if she could take Mere to get her nails done as they do often. I was going out of town to scout out our summer High School Mission Trip on Sunday, I told her that Mere would have no excuse not to go. So they went and got their nails done a week before I proposed. Then as Mere mentioned, we went to Dallas and had a complete blast. I told her we would go out to a nice dinner to celebrate 6 months as we would both be gone the next two weekends. I said I'll pick you up at 5:30, knowing full well I did not have reservations. We got a little ways from her house, far enough that we could not go back, and I said that I had misread the dinner reservations and we would have some time to kill. Then if you read Meredith's part you know what happened next.
I am so thankful to have fallen in love with the woman of my dreams. Two kids who have known each other longer than they haven't, falling in love in their hometown of Tulsa. Yes, it sounds like a fairytale. But only the Lord could have authored this one and I am just glad I got to play a lead role in this love story.
The Wedding
Saturday, July 14, 2018
6:00 PM
Ceremony
First United Methodist Church
1115 South Boulder Ave W, Tulsa, OK 74119, USA
Reception
The Bond
608 E 3rd St, Tulsa, OK 74120, USA
Wedding Party
Jessie Washington - Bridesmaid
Childhood friend
Molly Hightower - Bridesmaid
Friend from the Kanakuk Institute and current roommate
Bailey Thompson - Maid of Honor
Sister
Claire Parker - Bridesmaid
Friend from Kanakuk K7
Taylor Randle - Bridesmaid
Friend from Kanakuk K7 and the University of Arkansas
Lindsay Schoolcraft - Bridesmaid
Childhood best friend, college roommate
Matt Ernst - Best Man
Brother
Ryan Tuttle - Groomsman
Childhood friend
Connor Coney - Groomsman
Friend from First United Methodist Church Tulsa
Travis Huddleston - Groomsman
Fraternity brother from Oklahoma City University
Andrew Norton - Groomsman
Friend from Kanakuk
Jordan Pierce - Groomsman
College roommate and fraternity brother