The Story Of Us
How We Met
Have you ever used social media for dating? Probably so.
That's how we met. On a little app called Tinder. And we are not ashamed. It was July 2016. We can't remember the details of how Tinder works, but apparently one of us swiped right which meant we were a "match." A "match" just simply opens two people up for conversation through the app. We exchanged messages back and forth and after a few weeks we finally took the step to meet for a real date. Not just cocktails or coffee, but a full-fledged date.
We had planned on meeting at Seviche on Bardstown Road in the Highlands for dinner. The date we initially set, Nick cancelled the day before because of a major pimple that just wasn't going away. Christopher graciously rescheduled.
Fast forward to our rescheduled date at Seviche. It was about a week later. When we saw each other, Christopher seemed nervous. Nick did the majority of the talking. Thank God Christopher wasn't turned off by that.
Since then, we were almost inseparable, which had us driving back and forth from Lexington and Louisville; and endless texting and calling each other.
We officially made our relationship exclusive in October 2016. We moved in together February of 2018, now here we are today and we couldn't be happier.
The Proposal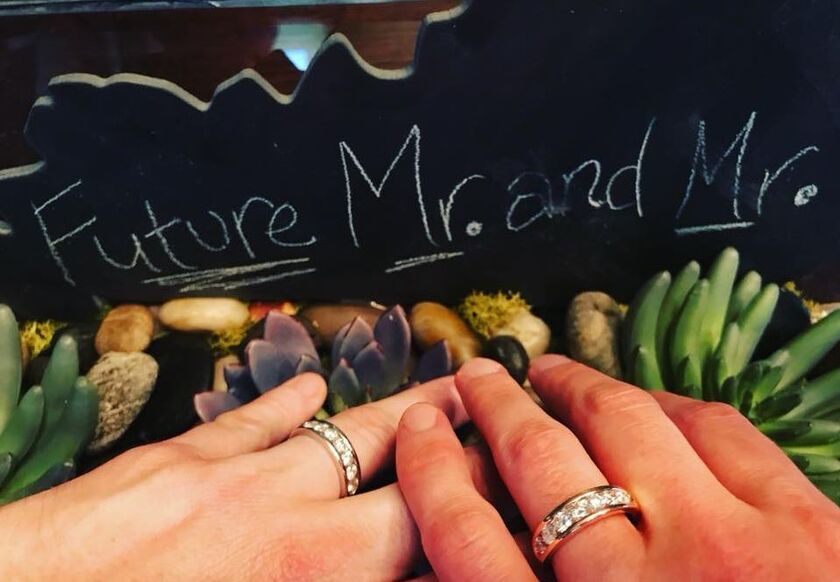 The Wedding
Saturday, October 12, 2019
Attire: Formal attire
Ceremony and Reception
Hazelnut Farm
816 Eastwood Fisherville Road, Fisherville, KY, USA
Wedding Party
Diana Tidal Hayes - Best Woman
Diana has been a longstanding friend of Nicholas' since 2007. Their bond is like no other. Stupid humor wins in this friendship and what keeps them strong. Diana gives the best advice and is the most loyal friend out there.
Tim Chadwell - Best Man
Tim and Nicholas go way back. It's hard to believe they've been friends for 14 years. Through thick and thin, they are there for each other no matter the circumstance. They will still be friends yelling at each other when they're old & grey.
Sara Clark Klein - Groomswoman
Many people say Nicholas and older sister, Sara, look just alike. She is a super mom (the best one you'll ever see), and is what inspires Nicholas the most. She is always there when you need her, and will drop everything at a moment's notice.
Kris Alvey - Groomsman
Nicholas and Kris share a mutual love for all things pop music - specifically his love for Mariah Carey and Nicholas' love for Jennifer Lopez. Nicholas has known Kris the longest (2003), and many a mix CD's come along with that. Most of them still in our CD player.
Allison Pitman - Groomswoman
Allison and Nicholas hit it off the moment they first met. Allison's infectious laugh combined with Nicholas' silly nature, this friendship was always meant to be. The two have been there for each other through multiple hardships, yet they always come out laughing at the end.
Elizabeth Murphy - Groomswoman
Actually, Elizabeth and Nicholas have known each other the longest - since preschool. Growing up together they were close, but it wasn't until after college and their 10 year high school reunion, did they become the best-est of friends. They also have a mutual love for red wine.
Megan Gardner - Groomswoman
Nicholas and Megan first became friends at their old job at the advertising agency in 2007. Anyone with stupid humor, Nicholas loves - and that's a natural gift of Megan's. Megan is an amazing mom to three kids and is a tough cookie when it comes to life's ups and downs. She also is always itching for a night out on the town (when time allows) to dance to a "good bass beat."
Lou Ann Thompson - Groomswoman
Nicholas and Lou Ann first met in 2014 when Nicholas started his job with Norton Healthcare. Lou Ann came into his office with a smiling face and a warm welcome. Within a very short period of time, they became so close. She thinks she's too old to be in Nicholas' wedding, but as much as Nicholas cherishes her friendship, he wouldn't take "no" for an answer.
Aaron Payne - Groomsman
You'll see him first on the dance floor when Whitney Houston comes on. Aaron and Nicholas met through Best Woman, Diana. What drew Nicholas closest to Aaron was his kind nature and lover of all things laughter. He is the best of the best.
Cameron Klein - Junior Groomsman / Ring Bearer
Cameron is Nicholas' nephew and godson. Nicholas and Christopher love spending every moment with Cameron. He is the happiest boy you'll ever meet...seriously. Always a smiling, laughing face, and Nicholas couldn't be more proud and blessed to have him as part of the family.
Collins Klein - Flower Girl
She's 4 years old going on 21 years old - Collins is Nicholas' oldest niece. Collins is super outgoing and loves being the center of attention. She also loves being a big sister to Clark, and best friends with brother, Cameron. Nicholas and Christopher love time spent with Collins, and her big hugs.
Clark Klein - Flower Girl
She's just two years old, but is coming out of her shell more and more each day. Clark is Nicholas' youngest niece. She has the prettiest blonde curls and an infectious smile that will make you melt. She idolizes her big sister, Collins and big brother, Cameron, and wants to play with the big kids all the time.
Leslie McKinney - Best Woman
Leslie is Christopher's sister. She has been there with him during all the highs and lows of childhood and even into adulthood as a confidant and friend. They share a strong relationship between siblings with an unbreakable bond.
Erica Cecil - Best Woman
Christopher and Erica met spontaneously 8 years ago. Erica is Christopher's best friend; sharing many laughable moments, good & bad times, and many countless nicknames. These two embrace their quirkiness and love experiencing life together.
Jason Stouse - Groomsman
Christopher met Jason through Mark. How to describe Jason - The male Marie Kondo. How these two managed to survive living together for a year still remains a mystery. Jason is extremely talented, a lot of fun and has a laugh that can fill any room.....literally (bring your ear plugs!) JK.
Jena Gerard - Groomswoman
Christopher and Jena met over a decade ago. Jena is a girl on the go with chic style and an eye for details. Jena has really come through for Christopher especially this past year and he knows his poodle (that's right another friend with a nickname) is always there when he needs her to be.
Gus Parks - Groomsman
Christopher and Gus have been friends for eight great years. Post-College buddies, former roommates and life long friends who are determined to take on the world with one corny set of nicknames at a time.
Kasey Hollenbach - Groomswoman
Kasey and Christopher met through Nicholas. These two had an intsant connection; this unexpected and dynamic duo have been inseparable since Christopher moved to Louisville.
Mark Chandler - Groomsman
Mark and Christopher first met in college. They have shared many experiences through college life into their adulthood; from roommates to coworkers, countless roadtrips, late nights and many unexpected adventures along the way - - these two have done it all.
Lee Tudor - Groomsman - In Memoriam
Christopher's brother Lee passed in January 2018. A survivor of Non-Hodgkin's Lymphoma, a Nursing School Graduate (furthering his education with a speciality in pediatric oncology), and someone who lived, loved and cherished the smallest moments life offered. Christopher could not imagine this day without celebrating the life and legacy of Lee.