Wedding Planning During a Pandemic
While we wish we could celebrate with all of our family and friends, we must make the decision to keep our wedding celebration to 10 guests or fewer. We look forward to being able to celebrate with you in person when it is safe to do so! We'll be doing a shared, hopefully live video of the ceremony, so you can still celebrate with us in your hearts.
❤❤
Please reach out to one of us directly for our mailing address if you would like it.
Becca's Proposal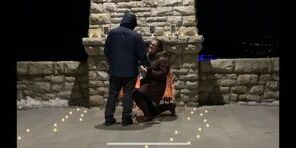 That's right, I asked and he said yes!
It was the beginning of 2020 when I knew I wanted to ask, but was unsure of the details. A co-worker told me she was getting married on Leap Day, February 29th, so that's when the date stood out to me as a potential day to propose. I began my research on the date and found some incredible information! In Finland, where Steve's history comes from, it is good luck to be proposed to on Leap Day, and in Ireland, where my ancestors are from, it is tradition for the woman to propose to her man on Leap Day. Boom, I had my date picked. Now... how to do it?
I recruited assistance from Steve's friends, Joe and Nikki, and my friends, Colleen, Pam and Rob. Lots of back and forth messages ensued to find the absolute best way to propose.
The week of Valentine's Day, Steve said something to me like "Did we discuss a budget for Valentine's Day? Cause I got you something small, but it won't be here until the week after." At this point, I had ordered a ring to propose with, but completely forgot about Valentine's Day! However, it worked out perfectly. I asked if we could celebrate our love on a later date, because I want to go out to eat but not on a busy night and he said "of course!" We agreed the last Saturday in February could be our date night for dinner and to exchange gifts. I asked that he put it in his calendar and not make any other plans for that day and that I would take care of the details.
Fast forward to Saturday, February 29th, 2020. I had family in town that day for a concert we would all be attending later that evening. It was a busy day buzzing around town before heading home to get ready for date night.
I took Steve out to dinner at Pogreba. I gave him the small gift I had bought to throw him off if he had any suspicions. After dinner, I asked if we could drive up to Grandad's Bluff to walk out to and enjoy our date night a little longer before we go out and meet up with our friends and family who were already at the concert. It wasn't cold in temperature, but it was very windy, so I said "let's just walk out there quick and take a picture."
As we walked up to the shelter in the park, Steve noticed some LED candles set up and immediately said "This wasn't me. I didn't do this." I asked him to just come and take a look at it with me but he was hesitant saying someone was going to get proposed to so we shouldn't interfere... what if they are walking up right now?! 😂
I pulled him into the shelter. The candles lit a path to a fireplace with a fire going. The mantle had picture frames set up on it with more candles and music was playing. I took a letter i had written out of my pocket and began to read. Steve mentioned not realizing what was going on until about halfway through my letter. He at that moment realized that it was us in the pictures! I finished reading my letter, took the ring out of my coat pocket, got down on one knee, and asked him to marry me. Oh yeah, and he said yes!
Our friends, Pam and Rob, had assisted me in getting the shelter set up and recorded the whole thing for us! After, we called our parents to let them know, then headed down to the concert to tell my family and all the friends we encountered! I hadn't planned on everybody being at the show that night. It was a great ending to the evening ❤