Our Story
How we met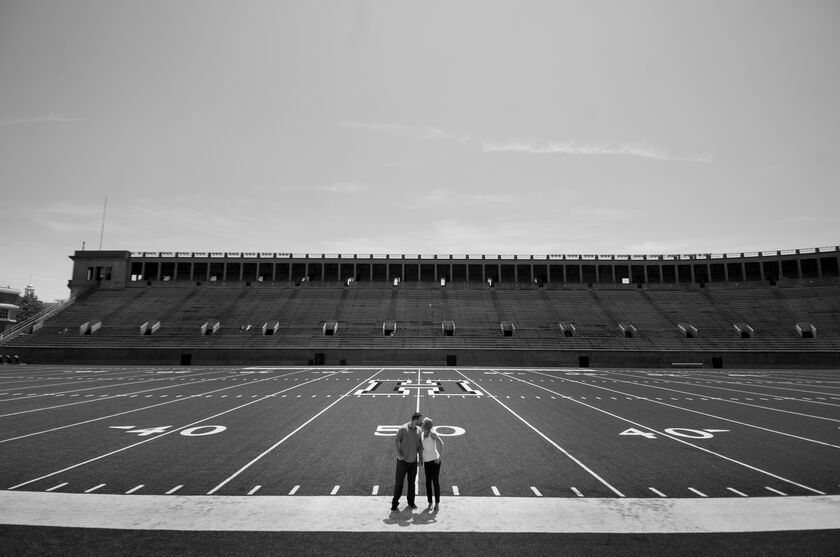 Ashley and I first met at Harvard. We don't remember but we could have easily met three years before we started dating. Ashley was a senior my freshman year, and we had similar friends. She hung out with the senior offensive lineman, and I with the freshman offensive lineman. There were many nights that we both swear to have been in the same Mather room at a party, or one of the infamous O-Line - Ice Hockey mixers. But I guess we missed each other so we could meet for the first time 2 years later.
I was working the penalty box at the women's ice hockey senior night, and Ashley was back to see her former teammates play in their last home game. Our friends introduced us after the game, but it was only after a shot of Jack Daniels that we realized there was something there. We both never imagined finding someone with so much in common. It took us two years to meet, but it only took us one night to see the potential.
Fast-forward two years, we were back at the Harvard hockey rink. I figured there was no better place than where we first met to ask Ashley to marry me. After all, if it wasn't for Harvard we would have never met! She said yes, and we haven't looked back!
The Wedding
Saturday, June 25, 2016
6:30 PM
Attire: Formal
Ceremony and Reception
Water's Edge Resort & Spa
1525 Boston Post Road, Westbrook, CT 06498, United States
Saturday, June 25, 2016
Ceremony- 6:30 PM
Cocktail Hour- 7:00 PM
Reception- 8:00 PM
Both the ceremony and the reception will be held at Water's Edge Resort.
Other Events
Sunday Morning Brunch!
Sunday, June 26, 2016
9:00 AM
Water's Edge Resort & Spa
1525 Boston Post Road, Westbrook, CT 06498, United States
9:00-11:00 - Please join the Bride and Groom with their families for a farewell brunch in the Grand Ballroom at Water's Edge
Wedding Party
Jennifer Wheeler - Maid of Honor
Kyle Bounty - Bridesmaid
Bride (and grooms) roommate and brides best friend from highschool
Anna Marchard - Bridesmaid
Best Friend of the bride since 5 yrs old, practically the other sister
Lauren Brozowski - Bridesmaid
Best friend of the bride since learning to play hockey together at 6 years old.
Kate Buesser aka Pants - Bridesmaid
College roommate and teammate of the bride
Erika Wheeler - Bridesmaid
First Cousin to the Bride
Nicholas Easton - Best Man
Teammate, roommate, and bestfriend - the reason I passed calculus freshman year
Jake Dombrowski - Groomsman
Teammate and friend who will always be MY punter
Austin Scheufele - Groomsman
Teammate, roommate and friend; the one with the leather jacket
Eric Baars - Groomsman
teammate and honoary roommate: aka The Freak
Brian Wheeler - Groomsman
Brother of the bride and the groom: the one who didn't play football
David Lore - Groomsman
High school friend and teammate: the one who does crazy stuff with satellites for the Air Force