Our Story
How we met...
David and Kaia first met each other playing soccer in Indianapolis. Kaia noticed this really handsome man with blue eyes that was subbing on her team, and her first words (always known for being PC!) to David were, "Are you bald by choice?" Unfortunately the team got destroyed 7-0 that night... so no first dates were arranged. Thankfully their paths crossed again, largely in part due to soccer teammate Emily (who has known David since they were little tykes). Their first date was Pizzology. Of course David was punctual, cleanly shaven, sharply dressed, and had appetizers on the table waiting for Kaia... who was fashionably late on her bicycle, in flip flops, coming from a wilderness medicine lecture. When she tripped into the restaurant, all was forgiven, and the rest, as they say, is history.
Proposal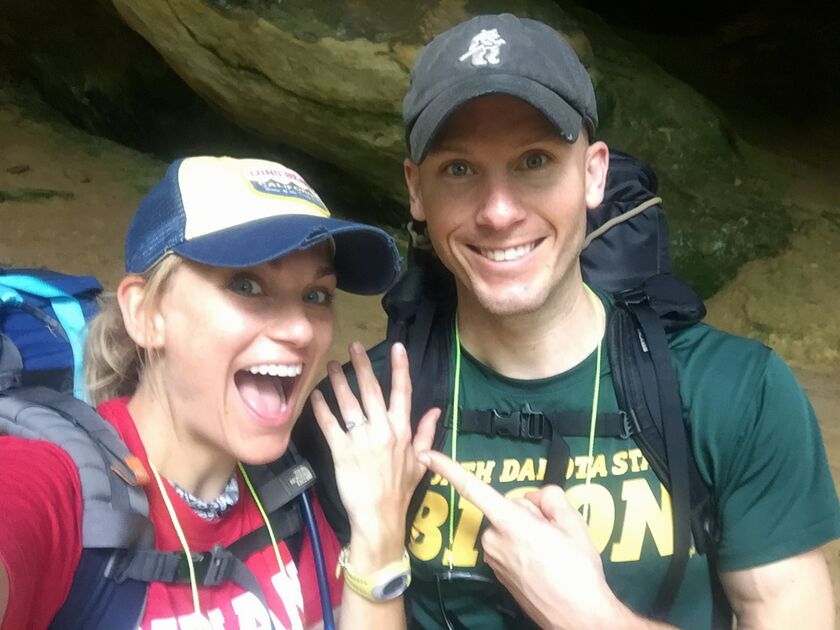 David and Kaia backpacked the Cumberland Gap region along the Kentucky/Virginia border for one of their few weekends off together in 2016. The weather forecast was 80% chance of severe thunderstorms... but hey, adventure. They went paddle-boarding all day and had a "quick" 3.5 mile hike to their campsite. Mislabeled maps might have tacked on another 3 miles, but gave David a good excuse to wake Kaia up at 5:30AM the next morning for a sunrise hike. Thankfully that morning was perfect weather with sun popping out over cloud covered hills (cliché and romantic!). Kaia was taking "nature" photos, and when she turned around, David was down on one knee. He grabbed her hand so she wouldn't back off the cliff before she said YES!
The Parental "Meet Cute"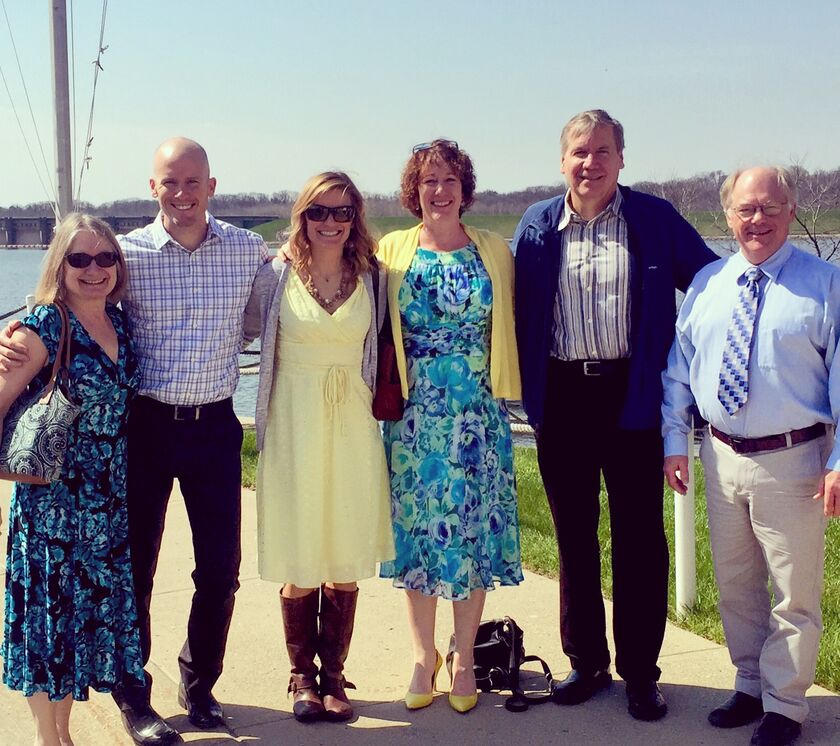 Our parents finally met each other a year and a half into our relationship. We feel fortunate that we have TWO families who are incredibly loving, supportive, and unintentionally matchy =).
The Wedding

Saturday, August 26, 2017
5:00 PM
Attire: Flats or boat shoes recommended!
Ceremony and Reception
Mustard Seed Gardens
77 Metsker Lane Noblesville, IN 46062
Other Events
Welcome Reception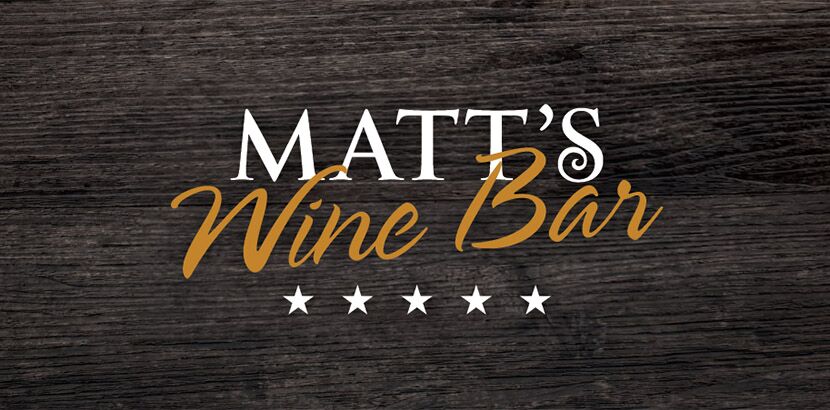 Friday, August 25, 2017
7:00 PM
Matt The Miller's Wine Bar
11 City Center Dr, Carmel, IN 46032, USA
We invite anyone coming into town early to join us after our rehearsal dinner for a drink or two. Let's share some great stories, catch up, and meet both sides of the guest list!

Wedding Party
Isolde Stringham - Maid of Honor
Kaia met Izz while teaching snowboarding in Colorado. Izz serves as Kaia's "big sister" and is always a phone call away... once changing her family phone plan for all of Kaia's long distance calls. Izz was a major factor in convincing Kaia to stick out medical school instead of moving back to the mountains, too. Kaia is a "sister wife" of the Stringham clan (husband Lars and daughters Nicola & Brynn) and is usually camped out in their spare room when visiting Colorado.
Laurie Thomas - Maid of Honor
Kaia met Laurie during her days at St. Olaf College; both were sprinters on the track team. They've spent many days studying psychology, drinking coffee at Blue Mondays, and hanging at the "track house." They've shared many conversations over glasses of wine and love "destination visits" to places like Maine and Utah. Laurie stuck around MN, got her law degree, and in her "free time" teaches yoga. It's no wonder a snowboarding doctor and yogi lawyer were made for each other.
Erica Kaldenberg - Bridesmaid
Erica and Kaia played club soccer together. Erica was responsible for bringing out Kaia's wacky, artistic side growing up. Both tied each other for "most varsity letters" in high school. While Kaia was attending medical school in Omaha, Erica was a day trip away getting her masters in special education at Iowa State. (Erica went on to become a doctor, too!) She is married to Bryan and has two kids, Henry and Johnny.
Amanda Klaman - Bridesmaid
Amanda and Kaia grew up just around the block from each other. Mrs. Wambolt (their third grade teacher) told them they'd be best friends... turns out, Mrs. Wambolt was right. Many summer days were spent at the pool (at Kaia's) or watching Disney movies (at Mander's). They also played club soccer together. Amanda now lives in Colorado with husband, Eric, and their two children, Zoe and Eve.
Kyra Reed - Bridesmaid
Kyra is known as "the other half of K2." Kyra and Kaia matched in the same 5 year residency program- Emergency Medicine and Pediatrics. They enjoy painting, hanging out, discussing life, dealing with all the "chief" duties in their last year of residency, and truly being the only person that understands what their residency is all about.
Will Tate - Man of Honor
David and Will grew up together in Indianapolis and have been best friends for over 25 years. From high school to undergrad at IU, bachelor life in Indy and Carmel, and soon to be a day trip away in Colorado, they have found a way to survive no matter how much trouble they get each other into. They continue to think that one day they will grow up and not act as immature together, but according to their siblings and significant others... that time still hasn't come.
Brian (Bartos) Johnson - Groomsman
David and Brian met in high school and then attended IU together. Their mutual love of being active forged their friendship on the basketball court, backyard football fields, and most recently in doing adventure races together. A new found mutual appreciation for strong IPAs continues to keep them busy but has proven a little counterproductive to their adventure race training.
Matt (Strick) Stricker - Groomsman
David and Matt met in the dorms at IU and lived together throughout their time in Bloomington. Matt was David's partner in crime for a lot of the nights they wish they could forget, but he was also instrumental in getting David to class those following mornings. Now David enjoys the summer tradition of visiting Matt in Cincinnati to watch the Cubs beat (and no hit) the Reds.
Jesse Pace - Groomsman
David and Jesse also met in the dorms at IU. After David got past the initial Floridian hippy impression of Jesse, they bonded over a love of competition and sports. David and Jesse have been there for each other through the emotional roller coasters of watching their beloved Hoosiers, Colts, Pacers, and European soccer teams. Now David enjoys being silly "Uncy Dave" to Jesse's two adorable daughters.
Jack Hall - Groomsman
Jack is David's younger brother and has had to endure a lot of rough life lessons at the hand of his older brother (and too often David's friends/groomsmen too). Although Jack and the family moved out of state when David went off to college, Jack returned to Indianapolis for college and lived with David. David is proud of the fact that he hasn't corrupted Jack too much, as Jack is about to graduate from IUPUI and continue to chase his passion of motorsports.