Our Story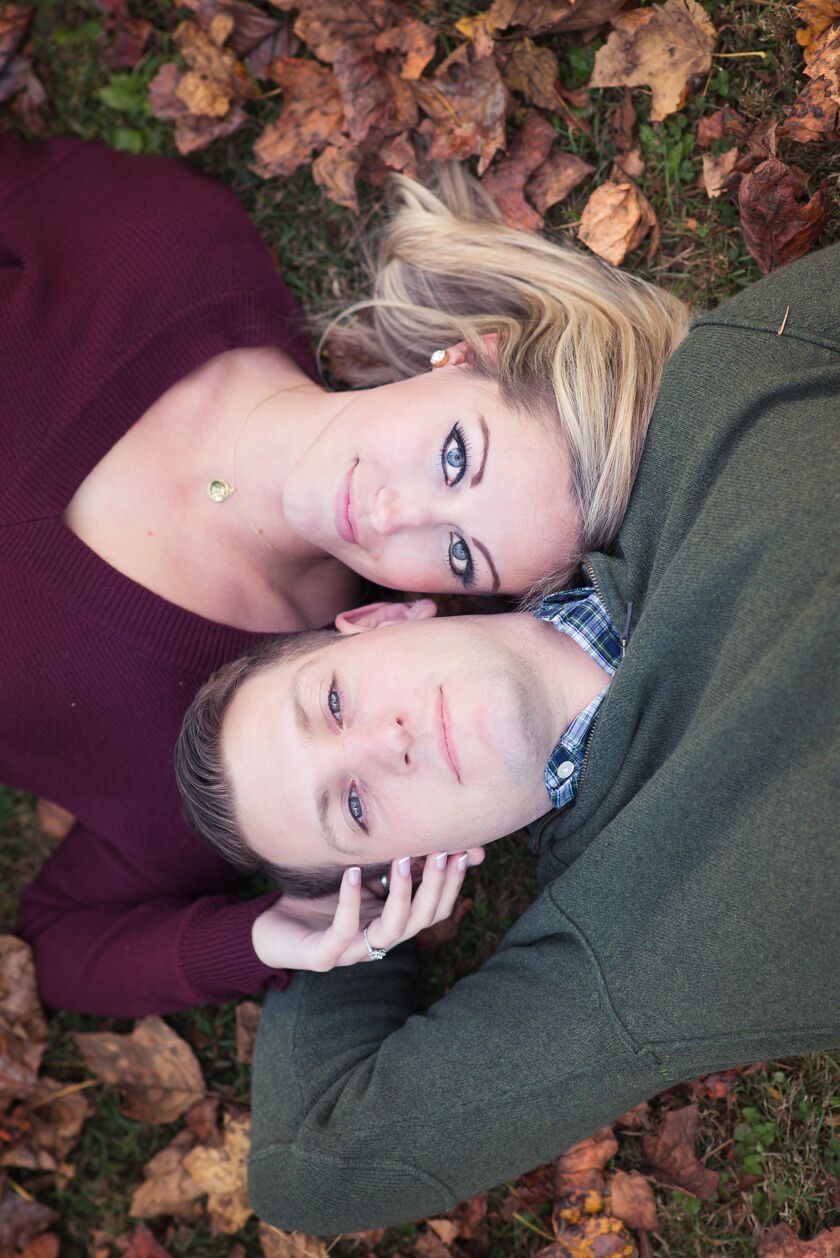 Stories: we all spend our lives telling them; about this, about that, about people. But some: some stories are so good; we wish they would never end. They are so gripping where we will go without sleep just to see a little bit more. Some stories bring us laughter, and sometimes they bring us tears. But isn't that what a great story does? It makes you feel.
The story of Jon and Jess is one of those stories that it is still being written. If you ask Jon, it was love at first sight. Jon was working at an Annapolis based company for over a year. You know how it is; you get into a routine, you work hard, and not much changes day to day. Valentine's Day 2014 was different. Just after a huge snow storm, Jess came in to interview for a position on Jon's team. As she walked past him, it was as if time had stopped, throwing a curveball at his typical cubical work life. Jon must have walked by the interview 10 times just to get one glimpse, and each time his heart stopped.
A few weeks later, the two became colleagues. They kept to their professional life but couldn't resist the void that they could both fulfill in each other's lives. Jess realized the caring soul of Jon and accepted his invitation for a first date at the Severn Inn. Since their first date, they realized that they roll to the same beat; in dancing, in humor, in love, in drama, in motivation, and in life. Not long after their first date they were inseparable. Jon graciously accepted fatherhood to a sweet Monkey baby puppy boy and the three have been happy in love through life's challenges. The rest is currently being written.
Love stories have changed since when our grandparents were growing up. I wish I could tell you a story of meeting in a shoe shop and telling her "mark my word I'm going to marry you someday;" but that was our grandparents story. Our story has adversity, but always ends with love. How do you explain how people fall in love in the 21st century? Was it the moment we went to Boatyard Grill for drinks on a warm Friday night, the Pedi Cab through downtown Annapolis where I serenaded Jess with Frank Sinatra at the top of my lungs, or the endless time we've spent enjoying each other's company? The journey has been exhilarating and I'm excited about the waves life throws at us. Please join us for a Fairview Farm celebration where I get to marry the girl of my dreams.
-Jon Beard
The Proposal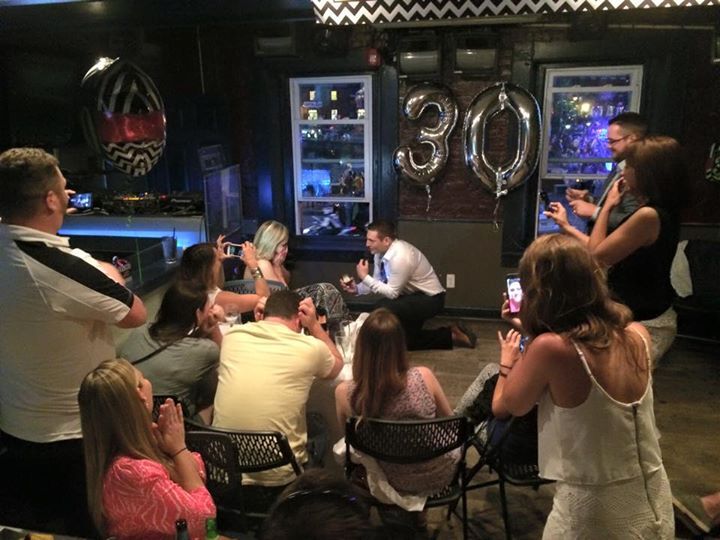 "You seem like a great guy, so if you are going to propose to my daughter, I will only support under two conditions: it needs to be epic, and I need to be there." -Kelly Shipler (Mother of the Bride aka Momma Kel)
That moment came on Saturday, April 18th, 2015 on a beautiful Maryland spring day. The crowds were shuffling into Dock Street Bar in Downtown Annapolis to celebrate Jon's 30th Birthday Party Roast. Jon's beautiful, sweet, loving, caring, good looking girlfriend; Jess, spent countless hours planning his epic dream party.
The party's agenda was designed in a comedy central roast format. If you are not familiar with what this is, it means Jon's closest peers and confidants would each take turns on stage to not only make fun of Jon, but to reveal his deepest darkest secrets. Eight of Jon's closest friends each took approximately 3-5 minutes sharing amusing stories, mistakes, flaws, and mishaps. When it was Jon's chance to ridicule everyone who just completely humiliated him, he instead had a different plan in mind. In front of family, friends, and Dock Street staff, he proposed to Jess and she said Yes.
I know what you're thinking... "that's pretty self-centered to throw your own roast and propose at your own event." Even though that may be the case, there is more to the story. In typical Beard fashion, Jon waited until 3 days before the event to decide it was the right day to propose. On Wednesday, April 15th (Jon and Jess' Anniversary of Dating), Jon did the scariest thing every man can do. He walked into a jewelry store. Jon felt as though the perfect way to say "Goodbye to his 20's" was to show family and friends he was ready for the lifelong commitment to Jess. On Thursday, he would go back to that store and pick out a ring. On Friday, he would make a quick "I'm in the neighborhood" stop at Jess's Dad's house to ask for his approval luckily just before he left for a vacation cruise. Jon then rushed back to the jewelry store the same night to purchase the ring.
Throughout this whole last minute planning Jon had to use the "I'm going to be home late" excuse to Jess. Jess was a bit confused, concerned, and upset. She was spending all this time & effort on planning his birthday celebration, that she felt he was being unappreciative & deceptive. After all, Jess knew Jon still hadn't worked on his rebuttal speech and that was the key to her executing the event! If there is one thing Jon can do in typical Beard fashion, it's writing a speech last minute. Little did Jess know she was actually planning her own engagement party and the key factor to execution was something she couldn't know about.
In closure, the night met all of Mother of the Bride's pre-requisites for a proposal to her daughter and only child, it was epic, and she was there.
-Jon Beard
The Wedding
Saturday, October 15, 2016
4:00 PM
Attire: Dressy Casual
Ceremony and Reception
Fairview Farm
2416 Rutland Road, Davidsonville, MD, United States
Our ceremony and reception will take place on the Beard Family Farm (Fairview Farm) in Davidsonville, MD. The only hard flooring will be the dance floor so please wear shoes for comfort and bring a cover up in case it gets chilly during the reception. Sunset is projected to happen at 6:26PM!
Other Events
Newlyweds Gone Renaissance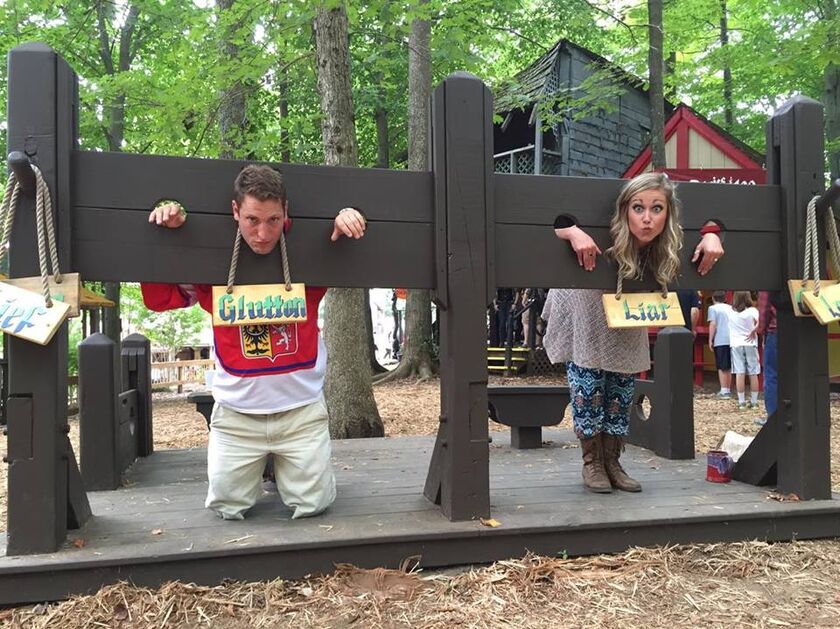 Sunday, October 16, 2016
10:00 AM
Maryland Renaissance Festival
1821 Crownsville Rd, Annapolis, MD 21401, USA
Please join us at the Maryland Renaissance Festival to celebrate the best way we know how! The Renn Fest is just 5 miles from the farm and our favorite Fall activity and it is the weekend of "Gourmet Feasting!"
Opening at 10AM. We plan to meet everyone at O'Shucks Pub at 12PM Noon. Huzzah!
Wedding Party
Christine Guenther - Maid of Honor
TEAM STACH
Career: 24 Seasons, Original Team Stach since 81', Team JayStach since 91'
Career Achievements: Caring for Kreature her Whole Life (Jess is the Kreature who lives to serve the Guenther's), Introducing Jess to Chocolatinis, Belly Piercings, Disney World, New York, California, Key Largo, and Drunken Pirate Ships. Can't forget Christine is the ultimate teacher to Jess's sophisticated Food & Wine palette.
Scouting Report: Marrying a Joey G, Cooking, Yoga Instructor ~Namaste~, Charades, Dancing, Mother of Baby Puppy Boys named Bronko and Jax, Jess's role model and hero
Kristin Henry - MOH on Deck
TEAM STACH
Career: 2 Seasons, Originally Team Beard until Stach came along in 14'.
Career Achievements: Annapolis Croquet Tournament All-Star Team 14' , Team Quad 14'-Present, Rebelution 14'.
Scouting Report: Peacekeeper of the StachBeard household, Yoga Instructor ~Namaste~, Wanderluster, Mother of a Sweet Baby Puppy Girl named Primrose, Lover of The Jetty.
Jess Thornton - Bridesmaid
TEAM BEARD GOES STACH
Career: 2 Seasons Team Stach, Team Beard since 82'.
Career Achievements: Only sibling of the groom, the original Jessica Lynn Beard, Top Beard Athlete, NCAA D1 Defender of the year, surfed massive waves in England, 2nd place 300 meter race 85' ( would have been first place but she declined to cross finish line)" , has traveled to every continent except Antarctica, Jon's best friend for thirty years.
Scouting Report: Balloon happiness spoiler, camera hogger, great dance moves, travel enthusiast, great mother to the Lukeness monster, solid coach, rainwater.
Rachel Cox - Bridesmaid
TEAM STACH
Career: 10 Seasons, Enemies of Rival High Schools in Soccer and Lacrosse, Drafted Team Stach 14'.
Career Achievements: Multi-Sport Athlete, Division 1 Stud, Expert Birthday Celebrator 14'&15'.
Scouting Report: Shopaholic, Tanning Bed Addict, Mother of Stella Baby Puppy Girl, True Lover of a Classic Cheeseburger, Perfect Manicure AT ALL TIMES.
Jami Meirick - Bridesmaid
TEAM STACH
Career: 11 Seasons, Drafted in 05'.
Career Achievements: Maintaining Friendship with Jess since 05', Only Friend from NHS Class of 09', New Years Eve in DC 11', Las Vegas 12'.
Scouting Report: Master at Eloquent Speech, Southern Charm, Minnesota Accent, Silent Killer, Voice of an Angel.
Carly Peltz - Bridesmaid
TEAM STACH
Career: 3 Seasons, Drafted in Spring 13' Alpha Xi Delta Towson University
Career Achievements: Rookie of the Year, Best Physique, Acquiring a taste for Beer before graduating college, Surviving her 19th Birthday, Final's Week Mentor Program 13'.
Scouting Report: Godmother to Monkey Baby Puppy Boy, Jess's Mini Me, CBF, Master of Online Make-Up Tutorials, The Real Thing Groupie.
Jessie Wayne - Bridesmaid
TEAM STACH
Career: 7 Seasons, Drafted in Fall 09' as Alpha Nu (AXiD Pledge Class) Ride or Die, Drafted in Spring 10' as Tower C Room 711 Roommate.
Career Achievements: Living with Jay Stach for 1.5 Years, Member of the JWayneJStach Legendary Dynasty, Tigerfest 10', Pike Formal MVP 10', PCB 11', Senior Bar Crawl 13'.
Scouting Report: Equally good and bad influence to Jess, Has enough dirt on Jess to bury her, Master of Frowny Faces, Legally Blind, Cat Lady, Captain and Coke, & Various skills too inappropriate to list.
Lindsay Sadtler - Bridesmaid
TEAM BEARD GOES STACH
Career: 2 Seasons Team Stach, 18 Seasons Team Beard.
Career Achievements: Homecoming 99', Preakness 07' , New Years 09'.
Scouting Report: Caregiver for Jon 98'-13', Spins around the dance floor like Brooke Burke, Photographer (Penny Lane Lifestyle Photography- Engagement Photos), Yoga Instructor ~Namaste~, #BEY.
Howard Beard - Best Man
TEAM BEARD
Career: 31+ Seasons, Created Team Beard in 84'.
Career Achievements: Fathered The Groom, Little League Sports Coach, Farm Coach, Numerous Thursday Basketball Wins, Taught Jon how to be a Gentleman.
Scouting Report: Great Coach, Great Farmer, Great Dad, Great Man.
Brian Gallagher - Groomsman
TEAM BEARD
Career: 28 seasons, Drafted in Preschool 88'.
Career Achievements: Getting stuck in quick sand with Jon when they were 4 and successfully pulled himself out after Jon ran away, Communicating with "Yonathan" when they were 3 and both couldn't talk, Ninja Turtle playground champion 89', Team Tropicana Orange Juice Soccer 4 v. 4 Finalists 99'
Scouting Report: Giant Head, Sega Genesis- Aladdin video game magic carpet ride specialist, Golf, waving arms dance move
Billy Sadtler - Groomsman
Team Beard
Career: 12 Seasons, Drafted at Essex Community College- 04'.
Career Achievements: Performed two man production of "Dear.." in Essex Theater class, Assisted in winning National Championship 04', Best "Single Ladies" Halloween costume 09'.
Scouting Report: Roastmaster, Humorous, Champion of the Dance Move The Worm, Doing the Splits, has a pair of pipes that can sing like a combination of Fergie and Adele
Sam Bowles - Groomsman
TEAM BEARD
Career: 25 Seasons, Drafted in Kindergarten 90'.
Career Achievements: Dominating Youth Sports: 2nd fastest mile in 5th grade, 2nd best batting average in coach pitch, Little league Soccer Champion, 5th Grade percussion duet, 99' SR HS Women's JV basketball Fan Club president.
Scouting Report: Phenomenal athlete, pretty funny guy.
Bruce Stachitas III - Groomsman
TEAM STACH GOES BEARD
Career: Team Beard for 2 Seasons, Team JayStach since 95'.
Career Achievements: Largest in size of Stach Siblings, Finding a way to live in an older Jess Sibling Shadow, Pushing Freshman Year of College until he's 21 like a Real Champ.
Scouting Report: Closet lover of Doritos & Pepsi, Lululemon Junkie, Hockey Legend, Second user of the username MouStach, Jess's Biggest Supporter.
Weston Beard - Groomsman
TEAM BEARD
Career: 26 Seasons, Drafted at University Of MD in 05', Former Opponent 01'-05'.
Career Achievements: Traveled through Europe in 11', Women's World Cup Championship 11' National Anthem TV Appearance, De-sleeved Englishmen, Kickball Champions.
Scouting Report: Personality, two stomp dance move, sleevemonster.
Will Dalton - Groomsman
TEAM BEARD
Career: 11 Seasons, Drafted at University Of MD in 05', Former Opponent 01'-05'.
Career Achievements: Bear- Rabbit middie line, Bear and Rabbit 21st birthday in College Park 06'.
Scouting Report: He is a gigantic Bear and Mythological beast, perogies, shotty/snipe.
Mike Klug - Groomsman
TEAM BEARD
Career: 20+ Seasons, Undercover Team Stach, Drafted at Central Middle School in 96', Became starter in 2001.
Career Achievements: Beard Basement 01-03', Bud-Ice Mountain 01'-03', capture the case 03', wonderful engagement roast 15', SR HS Athlete of the year 03'
Scouting Report: It's Chewie, "wawawawhat rrrr uuu doing"
Eamon Thornton - Officiant
Drew Stachitas - Grooms-Bearer
Luke Thornton - Ring Bearer
Sloan Sadtler - Flower Girl
Monkey Stach-Beard - Model Puppy Son