Our Story
A Chance Meeting
In 2014, Matt started a company that finds volunteers all over the world to teach people how to play board games. In late 2015, Matt was recruiting on a popular social network when he received a message from a certain young lady from Adairsville, Georgia, who had experience running games at Anime Weekend Atlanta. We started talking about the job at first, then the game industry, then our love of gaming, then our other hobbies... and eventually, everything else.
For Christmas that year, Matt got Victoria a plane ticket to come down for three days beginning with her birthday in February 2016. The anticipation nearly drove us both crazy!
When It's Right, You Just Know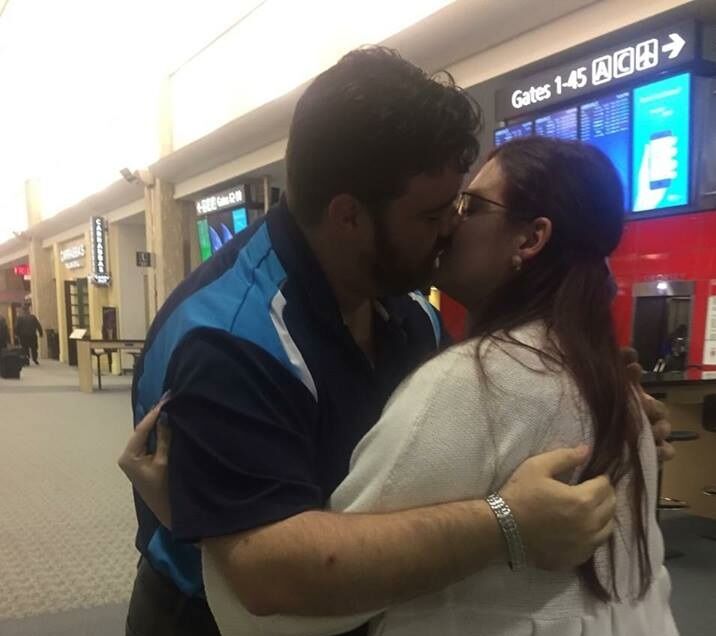 Victoria's flight was canceled - twice - and so some minor miracles needed to be done to get her down here at all. We ended up routing her through Tampa and Matt drove down from Orlando at 1AM to pick her up. Thanks to a nice lady we met in the terminal, we have something pretty rare for a couple -- a photo of our first kiss!
We stopped for a late dinner, but we were too excited to sleep, so we stayed up all night talking. We swung by Matt's work, where she drew a heart on the glass wall of his office that is still there today. We stayed up so late that we overslept on her birthday, and missed our reservations to the Be Our Guest restaurant at the Magic Kingdom! (We're going to make up that visit on our honeymoon, no worries!)
After a short day at Disney (the place was overrun with cheerleaders in town for an international championship and every ride had 90+ minute waits), we headed back to the house, watched movies and just enjoyed each other's company all day.
On Saturday, we invited Leia and her family over to Matt's house for dinner. (Matt is no fool and knew that winning over the best friend was pretty critical.) Matt grilled steaks, we played games, and had a fantastic night. As soon as Leia and Jerry's car pulled out of the driveway, we sat down on the couch and Victoria told Matt something he never expected -- she'd made up her mind. One way or the other, she was moving to Florida in a month to see how this relationship could work! (Matt guesses the steak was just that good.)
Sunday, we stopped off at a local mall for a bit, and Matt picked her up a stuffed dragon to keep her company until she could return to Florida. We went by Michael and John's place as well, so she could meet Matt's family. Despite some grumbling about her choice of NFL fandom, Michael and John were very impressed with her.
Monday, she flew home. There were tears. At least we knew it was short-term...
Operation Peach to Beach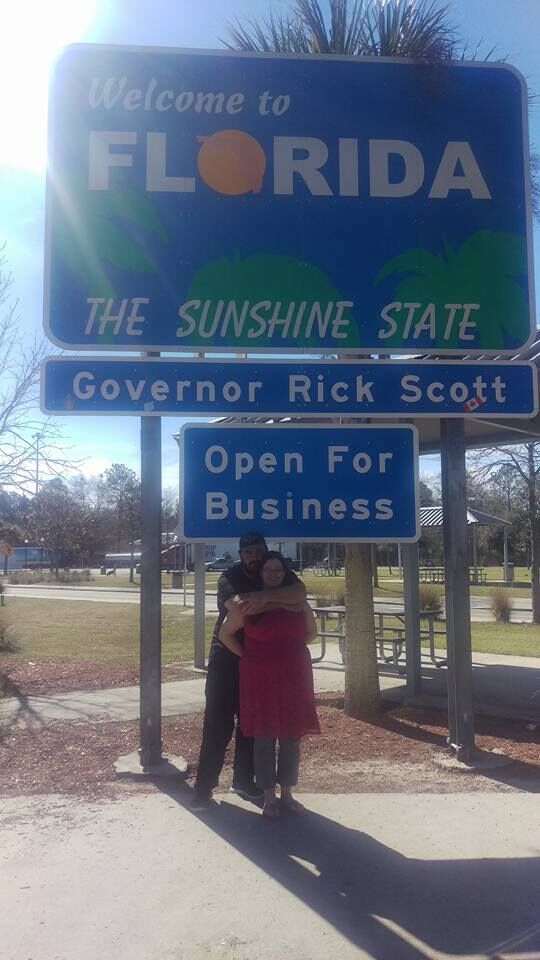 On March 6, 2016, Matt was on the interstate by 4:00AM and watched the sun rise from a rest stop on I-75. Traveling as fast as his Scion xB (dubbed "the Toaster") could carry him, he made it to Adairsville at just past 2 in the afternoon. There, he met Traci and Greg Conway, Victoria's aunt and uncle, and visited with them. Somehow, Matt defied physics and fit all of Victoria's belongings into that little car. We grabbed a bite to eat at a steak and rib joint (literally called Steak and Ribs) in Cartersville, hit up a Wal-Mart for some snacks, and crashed in a nearby Hampton Inn.
The next morning, Victoria became an official Floridian!
The First Five Months
The first five months of our relationship saw its share of struggle -- not between us, but due to exterior factors. Our elderly dog, Rain, had major surgery, Matt fell ill with complications of diabetes, and there was stress from all corners. Through that all, however, Victoria instantly became a rock of support for Matt in ways he never thought possible. There was never fighting. There was only loyalty, faith in one another, unending support and unconditional love. Both of us have had our share of relationships that didn't go the distance, and we knew a good thing when we saw it.
In early August 2016, we had a trip up to Indiana for work, and made a pit stop in Georgia to visit Greg and Traci. Unbeknownst to Victoria, Matt pulled each of them aside separately, made his intentions known, and formally asked for Victoria's hand -- a request which was enthusiastically approved.
Promise Kept, Promise Made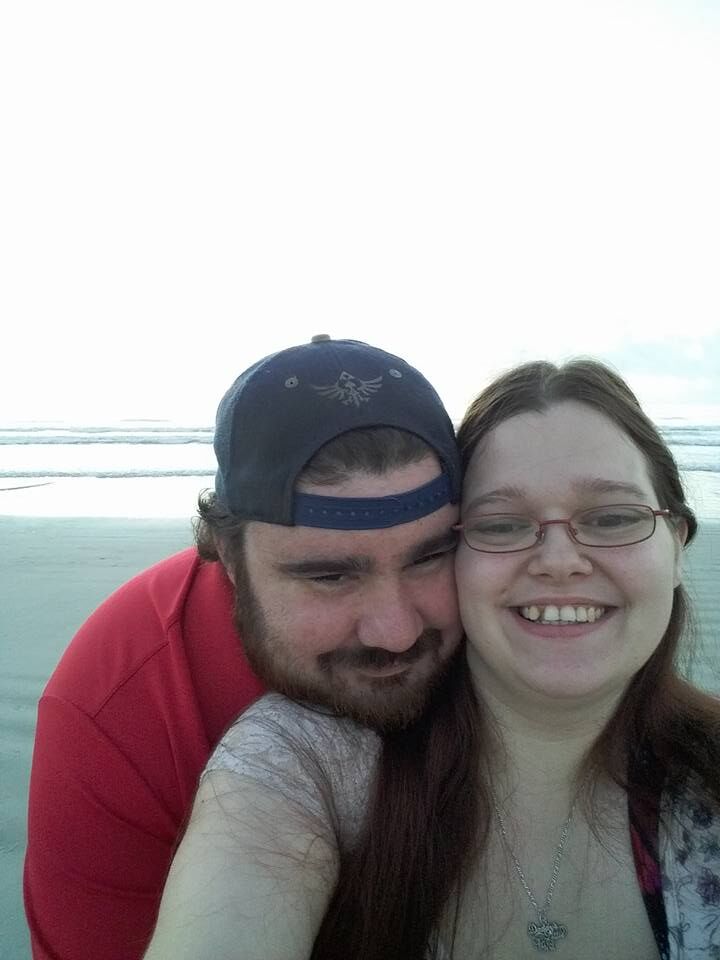 On August 15, 2016, Matt made good on a promise he'd made on Victoria's first visit -- that he would take her to a beach to see a sunrise. We woke up at 4:00AM and drove out to Cocoa Beach, near Patrick Air Force Base and Cape Canaveral, arriving just minutes before the sun broke the horizon.
Matt will freely admit he fumbled his words a bit, and it took Victoria a few minutes to realize what he was actually asking her -- but fortunately the sight of his grandmother's engagement ring in his hand, which she had tried on months before, cleared things up.
And just like that, another promise was made... one we can't wait to spend forever keeping.
Our Special Day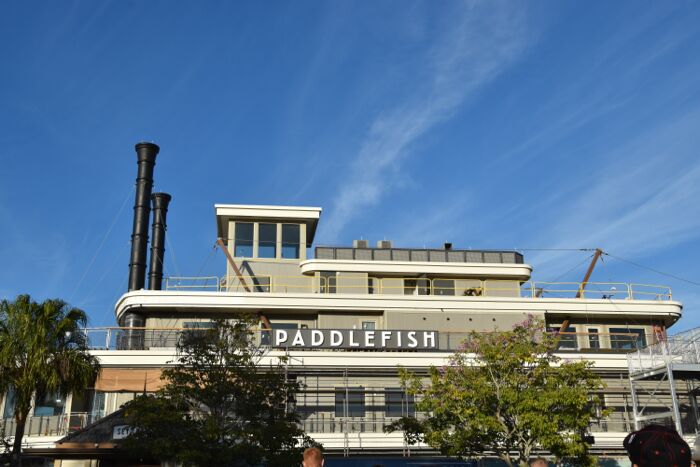 Saturday, November 11, 2017
1:00 PM
Attire: Dressy Casual
Ceremony and Reception
Paddlefish
1670 Buena Vista Dr, Orlando, FL 32830, USA
Please see the Event Details section for information on getting to the event.
Wedding Party
Michael McKinney - Best Man
Michael is Matt's big brother and the person who taught him everything good about being a man. He and his husband John just adopted four beautiful children whom we are proud to call our nieces and nephews.
Colin Davis - Groomsman
Colin has been Matt's closest friend for twenty years, and has been a part of every crazy idea Matt has ever had in one form or another. Colin resides in Massachusetts with his wife, Ashley.
Danny Lott - Groomsman
Lakeland-based Danny Lott is a board game designer, having just released his first title, Coma Ward, on Kickstarter. Danny and Matt met through Matt's work with the Indie Game Alliance and Matt, Danny and his wife Kari became fast friends.
Amanda Kenyon - Maid of Honor
Amanda is Victoria's cousin and might as well be her sister. Joined at the hip since infancy, the two grew up together in Georgia.
Leia Eller - Bridesmaid
Leia and Victoria have been close friends for many years, and our relationship owes her a lot -- she was Victoria's designated safety net here in Orlando on Victoria's first visit. Fortunately, Matt turned out not to be an axe murderer, and all was well! Leia lives in Georgia with her husband Jerry and their daughter, Emily.
Kristen Sherer - Bridesmaid
Kristen and Victoria met in the marching band in high school and have been friends ever since. She resides in Georgia with her husband, Chris.