Wedding Venue
Paddlefish
Our wedding is taking place on the third deck (the Bow Room, to be precise) of Paddlefish, a restaurant built on a steamboat docked in Lake Buena Vista in the heart of Disney Springs. Disney Springs is a free area -- there is no Disney park pass required to get in. We'll be including a Disney Springs map in every invitation to help guests find the Paddlefish -- but seriously, it's a big white boat in a big lake, next to a giant dragon made out of Legos. ;)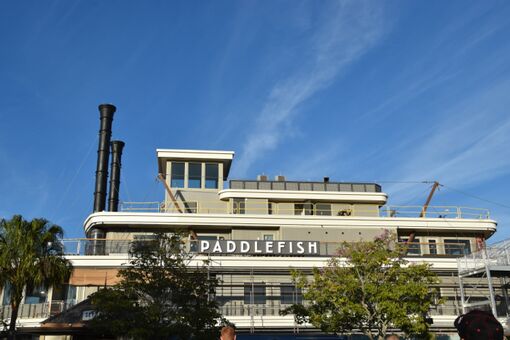 Parking
Disney Springs is easily accessible from exit 67 on Interstate 4. Parking is free. There are ample surface parking lots as well as two parking garages - Orange and Lime. Any of these options will get you where you need to go, but the Lime Garage is by far the closest parking. Both garages have a bridge to Disney Springs on the second floor.
If you'd prefer not to drive, most of the hotels on the Disney strip (International Drive) offer shuttles to Disney Springs. Of course, Lyft and Uber are options as well.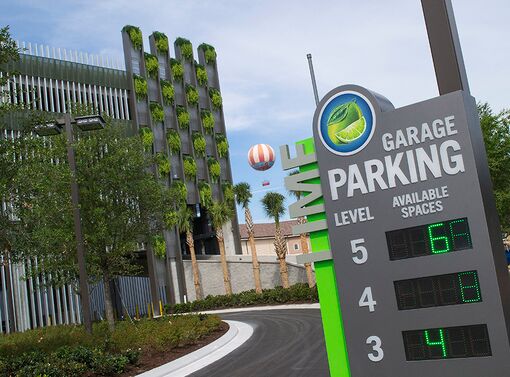 Getting To the Venue
From the Lime Garage bridge, you'll want to take the stairs down to the ground level. Hang a right at the fountain, next to the Polite Pig. Walk until you see the Levi Store on your right, and turn left there. It's the first left you can take -- if you pass the T-Rex Cafe, you're going the right way. Once you see the T-Rex Cafe, look straight ahead and the Paddlefish boat will be clearly visible. Of course, any Disney cast member will be happy to help you find the Paddlefish if you need a hand.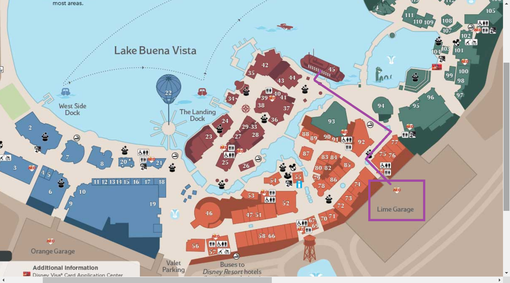 Food Options
Food
As this is an early afternoon wedding, we've opted to go with a selection of hors d'oeuvres. The following will be available:
* The Burger - Pickles, red onion, pimento cheese, brioche slider
* Chicken Skewers - Preserved lemon vinaigrette
* Spinach & Artichoke Tartlets- Gruyere, leeks, goat cheese
* Roasted Corn Elote - sweet Florida corn, fresh lime juice, chili lime salt, cotija cheese
* Tomato Caprese Skewers-Teardrop tomato, bocconcini, basil, balsamic glaze
* Seasonal fruit display
* Domestic cheese display

Beverages
Water, tea, and Coke products are available. We are not serving alcohol at the event, but there is a bar inside the restaurant if you would like to get something.
Cake
Our wedding cake is a strawberry champagne cake with buttercream frosting. Our groom's cake is a sugar free chocolate cake with chocolate frosting.
Getting and Staying Here
Ride Sharing
In the interest of reducing the financial stress of celebrating our wedding on our family and friends, we ask that anyone able to offer a ride to a fellow guest from the Atlanta metro area please contact Victoria. We've also found that MegaBus has pretty affordable rates from Atlanta to Orlando and back.
Hotels
We've not had much success booking a large hotel block due to financial concerns. However, we used a wedding planning thing which gave us some pretty significant event discounts on lots of hotels around the Disney Springs area. You can view the discounts and book one here.
Additional Guests
Due to limited space on the ship, we are unfortunately unable to extend this invitation beyond those named, including children. We hope that the parents among our families and friends view this as an opportunity to enjoy an adult day and celebrate with us.
Gifts
First and foremost, we understand that money is tight for everyone. Your presence at our special day will be present enough -- especially considering how many of our guests will need to travel from Georgia and elsewhere to attend.
Our home is already established, and bursting at the seams. We're really dreaming of a fantastic weekend at Disney to set down our work and spend some quality time together to begin the great adventure of our lives. Should you wish to celebrate our new family with a gift, we'd greatly appreciate a contribution to this magical beginning in lieu of a more traditional gift.
For those who would prefer something for us to unwrap, we have also created a minimal registry at Amazon.com -- and of course, we love to be surprised as well!
Our Vendors
Venue & Food
Ceremony Officiant
Photography & Videography
Wedding Cake
Groom's Cake
Florals
Oviedo Florist Flowers & Gifts

Bridal Hair & Beauty
Menswear
Wedding Website
Stay Up to Date
To help our guests stay abreast of developments as we plan our special day - admittedly on very short notice - we've created a Facebook group located at https://www.facebook.com/groups/holdenhardmanwedding. We encourage all guests to join to get real-time updates for important wedding details. We promise we won't blow up your feed with a zillion pictures of cats. Just half a zillion. (Sorry, Victoria's cat Prince Caspian is *really* cute.)