How We Met
Ryan and Shannon met in the most romantic way; Tinder. For those of you unfamiliar with Tinder, it's an app that allows you to connect with people close to you by creating a profile based off their Facebook. Once both people have noted they are interested in each other, the app allows you to message one another. Ryan, a junior at UMD, had used the app before and had gone on dates with a couple people prior to Shannon. Shannon, a freshman at CSS, had just gotten the app insistent that she just wanted to see what everyone else was talking about and would never actually go out with someone she met on there. The two were connected the first night Shannon had gotten the app. After messaging each other, Ryan asked Shannon out to dinner, which she promptly turned down, still having no intention of ever actually meeting anyone from the app. The two continued to talk until Ryan again asked to take Shannon out to dinner. This time she agreed and they met at Olive Garden for their first date. Shannon was so nervous for the whole thing that Ryan didn't think she was interested in him at all, not knowing Shannon had told one of her friends that if she didn't marry him, she was going to marry someone just like him. Following their date, both had a week of spring break where they talked occasionally but didn't see each other. Another date to Pizza Luce sealed the deal and the two have been together ever since.
The Proposal
Ryan had told Shannon that they were heading to Glensheen Mansion in Duluth, MN for a lunch picnic with his work. After arriving at Glensheen, the staff directed them to the West Porch for the 'Re/Max Party'. There was no party on the porch but instead a table for the two of them with a picnic basket, flowers, and a bottle of wine. The menu for the picnic consisted of Fettuccine Alfredo from Olive Garden, one of Shannon's favorite meals and the location of the couple's first date. For dessert there were chocolate covered strawberries, another of Shannon's favorites. In the box of strawberries was a note that said, "You probably know by now, but this isn't a RE/MAX picnic. Go down toward the pier to discover why we're really here." The path down to the pier was sprinkled with rose petals and led to the outline of a heart. Inside the heart, Ryan asked Shannon if she would spend the rest of her life with him. Of course, she said YES! Both Ryan and Shannon's parents were there to witness the proposal and celebrate with the couple afterwards.
-Proposal photographs by Max Caven Photography-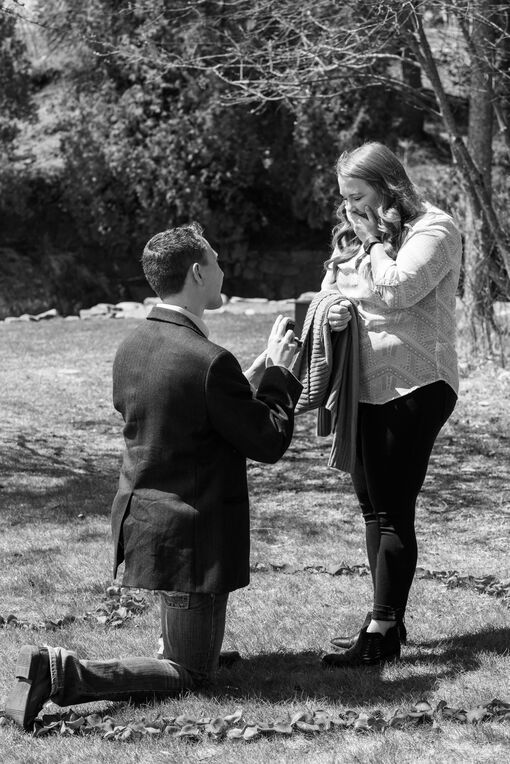 About the Couple
The Bride
Shannon Phelps originates from Cannon Falls, MN. She graduated from Cannon Falls High School in 2013. After high school, she moved to Duluth, MN to attend The College of St. Scholastica. In May 2017, she graduated with her Bachelor's degree in Social Work and a minor in American Sign Language. She recently completed her Master of Social Work program in May 2018, and began employment as a Psychotherapist on the Child and Family Outreach Team at the Human Development Center in Duluth. Outside of work, Shannon coaches all-star cheerleading classes and the mini level one Flurries team at Ideal Cheer Elite.
The Groom
Ryan was born and raised in Superior, WI. He graduated from Superior High School in 2011. In 2015, he graduated The University of Minnesota - Duluth with a Bachelor's degree in Communication and a minor in Film Studies. Leaving his long-time job in technical services at the Duluth Entertainment and Convention Center, he began working for Black Bear Casino as a Host for the Player's Club. In January 2017, Ryan got his real estate license for both Wisconsin and Minnesota and has seen success as both a buyers and listing agent.