Our Story
How We Met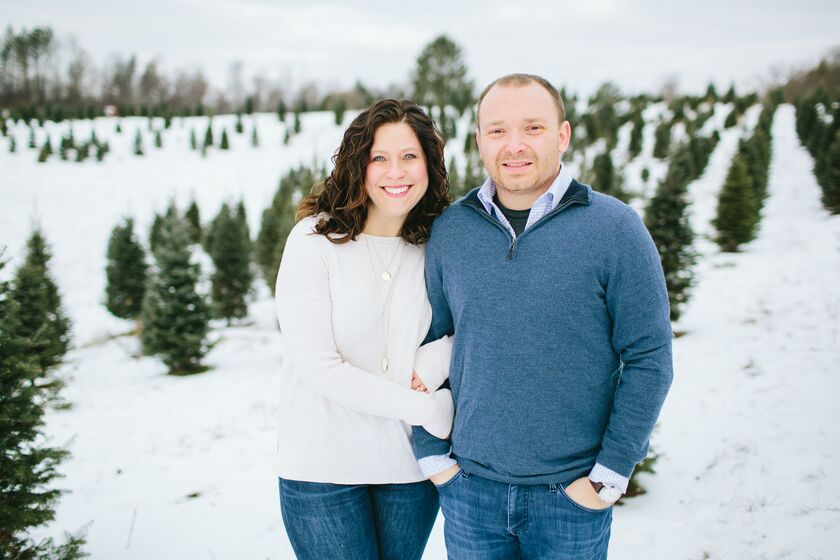 Call it a modern love story! After years of looking for "the one" amongst groups of friends, while trying new hobbies and at various social functions, Justin and I found each other on eHarmony. After using the dating website for several months, Justin was about to move on to another site while I had just joined eHarmony. If I had signed-up just one week later, we would have missed each other!
My "about me" section on my dating profile seemed to check-off all of Justin's boxes for his "perfect person" so he sent me a message. In that first message Justin used some of his high school French and asked about my beloved cat, Izzo. I was sold! After messaging for a couple of weeks, we decided to meet in person.
For our first date, Justin and I met at Hopcat in East Lansing. Conversation was flowing so easily that after dinner, we moved-on to dessert at Beggar's Banquet. When the restaurant closed at midnight, we still weren't ready to say goodnight. We joked about heading to Rick's, the grungy bar of our college days, which was right next door. What started as a joke turned into the third and final stop on our first date. We had drinks at the bar while chatting into the night. Almost two years later and we still haven't run out of things to talk about!
The Proposal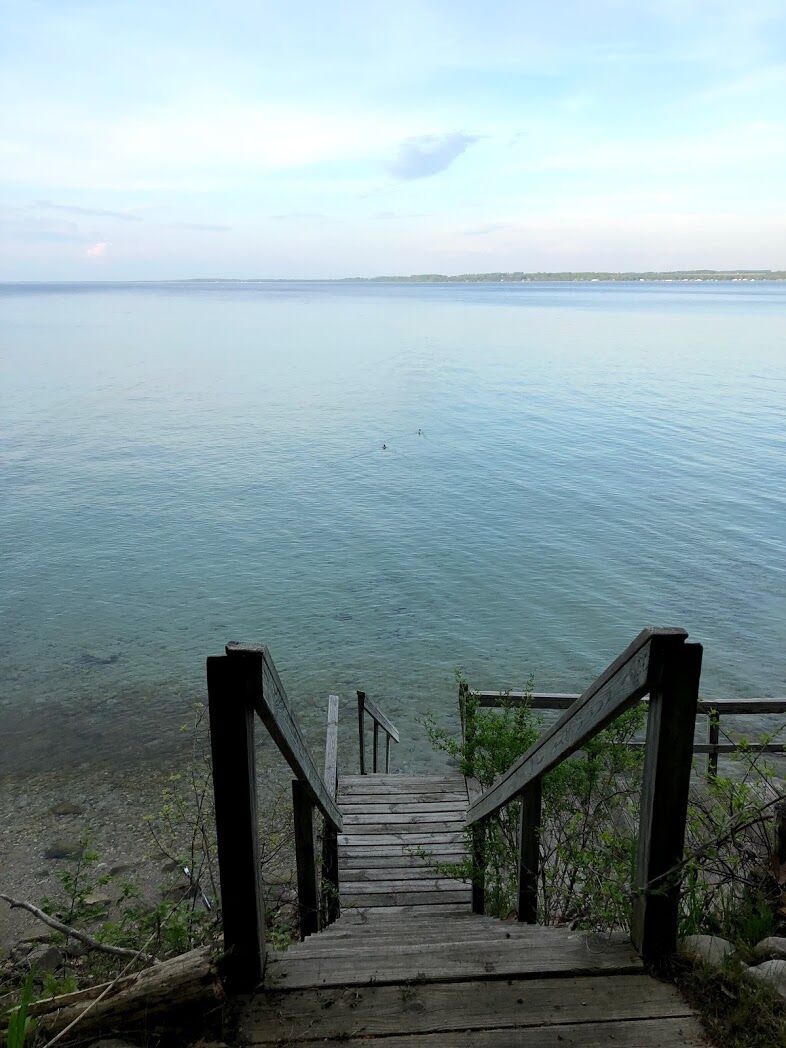 For Memorial Day Weekend 2018, Justin and I headed to Traverse City to run the Bayshore 10k, drink lots of wine and to celebrate my birthday. Little did I know that he had another surprise in store for me.
Friday, the evening before the race, Justin and I went to pick-up our race shirts and bibs. Afterwards, we drove the race course so I could get a feel for what I would be running the next day. The Bayshore races stretch up and down the Old Mission Peninsula with beautiful views of the water along the way.
At the three mile mark (the halfway point for the 10k), Justin pointed-out a private lookout point over the water. He asked if I wanted to take a look and I, not suspecting a thing, agreed.
While standing on the dock, Justin took my hands and told me how much he loves me. It was only when he was halfway down to his knee while fumbling in his pocket that I realized what was happening. Justin asked me to marry him with a beautiful diamond in a rose gold setting that he helped to design. The ring sat in my Great Grandma Winnie's engagement ring box. Of course I said "yes!"
After lots of hugging and happy crying, Justin and I returned to solid ground to put the ring on my shaking finger. We then returned to our rental condo where my parents were waiting with sparkling rosé and wedding magazines to celebrate.
The Wedding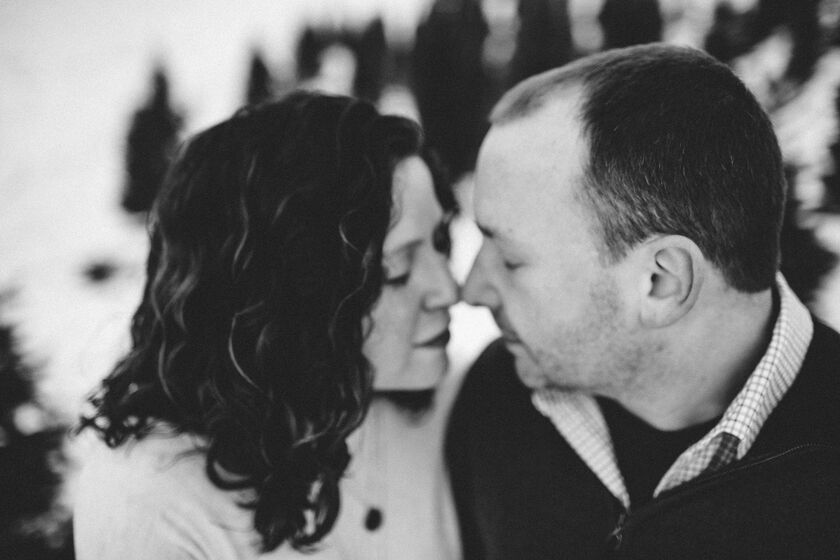 Saturday, December 14, 2019
5:30 PM
Attire: Cocktail
Ceremony and Reception
Egypt Valley Country Club
7333 Knapp Street Srv Road Northeast, Ada, MI
Wedding Party
Kayla Witt - Matron of Honor
How could I get married without my sister by my side?! Kayla is my little sister who shares my love of Christmastime and goofy family moments. She currently lives in Colorado Springs with my favorite brother-in-law, Bradford and my adored niece and nephew, Eloise and Harvey.
Lisa Rose - Matron of Honor
Lisa and I go way back, so much so, that we lovingly refer to each other as "life partners." I met Lisa in the second grade. We've been through countless years of cheerleading camp, dorm life at Michigan State, and lots of international travels together. Lisa, her husband Ryan, their daughter Charlotte and a little girl on-the-way live in North Carolina where Lisa is a Spanish teacher.
Nicole Stafford - Matron of Honor
Yes! I have three matrons of honor. These three lovelies are all such an important part of my life that I couldn't choose just one. Plus, I was maid of honor in each of their weddings.
Nicole and I bonded over the trauma of a terrifying French professor during my sophomore year at Michigan State. Studying abroad in Tours, France the following summer solidified our friendship and we've been sharing everything ever since. Nicole is a nurse in the Lansing, Michigan area where she lives with her husband Mike, daughter Claire and a baby on the way!

Deanna Lock - Attendant
Deanna will actually be serving as our ceremony officiant!
I met Deanna when she was a first-year teacher and I was her fifth grade student! After a funny series of circumstances, Deanna became a close family friend. She fit right in due to our shared love of Michigan State sports!
For a few years, Deanna and I both lived in the greater Washington D.C. area. We enjoyed many girls' weekends during which our bond strengthened. Deanna is like a sister to me while being a close friend and mentor.
Grace Wildeboer - Groomswoman
Grace is not just a "Groomswoman," we're referring to her as the "Best Sister!"
While Grace and I are almost 11 years apart, we have a very close relationship. While we razz each other plenty, I love her and couldn't imagine life without having grown up with her.
Grace is a star soccer goalie attending college in Madison, Wisconsin. Whitney and I are both a bit jealous of how cool of a town Madison is and that she gets to live there during the school years.
John Dombrowski - Best Man
John and I met while volunteering at church, I mixed sound and he recorded the video. While in the booth, we often had deep discussions and John gave me lots of valued advice.
John has a lot of outdoor hobbies, including canoeing/kayaking which we both like to do. He is the one responsible for the winter kayaking trip in February 2017 that I went on right before my first date with Whitney. I fell into the freezing cold water, twice. Luckily I survived :)
John lives only a couple miles down the road from us with his wife, Dawn, daughter, Julia, and son, John Jr.
Jason Meyer - Best Man
Jason and I met while working at our college, iServ, and bonded over our shared love of trucks (or well, our SUVs). We eventually became roommates for several years and I was best man in his wedding.
Jason and his wife, Abby, love to travel. They've been to many unique places like South Africa and Iceland. Jason and I typically spend our time together trying new beers, playing video games, and talking about new, fun technology.
While Jason is originally from the Flint area, he now lives with his wife, Abby just walking distance from our house. The four of us enjoy regular dinner and game nights together!
Darrin Bamm - Best Man
Darrin and I met while working at Netech. Our friendship took hold as we did lots of after-work social events, like the running group we created with a couple of other friends. Running was always followed by drinks and food at Logan's Alley. While we don't run together that much anymore, we still frequent Logan's.
Darrin is busy being a new (and awesome) father. He lives with his son, Noah, and wife, Katie in Ada, Michigan.