Home

3 Sweet Girls- Wedding Cakes, Cupcakes and More!
About this Vendor
Wedding Cakes, Cupcakes, Cake Pops and Cookies!!
We are a retail bakery specializing in wedding cakes, cupcakes, cake pops, cookies and other sweet treats! Our unique combination of style and flavor will leave you and your guests asking for more! We have 2 convenient locations where you can meet our friendly staff and get a taste of what we have to offer! Call today to set up your free tasting!
Details
Cake Stands, Cake Accessories, Cake Delivery + Setup, Cake Tastings, Groom's Cakes, Cakes + Desserts
Contact Info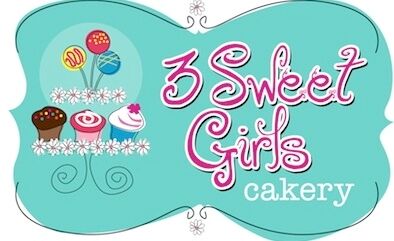 Reviewed on

10/17/2016
Caitlin S
Three Sweet Girls did an AMAZING job on our wedding cake. They took my vision of what I wanted and made it even better than I could have imagined. Our cake was absolutely beautiful and so delicious. I would tell any and every bride to get their cake from Three Sweet Girls.
---
Reviewed on

6/19/2016
Priya P
If you are looking for amazing wedding desserts you need to check out 3 Sweet Girls. We did a cupcake tier with 4 different flavors and a cutting cake on the top tier. Our experience with them was fantastic starting with the tasting where we had the best sugar rush of our lives!... Read More The cupcakes and cake looked beautiful and all our guests loved them. They were very accommodating of wedding colors/style and were able to tailor the decorations to fit the look of our event. We enjoyed leftover cupcakes and cake the next day after our wedding and they still tasted great! All of this at a very reasonable price and with great customer service.
---
Reviewed on

5/26/2016
Machen R
Great choice for wedding cupcakes! The cupcakes were delicious - all were gone by the end of the night. The entire team was easy to work with. They delivered the cupcakes right on time and were extra helpful by staying to set up the cupcakes.
---
Reviewed on

9/25/2016
Kristen U
Lisa helped us coordinate everything and was a pleasure to work with. We went with mini cupcakes and a small 6 inch cake (for the cutting) and thought that worked out perfectly. They have a lot of fun and unique flavors to offer which was a nice change! We did feel the 6 inch... Read More cake was a little overpriced for the limited decorations we wanted on it, however- it's likely comparable to other places. We decided to use their stand which had the cake on a small plastic piece that almost slid off the top when we tried to cut into it and could've toppled over- but we caught it! I'm not sure if the plastic piece was supposed to be removed prior to setting it on the top tier or not- but that was the only odd thing! The cupcakes themselves were delicious and were really reasonably priced compared to other vendors in the area.
---
Amazing Cupcakes!
Reviewed on

6/01/2015
Derek M
We booked Cupcake Crazy almost a year before our wedding, so we had to make a few changes in our flavors since some were no longer offered. We had mini cupcakes and they delivered and set them up at our venue in West Chester. We had no issues with delivery at all.They were all... Read More delicious and everyone loved them, and despite one flavor that was missing a filling, we loved them just as much. I would definitely recommend Cupcake Crazy for anyone looking for something different and delicious!
---
They were so good there were not any left to take home.
Reviewed on

10/25/2014
Nicole H
At most weddings we have been to people often forget about the cake and there is plenty left. Our mini cupcakes were so delicious (and pretty) that people went back all night long for another tasty treat. By the end of the night there were 15-20 cupcakes left and people were... Read More grabbing them on their way out the door.
---
Ah-mazing... :)
Reviewed on

9/21/2014
Ashley H
I did not want the typical wedding cake. I loved the idea of cupcakes. We went in to their shop and we were NOT disappointed. We got to try cupcakes of ALL different flavors. We got to pick out a cake that matched our color and theme. Lisa, the owner, worked so hard to keep... Read More us comfortable and deliver what we wanted - we were not disappointed. We got cupcakes, mini cupcakes, a small tiered cake for just us and cake pops. We ordered well over 300 for our 150 guest list and only had 8 left. Everything tasted fresh, it was organized when we picked it up and I could not have been any happier when I saw the finished result. If you want to step out of the wedding cake idea, go here. Lisa is incredible and so, so sweet. The cupcakes, cake pops - everything taste incredible and your guests will love it. Mine did. We still go there just for cupcakes every now and again. Perfect!!! :)
---
Cupcake Crazy WONDERFUL
Reviewed on

9/02/2014
RoseAnn C
We love the family owned business and they were a joy to work with. Not to mention that she listened to every idea we had, let us visit many times to go over detail, and made delicious cupcakes that we are continuing to eat. We loved them and their cupcakes, and will probably... Read More end up getting plenty of cupcakes from them in the future.
---
Delicious Custom Order
Reviewed on

1/09/2014
Brett B
Lisa and her girls did an amazing job on our custom wedding cake order. Rather than a traditional cake or a cupcake tower, we opted for a small single-tier cake for each table at our reception, and a small two-tier cake for the wedding party. The frosting perfectly... Read More complemented our wedding flowers and colors, and they were delicious! We ended up with 5 (yes 5!) flavors - Vanilla, Red Velvet, Salted Caramel, Red Raspberry Chocolate Ganache, and Carrot. Our guests are still raving about being able to cut their own delicious cake! Thank you Cupcake Crazy!
---
Wonderful adn different
Reviewed on

9/18/2013
Haley f
Instead of a wedding cake we had a variety of cake pops, and cupcakes of all different sizes. I loved the Smores flavored one and went great with our rustic farm wedding.
---
love love LOVE
Reviewed on

9/05/2013
Nikki G
I LOVE cupcake crazy! Their place is so fun and their cupcakes are DELICIOUS!! But I was most impressed with their staff - so friendly and helpful. And don't let their cupcake expertise fool you - they make amazing cakes as well! They created the most beautiful and perfect... Read More and delicious cake for my wedding this past weekend - it was exactly what I was hoping for - it looked and tasted incredible!! The piping design I wanted was really tricky and they pulled it off beautifully - would suggest any brides to look here. The pricing is very reasonable and they make sure you are able to test any flavors you want - super fun experience!
---
Want delicious cupcakes? Use Cupcake Crazy!
Reviewed on

8/28/2013
Lauren H
We decided to opt for a less traditional approach and went with cupcakes instead of a large cake. We had mini cupcakes with 5 different flavors and a small bride & groom cake. The cupcakes were phenomenal and our guests are still raving about them! Lisa and her team were a... Read More breeze to work with and took the stress out of the wedding day! Thanks again! Lauren & Kevin
---
Great Flavors!
Reviewed on

4/02/2013
Elyse B
I wanted cupcakes that not only looked good but tasted amazing. With all of the flavor choices, colors and options I had, I wouldn't go anywhere else. These cupcakes were the centerpieces of my reception tables, so I wanted to make sure that they were out of this world. The... Read More amazing service combined with low-cost, it was a no brain win for us!
---
Cupcake Crazy
Reviewed on

12/01/2012
Rebecca B
The ladies at CC were very accommodating and professional. We were charged a fair fee and had delicious cupcakes!
---
Only Wedding Complaint
Reviewed on

10/18/2012
Kristi B
When we first went to taste test Cupcake Crazy, they were incredibly nice and the cupcakes were delicious. Our theme was Cinderella, so we asked to have "Cinderella Blue" icing and fondant glass slippers on a third of the cupcakes. We were excited that Lisa and her daughter said... Read More they could accommodate us, but highly disappointed on the day of the wedding. A friend picked up the cupcakes and was not given the tower. Lisa never called us to figure out how to get it to the event and we had no idea until the reception that we didn't have it. The icing was hard and looked more green than blue. The fondant glass slippers were marshmallow shoes and pumpkins. The cupcakes also tasted like they were already a day old. She refunded the money for the tower, but barely apologized for any of our other complaints. If you do choose to use this vendor I would recommend getting a mock version done first so you know exactly what you are getting!
---
Cupcakes!!
Reviewed on

8/15/2012
Jessica T
Lisa & the team at Cupcake Crazy are amazing to work with. The buckeye and key-lime raspberry cupcakes at our wedding were a huge hit. They were almost all gone at the end of the night they were so good people had to have more than one!! Many tried both flavors. We loved the... Read More cupcake tower matching the color of our event!! I good write paragraphs on how amazing our cupcakes were!! They also do more than cupcakes, they are just an all around best place to use for brides if looking for a lot of flavor and presentation!!! Amazing!!!
---
Guests are still talking about it.
Reviewed on

6/18/2012
Christa E
Rather than a traditional wedding cake, we opted for a dessert display. I wanted cupcakes, cake pops and fun stuff like whoopie pies and novelties. Lisa has a great product and the quality was excellent. We added a couple of cakes in there too and we cut into a very small... Read More 'traditional' cake that was simple. She worked with me from the beginning and was flexible to what I needed and wanted. I met with a couple of cake people and they didn't share the enthusiasm for doing some different... I appreciated Lisa's enthusiasm and it was a lot of fun! (and beautiful to boot!)
---
Best ever!
Reviewed on

5/24/2012
JODY F
We all loved the cupcakes and cake pops so much I ordered a dozen a week after the wedding. I still hear my guests say they crave the cupcakes from the wedding. We will always order from here.
---
Love Cupcake Crazy!!
Reviewed on

2/18/2012
KIM W
Cupcake Crazy did the cake for our wedding and the Cupcakes for our recent Wedding Anniversary Party! We can't say enough about the excellent customer service as well as delicious cake and cupcakes! They are truely talented. The menu is unique, they are very creative and their... Read More cupcakes are teriffic!
---