Home

A Giftful Heart
About this Vendor
A Creative Way to Say It!
You are unique and your save-the-date can be too! Use one of our designs "as is" or we'll help you modify a design to your taste. We love to provide personal design help to make your save-the-date unique to you. Request a sample today to see our vibrant colors and the difference in quality!
Details
Contact Info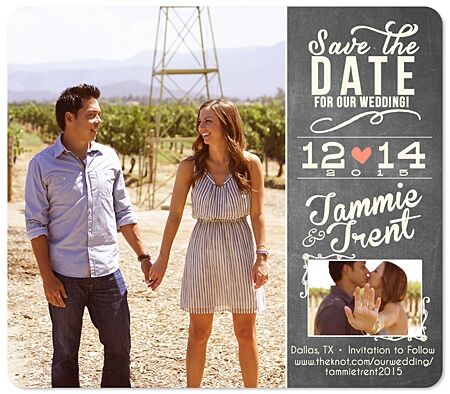 2629 Foothill Blvd., Ste. 335, La Crescenta, CA
Very happy!!!
Reviewed on

4/30/2013
Leanne S
I got my save the date magnets from Giftful Heart and my fiance and I love them!! They are a great quality and the customer service was excellent. Even though it was all online it still felt very personable. The magnets included envelopes at no extra cost and I only spent $125 for 84 magnets with envelopes & shipped! The picture quality on the magnets is great and I love how many customizing options I had! I picked an outline and basically changed everything else. It was great, very happy, great customer service and great product. I HIGHLY RECOMMEND!!!! The best part is everyone that has gotten one loves them as much as I do!
---
A Giftful Heart is wonderful!
Reviewed on

10/24/2012
Mindy P
When we took our engagement photos, we knew that we wanted to incorporate them into Save-the-Dates at some point. To us, a magnet was the perfect combination of fun, classy, and personalization that we were hoping for. I could not have been happier with the experience that we had working with Kathy and A Giftful Heart! They were any Bride's dream come true. They were prompt, attentive, helpful, affordable, and most of all, they produced an awesome product! Their quality of customer service is impeccable. The quality of our magnets was more than I ever expected, thick magnets (not flimsy at all), vibrant colors, and beautiful envelopes to send them out in. What more could you ask for when you're planning a wedding? We were honored when they asked us if they could use our engagment pic for their sample on the design that we chose! Over a year later, our magnets are still up not only in our home, but in our family and friend's homes too. And, our pic is still on their website as the sample for the vineyard design that we chose. We have consistently referred friends and family to this company, and will continue to do so as long as we know people who are getting married. Thank you, A Giftful Heart...we hope to use your company again in the future! Can we think, baby announcements someday? :-)
---
Great experience
Reviewed on

10/23/2012
Kayla W
I ordered my Save the Dates from this site and could not have had a better experience! Every time that I emailed with a question or concern I was promptly answered. My magnets arrived earlier than expected and looked just like the proof sent to me via email. My best friend has now ordered her Save the Date magnets from A Giftful Heart and is anxiously awaiting their arrival!
---
One Overjoyed Bride to Be!!!
Reviewed on

3/27/2015
Amanda R
I looked for almost 2 months at other websites searching for the PERFECT magnet save the date. Nothing I came across was on any website was "me." I was almost going to give up and make my own (somehow) but then I stumbled upon A Giftful Heart. The design I customized came out exactly how I wanted it and even better than I could have imagined!! I could not be happier with my save the dates. I am so happy I found this company, and will recommend it to anyone and everyone!!! The customer service was beyond amazing. The shipping was smooth and easy (they provided a tracking number immediately after printing) and they were at my doorstep as soon as promised!! Any bride to be searching for the perfect items with stress free (we need as little stress as possible while planning our wedding!) user friendly accommodations, I highly recommend A Giftful Heart!! -Amanda
---
Incredible save the date magnets!!
Reviewed on

3/24/2015
I am SO happy that I found A Giftful Heart. I looked at a TON of different sites to find the the perfect save the date magnet, and ordered samples from all of them. I got so frustrated that they were either too large or too small or of poor quality until I found A Giftful Heart! They were so easy to work with and extremely prompt in their getting back to me with proofs. In addition, I found the size magnet that we decided to go with (4x5.25) to be PERFECT and the quality was incredible-- these magnets are much thicker than other magnets and just of so much better quality. We've gotten so many complements on our save the date magnets and I will 100% use A Giftful Heart in the future! I would recommend this company to anyone!
---
Save the Dates
Reviewed on

3/17/2015
Jillian P
I ordered my magnet save the dates from A Giftful Heart. The "create your own" link was very easy to use and allowed me to be able to see exactly what my save the date would look like. I was able to get the exact colors and fonts I wanted to use for my magnet. I was also able to get a sample save the date shipped to me before I placed my order. When I received my sample I was a little concerned about the color quality. However, once I got my full order the color quality was perfectly vibrant! I could not have asked for a better save the date and have gotten many compliments! I would definitely recommend them to other brides considering to use them.
---
Love my magnets!!!
Reviewed on

3/17/2015
Katrina S
I ordered my save the date magnets and let me just say...they are beautiful! My fiance and I have received so many compliments on how cute they turned out. The cool thing is that I was able to custom design and pick the exact colors I was looking for! I would highly recommend this company.
---
Great Save the Date Magnets
Reviewed on

3/17/2015
Hello, I ordered these magnets for a Save the Date event and they came out fantastic! The colors and printing were awesome and the company was so easy to work with!
---
Loooove our Save The Dates'
Reviewed on

3/17/2015
Melanie V
Our Save The Dates are perfect and we are very happy and impressed with the quality and way they turned out! I highly recommend using The Giftful Heart!
---
Perfection!!
Reviewed on

3/02/2015
Luisa C
I am super glad - I found A Giftful Heart ever since I went on their website and order my first FREE SAMPLE I knew no one else can do the job like them. My experience was outstanding - from the second I hit submit on my order -they kept in contact and help with any question. I strongly recommend !!! My guest absolutely love my save the dates!!
---
Adorable Save the Dates!
Reviewed on

2/23/2015
Allison R
I love our save the dates from A Giftful Heart! We used our four dogs' photos and hung signs from their necks saying "Our Humans are getting married!" They came out perfect and we have gotten so many compliments on them. I would definitely recommend using this company! :)
---
Save the Dates
Reviewed on

2/19/2015
Emily O
I ordered Save the Date magnets from A Giftful Heart and was very pleased! The magnets were beautiful and I have received many compliments! The ordered was placed and delivered in the time frame that was given! Great company, and would definitely use them again!
---
Perfect save the dates!
Reviewed on

2/19/2015
Victoria A
I had a great experience working with A Giftful Heart and making my save the date magnets. There are so many vendors offering comparable services, but I found that A Giftful Heart had unique templates and very personalized customer service. I've received so many compliments on my magnet and it set the perfect tone for my destination wedding! Thanks to all at A Giftful Heart for being extremely professional and easy to work with! My only suggestion would be to feature more diverse couples on your magnet examples.
---
Horrible Customer Service
Reviewed on

11/19/2014
Ashley L
I have had multiple problems while ordering my Save the Date Magnets. Not only did my "review your order" come with a completely different font, I had to keep re-choosing fonts that looked nothing like the preview I was given. Then once I approved it I have not heard anything from them. I can not get ahold of anyone, they do NOT answer their phones or respond to emails. I can not comment on the quality of the product because I have not received it and honestly don't know if I will. I will absolutely NOT be ordering my invitations with them.
---
Great!
Reviewed on

11/01/2014
Danielle A
I had searched a lot of websites for Save the Dates but when I came across agiftfulheart.com I liked the variety of layouts they had and that you could custom design your own. The size is great and the picture quality came out great. Very durable easy to do. The team was very helpful through emails and has great customer service. I will definately use them again for any occasion. I highly recommend them and hope you're just as satisfied as I am!
---
So loved my daughters Save the Date magnets!
Reviewed on

10/31/2014
Debi K
The Save the Dates we ordered were of very high quality, processed $ made in just 3 days & quickly shipped to us. I have received many calls to tell how sweet the Save the Dates are. Will definitely use A Giftful Heart again!
---
Save the Date
Reviewed on

10/31/2014
A Giftful heart did my save the date invitations. I ordered 100 save the dates and I paid a total of $170 which was an amazing price! The turnover after placing my order was good I was extremely satisfied with the quality of the save the date magnets! I would recommend A Giftful Heart to anyone without a doubt
---
Save the dates!
Reviewed on

10/31/2014
Sarah S
I ordered my save the date magnets from a giftfull heart and they are SO cute! I chose this vendor after ordering sample save the dates from 5 different websites. These had the best quality and prices around. After submitting my design, a staff member sent me a proof, in which I sent back a numerous amount of edits (I'm very picky!) and they graciously fixed everything I asked within 24 hours! I then placed my final order for 100 save the dates and they arrived within a few days. These are even cuter than expected and I can't wait until my guests start receiving them in the mail!!
---
Save The Date Magnets
Reviewed on

10/31/2014
A giftful heart was recommended to me by a friend who also purchased a save the date magnet from them. With so many companies out there, it came down to cost and ease of designing the magnet online. Many websites would only let me send a photo for them to edit and email back a few days later. The cost was competitive and shipping was fast. I had ordered, paid and had the magnets within a week. I also like that they included matching envelopes.
---
Quality Save the Dates, Quality Service
Reviewed on

10/31/2014
Paul F
I purchased save the date magnets from A Giftful Heart, and didn't know what to expect at first. I am always nervous dealing with companies I have never done business with. The website was pretty simple to use, and I actually spent most of my time browsing through all of the cool templates that were available until I found the right one with my fiancee. We uploaded some of our favorite pictures and moved them around a bit. The website worked well with the functions we wanted and needed. I received the save the date magnets pretty fast. I liked how they made me approve the order via a follow up email so I could take time to rethink if I was 100% satisfied with my creation. The customer service is top notch. Not many companies will communicate with you about how your purchase went, but this purchase had a friendly email sent with it asking if I enjoyed their product. As a business owner, this is something I do often to retain a customer. A Giftful Heart knows how to treat customers. I would recommend A Giftful Heart to friends, and actually I will since I have a few friends that just took their engagement pictures. Thank you for making one stressful aspect of wedding planning a bit easier than expected.
---
Love The Giftful Heart
Reviewed on

10/31/2014
I ordered Save the Magnets and am in LOVE!!! The people were so great to work with and so easy to order online. The quality of the magnets are great!! I would recommend them!!! Excellent customer service!
---
Fantastic in every way!
Reviewed on

10/31/2014
Valerie S
I was looking for a save the date that I could customize myself and those found on a giftful heart's website were perfect. Fantastic service from start to finish! I highly recommend working with this group!
---
SAVE THE DATES
Reviewed on

10/31/2014
EBONY O
I ordered save the date magnets from A Giftful Heart last year. Then I reordered the same one this month with no problem. Every one provided excellent feedback on how to reorder them without having to customize it again. They sent me a proof both times before they print it and let me correct whatever I needed till I told them it was right. I also got a email from the company to see how it all turned out upon delivery. A Giftful Heart has excellent customer service and they make sure you are one happy customer!! I recommend them for you stationary wedding needs
---
Amazing save the dates!
Reviewed on

10/31/2014
we love our save the dates! Easy to create and come out beautiful and delivered very quick!! Highly recommend!! Lyndsey
---
SAVE THE DATES
Reviewed on

8/21/2014
Carissa P
I would absolutely order from A Giftful Heart again. The Save the Dates came out amazing, the quality is perfect and the fact that I was sent a proof and able to make changes was a great help. The service is incredible also. If you are looking for a great deal and beautiful Save the Dates I would def use A Giftful Heart! (I did my research with pricing out and best quality and this site was the best!!!)
---
Send Message